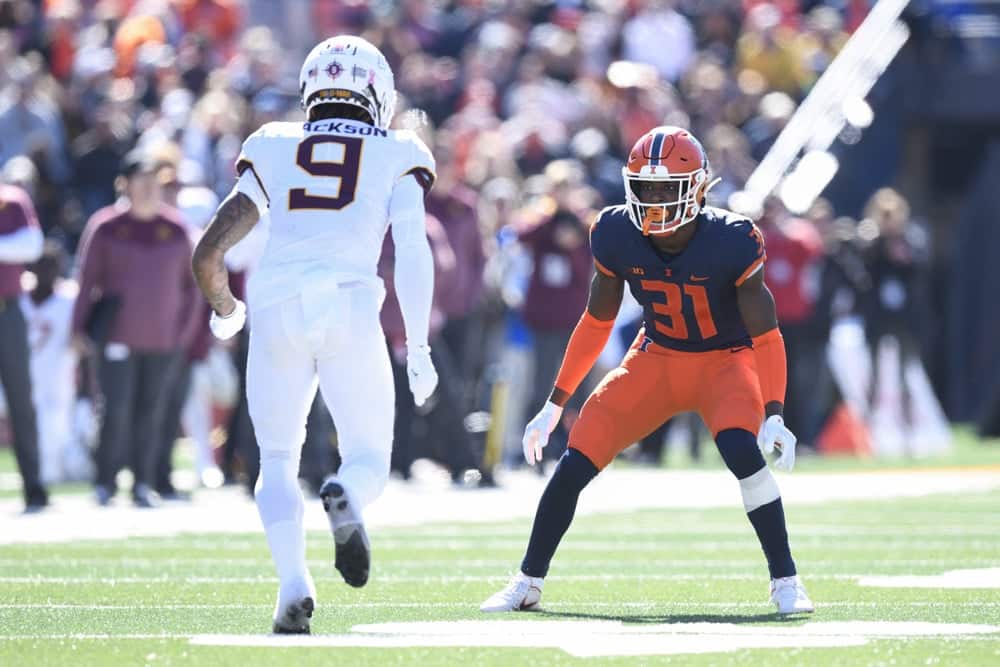 This class is filled with talent and will bring great value to your dynasty squad for the foreseeable future. Dave Heilman (@DynastyDorks) and I (@FFBourbonDude) brought you a ton of pre-combine draft profiles at each of the offensive skill positions. Now it's time to get into our defensive players. Be sure to check out our NFL Draft Playlist on YouTube for all of our draft profiles.

MORE SGPN FANTASY FOOTBALL CONTENT
Follow SGPN Fantasy Football on Youtube
SGPN Fantasy Football Rankings
Devon Witherspoon – NFL Rookie Draft Profile
Background
Height – 5'11″
Weight – 181 pounds
Witherspoon is a slightly undersized guy to be a dominant outside man corner. He excels when off the ball and can use his eyes and instincts to react quickly to Quarterbacks and Wide Receivers. He produced as a cover corner for three seasons at Illinois and received the following accolades:
2021
All-Big Ten honorable mention
2022
One of three finalists for the Thorpe Award
First Thorpe Award finalist in Illinois history
One of 20 semifinalists for the Bednarik Award
Consensus All-American, the 21st in Illinois history
First ever defensive back to be named a Consensus All-American in Illinois history
Big Ten's Tatum-Woodson Defensive Back of the Year
Walter Camp All-American first team
AFCA All-American first team
FWAA All-American first team
AP All-American first team
Phil Steele All-American first team
CBS All-American first team
PFF All-American first team
USA Today All-American second team
Senior Bowl All-American
All-Big Ten first team (coaches and media)
Defensive Back Pros
Watching
Witherspoon is constantly looking for the ball and watching the quarterback's eyes. It allows him to use his second strength then excellently.
Instinct
Witherspoon has great instincts and understands route concepts in such a way that he can react immediately and defend a pass.
Ball Skills
He has good ball skills, as eluded to earlier. Devon is constantly getting his head around to ensure he can get a play on the ball.
Defensive Back Cons
Speed
He doesn't have the speed to recover when he misjudges routes, making him susceptible to the deep ball.
Double-Move
His knack for jumping routes makes him pretty susceptible to the double move.
Size
While undersized, Witherspoon plays fearlessly, and his ball skills should help him in this regard.
You can see the good and the bad in his game against Indiana.
BE SURE TO CHECK OUT OUR OFFENSIVE NFL DRAFT PROFILES ON YOUTUBE! You won't regret it. #DEGENS
RELATED CONTENT