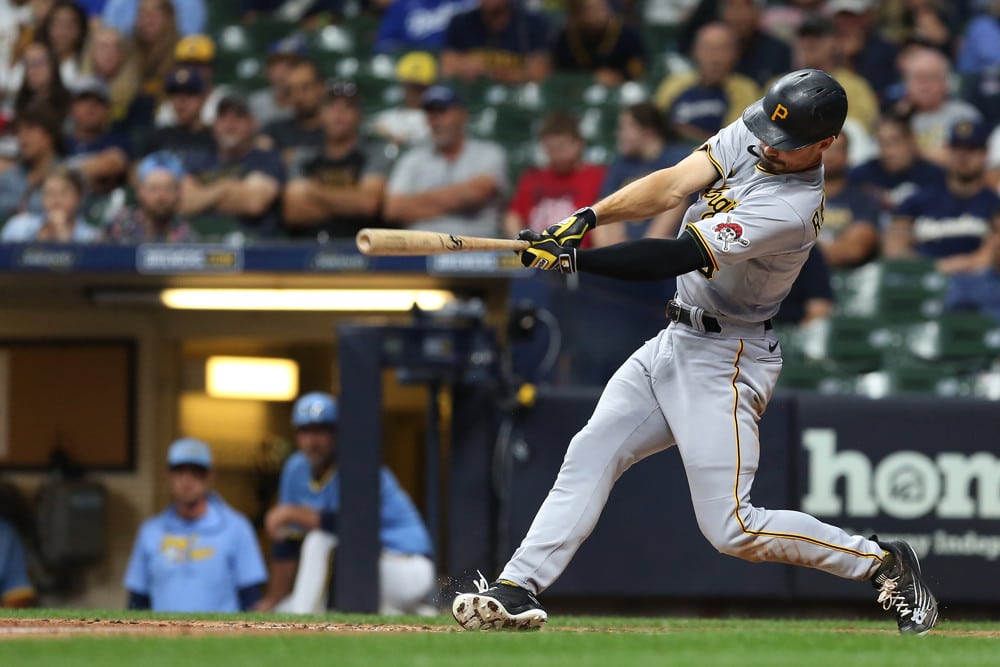 OPS leagues are probably the most entertaining in fantasy. You have to find the hitters that really inflict damage through their on-base ability and slugging prowess. Now, identifying unheralded OPS stars might help us separate the mediocre from the good, the good from the great, and the great from the elite. Go here for the latest MLB prop bets.
Adjusting your priorities is a must in these leagues if you want to succeed. Players with a mediocre OPS might be ranked high in standard formats, and there could be some hidden OPS gems in the middle and late rounds and even in the waiver wire.
Here are some of the most underrated consistent OPS assets that might help you greatly in 2023. These players are all off to blistering starts and have the tools to keep it up.


Fantasy Baseball: 5 Unheralded OPS Stars
Bryan Reynolds, Pittsburgh Pirates
Reynolds is a sneaky-good OPS guy who is young (28), proven, and hungry. That combination is hard to find. He is trying to play for a lucrative extension he may or may not get from the Pirates. He will get his money eventually if he keeps hitting like this.
Before Thursday's games, Reynolds was leading the league with seven barrels. If there is an ideal type of batted ball, that's a barrel: it has the perfect combination of exit velocity and launch angle.
For the season, he is hitting .417/.444/1.000 with four homers and a sweet 1.444 OPS. His 2022 OPS was .807; he checked in at .912 in 2021. So he has done it before, but he looks like he will shatter those marks this time around.
If we are talking about unheralded OPS stars in baseball, Reynolds has to be on the list. He is so good but gets little praise, mostly because he plays in Pittsburgh.
Brian Anderson, Milwaukee Brewers
Anderson has a rather pedestrian .759 career OPS. In fact, calling him an unheralded OPS star at this moment might be bold. But we will take our chances, and we will explain why.
Anderson led qualified MLB hitters through Wednesday's games with a 1.621 OPS. He was slashing .500/.565/1.056 with a double and three homers. Examining what's under the hood, there might be some sustainability in what he is doing.
Anderson is murdering the ball with a 57.1 hard-hit rate and a 42.9 percent barrel rate. He is elevating the ball more than ever, evidenced by his career-highs in launch angle (15.9 degrees) and fly ball percentage (57.1). He increased his average exit velocity from 88.7 mph in 2022 to 93.3 mph in the young 2023 campaign.
We are not saying that he is suddenly Nolan Arenado, but he could have his first 25-homer season if he keeps barreling the ball as he has. And he likes to get his walks. Invest.
Taylor Ward, Los Angeles Angels
Perhaps you don't remember, but Ward looked like a top 20 hitter in baseball to start the 2022 season. However, he suffered a nerve injury to his shoulder and neck after crashing into a wall. Upon returning, he took a while to get going and lost his power for weeks.
Taylor Ward caps off an 11-run inning for the @Angels!

(MLB x @loanDepot) pic.twitter.com/zm0KCpbgTF

— MLB (@MLB) April 1, 2023
He conceded that he lost bat speed since suffering the injury. Near the end of the season, he caught fire again and finished with 23 homers in 135 games and a .833 OPS.
He is 100 percent healthy at the moment, and it shows. With a .370/.414/.630, a 1.043, and a couple of homers, he is back to being the hitter he was for most of 2022. So those who got him at a discount on draft day will reap the benefits in a big way.
CJ Cron, Colorado Rockies
Cron is perennially one of the most underrated assets in fantasy. Throughout his career, he has been accused of being a batting average drain and incapable of taking walks. Yet, he goes out there and performs and has an excellent .798 OPS for his career.
That number has been an excellent .845 since he calls Colorado his home. Year in and year out, Cron will hit between 25 and 30 home runs, drive in at least 90 runs, and is an annual threat for a nice OPS while playing half his games in Coors.
He is off to a terrific start in 2023, with three blasts and a 1.143 OPS. He hits the ball hard and in the air, is not allergic to walks, and plays in Colorado. Cron is as solid as it gets.
Brendan Donovan, St. Louis Cardinals
Brendan Donovan will be one of the most unheralded OPS stars in fantasy when everything is said and done. In fact, he might lose the "unheralded" label after the end of the season.
Donovan worked his butt off in the offseason to increase his power production. Last year, he got on base at a .394 clip, but his slugging percentage was a putrid .379.
How will Brendan Donovan follow up his stellar rookie season?

"The approach of playing hard, preparing the right way, going about things the right way and trying to earn a job every day, none of that changes. … You can learn something every day." #STLCards pic.twitter.com/UtHsc84czf

— Bally Sports Midwest (@BallySportsMW) April 5, 2023
Now, he will surely sacrifice some walks to be more aggressive and hunt for his pitch. However, the potential is there for him to post a .365 OBP and a .460 slugging season. For the cost of a late-round pick, we will gladly take it.
Donovan, who finished with a 3.4 percent barrel rate last season, is at 22.2 percent in the early going in 2023. Now, that may be a bit unsustainable, but you can be sure it will be way, way higher than his 2022 mark.
RELATED CONTENT