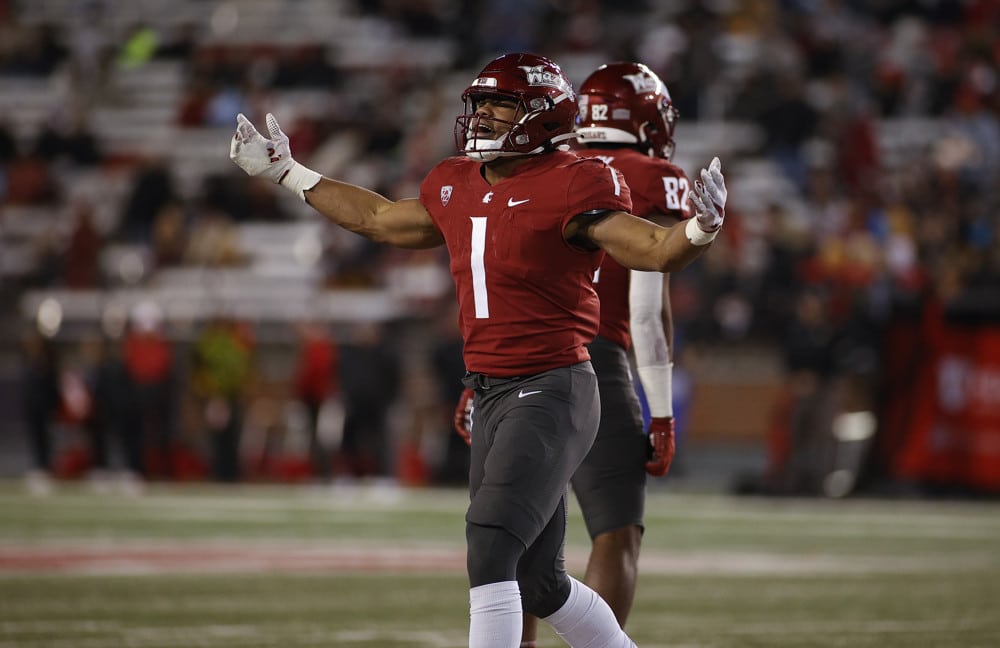 This class is filled with talent and will bring great value to your dynasty squad for the foreseeable future. Dave Heilman (@DynastyDorks) and I (@FFBourbonDude) brought you a ton of pre-combine profiles at each of the offensive skill positions. Now it's time to get into our defensive players. Be sure to check out our NFL Draft Playlist on YouTube for all of our draft profiles.

MORE SGPN FANTASY FOOTBALL CONTENT
Follow SGPN Fantasy Football on Youtube
SGPN Fantasy Football Rankings
Daiyan Henley – NFL Rookie Draft Profile
Background
Height – 6'2″
Weight – 232 pounds
Daiyan Henley brings some rawness to the position. He is able to use his speed and length to be a sure tackler. He takes bad angles at times and seems just to be a slower play processor than we would like. Henley put together some impressive numbers over the last two seasons at Washington State and Nevada.
208 total tackles per NCCA stats
Five Interceptions and Five Pass Breakups
14 Tackles for Loss in 2022 with Washington State.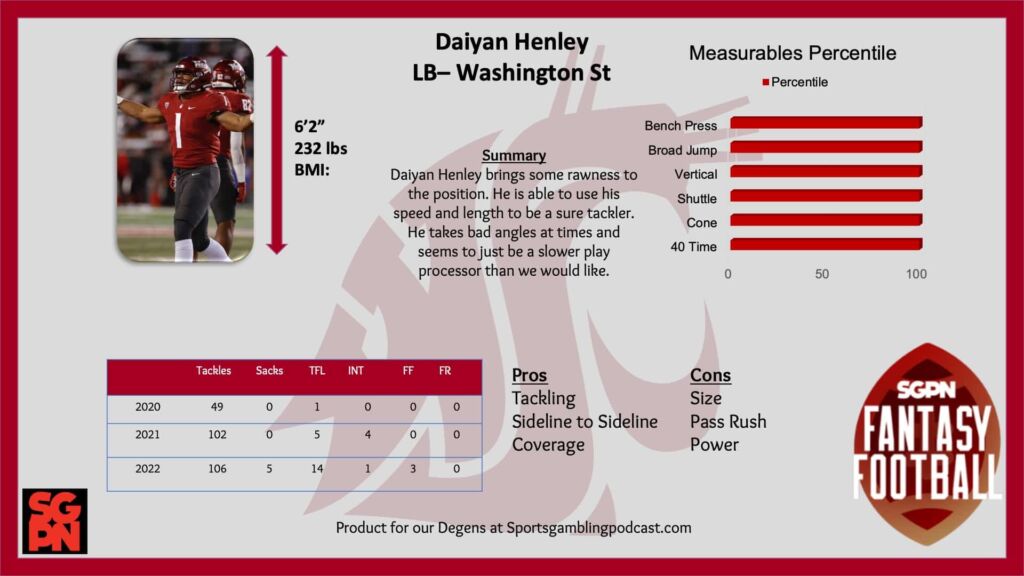 Linebacker Pros
Tackling
Producing over 100 total tackles over the last two seasons is impressive and shows he is sure to bring down his target. He has a <8% missed tackle rate per PFF.
Sideline to Sideline
So many times, we see him running all over the field. He has the speed and length to be an effective backer at the next level.
Coverage
He was asked to do a little more in the coverage game in 2021 with Nevada, and he showed out with four pass breakups and four interceptions.
Linebacker Cons
Size
Some studies have suggested a BMI of around 31 is most desirable for an NFL linebacker. Henley comes in at 28.9 (came in at 225 for the combine). I don't think this will limit his ability to perform at the next level.
Pass Rush
Totaled five sacks over the last three seasons. All of those came in 2 games. He played in 33.
Power
Gets pushed off the ball a little too much for my liking.
BE SURE TO CHECK OUT OUR OFFENSIVE NFL DRAFT PROFILES ON YOUTUBE! You won't regret it. #DEGENS
RELATED CONTENT