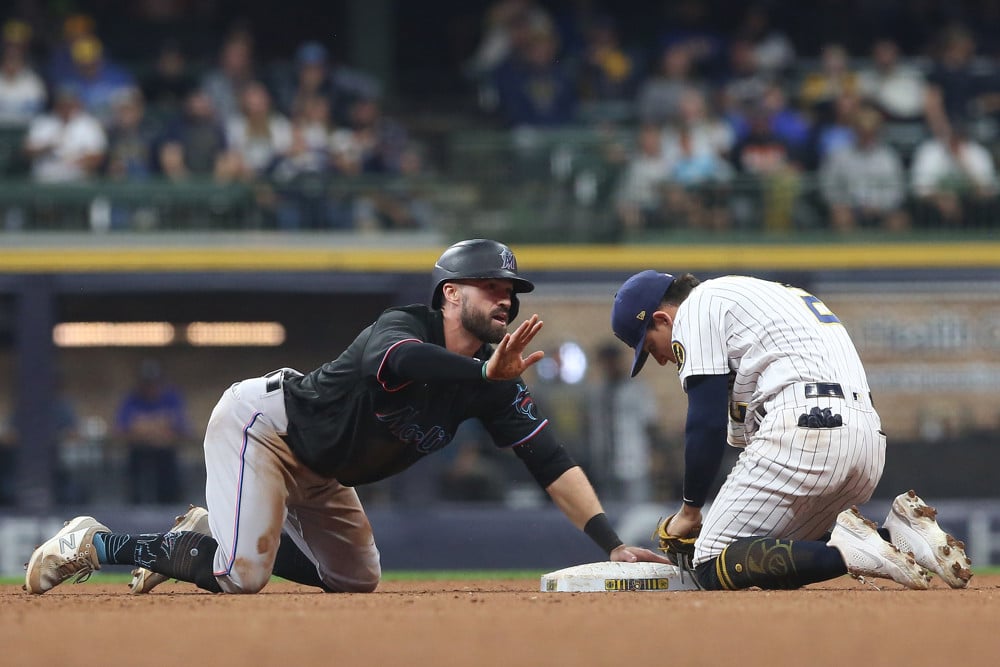 Steals are traditionally one of the most challenging categories to find on the cheap without downright damaging power, counting stats, or batting average. That doesn't mean that there aren't some cheap stolen base sources hidden out there, though.
You have to know where to find them. So don't worry. We will help you in your quest.

10 Cheap Stolen Base Sources For Your Fantasy Team
Jon Berti, Miami Marlins
The Marlins are making Berti a super-utility this season because they brought in several infielders. That's fine for savvy owners because it depreciates his price a bit.
This is a man who stole 41 bases last year. He probably won't play six times a week, but three or four might be enough to make him a steal (no pun intended) in the right format.
Additionally, he could be one injury away from having an everyday role. If Berti could hit a bit better (career 95 wRC+), he would earn more playing time. He has produced a bit more than that in the past, but let's work with what we have for now.
He might be a known commodity when it comes to stolen bases, but he is still relatively cheap. Remember: he only needed 102 games to swipe 41 bags.
Will Benson, Cincinnati Reds
One of the savviest acquisitions of the offseason, Benson could blossom in Cincinnati. He will likely have all the playing time he can handle and is a major power-speed threat.
Benson, a former first-round pick, has battled strikeout issues in the past. However, despite having an unsuccessful 28-game cameo in the bigs with Cleveland, he made huge gains by cutting his K% from 39.3 percent in 2021 to 22.7 percent last year in Triple-A.
He can be one of the cheap stolen base sources you need, and he already has six in Cactus League action. He can make you look very good on draft day.
Josh Rojas, Arizona Diamondbacks
Rojas ran a lot in the minor leagues—a lot. In MLB, he hadn't run as much until 2022, when he stole 23 bases in 125 games. That's almost 30 per 162 games, which isn't bad at all.
Josh Rojas' 17th consecutive stolen base to tie a #Dbacks record:pic.twitter.com/HZfZDM55T9

— Jake Anderson (@jwa1994) August 18, 2022
In spring training play, he already has three thefts. Rojas is likely eligible at both second and third base this season, which also comes in handy.
In short, we are looking at a slightly above-average hitter with 10/30 potential and an ADP beyond 200.
Ezequiel Tovar, Colorado Rockies
Tovar, a top prospect in the Rockies' system, is expected to be their starting shortstop in 2023. He should have lots of playing time if he can remain decent with the stick.
His minor-league performance suggests he has some power and lots of speed. If everything clicks, Coors Field and his talent could propel him to a 15/25 line as a rookie, although that is the absolute best-case scenario.
We are allowed to dream, aren't we? So even if he hits ten blasts and steals 20 bases, we will consider it a late—round victory.

Yankees Shortstop Prospects And A Savvy Veteran Should All Run!
Oswald Peraza, New York Yankees
This one might require some faith, but Peraza is the favorite to start at shortstop for the Yankees. He has aced Triple-A, whereas top prospect Anthony Volpe has not, despite his explosive spring.
The most important thing to remember here is that Peraza is a top-100 prospect in his own right. In addition, he is a better defender than Volpe and has a more straightforward path to playing time. And, of course, there are the 20 home runs and 35 stolen bases he had last year between Triple-A and the majors.
Lots of people are sleeping on Peraza's stolen base potential this year. Don't be one of them.
Anthony Volpe, New York Yankees
Volpe is the best shortstop prospect in the Yankees' system, but he is not the most MLB-ready one. It's tricky, we know, but those are facts: despite Volpe's incredible spring, Oswald Peraza remains the leading candidate to start.
But here is the deal with Volpe: he has elite stolen base potential. In 2021, he stole 33 bases in the minors, and last year, the number was 50 (!), so you need to keep an eye on him.
Anthony Volpe's first Triple A stolen base after a 4 pitch walk. pic.twitter.com/vE3vHNa139

— Pinstripe Strong (@PinstripeStrong) September 4, 2022
There is a chance he breaks camp as the Yankees' shortstop, although it's unlikely. If he goes to Triple-A, he should be up in May or when an injury opens up a spot either at short or at the keystone.
When that happens, you don't want to miss out on him. So if you can get him on the cheap and stash him on your bench (if you have the spot and flexibility to do that), by all means, do it.
Elvis Andrus, Chicago White Sox
Don't forget about Elvis Andrus when it comes to cheap stolen base sources. If you decide to fortify other positions and leave shortstop (or second base) for later, there are worse players to own than the veteran infielder.
He started March around the 325-pick regarding ADP, but that might be soaring now. He has a .789 OPS in the spring and could be poised to repeat last year's performance with the White Sox: nine homers and 11 thefts in just 41 games. At the very least, he should steal between 15 and 20 and not be a zero on the power.
Cheap Stolen Base Sources: High-Upside Outfielders
Esteury Ruiz, Oakland Athletics
All we know for sure about Ruiz is that he can run. The rest of his game, and his stats, could go either way: he can be the next 20-40 guy, or he can be the next Billy Hamilton (late-career Billy Hamilton, that is).
Last year, he had 85 stolen bases over 114 minor league games but slashed just .171/.194/.257 in 36 MLB plate appearances. What we do know is that A) he is having a good spring, and B) the A's will have ample playing time and patience for him.
As cheap stolen base sources go, Ruiz is a complete boom-or-bust pick.
Garrett Mitchell, Milwaukee Brewers
Mitchell still hasn't stolen a base in spring training, but don't worry: they will come. He had eight last year in just 28 games at the MLB level.
An important thing to keep in mind with Mitchell is strikeouts. He fanned at a 41.2 percent clip with the Brewers last year, which will not cut it.
Garrett Mitchell on his stolen base…

"With me getting on first they're expecting me to steal." pic.twitter.com/8SWQPCap3r

— 97.3 The Game (@TheGameMKE) October 1, 2022
Mitchell is a potential breakout candidate, but he will need to cut the Ks some to reach his potential. Nevertheless, he is penciled in as the starting center fielder for Milwaukee this year, at least against righties, and could make for an excellent upside play in the late rounds.
Jarred Kelenic, Seattle Mariners
Will the third time be the charm? After failed stints in 2021 and 2022, Kelenic is entering 2023 with renewed hopes, some mechanical adjustments, and more equipped to deal with adversity.
He is having a dreamy spring and looks different: productive and more confident. As long as he can secure playing time, he will run: even with his past struggles, he can swipe between 15 and 20 bags for the Mariners and fantasy owners.
RELATED CONTENT