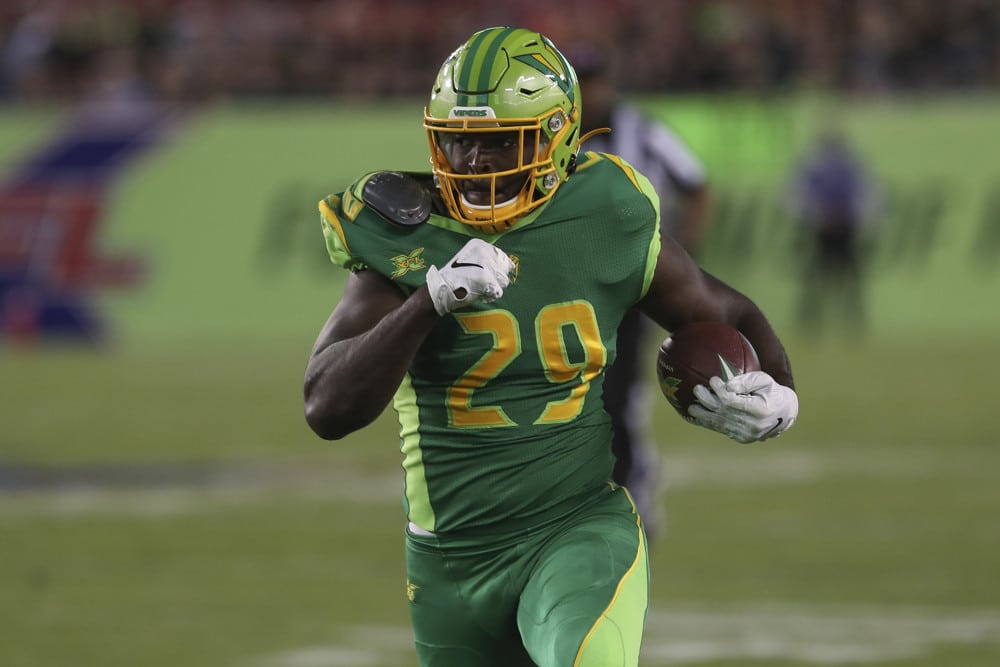 Missing football? Fear not, the XFL is back for its third act. This time it's got the funding and support of Hollywood megastar Dwayne "The Rock" Johnson. Now we don't know what the future holds for the XFL, but we know one thing, football will be on our televisions this weekend. Let's take a look at the matchups, the rosters, and find the XFL Week 1 best bets.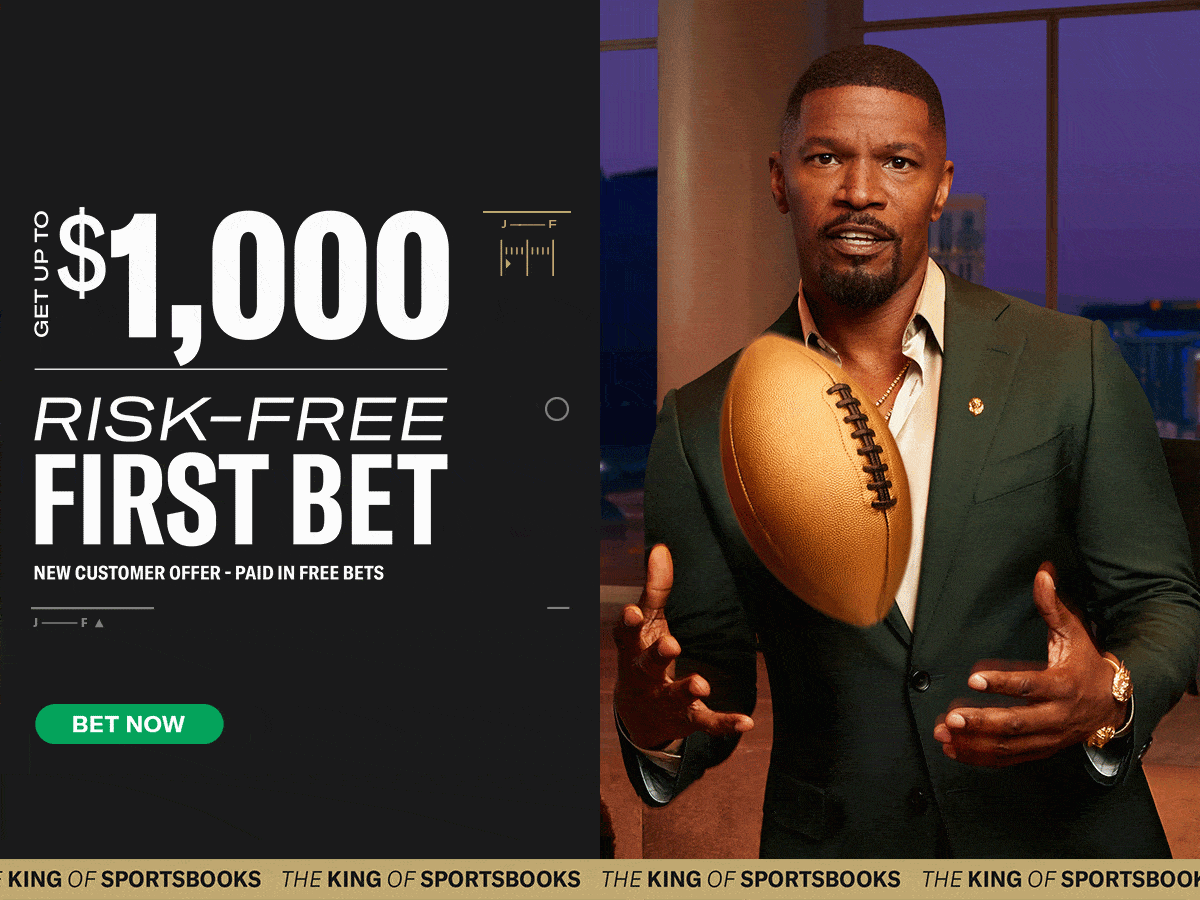 Exclusive SGPN Content
The Alt Fantasy Sports Podcast
Saturday: Vegas Vipers @ Arlington Renegades (3:00 PM ET)
Vegas is coming into Arlington as 3.5-point underdogs to the Renegades. WynnBet has The Vipers as the second-highest odds to win the XFL Championship at +800. Their opponents, The Arlington Renegades are more towards the top at +500.
Vegas will be led by 2009 Pro Football Hall Of Famer, Rod Woodson. Prior to this, Woodson had a brief stint as an analyst for the NFL Network. Woodson is a 17-year NFL veteran and Super Bowl Champion (XXXV). He had a few different stints coaching various positions with the Cincinnati Bengals and Denver Broncos. His most prominent coaching experience comes from coaching the Oakland Raiders as a cornerbacks coach from 2015-2017.
Vegas might have the best-receiving core in the XFL, they are led by Martavis Bryant who played in the NFL for four seasons. Alongside Bryant, will be former Green Bay Packers Wide Receiver Geronimo Allison, who played in the NFL for five seasons.
This mature and experienced group will take advantage of this second stint of their career. The Vipers' head coach described his offensive philosophy as a "scared money don't make money" attitude. I think this team has the ability to score a lot of points.
The Vegas Vipers had the first selection in the linebacker portion of the XFL Draft. Their choice? Former Falcons edge rusher Vic Beasley. Beasley had a league-high 15.5 sacks during his second season with the Atlanta Falcons.
I think the first game of the XFL's third season will come with an upset. The Vipers have the more mature and game ready roster. I think in the first couple of weeks, that's the most important data we can collect. The Vipers have more collective NFL experience and I think that will be a factor in Week 1.
XFL Week 1 Best Bets: Vegas Vipers +3.5 (-115 at WynnBet) / Vegas Vipers ML (+115 at WynnBet)
How did Geronimo Allison hang on to this? @813Geronimo #GoPackGo#PHIvsGB on @NFLNetwork | @NFLonFOX | @PrimeVideo
How to watch: https://t.co/32PKxts362 pic.twitter.com/znneVIIljy

— NFL (@NFL) September 27, 2019
Saturday: Orlando Guardians @ Houston Roughnecks (8:30 PM ET)
The Orlando Guardians are heading to Houston as 3.5-point underdogs to face the Roughnecks in primetime. WynnBet has the Guardians as the longest shot odds to win the XFL Championship at +800. Their opponents, The Houston Roughnecks are the favorite to win it all at +400. It's the projected first versus the projected worst in primetime.
The Roughnecks were a perfect 5-0 in 2020 before the XFL shut down. They were so close and unfortunately could not finish out their season. In order to give franchise a chance to finish the job from 2020, they brought in HC Wade Phillips.
Wade Phillips coached in the NFL from 1976 to 2019, finishing his career as the defensive coordinator of the Los Angeles Rams. Over his forty-two years of coaching his teams combined for a record of 368-290-2.
The Roughnecks don't have the most experienced roster, but what they lack in experience they excel in coaching. When I handicap these opening spring football leagues, I try to focus on what we know and what data we have.
At this point in the season, there is no better data than experience. Head coach Wade Phillips may have more NFL experienced than every player in the XFL combined and for that, we have to back him until proven otherwise. They have arguably one of the greatest coaches of all time, I expect Wade Phillips to cover up the flaws of this lesser-known roster and they will thrive.
Plus, anytime I can bet against Guardians Quarterback Paxton Lynch, I'm here for it.
XFL Week 1 Best Bets: Houston Roughnecks -3.5 (-110 at WynnBet) / Roughnecks ML (-170 at WynnBet)
Broncos legend Paxton Lynch throws it right to the defense pic.twitter.com/HaWUvnlvsl

— alex (@highIightheaven) April 17, 2022

Sunday: St. Louis BattleHawks @ San Antonio Brahmas (3:00 PM ET)
It will be a pair of first-time head coaches facing off on Sunday as the St. Louis BattleHawks battle San Antonio Brahmas in the Alamodome. Where these coaches lack in experience, their quarterbacks may have to make up for them.
Currently, the BattleHawks are three-point favorites against the Brahmas. The BattleHawks have the 2nd shortest odds when it comes to winning the XFL Championship at +475. Not too far behind are the San Antonio Brahmas at +550. This should be the most competitive matchup of the weekend, but I believe this game will come down to the quarterbacks and their experience.
The BattleHawks will be led by QB A.J. McCarron. McCarrons' most known for the three national championships he won at Alabama, but also played in the NFL where he threw for 1,173 yards and six touchdowns in 17 games from 2015 to 2020.
For San Antonio, they announced former collegiate standout Jack Coan as their starter. The Brahmas QB1 played his majority of football at Wisconsin and Notre Dame. He spent four years with the Badgers before transferring to play for the Fighting Irish.
Jack Coan started in his third year in Wisconsin. He played 14 games completing 69.6% of his passes, throwing for 2727 yards and 18 touchdowns. Coan had a brief stint with the Indianapolis Colts, but saw no real success in the NFL.
As previously stated, in my opinion, Week 1 comes down to experience. I think the St. Louis BattleHawks have the slight edge heading into Sunday with quarterback AJ McCarron. As these two teams begin to find out who they are, I will lean on quarterback experience when handicapping these games.
XFL Week 1 Best Bets: St. Louis BattleHawks (-3 at WynnBet) / BattleHawks ML (-155 at WynnBet)
A.J. McCarron finds Amari Cooper for the game winning TD in the 2012 SEC Championship! #Alabama #RollTide #CollegeFootballFanatics @AmariCooper9 @10AJMcCarron pic.twitter.com/4IkdobaSCW

— College Football Fanatics (@CFBallFan) February 9, 2023
Sunday: Seattle Sea Dragons @ DC Defenders (8:00 PM ET)
The Sea Dragons come into this game as slight 2.5-point favorites. Overall, the Sea Dragons are tied for the second shortest odds to win the XFL Championship at +475. The Defenders sit with the bottom three to win it the big one at +750.
The Sea Dragons will be led by quarterback Ben DiNucci, a former pick by the Dallas Cowboys in the 2020 NFL Draft. He served as a backup in Dallas, playing in three games, completing 23 of 43 passes (53.5%) for 219 yards.
The Sea Dragons will also have former NFL Wide Receiver Josh Gordon. Gordon has been trying to get back into the NFL for a couple of years now and this may be his last chance. He should be able to help the Sea Dragons in the air.
Former Ole Miss QB Jordan Ta'amu is expected to start for the Defenders. In two years at Ole Miss, Ta'amu threw for 5,600 yards, completing 381 of 591 passes (64.5%) for 30 touchdowns and 12 interceptions.
Jim Haslett will lead the Seattle Sea Dragons after serving as the inside linebackers coach for the Tennessee Titans for two seasons. He also coached six seasons as the head coach of the New Orleans Saints from 2000-2005.
Reggie Barlow is leading the DC Defenders this season. He spent 13 seasons as a college head coach, going 83-58 in his time with Alabama State and Virginia State.
I give the slight edge at to Seattle. The Sea Dragons have a serviceable quarterback with Ben DiNucci. They also have the better receiving core, and with a defensive minded head coach like Jim Haslett. I expect them to have a better game plan and a better identity of who they are as a unit heading into this matchup.
XFL Week 1 Best Bets: Seattle Sea Dragons (-2.5 at WynnBet) / Sea Dragons ML (-145 at WynnBet)
Related Content