Part 1 Video
Part 2 Video
Super Bowl 57 Predictions
The guys (@GamblingPodcast) give out their final Super Bowl 57 predictions with Katie Mox (@KatieMox) in part one of their live episode from Super Bowl 57. They're then joined by a group of NFL legends for their WynnBET Super Bowl preview featuring Chris Long (@JOEL9ONE), Chad Johnson (@OchoCinco), Nick Mangold (@NickMangold) and Julian Edelman (@Edelman11).
Katie Mox joins the show to discuss all the FINAL Super Bowl picks. She chimed in on the quarterback situation for her unfortunate 49ers as there is many directions for the team to go. She also discussed the abysmal efforts from the 49ers in the conference championship and how the fan base has pouted too much.
In the podcast you can hear about the Degen Trivia. The first question was about Atlanta Falcons safety Eugene Robinson soliciting oral sex to a police officer and what price he offered it at, either over or under 40.5 dollars. The next question is over under 23 Super Bowls being over 50 total points. The final question is about Bengals fullback Staley Wilson and how many times he was caught for cocaine by the NFL, over under 5.5 times. The answers can be found at the bottom, and the live winners won a SGPN helmet.
First Touchdown is an extremely tough bet as there can only be one, but the payout for it is insane. Taking guys like Jalen Hurts, Travis Kelce, or Miles Sanders makes sense, but when Noah Gray slips into the endzone to start off the scoring, you will be very mad you missed that 55-1 payout. History has shown that Jalen Hurts typically doesn't air it out much and keeps it on the ground, so his under is a good contrarian play.
Kansas City has protected Mahomes well but have yet to face the beast of the Eagles pass rush, led by the dog Hassan Reddick. Sean and Kramer are at a split on the over under of the game, it is easy to see that Sean has the over because to all the anytime touchdown bets he has.
Kramer Super Bowl Prop Bets
Exact Scores: KC 26-23, KC 27-23, KC 26-24, PHI 21-17
Chiefs ML
Under 50.5
Kenneth Gainwell First TD 18-1
Zach Pascal First TD 70-1
Eagles Defensive First TD 36-1
Noah Gray First TD 55-1
Sean Super Bowl Prop Bets
Boston Scott First TD 27-1
Kenneth Gainwell First TD 23-1
Boston Scott Longest Catch 150-1
Zach Pascal First TD 70-1
Eagles Defensive First TD 36-1
Game Total Over 50.5
Eagles -1.5
Jalen Hurts MVP
Exact Score: PHI 21-17
Katie Mox Super Bowl Prop Bets
Chiefs ML
Patrick Mahomes MVP
Jalen Hurts under 238 passing yards
Haason Reddick first sack +700
Haason Reddick most sacks +440
Travis Kelce 3+ TDs +2800
Super Bowl Predictions Part Two
This electric show before the Super Bowl Sunday hosts a star studded cast consisting of NFL legends, Chad Johnson, Nick Mangold, Chris Long, and Julian Edelman. The guys discuss what they are currently up to, their current state of their old teams, bets they like, and of course, their outlook for the Super Bowl.
Julian Edelman has a featured role as himself in the new comedy movie, "80 for Brady". The former Patriots super star was a trusted weapon for Brady through many years in New England. He thinks the Chiefs can be in trouble if the Eagles are able to lock down Travis Kelce. However, he believes the best receiver in this showdown is Travis Kelce for his ability at the top of the route. If not Kelce, he thinks AJ Brown to be the best. For all the moments Julian Edelman has been apart of, he says each one is different for the big moments, but the game itself is particularly different from the others for how long halftime is and media breaks.
Chris Long had the luxury of playing against his brother in an NFL game, and now the Kelce brothers are the first brothers to face off in the Super Bowl. He states that if he did play his brother in the Super Bowl, he would definitely give his teammates information to get in his head, like any good brother would. In general, he loves the Eagles offense, especially with the production they have gotten out of their running backs without spending too much.
Nick Mangold admires the play of Jason Kelce and believes he paved the way for Kelce to be able to be a legitimate superstar in the NFL despite playing the position that gets the least amount of love from the media. He did state though that he would not prefer to block for either quarterback in the big game Sunday.
NFL showman Chad Johnson knew how to run a damn good route and he believes Travis Kelce is the best route runner in the game Sunday, even though he is a tight end. Bets Chad Johnson likes are Travis Kelce first TD and Miles Sanders to score first TD for the Eagles. He also states if he had to pick between the two quarterbacks to catch a touchdown from, he would pick Patrick Mahomes.
Final Super Bowl 57 Score Predictions:
Chad: 28-23 Eagles
Julian: 31-28 Eagles
Nick: 28-27 Chiefs
Chris: 26-23 Eagles
Kramer: 26-24 Chiefs
Sean: 31-21 Eagles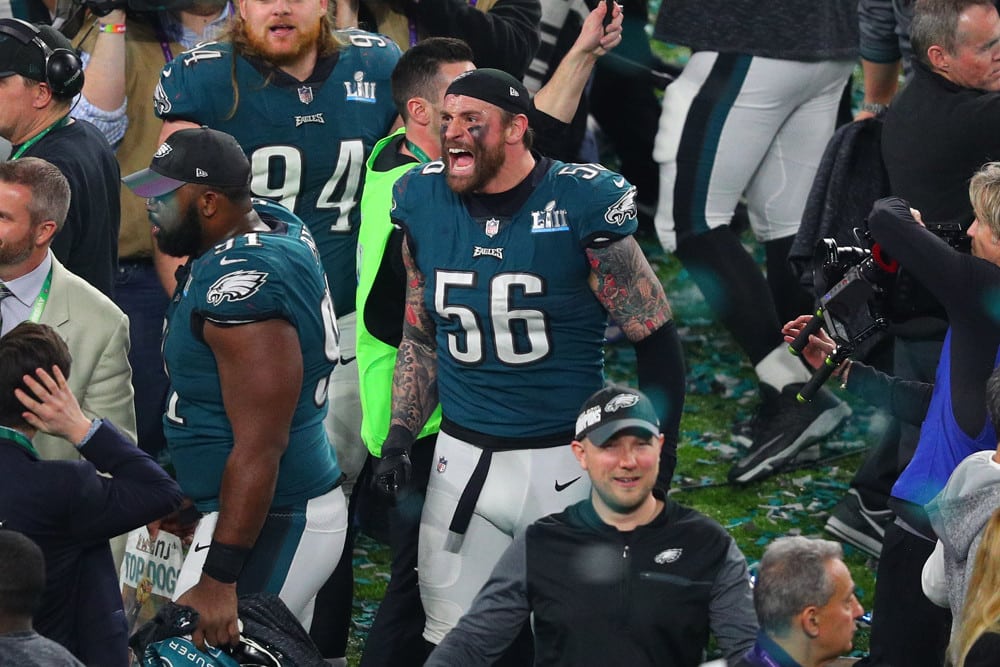 Podcast Transcription