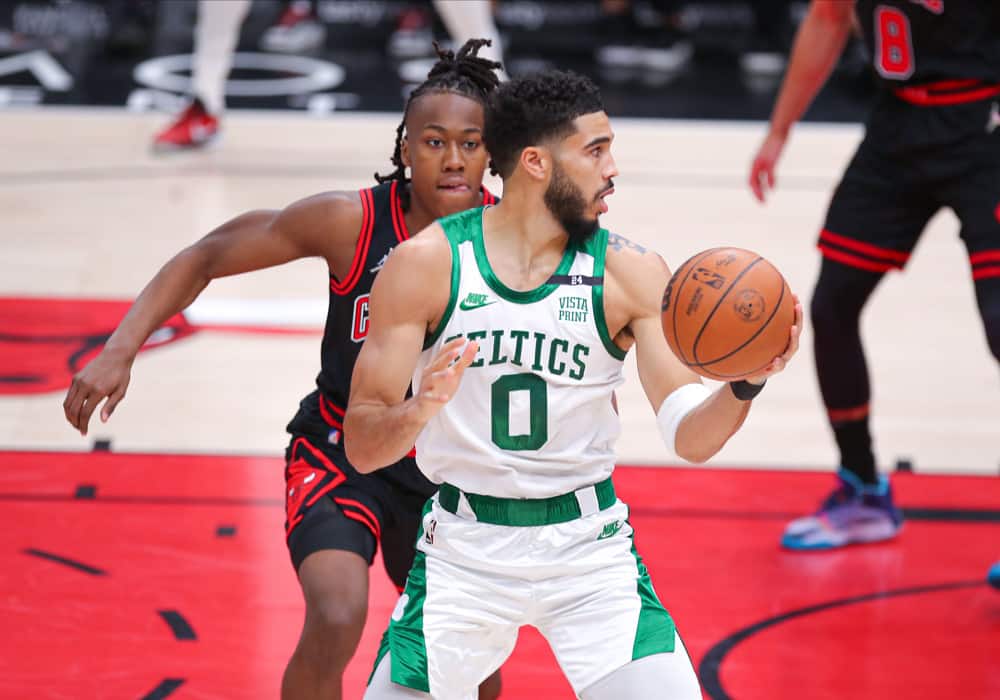 18 teams are in action this Wednesday – granted some without players that they had just days ago. It can be tricky to navigate the NBA trade deadline when putting together a DFS lineup, so we did all the heavy lifting for you. Just be sure to check them one more time before they lock.
NBA DFS Lineup for Wednesday – 2/8
It appears that the Heat are letting Herro fly a little bit as of late and it's paying off for them. Over the course of this year, Herro has cracked 22 shot attempts just six times. However, he has in each of his last two. It's paid off for him and the Heat with 25 points to go along with his always-stable boards and dimes (which hover right around five each). Furthermore, add in that he'll be up against the Pacers who are 24th in the league in opponents' scoring propelling him to have another big night.
SG – Gary Trent Jr – TOR – $6,100
Trent may have had a subpar night in his last game – getting really cold from the field – but that follows a run of really impressive shooting that can't be overlooked. In fact, in the five games prior, he hit 3+ three-pointers in each. He shot 67% from the field last Friday, all while shooting 56% from three-point. Put him in there against a team that ranks 24th in allowing points to guards, 30th in points against, and 20th in three-pointers surrendered – expect Trent to right the ship.
If there's an NBA player that I'm circling for a big game on Wednesday night, it's most certainly Tatum. The Celtics enter the game at home with Philadelphia rather banged up. As of Wednesday morning, Jaylen Brown, Marcus Smart, and Robert Williams all have questionable tags. They aren't all likely to be out, but they are all likely to lean on Tatum just a bit extra. It also shouldn't hurt his numbers that Philadelphia's biggest weakness tends to be their rebounding and Tatum has exceeded his season average in five of his last six games.
PF – KJ Martin – HOU – $5,500
Sacramento, in general, tends to be a decent rebounding team. However, they've been awful on the road in pulling down boards. In fact, they rank 21st in the NBA in rebounds allowed on the road. That's largely thanks to a 26th-place ranking in defensive rebounding percentage away from the Golden 1 Center. KJ Martin should benefit, as he's been on the glass more of late. In fact, he's exceeded his season average in rebounds in eleven of his last twelve games. That's a big part of the reason he's gone for 30+ fantasy points in five of his last six.

I'm a sucker for playing a guy against Detroit – I have to admit it. It's even easier to do when it's a guy who doesn't rely on scoring but can have a big game if he does. Mobley is always going to get his rebounds, but when he can put up points, he makes his NBA DFS salary look like a joke. He's done it for the last four games with 16+ in each of them. Facing one of the worst defenses in the league could only really help that.
Wednesday night's slate of NBA games is a great one to go high and low with. There are a lot of guys in the bargain bin that have great recent lines. Andrew Nembhard is one that I think needs to be heavily rostered. He didn't start for about a week, and his salary plummeted by 1.5k. Now he's back in the starting lineup and has put up at least 21.0 fantasy points a game since. Even his floor should justify this price.
Morris is another that I can't believe has such a low salary. In fact, he dropped after a 2.8 fantasy point performance on Monday, but that was just because he got ejected early in the game. Prior to that, he had back-to-back 32+ point fantasy performances. Even a number far lower than that should make him a steal.
My final pick out of the bottom of the salary barrel is Rubio. As I mentioned above, I love taking people against the lowly Pistons, who rank 29th in the league in opponents' scoring. Rubio is one of those guys who, if he can flirt with double figures in points, he should give you plenty of production on the rest of the spreadsheet. He hasn't dropped below 24 fantasy points in over a week, so he should meet projections without a problem tonight.
If you'd like even more information that could help your NBA DFS lineups, be sure to check out the NBA Gambling Podcast. The guys are dropping episodes every week to make you the smartest guy at the bar. 
Related Content