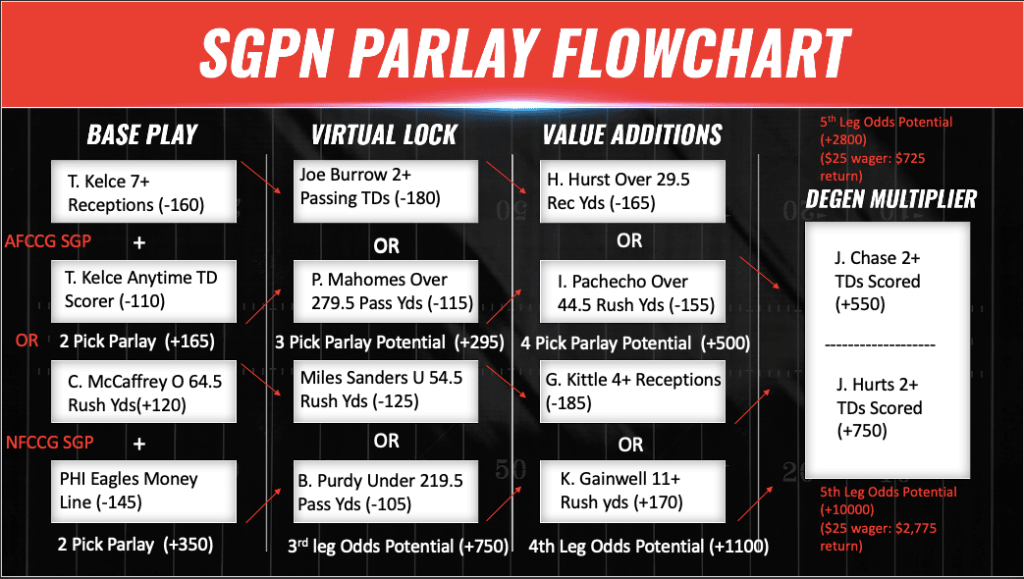 Whether you are new to legal sports betting or a veteran of gambling degeneracy, I have something I think you will be interested in. This week I am publishing SGPN's third NFL parlay flowchart of the season! If you are unfamiliar with the concept of a parlay, it is a simple concept.
A parlay simply combines multiple wagers into one bet. You need each leg to hit to win and receive a payout. While the odds of winning become slimmer, the payouts become substantially bigger.
Putting together a well-constructed parlay allows you to risk lower sums of money while still reaping the benefits of a substantial payout if all of your legs hit.
This, of course, requires some strategy and nuance. Before outlining SGPN's Championship weekend NFL Parlay Flowchart, let's review how we did last week.

Last Week's Parlay Flowchart
Last week's flowchart was a huge success. I hope you checked out the divisional round parlay flowchart because if you did, your bank account is thanking you.
Last week, the same game parlay hit in a big way, thanks to Travis Kelce. The "Degen Multiplier" was the Travis Kelce 2+ touchdown prop (+380), and he cashed in before halftime.
The Chief's money line (-425), 1st half spread -6.5 (+100), Travis Kelce over 84.5 receiving yards (+100), Christian Kirk anytime touchdown (+200), and the "Degen Multiplier" (+380) combined for +3500 odds and a $900 return if you had bet $25. Watching playoff football has never been so lucrative.
The multiple-game parlay (with a prop from at least each matchup) was so close to cashing in a big way. George Kittle's explosion against the stout Dallas defense thwarted our ability to turn $25 dollars into $816.83 with a nice little four-leg parlay.
The Singletary under 41.5 rushing yards (-115), Dallas Goedert over 47.5 receiving yards (-140), and Travis Kelce 2+ touchdowns all hit, leaving us oh so close to two big hits last week. These were encouraging results.
The process has been good, but I learned a valuable lesson. Sometimes a player is so skilled he is matchup-proof. I tip my cap to you, George Kittle.
We march forward.
Exclusive SGPN Content
All SGPN NFL Content
NFL Gambling Podcast
Fantasy Football Podcast
SGPN's NFL Divisional Round Parlay Flowchart
---
SGPN's Championship Round NFL Parlay Flowchart
With only two games this weekend, the format for the flowchart is a bit different. This week we have two same-game parlays to choose from, each with its own "Degen Multiplier." First, let's dive into the AFC Championship same-game parlay options.
AFCCG SGP: Base play (Pick Both)
This game will be a meeting of two AFC powerhouses. I expect this will not be the last time we see Joe Burrow and Patrick Mahomes face off in the playoffs.
While Patrick Mahomes' ankle is currently a concern, the game is still too close to comfortably call. Kansas City is currently a 1 point favorite at home. That should speak volumes.
T Kelce 7+ receptions (-160) AND T. Kelce Anytime TD (-110)
This game could swing on one play, and the football gods love to laugh in our faces. For that reason, I opted to choose props that felt a little less random than my base plays. Has there been a more sure thing than Travis Kelce this season?
Kelce caught 14 passes last week and found the end zone twice before halftime. In the biggest game of the season in what could be a showcase of two of the NFL's best offenses, do we think Kelce won't be featured in the red zone?
Kelce caught 110 passes and 12 touchdowns in the regular season. He has also averaged 8.6 receptions per game since week 15. I feel safer betting on Kelce to score than I do making an attempt to predict the winner of this game.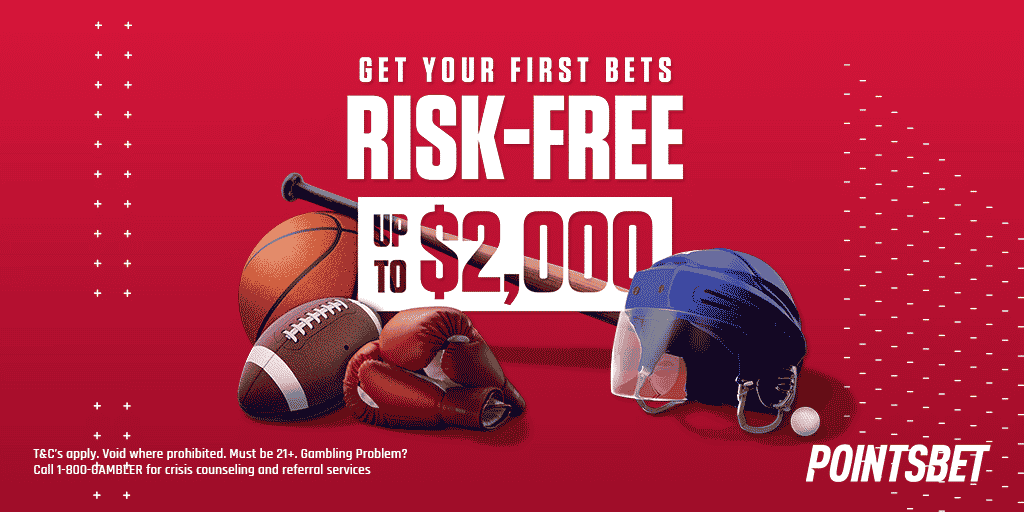 AFCCG SGP: Virtual Locks (Pick one)
P. Mahomes Over 279.5 Passing Yards (-115)
We are getting better odds on Patrick Mahomes's passing yard lines this week, thanks to his injured ankle. Mahomes' ankle has been a hot topic this week as he sprained it during last week's divisional-round victory over the Jaguars.
While he left the game for a short time, he was able to finish the albeit with a limp or two. Mahomes appears to be a full go this week though many believe he will be limited, and that could affect Kanas City's game plan.
If we have learned anything from the last five seasons, it's that Mahomes is different. The man is from a different planet and continues to do things never before seen in the NFL.
That being said, I am taking advantage of better odds this week (thanks to concerns over his ankle) and betting on Mahomes to still put up elite passing numbers.
Hobbled ankle be damned, Mahomes is more than a scrambling quarterback and is capable of picking teams apart from the pocket. Andy Reid could very well dial up numerous quick passes from the pocket to allow Mahomes to favor his ankle if needed.
I would not be shocked to see a few deep shots along the way to generate quick scores and set the tone. There will not be a shortage of scoring in this game. Ride with the golden arm of Patrick Mahomes.
J. Burrow 2+ Pass TDs (-180)
Is anyone cooler than Joe? Burrow is in his third year in the league and already in the midst of his second deep postseason run. This offense and this team go through Joe Burrow and the ice in his veins.
They also happen to boast the wide receiver unit in the league, and Burrow is not afraid to use any of them. Joe Burrow has been looking a little like Peyton Manning of late.
He is in total control of this offense and is making adjustments at the line on almost every play. Burrow seems to be getting the Cincinnati offense into the right play every time, and it shows.
I expect a Manning-like performance this week, and that includes passing for multiple touchdowns. This prop is juiced for sure, but with good reason.
Burrow has played the Chiefs three times in his career and has thrown for at least two touchdowns in each game. The Kansas City defense was also subpar in this area on the season.
They allowed 11 quarterbacks to throw for multiple touchdowns against them. I love this prop as a safe parlay builder.
AFCCG SGP 1: Value Additions (Pick one)
H. Hurst Over 29.5 Receiving yards (-165)
Hello, Mr. Hurst. Hayden Hurst has been enjoying his first season with the Bengals. As of late, Joe Burrow has been looking his way often. Teams have been hyper-fixated on locking down the likes of Ja'Marr Chase and Tee Higgins (rightfully so).
This has opened up passing lanes and allowed Hurst to have a few big games. A bit under the radar, but Hurst is becoming a favorite target of Burrows in the playoffs.
He has garnered 12 targets through two playoff games and at least 45 receiving yards in each game. This feels like a safe value play in this week's parlay.
I. Pacheco over 44.5 Rush Yards (-155)
While I am confident Mahomes can perform well with his ankle injury, that does not mean it will not affect the game. Kansas City very well may call a more run-heavy approach than usual to keep as much pressure off of Mahomes and his ankle as possible.
While Mahomes may still perform well from the pocket, his mobility may very well be limited. This means more running plays and more play-action. Enter, Isiah Pacheco.
Each week Pacheco seems to break off at least one big gain where he showcases his vision and big play ability.
The Bengals actually offer a decent matchup and have not been great against the run as of late. The Bengals have allowed over 325 rushing yards in the last three weeks combined. This could be a big spot for Pacheco.
AFCCG SGP: Degen Multiplier
Ja'Marr Chase 2+ Touchdowns Scored (+550)
We have two degen multipliers this week! Aren't you excited? Okay, that was a little over the top, but in all seriousness, these make the parlays the most fun but also the most terrifying.
On the AFC side, my multiplier is a bit of a gut feeling. There is no question that Chase is one of the premier receivers in this league. Burrow looks his way early and often.
Chase has a unique YAC ability that allows him to score from almost any point on the field. The Bengal's offense came out firing last week, putting up a quick 14 points on the Bills.
The early offensive onslaught included a Ja'Marr Chase touchdown on Cincinnati's first drive of the game. In a game where I expect Burrow to have multiple touchdown passes, Chase feels like the safest bet to be on the receiving end of more than one of them.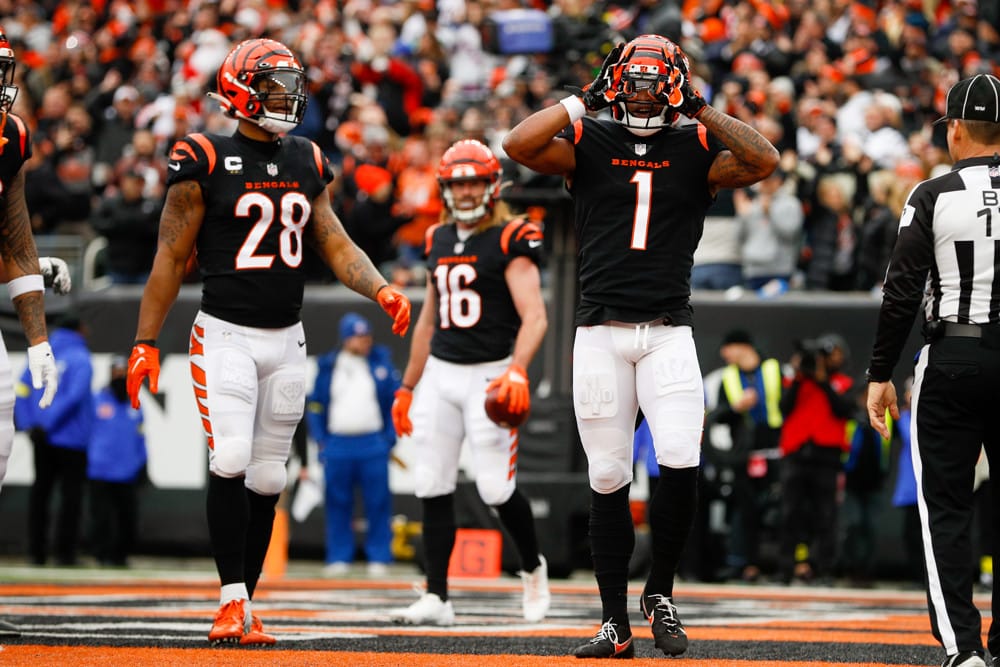 NFCCG SGP: Base play (Pick Both)
C. McCaffrey Over 60.5 Rushing yards (+120)
That McCaffrey guy is pretty good, isn't he? The Niners' offense has absolutely exploded since he was acquired at the deadline.
Winning this game is going to be a tall task for 7th-round rookie quarterback Brock Purdy. Purdy will have his work cut out for him on the road, in the postseason, against a stout Philadelphia defense that excelled against the pass.
The Eagles allowed a league-low 179.8 passing yards per game on the season. To be effective, San Francisco is going to need to rely on the run game, where Philadelphia ranked in the middle of the pack.
McCaffrey had a huge year on the ground, rushing for over 1,100 yards, eight rushing touchdowns, and averaged over 4.7 yards per carry. This game could be on his shoulders, and this feels like an easy total for him to reach.
PHI Eagles Moneyline (-145)
Both championship games are terrific matchups. It feels like we ended up with at least 4 of the top 5 teams in the league in the final four. That is what it is all about, isn't it?
Unfortunately for the 49ers, they are at the biggest disadvantage at the most important position in sports of the final four teams left. The Eagles have been a juggernaut on both sides of the ball all season long.
Brock Purdy only has to travel to Philadelphia and take on the 6th ranked defense in total DVOA and the number-one-ranked team in pass defense DVOA. What could go wrong?
While Purdy has been a great story and has protected the ball well, especially for a rookie, the odds of him leading this team to victory against the best team in the NFC in their house does not feel likely.
I think this game is close, but I feel more comfortable riding with the Eagles' money line here.
NFCCG SGP: Virtual Locks (Pick one)
Miles Sanders Under 54.5 Rushing yards (-125)
This bet might feel confusing after watching Sanders rack up 90 rushing yards against the Giants last week. Sanders has had a great 2022 season but has been far from consistent.
This is not an attack on his character or ability as a player but is more of a function of the type of offense he plays. Oh, and that Jalen Hurts guy is pretty good.
Hurts himself can carry the entire team's rushing attack, and occasionally, that does not leave much room for guys like Sanders to produce.
While it is always a possibility that it becomes the Jalen Hurts show, the 49ers have one of the stoutest defenses in the league.
Sanders may not have much room to work with in the limited opportunities he may receive. San Francisco has the number one ranked unit in the total defense DVOA. Oh, and they also rank second in rush defense DVOA.
The 49ers gave up a mere 3.3 rushing yards per attempt to running backs this season and only 59.6 rushing yards per game to the position. They also only allowed a running back to go over 51 yards 8 times all season.
Brock Purdy Under 219.5 Passing yards (-105)
The Eagles boast the number one ranked defense in terms of pass defense DVOA, and Brock Purdy is a 7th-round rookie. Need I say more? This is no knock on Purdy, who has been magnificent in an impossible situation.
Purdy has made a total of seven career starts and has managed 219 or more passing yards in only three of them.
This is quite possibly the worst matchup for a rookie quarterback, as Philadelphia's pass defense has feasted all season. To add insult to injury, the Eagles allowed the third-fewest passing yards per game at home.
NFCCG SGP: Value Additions (Pick one)
George Kittle 4+ Receptions (-185)
While Purdy may not throw for a ton of yards in this contest, I expect his biggest playmakers to see the ball early and often. Purdy is going to be asked to manage this game and give the ball to his playmakers in a short, safe passing game.
A tight end is the quarterback's best friend, right? Kittle seems to have made quite the impression on Young Purdy. Kittle has come alive since Purdy took over under center and has reminded the rest of the NFL that he belongs among the NFL's elite at the position.
Purdy is going to be asked to get rid of the ball quickly and to avoid the Eagle's elite secondary at all costs. This is likely to lead to quick, easy throws down the middle of the field for Kittle.
Last week, Kittle managed five receptions for 95 yards. Kittle has played seven games with Purdy and has managed at least four receptions in 6 of them. This is easy money.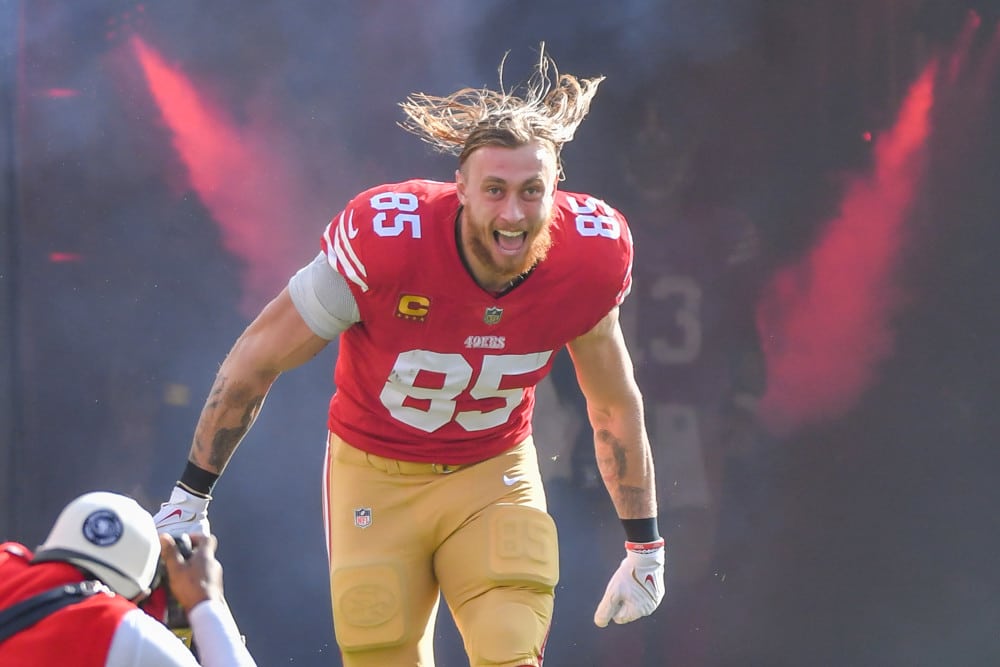 Kenneth Gainwell 11+ Rushing Yards (+170)
Sure, Gainwell is far from the feature back in this offense and sees limited opportunities. Also, yes, the 49ers boast the best-rushing defense in the league. So, what am I doing here?
Well, Gainwell always finds ways to be a part of this offense. He also managed a 12-carry, 112-yard rushing performance last week in a dominant playoff victory against the Giants.
I believe the Eagles will come out victorious in this contest. In what is likely to be a positive rushing game script, I expect Gainwell to see enough carries to eclipse the 12-yard mark with ease.
NFCCG SGP: Degen Multiplier
Jalen Hurts 2+ Anytime Touchdowns (+750)
Jalen Hurts was well on his way to MVP consideration before an injury to his shoulder caused him to miss multiple games down the stretch.
Hurts has been a one-man wrecking screw all season, gashing teams through the air and on the ground with his innate running ability. Hurts scored 13 times on the ground this season and had multiple rushing touchdowns in a single game three times.
Yes, the 49ers present the biggest challenge they have seen all season in terms of total defense and rushing defense. However, I find it hard to believe that the Dynamic Hurts will not be deployed in spectacular fashion in the red zone to help account for the stout rush defense of San Francisco.
I expect an abundance of read-option plays when the Eagles get in the red zone. If Philadelphia gets inside the one or two-yard line numerous times, I expect them to trust their best player to score and their best player in Jalen Hurts.
Check Back Often
Make sure you check SGPN regularly for all things NFL, NFL fantasy, and NFL gambling!