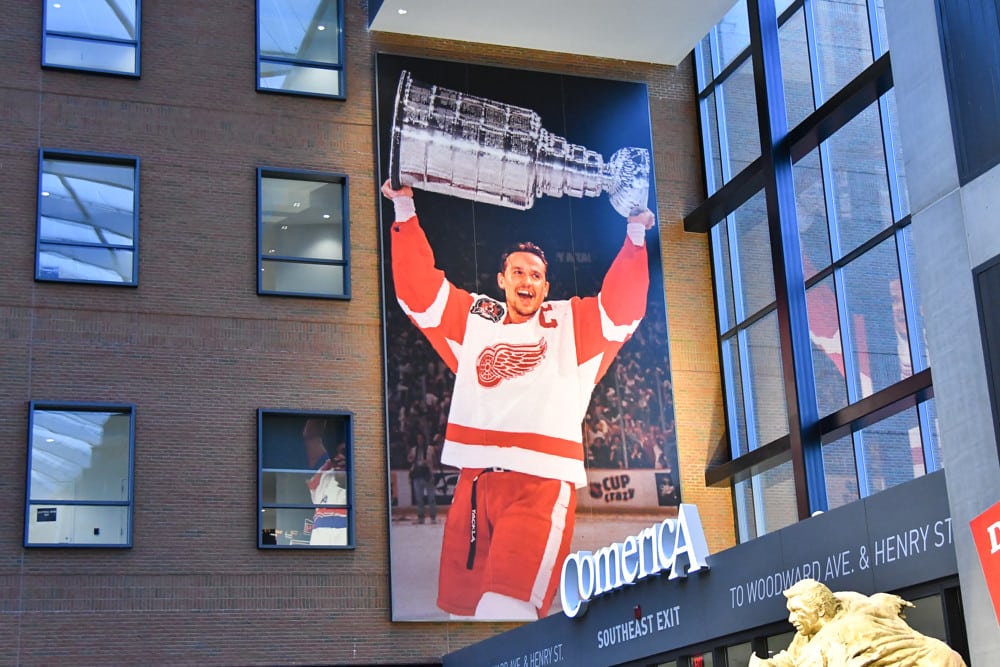 Opinions will differ as to who was the best, but it can be of little dispute that two of the best NHL players to ever come out of British Columbia were Joe Sakic and Steve Yzerman.
Joe Sakic: the inspirational leader
Starting with Sakic: the Canadian international was a one-club man. He started his career with the Quebec Nordiques in 1988 and stayed with the franchise when it relocated to Denver in 1995 and became the Colorado Avalanche as we know it today. Sakic ended his career with the Avalanche in 2009. And what a successful career it was.
The Avalanche have gone full circle since Sakic retired in 2009. After winning the Stanley Cup in both 1996 and 2001, the Avalanche had to wait another 21 years to win it again in 2022. And who was General Manager when captain Gabriel Landeskog lifted the trophy last June? Yes, it was Joe Sakic.
21 years ago as a player, today as a GM

Joe Sakic adds another #StanleyCup to his resume 🔥 pic.twitter.com/6YNfUTBwvB

— B/R Open Ice (@BR_OpenIce) June 27, 2022
This season, things aren't going as well for Colorado. The leading BC sportsbooks are favouring the Boston Bruins in this current season, but it would be foolhardy to write off the Avalanche at this stage. Bet365 currently have the Bruins as their second favourites to win the Stanley Cup again in 2023 with odds of 25/4.
Burnaby Joe: the man for the big occasion
Born in Burnaby, British Columbia, in 1969, Sakic is one of many top-rated NHL players to come from the Canadian province. His place of birth earned him the nickname of Burnaby Joe – probably not the most imaginative, but even that can't take away from his achievements.
Burnaby Joe captained the Avalanche to the Stanley Cup in their wins in 1996 and 2001. In 1996 he was awarded the Conn Smythe Trophy for being the most valuable player (MVP) in the postseason playoffs. He was also named the MVP for the whole of the NHL in 2001.
It will come as no surprise – with a roll call like that – to find that Sakic is a member of the Hockey Hall of Fame. He was given that honour back in November 2012. Oh, and just for good measure, the Colorado Avalanche retired his number 19 jersey when he finished playing.
Surely all this is more than enough to support the argument that Sakic is the greatest ice hockey player to ever play in the NHL who hails from British Columbia? But, still, the debate rolls on. 
Steve Yzerman: the three times Stanley Cup winner
The name most often put up against that Sakic is Steve Yzerman. And one of the main reasons why is that the two players have a very similar record. Like Sakic, Yzerman was also a one-man club, having spent all of his 22 years playing for the Detroit Red Wings. Steve Yzerman also wore the number 19 jersey, which was also retired when he finished playing.
Yzerman was also a great leader, captaining the Red Wings from the age of 21, and on over 1300 occasions. He is widely regarded as one of the best players to ever play in the NHL. Both players were a part of the 2002 Canadian Gold medal-winning team at the Salt Lake City Olympic Games.
Olympic 🏒 GOLD for Canada 🙌⁠
⁠#OnThisDay at Salt Lake City 2002, the @HC_Men defeated the 🇺🇸 to win its first Olympic gold medal since Oslo 1952 ✨🎉⁠
⁠
📽: IOC pic.twitter.com/CsF7TZLwBg

— Team Canada (@TeamCanada) February 24, 2021
But it's in their respective career statistics that Yzerman has a better record. Also known as Stevie Y, or Stevie Wonder, during his playing days, Yzerman has three Stanley Cup wins, one more than Sakic, and Stevie Y also outscored his British Columbian rival by 1,755 career points, to 1,641.
But despite having an inferior record as captain, the thing that goes in favour of Sakic is his leadership skills. Would the Colorado Avalanche have won the Stanley Cup in 1996 and 2001 without Sakic? It's hard to say either way, but members of both camps would probably accept that Sakic was more of a factor in both of these wins, and his leadership was both invaluable, and inspirational.
There is no easy way to decide
This is where comparing the two men comes down to comparing apples with pears. Despite the similarities, the rules we use to compare them aren't compatible. If it comes down to medals on the table, then it's Yzerman. While if it's inspirational leadership, then it has to be Sakic. One thing that can't be disputed though, is the fact that British Columbia hasn't half contributed some top-quality players to the NHL.