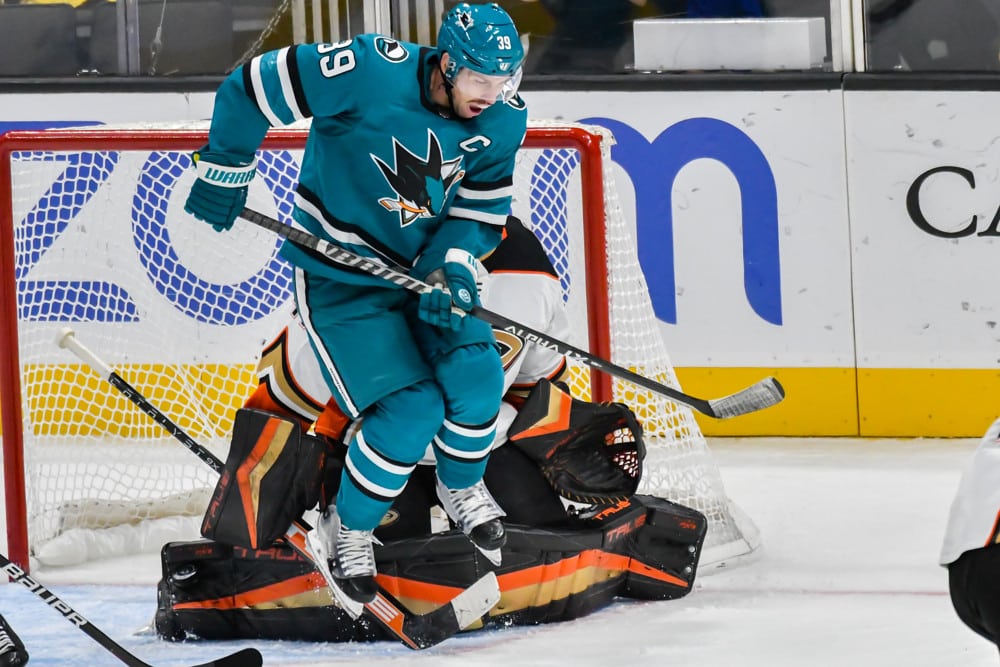 With the holidays behind us, it's acceptable again to ignore your family and/or friends and get obsessed with your fantasy hockey lineup. If you don't like what you see when you dive into your current roster, you're in luck. Here are ten players that are more than likely available on your fantasy hockey waiver wire that you can plug and play right now.
(only includes players rostered in 50% or less of Yahoo Fantasy leagues; stats listed are after Wednesday's games)
Best Fantasy Hockey Waiver Wire Pickups: Forwards
Logan Couture – San Jose – C – 49% Rostered
(14 G, 18 A, -14, 12 PPP, 89 SOG, 37 BLK)
Our top-rated available player this week is San Jose captain Logan Couture. The two-time All-Star is having another solid season with the Sharks, contributing solid stats across the board, whether even strength or with the man advantage. A couple of caveats here before you pick him up – his plus-minus is abysmal, which isn't out of character for him. And, secondly, he hasn't scored in ten games (he does have six assists over that span). But his goal drought is sure to end soon, as he's been a consistent scorer throughout his career.
Phillip Danault – Los Angeles – C – 32% Rostered
(12 G, 17 A, -4, 10 PPP, 81 SOG, 41 BLK)
While Couture is on a goal-scoring drought, Phillip Danault is having no such travails himself. He was shut off the stat sheet on Tuesday, but before that he had scored in three straight games and had at least a point in seven straight. The second-line center is well on his way to breaking his career high in points (53) and threatening the career-best 27 goals he netted last year

Best Fantasy Hockey Waiver Wire Pickups: Defensemen
(1 G, 11 A, +13, 0 PPP, 56 SOG, 92 BLK)
I've written about Brayden McNabb in the past, and he returns to the written portion of this column after having a solid week and a bit. He registered a goal and an assist over his last four games, which is a bonus because he doesn't bring too much in terms of traditional stats normally. No, it's the blocked shots category where McNabb helps out your fantasy team – after leading the league in blocks last season, his 92 has him in third place this year.
Esa Lindell – Dallas – D – 16% Rostered
(4 G, 7 A, +21, 0 PPP, 55 SOG, 70 BLK)
A new name has popped up this week in Dallas defender Esa Lindell. The career Star is a shot-blocking and plus-minus star, two categories that are important to fantasy hockey players. His +21 mark is tied for fourth-best in the NHL, and his 70 blocked shots are tops on the Stars. He doesn't score a heck of a lot, but he's a defenseman available on waivers, so don't get too picky.
---
Best Fantasy Hockey Waiver Wire Pickups: Goalies
(11 W, 44 GA, 469 SV, 0 SHO)
Charlie Lindgren is our top recommendation if you need help between the pipes. While Darcy Kuemper has played in four of the six Capitals games since his return from injury, he's let in nine goals in his last two games. Meanwhile, Lindgren has won four straight games and has nearly identical stats as Kuemper, so it's feasible to see him getting more time in the net going forward.
Martin Jones – Seattle – G – 44% Rostered
(16 W, 71 GA, 577 SV, 1 SHO)
I actually have two quality goalies to recommend to you this week – a very rare occurrence. The Kraken's Martin Jones is on a nice run, winning two straight games, stopping 48 of the 51 pucks blasted his way. His 16 wins on the year are tied for sixth-best in the NHL, and his goals against and save percentage are both trending in the right direction. Might be the right time to jump in on him.
---
Related Content: