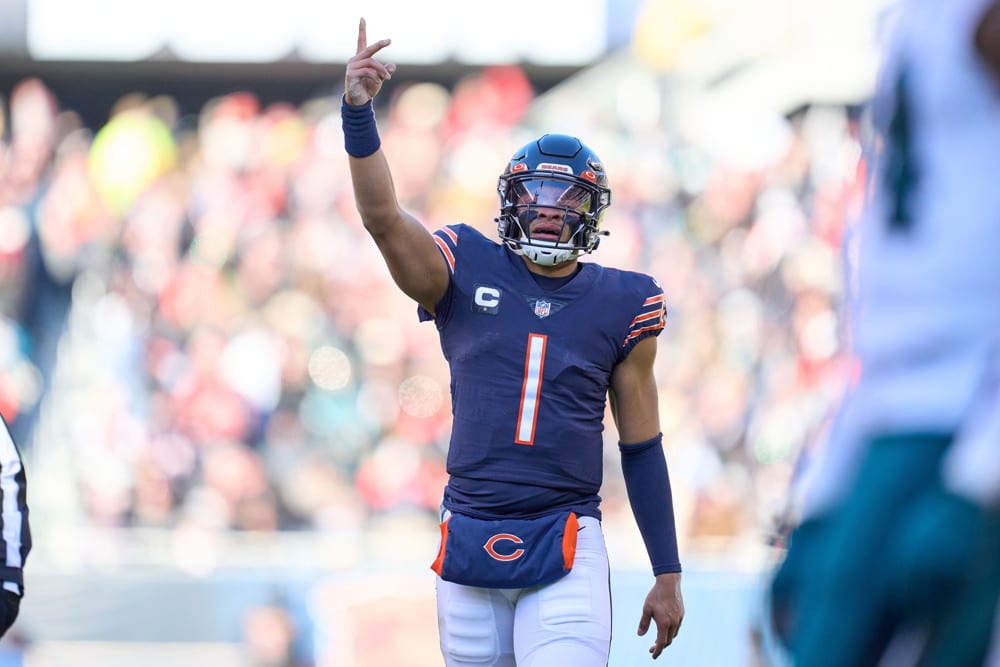 Lets Get Ready to Rumble!! We've reached the mountain top of fantasy football as we enter Week 17 of the NFL Season. Congratulations if you're competing in the fantasy football finals.

Although I really want to cheers the readers here, catching rankings for your toilet bowl, I respect and appreciate the commitment. This is where we make our final stand, where champions are crowned and glory is achieved.
If you haven't been blessed with a finals visit, keep working; your time will come. Check below for SGPN's Week 17 Fantasy Football Rankings Update. The crew isn't pulling any punches this week. Dive in!
Week 17 Fantasy Football Rankings
MORE SGPN FANTASY FOOTBALL CONTENT
Follow SGPN Fantasy Football on Youtube
SGPN Fantasy Football Rankings
---
Week 17 Fantasy Football Rankings Update
Key Ranking Movers
Justin Fields – QB – Chicago Bears
Fields had a down week in Week 16, but he's in a great spot to bounce back and deliver for the Bears in a divisional matchup versus the Detroit Lions. The Lions' defense was humbled last week by the Carolina Panthers as they lost and allowed two 125+ yard rushers. Not sure if you've heard, but the Bears like Justin Fields to carry the ball!
Fields has rushed for 1011 rushing yards ranking him the 7th best rusher in the league. He's totaled 800+ yards since week six and is averaging 12 attempts and 90 rushing yards per game along the stretch. Fields is my QB3 in Week 17, so if their name isn't Patrick Mahomes or Josh Allen, you can leave them on your bench in favor of Fields.
It should be noted that Fields has a total of 20 touchdowns and just six interceptions since the week six turnaround. The Lions' defense scares no one, and this game will be played indoors, which is a great upgrade for Fields and Bears offense off their Tundra Matchup with Buffalo in Week 16.
Travis Etienne – RB – Jacksonville Jaguars
Travis Etienne is my RB4 in Week 17. I'm expecting a huge game from him as he'll be heavily leveraged against the poor Houston Texans rushing defense. Etienne has looked strong the past two weeks, totaling 239 all-purpose yards on 36 total touches. He didn't find the endzone in week 15 or week 16; however, there is a strong likelihood he will score 2+ touchdowns this week, and that's why I have him so high.
He should maintain his high yards per touch and be included significantly in the play-calling. The Jags have been scoring with frequency so expect many visits to the Red Zone and many opportunities for Etienne to finish in close.
The Jags' offense has 95 total points in their last four games. The cherry on top, the Houston Texans allow the most rushing yards, fantasy points per game, and rushing touchdowns to the running back position making Etienne an absolute smash in week 17.
Keenan Allen – WR – Los Angeles Chargers
Keenan Allen appears to be back at full capacity on the pitch. He was striding and gliding on Monday Night Football, leading one of my opponents on a comeback to beat me by 2 points in the fantasy football semifinals. While I'm bitter, I'm still respectful. Keenan was a receiver I had in my top 10 for this season, but that reality was crushed by an early season injury.
Allen looks healthy, and the production is getting better and better. Keenan is my WR7 in Week 17, a bit higher than the consensus because I'm not scared of the Los Angeles Rams. Keenan has 37 catches on 59 targets through his last four starts.
He's clearly making up for the missed time. The Rams are a mid-tier defense to receivers, but they've been bad overall this year, and the Chargers will be desperate to secure another win to secure their playoff birth.
Tyler Higbee – TE – Los Angeles Rams
Okay, I'll take the bait. I moved Higbee up to TE7 for week 17 after his Avengers Level Threat Production in week 16. He totaled two touchdowns on nine catches for 90+ receiving yards.
Higbee is a key riser because there aren't very many reliable targets for the Rams.  Baker Mayfield is on this crazy League Wide revenge tour. He seems to find a favorite target and stick with them to compile completions. Higbee now feels like that player after Ben Skowronek went down with an injury.
Do I feel great about this pick? Not really, but Higbee has reprised his early season value these past two weeks. Making him a play that feels safe and risky but fun at the same time; tread lightly!