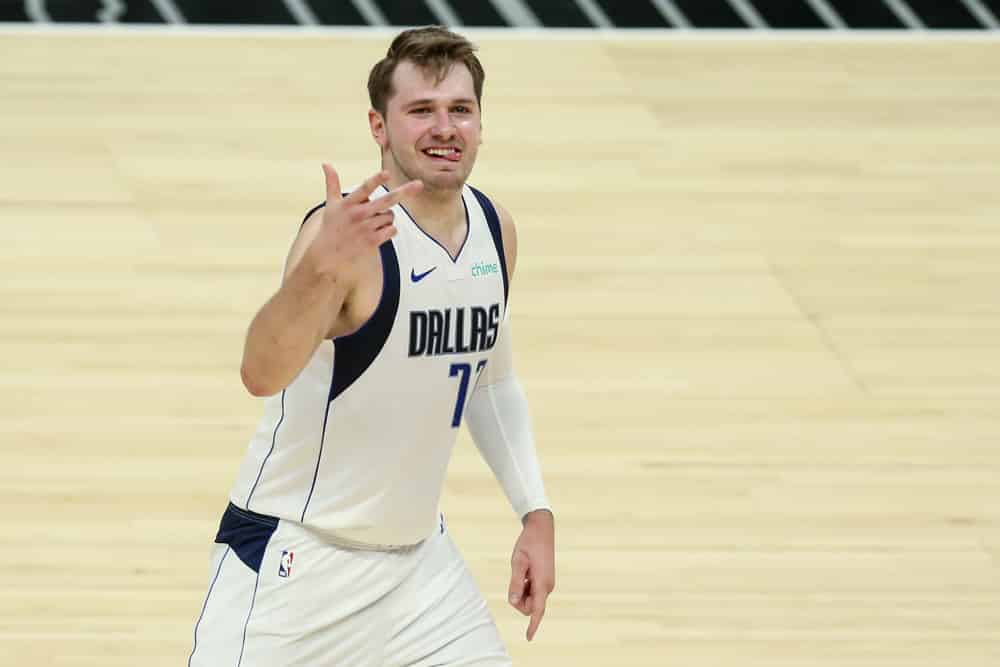 The NBA and Christmas Day – is there a better combination out there? If so, I don't want to know it. But while you're hustling around to grab those last-second gifts, you may have forgotten to do the research to set your NBA daily fantasy lineup for the big day. If that sounds like you, don't fear – we have you covered.
NBA Daily Fantasy Lineup for Christmas Day
On Christmas Day, we typically see superstars go for big numbers and incredible performances. Whether it was Kobe against Shaq back in the day or Durant ripping off 40 back on the Thunder – everybody wants their signature performance with the whole world watching. Luka has been white hot as of late, dropping 50 points against Houston on Friday night. It sort of feels like this is going to be his day.
After missing a game with an illness, Marcus Smart held a questionable tag heading into Friday's contest. All he did in that first game back was put on one of his best fantasy performances of the year. The reason I like him for my NBA daily fantasy lineup is that his value isn't just tied to scoring. He's been spreading out the stat sheet and should have an easy day getting those dimes against a Bucks squad that ranks 30th in the league in forcing turnovers.
Barrett is another guy I don't mind spending a little extra on to get in my NBA daily fantasy lineup because he has really picked up his scoring. While only averaging 20.4 points per game, he's gone for 30 and 44 in the last two games respectively. Much of that is due to him finding his touch from long range. I'm riding that hot hand while it lasts.
November 30th is the last time Brandon Clarke played in a game and failed to score double figures. His value has never really been tied to that scoring though, but rather whether or not he can grab enough boards to meet projections. It'll help that he's squaring off with the Warriors, who are 23rd in opponent rebounds.

A week and a half ago, Brook Lopez put up a sad 9.3 fantasy points against Memphis – playing only 18 minutes in the process. His DFS salary plummeted, going down nearly 1k. Since then, he's averaged just short of 36 fantasy points per game. Despite being on that hot of a streak, his salary is just barely back to where it started. Grab him while he's still a value.
I realize that I already have Luka in this NBA daily fantasy lineup, and it may be bold to expect two guys to go nuts with their scoring. However, the Lakers are 26th in the league in opponent scoring. Not only that, but they are bottom third in the league in allowing points to shooting guards. Load me up for a high-scoring game out of the Mavericks.
Shamet has been shooting the lights out as of late. He's averaging five 3-pointers per game over his last three. More importantly, Phoenix is letting him off the leash and having him fire off to his heart's content. With Denver ranking 18th in both 3-pointers allowed and the opponent's 3-point percentage, I think Shamet is going to score enough from behind the arc to make this salary seem silly.
The bargain bin picks here are a little on the prospective side. With Curry, Thompson and Wiggins all out, Moody is an easy pick for your lineup. However, there's a chance that we see Thompson and/or Wiggins back for Christmas day. One of them would probably be fine and we'll see Moody get plenty of burns to make this play worth it. Both being back might have me looking for another option before lineups lock.
If you'd like even more information that could help your NBA Daily Fantasy lineups, be sure to check out the NBA Gambling Podcast. The guys are dropping episodes every week to make you the smartest guy at the bar. 
Related Content