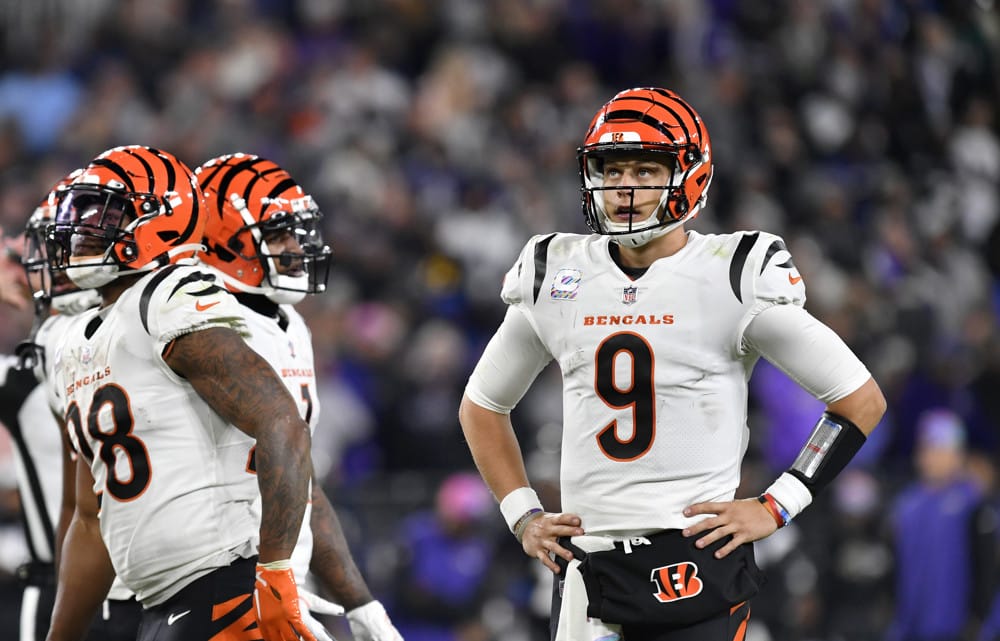 Welcome to the Sports Gambling Podcast Network's Top 10 Week 7 DFS Stacks article!! Each week of the NFL season, I will be breaking down the DraftKings main slate to bring you the top 10 DFS stacks. 
"Stacks" in DFS can be defined as; playing two or more players from the same team in a single lineup. DFS stacks have become the predominant roster construction strategy, particularly for GPP tournaments, with various unique and creative ways to build stacks and maximize your scoring upside each week. 
The most popular stacking options include the skinny stack, the double-stack, the run-back stack, the full-on game stack, and the running back paired with a defense stack.
The skinny stack is traditionally a quarterback paired with a skill position player. The double-stack includes the quarterback and two skilled position players. The run-back stacks usually consist of a quarterback and wide receiver from one team and an opposing wide receiver or running back.
A game stack can include up to five players from a single contest and a 3/2 or 4/1 team ratio, typically involving the quarterback. The running back stacked with defense is just that. 
Each week the stacks in the top 10 will include a variety of these stacks based on the scoring upside and likelihood of cashing in GPP tournaments and cash games.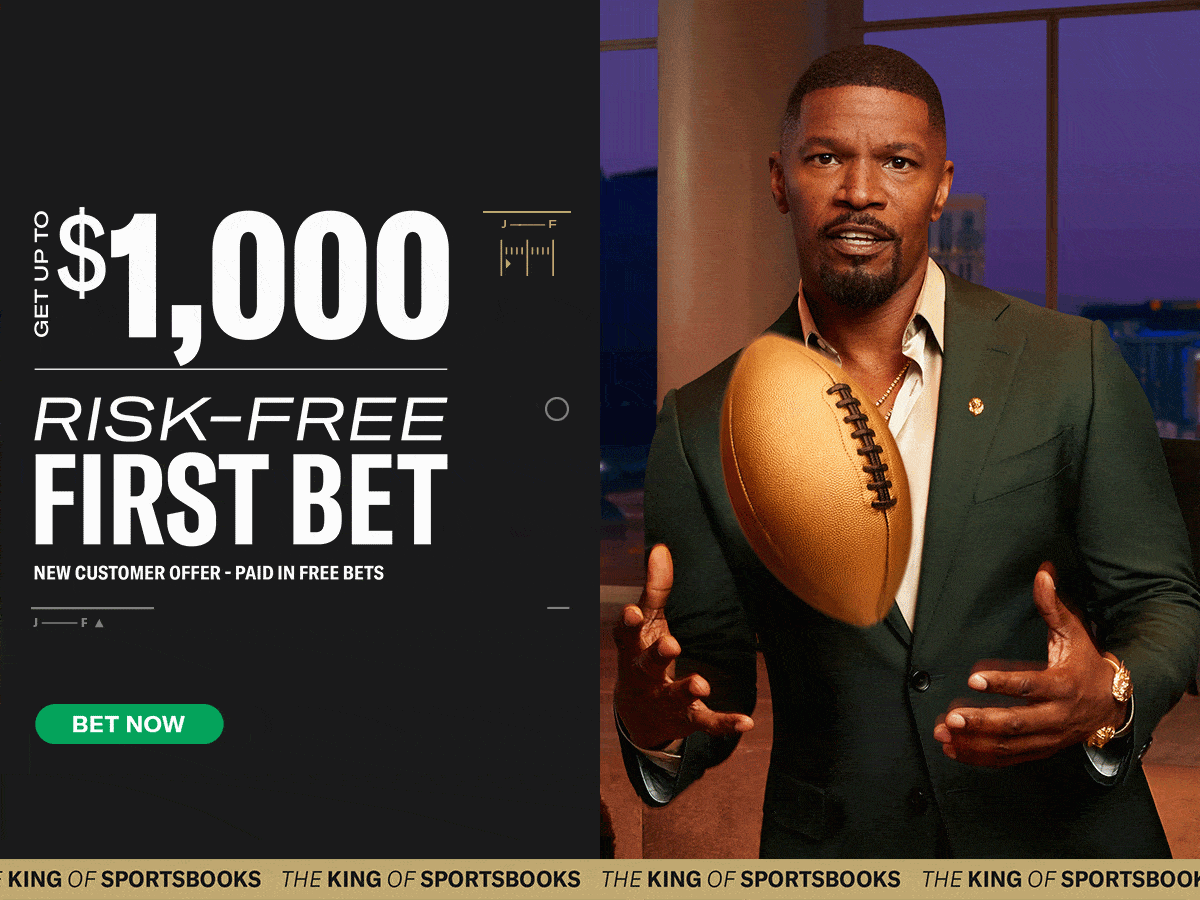 MORE SGPN FANTASY FOOTBALL CONTENT
---
Top 10 Week 7 DFS Stacks
Joe Burrow (QB) Cincinnati Bengals 
Ja'Marr Chase (WR) Cincinnati Bengals 
Last week Joe Burrow and Ja'Marr Chase were the nuts, combining for 70 DraftKings points to help take down the Milly Maker. This week we are running this skinny stack back against an Atlanta Falcons secondary that ranks 30th in the NFL against wide receivers. Last week they gave up 48 fantasy points to wide receivers in the form of 17 receptions for 180 receiving yards and two touchdowns. On the season they are giving up 42 points per game to wide receivers. 
Chase is averaging over 10 targets per game and ranks fifth in DraftKings points for wide receivers this season. He's currently on pace for better numbers than last year when he finished with 320 DraftKings points. The return of Tee Higgins to the Bengals lineup helps to keep the defense honest and creates a one-on-one matchup for Burrow and Chase to exploit. Burrow showed up last week to the game wearing a vintage game-worn Ja'Marr Chase LSU jersey and he went off. If Chase shows up in a Joey B vintage jersey this week it's absolutely on!  
Total Cost: $15,100
Players to pair with: Anyone 
---
Lamar Jackson (QB) Baltimore Ravens 
Mark Andrews (TE) Baltimore Ravens
Amari Cooper (WR) Cleveland Browns
Lamar Jackson will be out for payback this week when he faces the Cleveland Browns. Last season they held him to under 15 combined DraftKings points in two performances. The Browns just fired their defensive coordinator Joe Wood and are currently circling the earlier season drain after three consecutive losses. Jackson is currently the second-highest-scoring DraftKings quarterback, averaging 27 points per game. His 15 total touchdowns are third-most amongst quarterbacks through six games. 
Jackson's running mate, tight end Mark Andrews has caught five of those touchdown passes, along with 34 other receptions for 455 yards. He's averaging over 20 DraftKings points per game and has scored 20-plus points in four of six games this year. The Browns' defense hasn't been terrible against the tight end position this season, but Andrews isn't your typical tight end. For one thing, he hasn't blocked on a single snap he's played this season. He's basically a large wide receiver that lines up in the slot. Advantage Ravens and Lamar Jackson. 
Amari Cooper has played well this season, averaging 16 DraftKings points per game without Deshaun Watson under center. The Browns are 6.5-point underdogs in this matchup, which means a potential negative game script could be fortuitous for Cooper. The Ravens' secondary ranks. ranks 29th against wide receivers this season. They have given up 1189 receiving yards and seven touchdowns through six weeks. It would be foolish to overlook the potential upside given this recipe for success. 
Total Cost: $21,500
Players to pair with: Kenneth Walker (RB) Alec Pierce (WR)
---
Tom Brady (QB) Tampa Bay Buccaneers
Chris Godwin (WR) Tampa Bay Buccaneers 
Last week Tom Brady lost to Kenny Pickett, Mitch Trubisky, and the Pittsburgh Steelers.  As the cameras panned to a screaming Tom Brady on the sidelines right before halftime, you can audibly hear him saying that he did not leave his wife and kids to be f****** losing to Kenny Pickett at halftime. Actually, Tom, you left your wife and kids to lose to Mitch Trubisky, which might actually be worse. Either way, Tom will be out for blood this week when they visit the lowly, Robby Andersonless Carolina Panthers.
According to RunTheSims.com, super slot receiver Chris Godwin has the best projection this week at his $6,300 price tag. Since returning to the lineup in week 4 he's averaging over nine targets and six receptions per game. You still looking for his first touchdown reception on the season and has a great opportunity this week against a marginal Panther secondary. Donte Jackson and CJ Henderson ranked 78th and 87th, respectively, out of 108 cornerbacks. Miles Hartsfield has been a little better, but the Panthers are 11-point home underdogs who are about to get blown out by the GOAT. You should also consider double-stacking Brady with Godwin and Mike Evans. 
Total Cost: $12,600
Players to pair with: Christian McCaffery (RB) George Kittle (TE)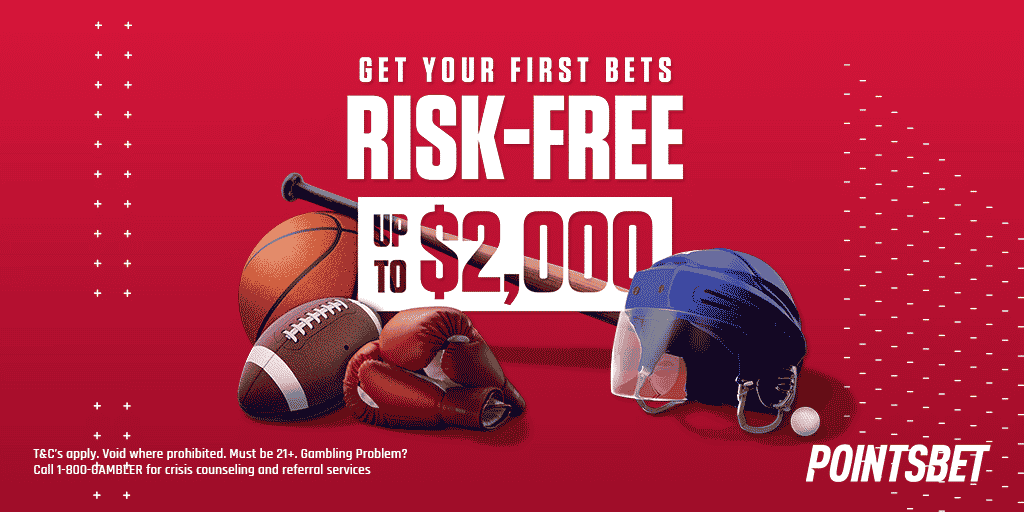 ---
Patrick Mahomes (QB) Kansas City Chiefs
Travis Kelce (TE) Kansas City Chiefs
George Kittle (TE) San Francisco 49ers
All the Patrick Mahomes haters can shut up! he currently is tied with Josh Allen for first in the NFL with 17 passing touchdowns. This is despite losing Tyreek Hill in the off-season and only replacing him with Juju Smith-Schuster and Marquez Valdes-Scantling. It might be his greatest accomplishment in his young career given the ineptitude at the wide receiver position compared to Hill. He's quietly averaging 25.5 DraftKings points per game, good for fourth-best through six games.  
My co-host at the fantasy millionaires Mike "Cash" Collins (AKA @TheRalphMacho on Twitter) loves George Kittle as a runback option this week. Kittle finally "Kittled" last week, seeing double-digit targets and scoring over 16 DraftKings points. This week the 49ers host the high-flying Kansas City Chiefs and perennial top tight end Travis Kelce. Who, of course, leads all tight ends in DraftKings scoring 22.8 points per game. He also leads all tight ends in touchdowns with seven, receptions 41, and yards 455. Kelce is averaging 4 more points per game than Ja'Marr Chase and is $400 cheaper. 
Jimmy G. will need to utilize all his offensive weapons to keep this game close. The Chiefs give up 14 points per game to the opposing team's tight ends. They haven't conceded tons of yards, only 275, but they have allowed four touchdown receptions. Kittle is still seeking his first touchdown reception on the season. I have a feeling he will find the end zone this week. 
Total Cost: $21,100
Players to pair with: Breece Hall (RB) Tyler Lockett (WR)
---
Dak Prescott (QB) Dallas Cowboys
CeeDee Lamb (WR) Dallas Cowboys
Amon-Ra St. Brown (WR) Detroit Lions 
Dak is back! Finally, the Cooper Rush days are behind us and now we can play the Dallas Cowboys skill-position players with more confidence, we hope. Now that I've said all this I'm sure I jinxed it and we're in for a huge letdown this week. Just kidding! This week the Cowboys are facing a Detroit Lions defense that might just have one of the worst defenses in NFL history. You can run on them, pass on them, score on them. Score more on them. You can score more till you can score no more. 
Dak's preferred wide receiver weapon to slice and dice the Lions this week should be CeeDee Lamb. He currently leads all NFL wide receivers and tight ends with a 32.4% target share. His lowest target share percentage this year is 26%. The Cowboys offense didn't change that much in Dak's absence. His return means that Lamb will just have a better more accurate passer feeding him his targets. The Cowboys' passing offense will continue to flow through Lamb. The return of Michael Gallup and the emergence of Noah Brown should ultimately benefit Lamb as defenses are forced to pick their poison each week. 
If Amon-Ra St. Brown plays on Sunday, you play Amon-Ra St. Brown in your DFS stacks. I don't make the rules, I just enforce them. Seriously though, St. Brown is a game-changer for the Lions' offense and now he's had two weeks off to rest his ankle. He should see plenty of action in this 48.5-point total. Whatever the projected roster is for St. Brown, I will be over the field.  
Total Cost: $20,600
Players to pair with: Josh Jacobs (RB) David Njoku (TE)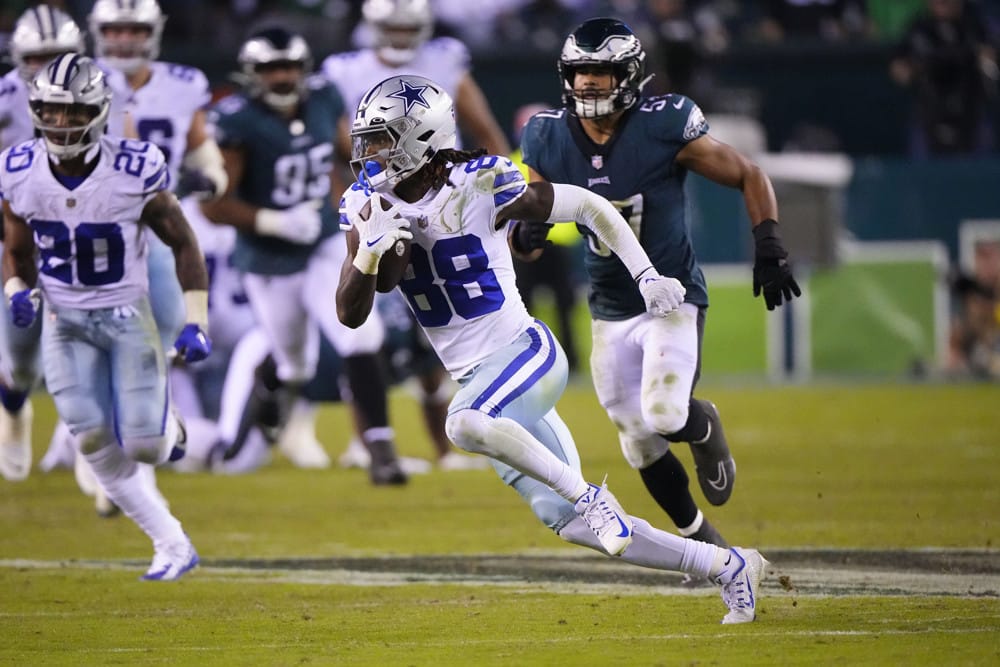 ---
Justin Herbert (QB) Los Angeles Chargers
Austin Ekeler (RB) Los Angeles Chargers
Kenneth Walker (RB) Seattle Seahawks
Justin Herbert leads all NFL quarterbacks in passing attempts with 257 and is tied for first with Matt Ryan of the Indianapolis Colts with 170 completions. Herbert is averaging 42.8 passing attempts per game. Without Keenan Allen in the lineup, Herbert has focused his attention on his short-range passing game. Austin Ekeler, Gerald Everett, and Josh Palmer have all seen an increased target share in Allen's absence. 
Ekeler leads all NFL running backs with 141 DraftKings points. He's averaging 23.5 points per game but has scored 34.9, 38.9, and 24.6-points in his last three games. His 49 targets and 41 receptions lead all running backs. He's caught 21 of 27 targets in the last three weeks. The man is a machine! The Seattle Seahawks' defense is more man than machine, ranking 26th against opposing running backs. They have given up 942 total yards to running backs, 253 of which were in the passing game. All good things.  
Kenneth Walker III looked tremendous in his first start at running back last week for the Seattle Seahawks. He converted his 24 opportunities into 110 total yards and a touchdown. He also broke a few ankles with his jump-cut moves. Saquon Barkley would have been impressed. Hell, maybe he saw it and reached out to dap him up. Either way, Walker III looks like a great value at only $5,800 this week. The Chargers rank 29th against running backs, giving up 28 points per game to the position. Running backs have been averaging 5.8 yards per carry and have scored eight total touchdowns in six weeks. It would be foolish not to play Walker III at this point. 
Total Cost: $21,300
Players to pair with: Chris Godwin (WR) Romeo Doubs (WR)
---
Matt Ryan (QB) Indianapolis Colts
Michael Pittman (WR) Indianapolis Colts
Derrick Henry (RB) Tennessee Titans
Dust Matt Ryan off he's not dead ladies and gentlemen! Also, the Jacksonville Jaguars defense is reverting back to form and maybe, just maybe they just aren't that great. Either way, Ryan and Michael Pittman's connection last week reminded me of his glory days with Julio Jones. Pittman was targetted 16 times last week, which led all NFL wide receivers. 
I love Pittman this week! The Tennessee Titans' secondary is trash. Through five games they've given up over 1,000 receiving yards and eight touchdowns to wide receivers. Despite not playing last week they still ranked second worst in touchdowns allowed to wide receivers. Pittman and Matt Ryan are high-fiving every day when they see each other in practice smiling knowing they're going to completely own the Titans cornerbacks this week. 
After two lackluster weeks to open the season, Derrick Henry Has roared back scoring 25 26, and 28 DraftKings points in the last three games. In those games, he has seen 25, 25, and 30 touches. He's also been targeted 13 times and has 10 receptions for 121 yards. Shocking how long it has taken the Titans to incorporate Henry into their abysmal passing game. This week his price is only $8,200 despite dropping over 30 DraftKings points last outing. Good thing he wasn't on bye on anything. A rested-up Henry…Oh, wait…I'm getting word from my producer that he was on a bye…good Lord people. Adjust the ranks.
Total Cost: $21,000
Players to pair with: Travis Etienne (RB) Drake London (WR)
---
Geno Smith (QB) Seattle Seahawks
DK Metcalf (WR) Seattle Seahawks
Austin Ekeler (RB) Los Angeles Chargers
I love Austin Ekeler so much this week that I am double-dipping and using him twice. Any complaints can be lodged with SGPN's HR department. Ask for Adam. Let him know that Scott sent you. While you are there you can thank him personally for hiring me to write about DFS stacks and ultimately line your pocketbook. Enough grandstanding, onto the analysis. 
Geno Smith is cheap and the Los Angeles Chargers secondary has given up 898 receiving yards and seven touchdowns to wide receivers through six games. DK Metcalf has only two receiving touchdowns on the season. That's going to change this week. The Seahawks are 6-point road underdogs this week in LA. The game script looks laced with upside. This game has the highest total on the DraftKings main slate at 51-points. 
Expect Metcalf to upwards of 10 targets and should be able to physically dominate his cornerback matchups against JC Jackson and Asante Samuel Jr.  The latter is ranked 107th out of 108 cornerbacks rated on the year by PFF. Look for explosive downfield plays to be on the table this week for Seattle. 
Total Cost: $20,500
Players to pair with: Tony Pollard (RB) Gerald Everett (TE)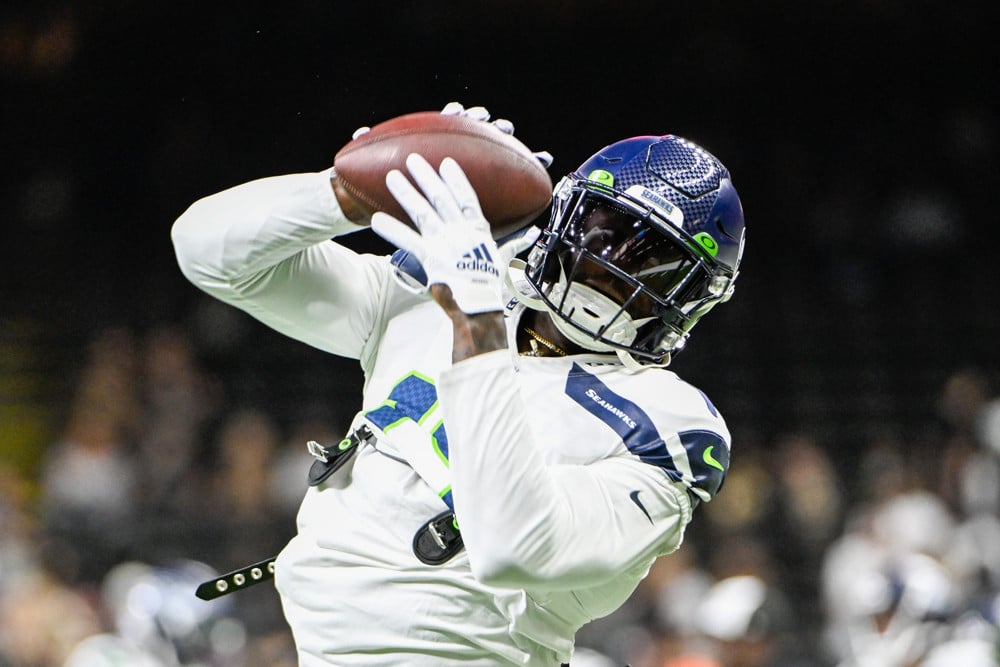 ---
Josh Jacobs (RB) Las Vegas Raiders
Dameon Pierce (RB) Houston Texans
The Houston Texans ranked dead last against running backs this season, giving up 30 points per game to the position. Through five games they've conceded 880 total yards and six touchdowns to running backs. Josh Jacobs is going to heavily roster this week given his cheap $6,500 price tag and the aforementioned terrible rushing defense of the Texans. He's still a great play and chalk that I'm willing to eat this week.
One way you can help mitigate the impact of that chalk is by pairing him with Dameon Pierce of the very same Houston Texans. Pierce has scored 18 or more points in three consecutive appearances and is coming off two back-to-back 20-plus point performances. He's averaging a shade under 25 touches in those three games and is averaging 16.1 DraftKings points per game. He's seen his target share steadily increasing as well, moving from 6% in Week 4 to 17% in Week 5, and finally 21% last week. I'm comfortable running this running back run-back stack in medium to larger GPP field contests. 
Total Cost: $12,900
Players to pair with: Anyone 
---
Aaron Rodgers (QB) Green Bay Packers
Allen Lazard (WR) Green Bay Packers 
Aaron Rodgers has had a tough couple of weeks, losing to Daniel Jones and Zach Wilson in back-to-back weeks. He might own Chicago, but right now New York owns him. This week Mr. Rogers heads to Washington to fight against the Dan Synder-led corruption that is the Washington Commanders football team. This might just be the embittered local in me, but I really hope Rodgers gives them the business this week. 
The Commander's secondary is not very good. And neither is the rest of their defense if you want to be frankly honest. Aaron Rodgers is going to carve them up this week. The commanders will also be missing starting quarterback Carson Wentz, replaced by Taylor Heinicke. we all saw that failed experiment last season.
This game could get ugly real quick and I don't think that Rodgers will take his foot off the gas either. He needs to feel good about himself and his wide receivers again. This game is just what he needs. I like both Allen Lazard and Romeo Doubs this week as paring options with Rodgers. Given the low game total, 41.5, I don't think it warrants doubling stacking.  
Total Cost: $12,100
Players to pair with: Anyone 
RELATED CONTENT