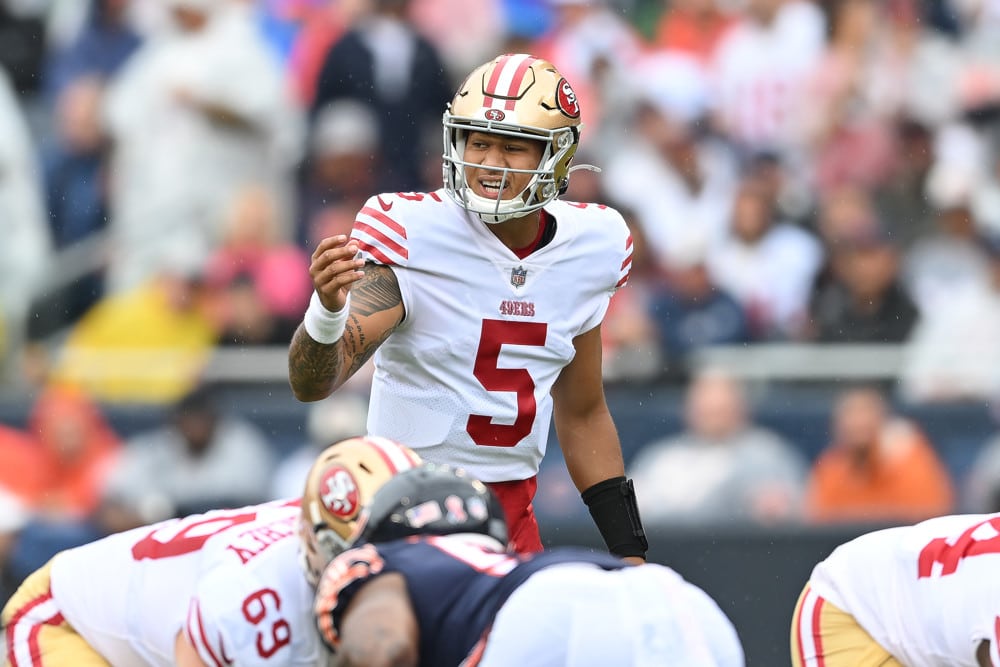 We're midstride in the NFL season, and SGPN is here with Dynasty Buy Low Candidates. So whether you are rebuilding or just have a boatload of picks, finding value in trades is how you build dynasties. Right now, the market will start going crazy as teams realize they are not contenders. This will create a feeding frenzy of trades. Contenders will be looking for win-now pieces and be willing to part with future assets.
Future assets aren't just draft picks. Look at their bench, their IR, and their taxi. See what you can get them to throw in. Inventory your team and see what is best for your team in 2023. Collecting picks is great, but don't forget about players as well. All of these are assets, and you want the most valuable pieces.

MORE SGPN FANTASY FOOTBALL CONTENT
Early Week 7 Waiver Wire Targets
SGPN Fantasy Football Rankings
---
Buy Low Dynasty Football Trade Targets
Dynasty Buy Low Quarterbacks
Trey Lance – QB – San Francisco 49ers
Trey Lance was the hotness this off-season, and his draft cost grew as the season got closer. This off-season was clear that this was his team. Unfortunately, he went down to injury. In the first game of the season, Lance played in a monsoon, and in the second game, he left with a season-ending injury in the first half. If the Lance owner is still looking to compete, see if you can move some pieces that can help him now so you can have Lance later.
Geno Smith – QB – Seattle Seahawks
Geno Smith is the fantasy football Quarterback 7, and it looks real. Smith is also just 32 years old and people will treat him as if he is older. Not only is Geno playing himself into fantasy fans' hearts, but he could be playing himself into a starting job in 2023. There are some good quarterbacks coming out, but there may be more open seats available. Geno Smith in Tampa Bay or back in Seattle, or Washington would be interesting the way he is playing right now. What about Geno in Indy? This would be crazy five weeks ago, but I don't think it is now. I also just got Geno for two 3rds in a Superflex league last week.
Cooper Rush – QB – Dallas Cowboys
Speaking of playing his way into a starting job. A good start would be not losing any games. Dak Prescott went down and it appeared the Cowboys' season was over, again. They had already lost future hall-of-fame left tackle Tyron Smith, and Cowboys fans were in shambles. Cooper Rush has only gone 4-0. Rush is a free agent next year and likely the top free-agent quarterback. He could be a bridge somewhere or find his way as a starting quarterback. Wait until Dak gets back and see how cheap you can get Rush; the reward is worth the risk if he lands a job next off-season.
---
Dynasty Buy Low Running Backs
Khalil Herbert – RB – Chicago Bears
David Montgomery is a free agent in 2023, and Khalil Herbert has shown us that he can definitely be a fantasy football starter. He showed us last year and has already shown us this year. The Bears will likely let David Montgomery walk this offseason if they don't trade him this season. This is a team rebuilding, and it is very likely that Herbert is their guy in 2023.
Javonte Williams – RB – Denver Broncos
Javonte Williams is not helping anyone this year and the fear is that he might not be ready to go to start the season in 2023. Williams, who at one point in the offseason was the #2 dynasty RB asset, is slowly dropping down the board. We have reviewed some trades for Williams and you would be surprised. James Robinson for Javonte Williams straight up, Jamaal Williams and a 1st for Javonte, Ezekiel Elliot plus two 2nds for Javonte, Clyde Edwards-Helaire plus a 1 st for Javonte. Javonte is still just 22 years old, go see if you can get him added to your team.
Isaiah Spiller – RB – Los Angeles Chargers
Isaiah Spiller was at one point being talked about with Breece Hall as the top back in this class. Spiller received a great landing spot, and his value slowly rose throughout the off-season. Spiller injured his ankle this off-season and has yet to play. The team picked up Sony Michel, and Spiller has really been an afterthought. Joshua Kelley has played well in this new scheme and has taken a stranglehold of the #2 position. All of the above helps you acquire Spiller for cheaper. Sony Michel is a free agent in 2023, and both Ekeler and Kelley are free agents in 2024. Spiller was an early 2nd round pick in rookie drafts this off-season, go see if you can get him for a 2023 3rd as people look to stock up on picks.
Antonio Gibson – RB – Washington Commanders
Antonio Gibson has lost his job, and Brian Robinson is clearly the starter. Robinson has been on a pitch count since returning and is still out touching Gibson. This team could move on from him, and that might be the best thing for Gibson. Gibson is still only 24 years old and has had back-to-back top-12 fantasy football running back finishes. If Gibson was traded to the Cardinals or Bills tomorrow, you would be back on board. If Robinson were to get hurt, Gibson would get the job right back. When everyone is jumping ship, see if you can get him on the cheap.
---
Dynasty Buy Low WR + TE
Calvin Ridley – WR – Atlanta Falcons
Again, managers are looking for players that can help them right now. Calvin Ridley's future is uncertain as he was almost traded this off-season. You can acquire Calvin Ridley for a late 2nd right now, and when he is reinstated next year, you can trade him for that plus before your rookie draft. Right now, there is a very poor 2023 free agent market. Top wide receivers available (JuJu Smith-Schuster, Allen Lazard, Jakobi Meyers, and D.J. Chark). You could see Ridley traded on draft day, and his value could skyrocket.
Romeo Doubs – WR – Green Bay Packers
Romeo Doubs was a controversial call away from blowing up in week 4. Doubs was clearly becoming the top target on the offense, and then, for some reason, they gave Randall Cobb 13 targets in London. That was an embarrassing loss but good for those trying to acquire Doubs. Doubs has been the primary outside wide receiver, while Allen Lazard has been their primary slot guy. Brighter days are ahead for Doubs. He is definitely someone that I am targeting everywhere.
Kyle Pitts – TE – Atlanta Falcons
Kyle Pitts will be a popular buy-low candidate, and I understand that you still might not be able to buy low on him. I put him on here because I still want to encourage people to try. Don't offend someone with a 2nd round pick or Taysom Hill for Kyle Pitts. But, the point I am trying to make is that the cost today is not what the cost was this off-season. The price is also very likely to go back up when Pitts returns. The manager likely spent a ton to acquire him, and it will be harder to acquire him if he shows any signs of life. Try to take advantage of him not playing and give them someone who is. A late 1 st, plus Tyler Higbee or Dallas Goedert, might get it done.
Trey McBride – TE – Arizona Cardinals
Zach Ertz is the fantasy football tight end four right now, and the Cardinals have a potential out in 2024 when he is 34. The fact that you might have to wait a full year or 2 for McBride is definitely a selling point for why you shouldn't have to pay much. McBride is a very talented player, but he is not scoring any points now. See if you can move a Tyler Higbee for a McBride plus.