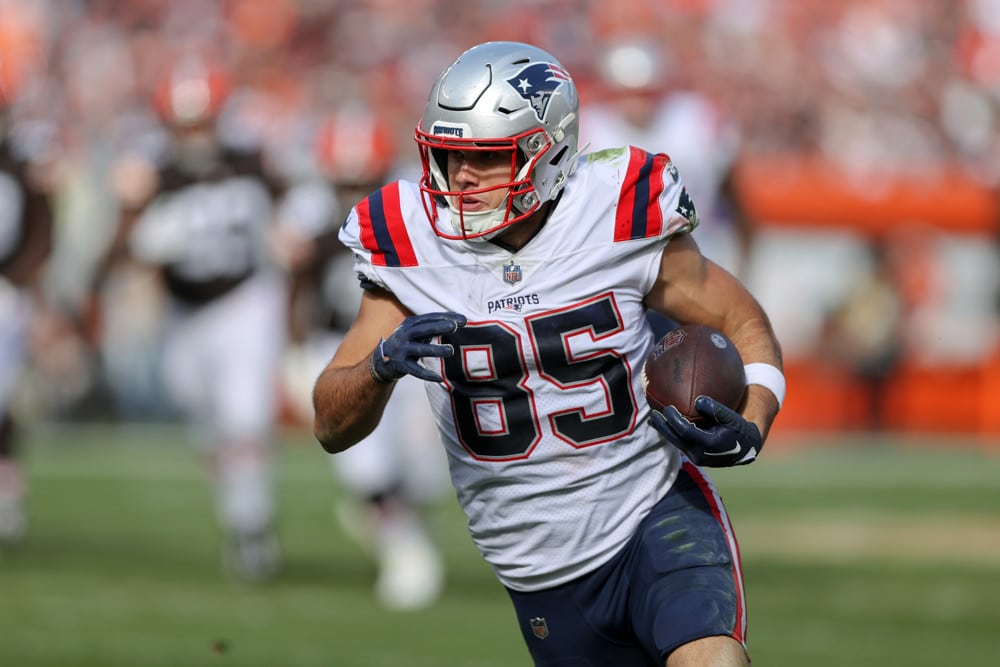 As it goes every year, Week 7 approaches and there are more teams on bye weeks but fewer players available on the waiver that can help you out. The waiver wire gets thinner with contributors each week as the season moves on. However, not all is lost as you look to continue your push in the 2022 fantasy football season. Maybe you're the top team, looking to build on depth and navigate the bye weeks. Or perhaps you're towards the bottom and looking to turn your season around.
Either way, this early look at fantasy football Week 7 waiver wire targets will certainly help. Keep reading to see a breakdown of some players that could be available in your league that could help your team. Week 7 will see the Bills, Vikings, Rams, and Eagles on a bye. The good news is, per Sleeper, these players are available in over 50% of leagues. And don't forget to tune in to the Sports Gambling Podcast Fantasy Football Podcast channel Tuesday morning for Old-Fashioned Football, where they'll break down more waiver wire targets.

MORE SGPN FANTASY FOOTBALL CONTENT
SGPN Fantasy Football Rankings
---
Fantasy Football Week Seven Waiver Wire Targets
Kenyan Drake – RB – Baltimore Ravens (8% Rostered)
Fantasy managers who started J.K. Dobbins had a frustrating day as he finished with just 1.5 fantasy football points due to injury. Reports are saying Dobbins' knee tightened up. Because he missed all last year with a knee injury, it is definitely concerning. However, you don't have to look far when you're scouring the fantasy football Week 7 waiver wire. Kenyan Drake stepped in and performed very well in his place. In fact, Drake ran so well that it almost looked like the old Kenyan Drake who was fantasy football relevant. If Dobbins misses time, for now, Drake seems to be the next man up. He finished the day with ten carries for 119 yards and a touchdown.
---
Gus Edwards – RB – Baltimore Ravens (23% Rostered)
Even though Kenyan Drake is the current leader of the Ravens' backfield if Dobbins misses time to rest his knee, Gus Edwards is also still on the team and is expected to return from injured reserve soon. Edwards only has two years of limited play as a backup in 2019 and 2020, however, both years showed promise. In those two years, he had 414 carries, 2,152 yards, and ten touchdowns. He sports a 5.2 yard per carry average, which is pretty impressive. Edwards was going to be the next man up when Dobbins was hurt last year, however, he also suffered a season-ending injury. Edwards is a sneaky fantasy football Week 7 waiver wire target and with how inefficient Dobbins has been when healthy, it is possible he comes in with a chance to steal the job.
---
Marcus Mariota – QB – Atlanta Falcons (23% Rostered)
It may seem weird to be talking about Marcus Mariota as a relevant fantasy option, however, he is. Even if it's just to help you in a pinch during bye weeks, Mariota has shown he can put up fantasy football numbers. This week, against a hurting 49ers defense, Mariota only threw for 129 yards and two touchdowns, he also ran for 50 yards and a touchdown. His ability to extend plays with his feet and to put up some rushing yards each week is the reason he is fantasy football relevant. Next up is a matchup against the Bengals who allowed Dalton 162 yards a touchdown and 39 rushing yards from Taysom Hill at the quarterback position. Despite their disappointing fantasy years, he does have Drake London and Kyle Pitts, two very talented pass-catchers to throw to.
---
Tyquan Thornton – WR – New England Patriots (4% Rostered)
One of the nice things on Sunday was the Tyquan Thornton sighting during the New England Patriots game. Starting the year with an injury we were waiting to see when the talented rookie out of Baylor would start making an impact and it happened against the Browns. Thornton finished the day with four catches on five targets for 37 yards and a touchdown. The Patriots also got him involved in the running game as he had three carries for 16 yards and a touchdown.
Thornton has averaged 15% of the target share since making his debut and it appears Bailey Zappe enjoys throwing him the ball. Whether that carries over when Mac Jones returns has yet to be seen, however, Thornton was a playmaker at Baylor and his three rushing carries on Sunday show that the Patriots want to get the ball in his hands. He could be a good dynasty option too when considering your fantasy football Week 7 waiver wire targets.
---
Hunter Henry – TE – New England Patriots (36% Rostered)
Another New England Patriot we have been waiting for is Hunter Henry. After finishing as the ninth-ranked tight end last year Henry hasn't done much this year. However, these last three games Henry has averaged 22% of the target share, and those numbers paid off yesterday against the Browns. Henry finished the day with four catches for 61 yards and his first touchdown of the year. Still a young player with a lot of promise, New England getting him more involved isn't only good for their offense but could be good for your fantasy team. He's one of the more talented tight ends that has had success among the fantasy football Week 7 waiver wire targets. And all fantasy football managers know how tricky the tight end position can be.
---
Daniel Bellinger – TE – New York Giants (6% Rostered)
A rookie tight end that we maybe didn't expect much production out of was Daniel Bellinger. If you didn't expect much out of him, he's started proving us all wrong as he's averaged 14% of the target share the last five weeks and 8.18 fantasy football points. While that doesn't seem like much, we already said how tricky the tight end position can be in fantasy football, and now you have four tight ends on a bye. Bellinger finished his day against the Ravens with five catches on five targets for 38 yards and a touchdown. He isn't always super flashy, but he's getting involved each week and will continue to be a red zone option.
---
Parris Campbell – WR – Indianapolis Colts (8% Rostered)
The first time he's received double-digit targets all year, Parris Campbell had a decent day where Matt Ryan looked his way often. As long as the Colts are going to continue throwing the ball over 50 times, it's not a bad idea to get a part of their offense, despite Matt Ryan not looking his best. This last week Campbell caught seven balls on 11 targets for 57 yards and a touchdown. He's a flashy player that has had success in the past and could help you through some bye weeks as still available on most fantasy football Week 7 waiver wire pools.
---
Jake Ferguson – TE – Dallas Cowboys (3% Rostered)
One last tight end to talk about that could make an impact if Dalton Schultz remains injured is Jake Ferguson. Schultz has been dealing with a PCL injury and Dallas could decide to rest him until he's fully healthy. It will help Dallas fans to know that Jake Ferguson filled in admirably for him. He finished the game against the Eagles with four catches on six targets for 40 yards and a touchdown. While Ferguson can't be trusted to put up that type of production every game, he should remain involved and considered if Schultz is out, especially with Dak Prescott presumably making his return next week. Ferguson is a deeper-league target that could get you by in a pinch but should only be played if Schultz misses time.
RELATED CONTENT