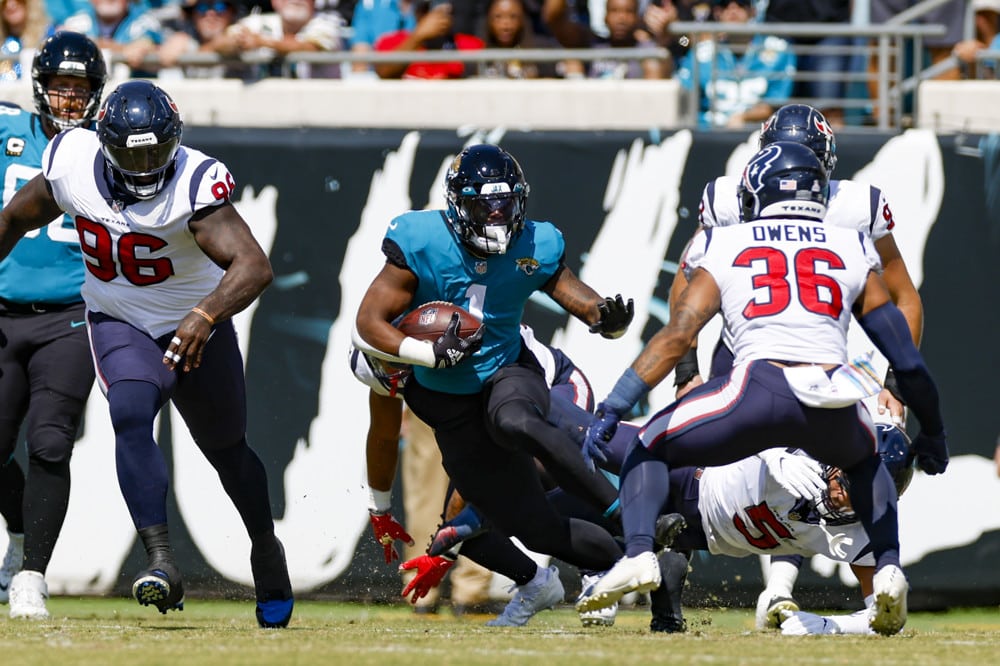 Another week of football brings another set of weekly fantasy football rankings. We have RBs severely underperforming, Quarterbacks overperforming, and some key Wide Receivers falling short of expectations. Our goal here at SGPN Fantasy Football is to give you an update every week on our rankings as well as any risers or fallers based on the weekly matchups. With that being said we bring you our Week 6 Fantasy Football Rankings. 

The participating analysts are David Heilman, Bradley Stickler, Justin Bruni, and Emerson Beery. Be sure to follow them and the SGPN Fantasy Football Twitter account! Also, feel free to send them any and all of your fantasy football start/sit or season-long inquiries. Another great resource for information is our discord channel. It's full of a bunch of fantasy talk and some real degenerates like you #DegensOnly.
MORE SGPN FANTASY FOOTBALL CONTENT
Fantasy Football Youtube Channel
---
Geno Smith
SGPN Week 6 Fantasy Football Ranking: QB11
I get it, we are all scared to actually put Geno Smith in as our starting Quarterback. We at SGPN have mentioned him before in our rankings article, but he's never been ranked in the top 10, or as a surefire starter. Over the past three weeks, he is averaging 300 yards, over 2 touchdowns, and under 1 INT. This week he is up against the Arizona Cardinals who have allowed the 8th most points to the QB position.. Even though they are tough against WR, I expect this game to be quite the shootout. This should continue to keep Smith near the top in completion percentage and yards per attempt.
Russell Wilson vs. Geno Smith this season ???? pic.twitter.com/lzwcG8oIqs

— FantasyPros (@FantasyPros) October 10, 2022
---
Travis Etienne
SGPN Week 6 Fantasy Football Ranking: RB21
I know, I know, it's been a disappointment to this point with Travis Etienne. He has no touchdowns and there have been weeks where James Robinson is the bell cow. However, that is now changing. Etienne has now out-touched James Robinson two weeks in a row and saw a season high in targets last week with 5. Not only has he out-touched Robinson, but he has also seen a steady increase in snaps over the last four weeks (37% to 43% to 51% to 53%). While that is slight and quite unnoticeable, it is significant seeing the explosiveness he has and the inefficiency that Robinson has displayed over the last two weeks.
#Jaguars RB snaps Weeks 2 & 3:
* James Robinson 89, Travis Etienne 59#Jaguars RB snaps Weeks 4 & 5:
* Travis Etienne 64, James Robinson 52

— Adam Levitan (@adamlevitan) October 10, 2022
---
Chris Godwin
SGPN Week 6 Fantasy Football Ranking: WR18
Chris Godwin got paid even after his injury late last season. When we saw him healthy in Week One there was some serious excitement because he garnered 3 catches on 3 targets in the first quarter. He subsequently missed the next three weeks due to a hamstring injury just to come back and see 16 targets over Weeks Four and Five. His upcoming schedule is juicy working up to the bye though. He still has Tom Brady's eye and looks to be healthy. He has played very well and his production will come quite possibly against the Pittsburgh Steelers' pitiful defense.
Top-graded Buccaneers in Week 5 against the Falcons:

1. Antoine Winfield Jr. (85.5)
2. Shaq Mason (77.8)
3. Chris Godwin (76.3) pic.twitter.com/nehgCGZAY7

— PFF TB Buccaneers (@PFF_Buccaneers) October 11, 2022
---
Zach Ertz – TE – Arizona Cardinals
SGPN Week 6 Fantasy Football Ranking: TE4
Zach Ertz has been quietly putting together another phenomenal season at the Tight End position. He is ranked 6th in points per game, 4th in targets, 4th in catches, and only has 2 touchdowns (even though he leads TE in redzone targets). He gets the benefit of playing the league's worst defense against the TE position in the Seattle Seahawks. We expect this to be a high-scoring game as well based on the 2nd highest over-under at 51 per DraftKings sportsbook.
TE Redzone Target Leaders

Zach Ertz 11*
Travis Kelce 9*
Mark Andrews 9*
Darren Waller 7
David Njoku 7**

*Leading team in Redzone targets
** Tied with Amari Cooper

David Njoku currently 7th in TE Target Share 18.7%

— LaQuan Jones (@RealDealFantasy) October 10, 2022
RELATED CONTENT