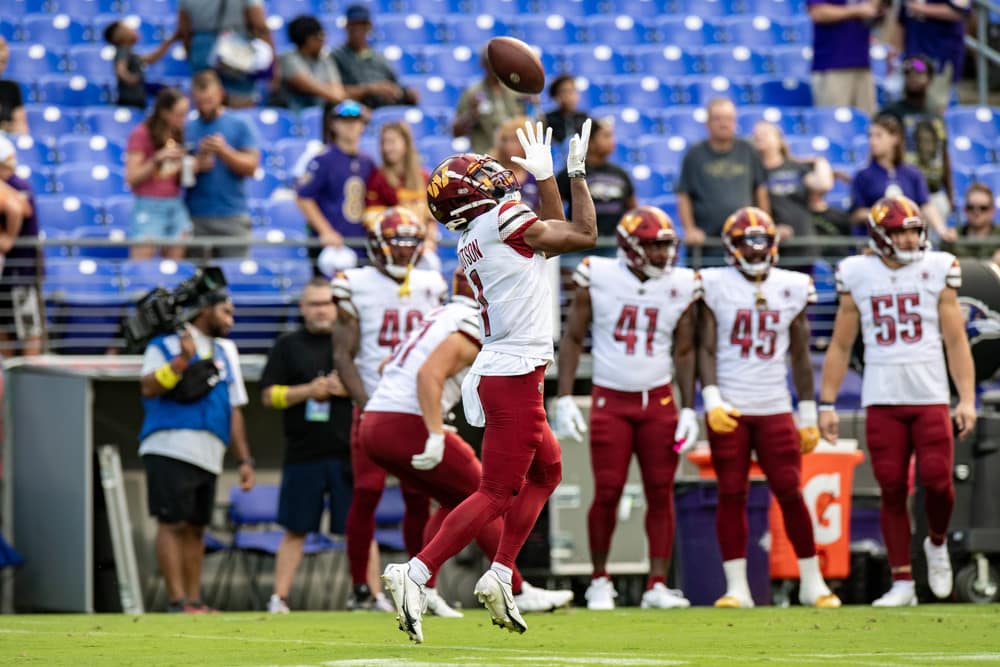 It is almost Week 3 of the NFL football season! I know I say this every year, but sheesh, it is going by fast. Maybe that is just what it feels like getting older. Every day is exactly the same, so we go on autopilot, and before we know it, we are the cranky old man yelling at kids to get off our lawn
Speaking of cranky old men, Tom Brady looks like a shell of himself these days. You have to wonder if his deal with the devil for eternal youth has an expiration date. Well, if you made the mistake of drafting Tom Brady as your QB1 this season and your fantasy league employs a free-agent budget waiver system (FAAB), then you came to the right place! Welcome to your fantasy football Week 3 FAAB cheat sheet.
This happens every year. Your draft what you think is a league-winning roster, and then your WR1 goes down with an injury. Maybe you invest a second-round pick in a starting running back with league-winning upside, and then the head coach gives him three carries in Week 1 to "send a message" (I'm looking at you, Cam Akers). Either way, fantasy football is unpredictable. It is a week-to-week game, and very often, championships are won on waivers.
If you play in a league that utilizes the FAAB system, then the key to a long playoff run is managing your FAAB appropriately. Whom should you target each week? What players are worth blowing 20% of your FAAB on? In this Week 3 FAAB cheat sheet, I will highlight some major players you should be targeting on waivers this week to plug holes on your roster or help you build league-winning depth.

It is still very early in the football season, and there won't be any players worth blowing 50% or more on yet. However, there are some potential gems that could have very high ceilings. Just remember this is only a guide. You ultimately have to decide what a player is worth to you.
If you are absolutely desperate for wide receiver help and have studs at every other position, then you might even want to bid more than I recommended here for someone like Sterling Shepard, who continues to exceed expectations and has commanded a large target share (31% in Week 2) and logged the second highest snap share among Giant WRs (88% in Week 2). That is just one example. Before I give away all of the goodies, let's get right into your go-to Week 3 FAAB cheat sheet.
Exclusive SGPN Content
Fantasy Football Trade Value Charts
---
Fantasy Football: Week 3 FAAB Cheat Sheet
Potential Gems (10-20% of FAAB)
Sterling Shepard – WR – NY Giants – 20%
I know I hinted at this one, but I would be remiss if I did not mention Sterling Shepard in this week's article. Every year I find myself in this position. I don't draft Sheppard because I think the positional group is crowded on the Giants and Shepard has a low floor. Then every year, I find myself scrambling to get Shepard a few weeks into the season because he takes on a bigger role in the offense.
Kadarius Toney cannot seem to stay healthy or get on the same page with the coaching staff. Apparently, Kenny Golladay got a huge payday and then packed it in. Golladay saw an unbelievably low 3% of snaps in Week 2, and Toney managed to see 38% of snaps but only managed three targets while on the field. The end result was a huge snap share for David Sills (who?) and Sterling Shepard.
While Sills saw a team-leading 92% snap share in Week 2, I am more excited about Shepard. Shepard saw 72% of snaps in Week 1 and followed it up with 88% of the snaps in Week 2. Shepard only commanded four targets in Week 1 but turned that into two catches for 71 yards and a touchdown. In Week 2, he saw a team-leading ten targets that went for six receptions and 34 yards.
While that is not an impressive line, it is more than serviceable in a PPR league. Shepard clearly has the trust of the coaching staff and is on the field a lot. The best players for your rosters are those with talent and opportunity, and Shepard has both. Shepard should be one of your primary targets on the waiver wire this week, especially in PPR leagues.
---
Tyler Higbee – TE – LA Rams – 15%
Tyler Higbee feels like the player most likely to break out for three years in a row. Every year, he is serviceable, but that huge breakout never quite materializes. Well, I hate to sound like a broken record, but this might be the year. Higbee is the number one tight end on one of the most explosive offenses in the NFL.
Through two weeks, it seems Higbee might have found himself inside the circle of trust with Matthew Stafford and Cooper Kupp. Higbee has seen 20 targets through two weeks of the season and was on the field for 94% of the offensive plays in Week 1 and 97% of them in Week 2.
It is no secret that Matthew Stafford likes to play favorites with his weapons. If you are reliable, he is going to look your way a lot. This offseason saw Robert Woods traded to the Titans and OBJ remains unsigned. Sure, the Rams signed Allen Robinson, but through two weeks, he has mostly been uninspiring. Sure once Stafford gets more comfortable with Robinson, he might eat into the workload for Higbee, but that is no guarantee.
Higbee is currently the second-leading receiver on the team by far. Cooper Kupp is commanding a 38.1% target share through two weeks. Surprisingly, Higbee is not too far behind with a whopping 26.3% target share. Tight end is such a tough position to find consistent production from, so Higbee could be a season-saver. Maybe I am a little too excited, but I think Higbee has a league-winning upside this season, especially in PPR.
---
Carson Wentz – QB – WSH Commanders – 10%
Just go get Carson Wentz. I know a quarterback is not a sexy pick, and there is generally good QB depth on the waiver wire but I think this is a unique situation with Wentz. It is not like we have not seen him perform well in the past. He was an MVP favorite before getting injured in 2017 for the Eagles. A few injuries and a few trades later, not many folks are sure what to make of Wentz.
Through two weeks, who looks better, the Colts or the Commanders? The choice is obvious. Wentz may be inconsistent, but his ceiling is that of a top-10 fantasy QB. Wentz is currently QB2 through 2 weeks of the season (with Monday night games to go), and they have not been fluky. He has scored 27+ plus points each week in standard scoring. That is elite production.
The Commanders might also have one of the most underrated skill positions players in the league. Terry McClaurin continues to solidify himself as a top receiver in the NFL. Curtis Samuel is back from injury and looking better than ever. First Round Pick Jahan Dotson looks like a star in the making. The Commanders have a legit tri of receivers and talented pass-catching backs in Gibson and McKissic. The weapons are there for Wentz to maximize his talent, and so far, he has done so. Even if he does not pan out, do you want to leave a potential top-10 QB on the waiver wire?
Honorable Mentions
D.J. Chark 12%
Joshua Palmer 10%
Jacobi Meyers 10%
---
Mid-Tier Targets (5-10% of FAAB)
Jahan Dotson– WR – WSH Commanders– 10%
Holy Dotson, batman! There is an argument to be made that Dotson should be included in the "potential gems" section of this article, but I am trying to temper my expectations. The Commanders' offense has put up some gaudy numbers through two weeks and seems capable of sustaining multiple fantasy-relevant players.
Dotson saw 88% of the snaps in Week 1 and 99% percent of the snaps in Week 2. He has very quickly established himself as an entrenched starter in the offense and should be on everyone's fantasy radar. His current level of fantasy production might be unsustainable, but his five targets in each of the past two weeks are nothing to shake a stick at. Dotson has managed seven receptions for 99 yards and three touchdowns through 2 weeks. While touchdowns can be fluky, it's very encouraging that Wentz looks his way often in the red zone.
---
Corey Davis – WR – NY Jets– 7%
Davis is an intriguing option here. While Davis might not be the sexiest option on the Jets' offense, he has the potential to be a solid contributor all season. Davis saw 68% of the snaps in Week 1 and 79% in Week 2. While those might not be eye-popping numbers, it is encouraging to see that Davis still saw a larger snap share in Week 2 while New York was working to incorporate Garrett Wilson more in the offense. Corey Davis led the Jets in targets and receiving yards in Week 1.
He is third on the team in target share (14%) but has already shown his ability to break open the big play in Week 2 with a late-game 66-yard touchdown reception. Davis has extra value in PPR leagues but could be a difference-maker as a flex option if he continues to be targeted deep by Joe Flacco.
---
Jerick McKinnon– RB – KC Chiefs– 5%
I am intrigued by McKinnon through two weeks. Anyone on this high-flying Chiefs offense is worth a second look. What really caught my attention was the snap share between Clyde Edwards-Helaire and Jerick McKinnon in their Week 2 matchup with the chargers. McKinnon actually out-snapped CEH 27 to 25 in Week 2 but still managed six fewer touches. He also saw the same number of snaps as CEH in Week 1.
While his stat lines so far have not been overly impressive, it is clear he has worked himself into a committee with CEH in this Chiefs' backfield. McKinnon gets involved in all phases of the game and has six targets out of the backfield through two weeks. Clyde Edwards-Helaire is still the running back to own on this team, but McKinnon is inching close to stand-alone value. This might be a great time to buy low on Mckinnon.
Honorable Mentions
---
Speculative Fliers & Potential Sleepers (<5%)
Noah Brown – WR – DAL Cowboys– 5%
The Cowboys are a mess so far in 2022. They have lost Dak Prescott to injury for the foreseeable future and seem to have injuries everywhere. A lone bright spot for Dallas so far has been the emergence of Noah Brown through two weeks. Brown saw 88% of the snaps on offense in Week 1 and 85% of the snaps in Week 2.
He is on the field often and is not running empty routes. Brown has seen 14 targets through 2 weeks which is good for a 19.7% target share which is second on the team to CeeDee Lamb. He has been more productive with his targets producing 159 yards and a touchdown. Brown may see his production dip when Michael Gallup returns but may have shown enough to work himself into more playing time upon his return.
---
Ashton Dulin – WR – IND Colts– <5%
Dulin might be the only player on the Colts that produced anything of value in a Week 2 loss to the Jaguars. Dulin took advantage of a depleted Colts' wide receiver room this past week. With Michael Pittman and Alec Peirce both sidelined, Dulin managed a team-high seven targets for five receptions and 79 yards.
His snap share jumped from 39% to 64% this week. What I am encouraged by is that even with Peirce and Pittman on the field in Week 1, Dulin was on the field for 39% of the offensive snaps and managed six targets, three receptions, and 46 yards. Dulin appears to have a role on this offense and could be a nice stash this season. If the Colts like what they see and continue to incorporate Dulin into the offense more as the season progresses, he could be a sneaky PPR play down the line.
---
Greg Dortch – WR – AZ Cardinals– <5%
The Cardinals have been thin at receiver out of the gate. Deandre Hopkins is serving a six-game suspension, and Rondale Moore has been injured. At full strength, the Cardinals have one of the stronger wide receiver rooms in the league. Being so deep at the position, Arizona has been able to trot out Hollywood Brown and AJ green as their top two receivers through the first two weeks of the season.
Those two have the name recognition, but Greg Dortch has been the most impressive. Previously unknown before this season, Dortch was thrust into slot receiver duty and has produced through two weeks. Dortch is third on the team in targets with a 15.6% target share. Dortch may see a reduction in workload with the return of Rondale Moore and eventually Deandre Hopkins, but the Cardinals are going to feed him as their slot receiver for the foreseeable future.
Honorable Mentions
---
No Bid/Free Agency Targets (0% FAAB)
I am not sold on any of these guys having a major impact this season which is why I do not feel any FAAB should be spent on them. However, if you happen to have a free roster spot after waivers and can afford a stash or two, then looking these guys' way may not be a bad idea.
Khalil Herbert – RB – CHI Bears
Khalil Herbert is one of the better handcuffs in the NFL. The Bears do not have much that resembles a passing game, and any success they see will be through the ground game. David Montgomery is the clear-cut RB1 in Chicago, but Herbert is still involved in the offense on a part-time basis. Even as a backup, he is seeing a 20-29% share of the offensive snaps through two weeks. The Bears clearly like him enough to keep him involved on offense.
He has only mustered 13 carries,83 yards, and a touchdown through two weeks, but the Bears' offense has been borderline inept through 2 weeks. The fact he has been able to produce at all is nothing short of a miracle. If Montgomery were ever to go down or the Bears decided to incorporate more playmakers, Herbert's value would skyrocket. Get ahead of it now.
Scotty Miller – WR – TB Buccaneers
The Buccaneers have been battling injuries at receiver since the season started. Chris Godwin came back for Week 1 only to injure his hamstring mid-game. Julio Jones was unable to go in Week 2, and now Mike Evans has a looming suspension because he can't keep his hands off Marshon Lattimore.
Enter Scotty Miller. Miller led all Buccaneers receives in targets in their Week 2 matchup against the Saints with 8. Miller was only able to pull down 3 for 34 yards, but those eight targets were encouraging. Millers likely will lose a lot of value as soon as the likes of Chris Godwin and Julio Jones return. Brady has shown a fondness for Miller in past seasons, and if any of the Bucs' receivers miss an extended period of time, Miller will have PPR value.
Richie James – WR – NY Giants
James is an interesting name to keep on your radar. Richie James saw the third most snaps on the team in Week 2 behind David Sills and Sterling Shepard. He also managed to pull down 5 of his six targets for 51 yards in the Giant's week two matchup against the Panthers. James was only on the field for 42% of the snaps in Week 2, down from 70% in week 1. While you would like his snap share to be a bit higher, you have to be encouraged by his production so far this season. James has produced ten or PPR points in two weeks this season. Richie James could be a fun little stash in deeper PPR leagues.
---
Check Back Often
Make sure you check SGPN regularly for updates to our 2022 NFL positional rankings, dynasty rankings, dynasty sleepers, weekly FAAB cheat sheets, and for all things NFL and fantasy.
RELATED CONTENT