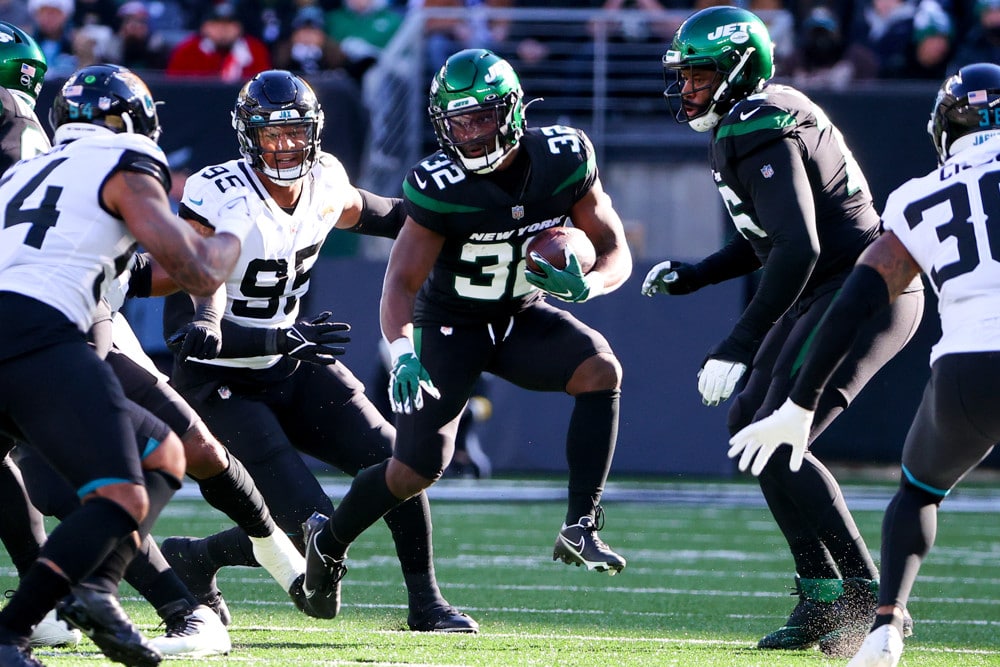 If you have been playing fantasy football as long as I have, then the traditional draft strategy is as second nature to you as riding a bike. Unless you do not know how to ride a bike, in which case, I am sure there is somewhere you can take lessons. It is 2022, after all. An old-school fantasy football player will likely tell that you need to target a workhorse running back in the first round of your fantasy football redraft league's draft.

Exclusive SGPN Content
Fantasy Football: Top 10 Running Back Rankings
He or she will also likely tell you that you need to double down and take another back in the 2nd round and maybe even the third round as well. Well, as the old-timers like to say, things aren't like they used to be. As fantasy football has grown and evolved, so has fantasy draft strategy.
The Traditional Strategy: Running Back, Running Back, and…Another Running Back
Gone are the days where you are beholden to go chalk and draft a running back right off the bat. It is not a bad strategy; obviously, it was a successful way to conduct fantasy business for years. Even still, you really can't go wrong if you safely choose one of the few workhorses running backs that still exist in the NFL. I hold pick 1.01 in my longest-standing redraft league and will likely be targeting Jonathan Taylor.
I feel it is the right move, given my keepers and who will be available later in the draft. Depending on what pick you hold and how you feel about the depth of each position, you might wonder what strategies are available to you and what the best ways are to get a leg up on your competition.
---
A Modern Strategy: Avoid Running Backs Early
Whether you are looking for bragging rights among your friends, around the office water cooler, or are trying to win a big pot of money, everyone is always looking for an edge. One of the more modern draft strategies that have grown in popularity in recent years is the "Zero Running Back" strategy.
The name can be a little misleading. You aren't completely avoiding running backs; that would be silly. Rather, you are avoiding running backs early, stocking your other skill positions with premium talent, and then rolling the dice on lower-tier running backs later in the draft.
---
What Types of Backs Fit This Mold?
This strategy works best in PPR leagues. Lesser utilized pass-catching running backs can often have huge weeks. When deploying this strategy, I usually target three types of backs. One mold is a true passing catching back who is not the workhorse but is often targeted early. Think James White during the Tom Brady golden years for the Patriots. Another type is the ultra-talented and often young handcuffs.
The type of back that is one injury away from breaking onto the scene and taking over the starting job. The last type is what I consider undervalued backs. They aren't the sexy pick heading into the season but could outperform their ADP. Let's take a look at a few running backs I feel are great candidates to target in your redraft league if you are looking to utilize this strategy this upcoming season.
---
Michael Carter (New York Jets)
Michael Carter packs so much punch into his smaller frame. The Jets were absolutely ecstatic last year when they were able to snag Carter in the 4th round of the 2021 NFL draft. Carter quickly became a threat on the ground and through the air and took over starting duties. Carter was on track to be drafted as RB1 this season until the Jets invested 2nd-round draft capital into Breece Hall. Hall's current ADP falls in the 3rd round, making him the best fantasy weapon the Jets have.
Hall should absolutely go off the board before Carter. If you are looking for a late-round steal, I love drafting Carter. Carter currently has an ADP of 101 in standard and 99 in PPR. Carter in the 8th round could be great value and makes him a great candidate for zero RB strategy.
AVT clearing the way for Michael Carter – something the #Jets hope to see for a long time pic.twitter.com/C300xyuqks

— Connor Rogers (@ConnorJRogers) November 23, 2021
Michael Carter is currently being drafted as nothing more than a mid-tier handcuff. Carter has above-average receiving ability, and that ability propelled him to 3 top 13 finishes last year. Carter will have a role as a third-down running back on this team. Offensive Coordinator Mike Lafleur hails from the Mike Shanahan zone-run scheme system. He emphasizes running the ball early and often to set up the pass. It also means he wants to utilize more than one running back.
Given the draft capital the Jets have invested into talented running backs the past two seasons, you have to think Lafelur envisions using them both early and often. Hall will absolutely see more touches but the potential for Carter to reel of 4-5 top 15 weeks is absolutely there. If Hall were to go ever down with an injury, Carter is one of the best handcuffs in the league.
---
Melvin Gordon (Denver Broncos)
Melvin Gordon is currently being drafted at an ADP of 97 in standard leagues, making him another target in rounds 7 and 8. I love the value of Melvin Gordon at this point in the draft. He resigned with the Broncos on a one-year deal after some uncertainty about where he would play this season.
Ultra-talented second-year running back Javontae Williams is also on the roster, and most expect him to take the next step this year to lead the Denver backfield. Williams is no doubt an exciting player heading into the 2022 season. Williams has been flying off the board in the second round of most drafts leaving Gordon to those who are patient.
Melvin Gordon for SIX ‼️

Broncos lead 37-28 with less than two minutes to play.

(via @NFL)pic.twitter.com/7cJMLsnIKS

— SportsCenter (@SportsCenter) October 2, 2020
Gordon is another year older at 29 but amassed over 1,00 yards from scrimmage last year in 16 games. He averaged over 4.5 yards per -carry, and Denver now boasts one of the highest-powered offenses in the league with Russel Wilson now at the helm. Gordon tallied over 230 touches last year and ranked 8th in the league in missed tackles. He clearly has a lot left in the tank, and there is always the chance he serves as the goal line back for Denver in 2022.
This backfield could be closer to a 50/50 split than most are anticipating. With the potential for such a high-powered offense, you will want as many pieces of Denver's offense as possible on your 2022 team. Gordon could be one of the best values in the 2022 NFL fantasy season.
---
Devin Singletary (Buffalo Bills)
Singletary is currently sitting at an ADP around 77, making him an absolute steal in the 6th rounds of standard 12-team redraft leagues. Singletary was stuck in a running back by committee until Buffalo finally set him free down the stretch. He finished as RB3 down the final six weeks of the season in PRR formats. Singletary even scored over 20 fantasy points per game during the playoffs.
Buffalo's offense is only going to get better with Josh Allen in his prime, and even with the addition of James Cook in the 2022 NFL draft, I think we see more of the last season's Singletary in 2022. Cook will likely play the part of a pass-catching specialist and see most of his work on third downs, still leaving plenty of work for Singletary, who now has the trust of the Buffalo coaching staff.
Devin Singletary dropped him 👀

(via @thecheckdown)pic.twitter.com/tki9wI21Fc

— B/R Gridiron (@brgridiron) December 16, 2019
---
Ken Walker III (Seattle Seahawks)
Ken Walker is currently being drafted in the 8th and 9th rounds in redraft leagues and I love his upside. This is Seattle we are talking about here. The worst kept secret in the NFL if that the Seahawks love to run the ball. They run the ball when they probably shouldn't. Seattle is also one of the few teams left in the NFL that really utilizes a bell cow back when the talent is there.
Ken Walker III toting the rock for the first time. #Seahawks pic.twitter.com/MP85Jj7Jan

— Corbin K. Smith (@CorbinSmithNFL) May 6, 2022
Chris Carson is still recovering from neck surgery and may not even play this year. The Seahawks brought Rashad Penny back on a one-year deal but clearly are hesitant to commit to him given his inconsistent play and injury history.
I think if you were to give the Seahawks coaching staff a truth serum, they would admit that they are hoping Walker wins the starting job in camp and never looks back. If that happens, you just found yourself an RB1 on a team that runs the ball more than most. That is an insane value at his current ADP and makes him a great zero-RB draft strategy candidate.
---
Tony Pollard (Dallas Cowboys)
Tony Pollard is probably one of the worst-kept secrets in fantasy circles at this point. He has always been talented but stuck behind Ezekiel Elliot and his huge contract. Elliott has slowed down a bit in recent years and Pollard saw a career-high in touches last year and did not disappoint. With 130+ carries and 40+ targets last year (both career highs) Pollard started to show signs of finally breaking out.
Even if Elliot is healthy, Pollard offers flex production on a weekly basis. In standard scoring, he was RB30 last season showing what he is capable of when given the opportunity. With that kind of production and an ADP in the 80s, Pollard should be a target for everyone this season even if you are not deploying the zero RB strategy.
Tony Pollard to the 🏡@TP__5 | #LARvsDAL pic.twitter.com/F50dgjlYYq

— Dallas Cowboys (@dallascowboys) December 16, 2019
---
Nyheim Hines (Indianapolis Colts)
Hines is that prototypical third down pass catching back I discussed earlier. However, he has games where he seems to be more involved with the game plan and sees targets on every down. Hines had a down year in 2021 with Carson Wentz under center. Enter Matt Ryan, who targeted running backs more than any other QB in the league in 2021, and suddenly Hines becomes a much more appealing fantasy option.
Couple that with the fact that Frank Reich publicly stated that Hines will be more involved with the offense in 2021 and he would draft him in fantasy, and you have yourself a recipe for a breakout season for Hines. Many may have forgotten that Hines was a top 18 running back in PRR scoring in 2020. I expect more of the same for Hines in 2022. He has fantastic upside for someone with a current ADP of 128 in standard scoring and 119 in PPR.
Put Nyheim Hines on the USA gymnastics team pic.twitter.com/f3yR0kptjR

— Barstool Sports (@barstoolsports) November 1, 2020
---
Dameon Pierce (Houston Texans)
I end up with Peirce on my team in so many of my mock drafts. He is going in round 10 or later on average, and I just love his potential upside. Houston was the perfect landing spot for Dameon Pierce. The talent is there. I have mixed feelings about PFF, but according to their rating system, Pierce was the highest graded FBS running back in 2021.
Rivalry games mean more.

Dameon Pierce gave it his all, but the TD didn't count and he was given a personal foul for continuing to participate without a helmet. pic.twitter.com/Pa6raRw4ht

— SportsCenter (@SportsCenter) November 27, 2021
The competition in the backfield for work leaves a lot to be desired. Houston did sign Marlon Mack but to a low-value one-year deal. He could even be released before the season starts if Pierce takes a stranglehold on the early down work. Rex Burkhead also has a low-value one-year deal and features a slightly different skill set than Pierce. There is a path where Peirce becomes the day one early down back for the Texans.
Houston will want to protect their young QB and make sure Davis Mills is put in a position to succeed. Lovie Smith is an old-school coach who is likely going to factor running the ball early and often to protect their young quarterback. The talent and opportunity are there for Peirce, and getting a potential RB1 this late in the draft is too juicy to pass up.
---
Tyler Allgeier (Atlanta Falcons)
Allgeier is a low-risk-high reward option late in drafts that I am targeting often. Atlanta is a young team but has aging misfit parts all over the place. Marcus Mariota is slated to start the season under center, and their wide receiver core will be led by standout rookie Drake London.
Atlanta will likely be looking to run the ball often without an elite passer and with such a young, inexperienced wide receiver room. Atlanta also has Corderelle Patterson and Damien Williams in the backfield, but neither are early-down bruisers. Patterson was a fantasy star last season but is another year older and cannot shoulder the workload alone.
Keep a close eye on BYU RB, Tyler Allgeier this fall. At 5'11" 220lbs, he has excellent acceleration and 1-cut ability.

In a very uncertain RB class & without Zach Wilson, I think Allgeier builds on a great 2020 campaign & becomes a Top-5 RB in the 2022 class. Kid can PLAY 💪🏾🔥 pic.twitter.com/iIifjH5xAC

— Ray G 🏁 (@RayGQue) July 15, 2021
Allgeier fell in the draft because he tested poorly at the combine but finished his last season at BYU with 275 carries and over 1,600 yards. There is a universe where Allgeier emerges as the early down workhorse for Atlanta, and his volume alone could make him fantasy relevant. Allgeier has a chance to be a fantasy asset and contributor with an ADP in the 140s. That is a dart I am willing to throw.
---
Isaiah Spiller (Los Angeles Chargers)
There is no doubt that Austin Ekeler is the RB1 for the Chargers. Hell, I am sure some experts have him ranked as their top fantasy player overall for the 2022 season. Ekeler is consistently going in the top 5 of fantasy drafts. So why am I suggesting another back that shares the backfield with Ekeler? Why am I suggesting another rookie running back?
The key here is the upside. Later in drafts is where you should be making risky high upside selections that can put you over the hump during a long fantasy season. Spiller is part of a pattern for the chargers. This is the third straight year they have taken a gamble on a power back, later in the draft, to hopefully compliment Ekeler.
We are officially seven – SEVEN – Saturday's away from @AggieFootball.

To celebrate, here is @isaiah_spiller absolutely TRUCKING dudes in that mega-win over Florida in 2020 pic.twitter.com/ukHqKDk0hj

— TorresOnTexasA&M (@TorresOnTexasAM) July 16, 2022
Spiller is intriguing because he might be the most talented rookie they have brought in yet. He has workhorse written all over him and was the day one stated for Texas A & M and kept the job until he left for the NFL draft. Spiller has three down capabilities, and if Ekeler were to go down, Spiller would become immensely valuable.
If he is capable of carving out an early down or goal-line role for himself early in the season, he very well could have standalone value. With a current ADP over 120, Spiller could be one of the better values in the 2022 fantasy draft.
---
Rachaad White (Tampa Bay Buccaneers)
White is another high-upside rookie running back that should be on everyone's fantasy radar. He has elite receiving ability making him a potential day one PPR contributor out of the backfield. White led all backs in this rookie class in receiving yards and was second in receptions. He also boasted an impressive 16% target share.
White may not flash early with Leonard Fournette currently slotted in as the starter and with receiving ability of his own, but should Fournette get hurt or regress, you have to think there is a chunk of work carved out for White after Tampa bay invested a third-round pick into him.
White feels like a high upside league winner that can be had late in drafts with a current ADP of 144 in standard formats. It helps that will be playing on an offense led by all-time great Tom Brady.
Rachaad White led the 22 class with a 99.9 receiving grade on screens from PFF

16 TGT
14 rec
173 yds
1 TD
231 YAC
4.33 Y/RR
-4.1 aDot
11 MTF
132.6 QB rating when TGT

Now paired with a QB who loves targeting RBs in the flats🔥🔥🔥#FantasyFootball pic.twitter.com/PXRHrz6Elr

— Jeremy (@PopesFFH) July 12, 2022
---
Other Backs To Consider
Chase Edmonds, RB, MIA (ADP:92)
James Cook, RB, BUF (ADP:113)
Kenneth Gainwell, RB, PHI (ADP: 129)
James White, RB, NE (ADP:221)
D'Onta Foreman, RB, CAR (ADP:170)
Opening drive touchdown for D'Onta Foreman and the @Titans 🙌

📺: #JAXvsTEN on CBS
📱: NFL app pic.twitter.com/vMPKpdWxzc

— NFL (@NFL) December 12, 2021
Check Back Often
Make sure you check SGPN regularly for updates to our 2022 NFL positional rankings, dynasty rankings, dynasty sleepers, and for all things NFL and fantasy.