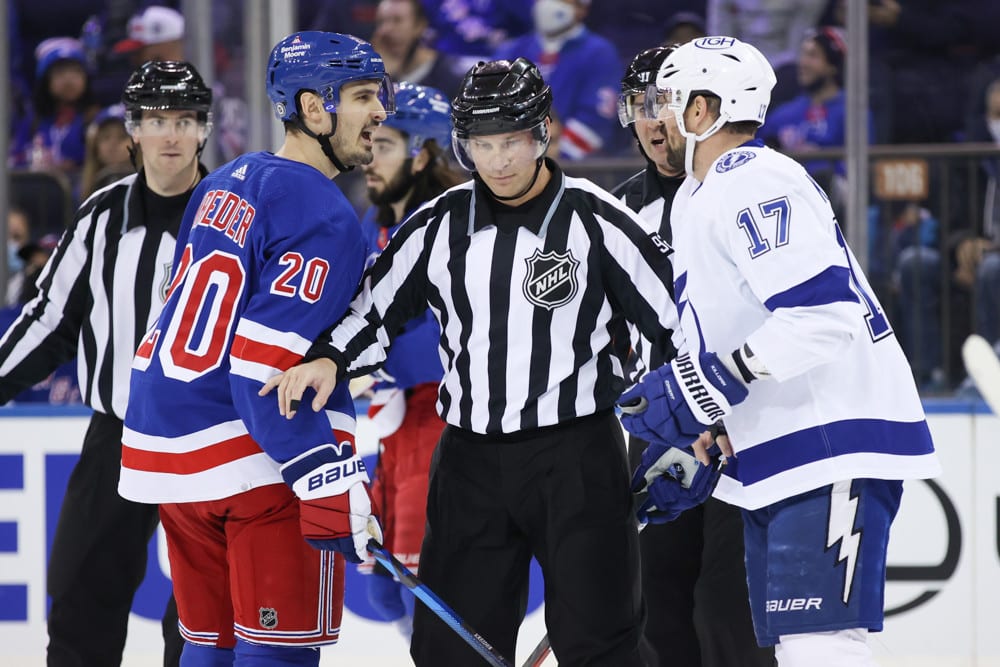 The 2022 NHL Stanley Cup Playoffs are down to the final four! The Colorado Avalanche and Edmonton Oilers kicked off the Western Conference Final on Tuesday night in a thrilling game. Now, our attention turns to a much lower-scoring series between the New York Rangers and Tampa Bay Lightning. Igor Shesterkin is a Vezina Trophy finalist and Andrei Vasilevskiy has won two straight Stanley Cups. Let's get right into our NHL playoffs Eastern Conference Final schedule, odds, picks, and predictions for Rangers vs. Lightning!
EXCLUSIVE SGPN NHL PLAYOFFS CONTENT
NHL Playoffs: Avalanche vs. Oilers Schedule, Odds, Picks, & Predictions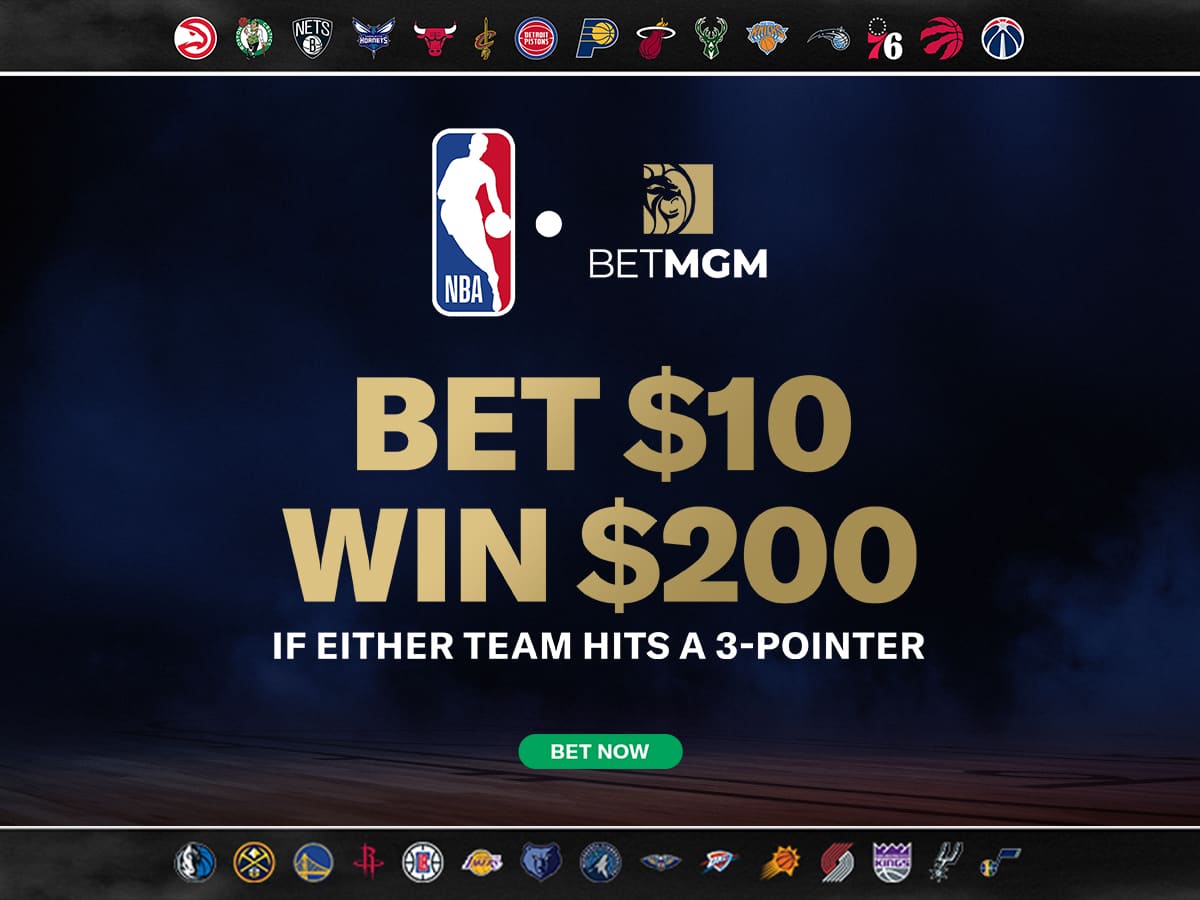 NHL Eastern Conference Final: Rangers vs. Lightning
NHL Playoffs: Rangers vs. Lightning – Eastern Conference Final Schedule
New York Rangers (M2) vs. Tampa Bay Lightning (A3)
Wednesday, June 1: Lightning at Rangers, 8 p.m. ET; ESPN, SN, CBC, TVAS
Friday, June 3: Lightning at Rangers, 8 p.m. ET; ESPN, SN, CBC, TVAS
Sunday, June 5: Rangers at Lightning, 3 p.m. ET; ESPN, SN, CBC, TVAS
Tuesday, June 7: Rangers at Lightning, 8 p.m. ET; ESPN, SN, CBC, TVAS
*Thursday, June 9: Lightning at Rangers, 8 p.m. ET; ESPN, SN, CBC, TVAS
*Saturday, June 11: Rangers at Lightning, 8 p.m. ET; ESPN, SN, CBC, TVAS
*Tuesday, June 14: Lightning at Rangers, 8 p.m. ET; ESPN, SN, CBC, TVAS
---
NHL Playoffs: Avalanche vs. Oilers Odds
To Advance
Rangers +145
Lightning -175
Series Spread
Rangers +1.5 (-120)
Lightning -1.5 (+100)
Total Games
Over 5.5 (-190)
Under 5.5 (+155)
---
NHL Playoffs: Avalanche vs. Oilers regular-season series
December 31st: Rangers 4-3 (SO) in Tampa Bay
January 2nd: Rangers 4-0 in New York
March 19th: Rangers 2-1 in Tampa Bay

---
NHL Playoffs Eastern Conference Final Predictions: Rangers vs. Lightning
Rangers' playoff path & why they'll win
It's been an uphill battle throughout the playoffs for the Rangers. They lost a triple-overtime thriller at home in Game 1 against the Penguins. Although the Blueshirts battled back to win Game 2, they lost Games 3 and 4 in Pittsburgh by a combined score of 14-6. Igor Shesterkin was pulled in both games and it looked like New York's season was over. However, they came back in Games 5, 6, and 7 to take down the Penguins in overtime.
Then, the Rangers dropped Games 1 and 2 in Carolina against the Hurricanes before winning four of five games to take the second-round series in six games. They outscored the Canes 11-4 in the final two games as well.
Shesterkin is going to win the Vezina Trophy as the league's best goalie and is a finalist for the Hart Trophy. He's a big reason that the Rangers have come this far, and if they advance to the Stanley Cup Final it will be because of him. Mika Zibanejad, Chris Kreider, and Adam Fox have also stepped up in these playoffs.
Lightning's playoff path & why they'll win
Tampa Bay won the last two Stanley Cups but still wasn't overwhelming favorites –– or favorites at all –– in either of its first two series. The Lightning took down the Maple Leafs in seven games then swept the up-and-coming Panthers in the second round. They've now had quite some time off before the Eastern Conference Final.
That time off may be a bad thing. A team coming off a sweep hasn't advanced past a team coming off a Game 7 win. In fact, the team coming off the Game 7 win won in the last eight situations since 2001, including twice last season and twice in 2019.
Even with that, Tampa Bay knows how to win and will do whatever it takes to advance. Vasilevskiy is a huge reason for that as well.
---
NHL Playoffs Predictions: Lightning vs. Rangers Picks & Best Bets
The Lightning keep defying the odds and are finally pretty decent favorites to win a series. However, I don't know if they should be that big of favorites.
The Rangers seemed destined to make some noise this season with Shesterkin in net. This is bound to be a goalie battle in this series and the Rangers are one of the few teams that may be able to take down the reigning two-time champs.
New York swept the season series and I think there is value on the Rangers in this series.
I like the Rangers +145 in the series for the value and would recommend Rangers +1.5 games (-120) as well. I think both teams will win at least a game or two in the series. The Over 5.5 Games (-190) is quite juicy, but I think it's worth it.
If you just want a fun bet to sprinkle, I'd take Rangers to win 4-2 games (+650) for a nice payout.
---
RELATED CONTENT