This is not a drill. The USFL season kicks off this weekend and it almost does not seem real. It feels like it was just yesterday we were talking about players that MIGHT get drafted into the USFL and here we are talking games, matchups, starting quarterbacks, injuries, and most importantly; fantasy football! My favorite part of every football season is the competitive fantasy leagues I take part in. Maybe partially because I can never count on the Jets to be any good but mostly because I just enjoy playing so much!
Season Long USFL Fantasy Football at Altfantasy.com
The good people over at altfantasysports.com were sure to make sure we would be able to scratch that fantasy itch. They have provided us with a platform to play season-long USFL fantasy football! In addition, you could win $1,00 dollars just for playing fantasy football on their platform. SGPN and altfantasysports.com have partnered to give you a platform to play USFL fantasy football. Together, we are offering a price to the highest-scoring season-long league on the platform! SGPN is offering a $1,000 prize for the 6-team league on altfantasysports.com that scores the most total points, league-wide, through the 10-week season. It really is as simple as it sounds. There is also no limit on the number of leagues you can enter so get drafting!
USFL Week 1 Fantasy and Daily Fantasy Preview 
Now let's get into why we are here. We are talking week 1 fantasy USFL football. You have questions and I have answers. Who should you be starting this weekend? Who are the best stacks? What defenses can you trust? Let's take a quick look at who I believe will be the best and worst performers in the USFL during week 1.
EXCLUSIVE SGPN USFL CONTENT
2022 USFL Fantasy Football Sleepers
USFL Fantasy Football Week 1 Preview: DFS and Season Long Best Plays
Most Likely to Boom in Week 1
BJ Emmons (RB) Tampa Bay
DraftKings Price: $8,400
BJ Emmons is the RB1 of the Tampa Bay Bandits. He is the starting running back on the offense that most project to be the highest-scoring offense in the league. The bandits boast Jordan Ta'amu as their starting quarterback. Many believe he might just be the best player in the league. This Todd Haley-led offense will likely feature an electric vertical passing offense. This means they are going to be scoring early and often. Even though early in the season I think we might see a lot of low-scoring games, if there was a team capable of putting up the most points, it's the Bandits.
BJ Emmons was the first running back chosen in the 2022 USFL draft. The Bandits selected him with the first pick of the 27th round. Emmons was injury-plagued throughout his college career. He has never really gotten a chance to really show off his skill set. This stint in the USFL might finally be his time to shine. As we preview the fantasy football scene in USFL Week 1, Emmons looks like a league winner.
https://twitter.com/LiltrillPhenom/status/1429959112855408640?s=20&t=MMQYzujMn3drJcfbla7msg
Emmons has spent time on the practice squad and preseason rosters of the Seattle Seahawks, Las Vegas Raiders, and Jacksonville Jaguars. In two years at Florida Atlantic Emmons produced 353 rushing yards and 7 rushing touchdowns on 88 attempts. Todd Haley will most likely run a pass-first offense which may feel like a trap for BJ Emmons owners.
What is important to note is Todd Haley is not known for utilizing his RB2s. He runs a system that predicates itself on using a three-down back. So even though the Bandits are one of two teams in the league only carrying two running backs, I would not count on Juwan Washington seeing much work other than the occasional snap to give Emmons a break.
Emmons is also known as an exceptional pass blocker. There is no reason to take him off the field on third down. Just think back to Haley's time as the offensive coordinator of the Pittsburgh Steelers, how often did Le'Veon Bell come off the field? Next to never and Bell put up some of the most impressive all-around numbers we have seen for an RB1 during his time in Pittsburgh.
Emmons is the Highest Priced Back on DraftKings
DraftKings seems to agree with my assessment as Emmons is the highest-priced running back heading into Week 1 for daily fantasy content currently priced at $8,400. The Tampa Bay Bandits are also the biggest favorites to win their week 1 matchup against the Pittsburgh Maulers as they currently sit as a four-point favorite. What does this all add up to? A lot of touches for Emmons. If the Bandits take the field by storm this weekend and jump out to a big lead then I would expect the Bandits to run the ball often in the second half to protect the lead.
Lock Emmons in as your RB1 for season-long fantasy and don't look back. If you are playing daily fantasy, Emmons is worth spending the extra money on. There are a lot of unknowns heading into week 1 but Emmons feels like one of the closest things to a sure thing. Just do it.
Most Likely to Bust (disappoint) in Week 1
Dalyn Dawkins (RB) Houston
DraftKings Price: $6,500
Going into this 2022 USFL season Dawkins has been well regarded as one of the top running backs in the league. Dawkins comes from an NFL pedigree as the nephew of NFL great Brian Dawkins and spent some time with the Tennessee Titans. Dalyn Dawkins had an extremely successful career at Colorado State where he put his ability on display on his way to the third-most rushing yards in Colorado state University. In a vacuum, his $6,500 dollar price point on DraftKings is more than reasonable. Dawkins has been a feature as we preview the USFL, but in Week 1 his fantasy football upside is limited if he is injured.
Dawkins Has a Hamstring Injury 
There are a few factors hurting his value heading into week 1 and if you are relying on him to be your RB1 in season-long fantasy, you might have to make other arrangements for week 1 which can be exceedingly difficult at such a thing position. Dawkins has shown up on the Gamblers' Week 1 injury report as limited this week due to a hamstring injury. Hamstrings can be tough and can nag for a long time. A hamstring as a running back is also problematic given the amount of hard running and cutting they need to do on a week-to-week basis.
1st and short? Just hand it to Mark Thompson 🙌 @Lions

📺: #BUFvsDET on CBS
Watch on mobile: https://t.co/kjOfklY2UW pic.twitter.com/T2yawEQyku

— NFL (@NFL) August 24, 2019
Even prior to the injury, the Gamblers boasted three quality running backs in their stable and Mark Thompson was always a risk to eat into Dawkins' work on a semi-regular basis. Even prior to the injury Mark Thompson was priced reasonably close to Dawkins on DraftKings at $5,600 dollars, indicating that the fantasy community believed their production heading into the week might be closer to a 50/50 split than previously assumed and that was before Dawkins showed up on the injury report. I am fading Dawkins this week and recommending Mark Thompson as one of the best value plays for week 1 of the USFL season.
Best Week 1 Stack
Bryan Scott (QB) Philadelphia
DraftKings Price: $9,200
Jordan Suell (WR) Philadelphia
DraftKings Price: $7,200
If you like spring football then you know all about Bryan Scott. He played his college ball at Occidental College was named the first-team all-conference quarterback, Occidental's team MVP, Occidental's team captain in the 2016 season, and was also named SCIAC Player of the Year. In 2016, he also became the all-time passing yardage leader for both Occidental and the SCIAC finishing his career with 9073 pass yards, 77 touchdowns, and 22 interceptions in 33 career games.
At the half Bryan Scott had thrown for 151 yards and a TD.

He needs 11 more passing yards to reach 1k on the year and one more touchdown to reach 10 on the year.

— Moose Gibson (@midnightxmoose) December 16, 2020
Scott also has extensive spring football experience. He won the starting job for the Generals of the Spring League (TSL) in 2020 and would go on to lead them to an undefeated season and a championship. Scott was named the TSL MVP and the MVP of the Spring League Championship game in 2020. There is a case to be made for Scott as the best player in the USFL given his extensive experience and previous success in spring football.
Bryan Scott is going to look good in these @USFLStars unis 🤩 pic.twitter.com/WuTRT2XGcA

— USFL (@USFL) February 23, 2022
Speaking of spring football there is another guy on the Stars with experience in The Spring League (TSL), and that man is Jordan Suell. Not only that, Suell played with Scott on the Generals during his historic season when they won the TSL championship. That familiarity could be key to a huge season for both but especially right out of the gate in week 1. A lot of players heading into week 1 have only been practicing with their current teammates for a few weeks and Scott and Suell have played a championship season together.
PJ Walker x Cam Phillips // Bryan Scott x Jordan Suell

Is this Spring Football's next dynamic duo? The film certainly agrees with that take. @USFL fans, grab your popcorn. It's about to be a show.

(via @XFL2023 | @TheSpringLeague) #USFL2022 @USFLNewsroom @USFLStars pic.twitter.com/o386PX2CFe

— James Larsen (@JamesLarsenMI) March 6, 2022
Even without the familiarity, Suell is a talent in his own right as he put up 122 receptions, 2,184 yards, and 27 touchdowns during his college career at Southern Oregon. There is an argument to be made here and I considered stacking Devin Gray with Bryan Scott. Gray and Suell will line up as Scott's top two targets for the stars this season and the folks over at DraftKings feel strongly about their success. Both Gray and Suell are priced as top 10 receivers heading into week 1 at $7,700 and $7,200 respectively. I am giving the slight edge to Suell on this stack given his familiarity and success with Bryan Scott in the past. Look for them to connect on a few big plays this weekend.
Need a Defense? Who to Stream
Depending on the size of your season-long USFL fantasy league over on alfantasy.com, the ability to stream defenses is going to be limited. But if you have a 4-6 team league then streaming defenses may be an option for you. If you play daily fantasy on DraftKings or another platform, the defense may be a position where you are looking to either punt or save a few bucks to spend on other more premium positions. Any weekly preview has to highlight a strong defense and our USFL Week 1 Fantasy Football Preview has you covered.
Gamblers Have the Lowest Price on DraftKings but Are a Sneaky Good Play
Right now the lowest priced defense on DraftKings is the Houston Gamblers at $3,000 for their week 1 matchup with the Michigan Panthers. Jeff Fisher will be leading the Panthers this season. While it is true that he does bring a lot of NFL experience to the fold he is not known for too many high flying offenses and prefers a defense-first, run-heavy approach as his football game-winning formula.
The Panthers Project Poorly
Before the season began our experts at SGPN created projections over the 10-game season for each of the 8 USFL teams based on the performance of each coach's teams in their last four years of coaching. This is not a perfect projection by any means but might give us some indicators as to how each of the teams may perform on each side of the ball. In our projections, the Panthers were the lowest-scoring team in the league at 17.71 points per game. Additionally, they were only projected to score 24 total touchdowns over the 10-game season (also the lowest in the league).
Fisher is Going to Run and Play Defense
You have to think Fisher is going to want to lean on Stevie Scott III heavily in this week 1 game and play a conservative, clean, defense-first, run-heavy game to come away with the week 1 win. In addition, I am not completely sold on Shea Patterson as the starting quarterback of the Panthers. His selection s the number 1 pick was always a little puzzling and the Panthers have a quarterback controversy waiting to happen with Paxton Lynch as their QB2. There is an argument to be made that Lynch has more raw talent than Patterson. Should Patterson struggle out of the gate, Lynch will be breathing down his neck. I have a bad feeling that both quarterbacks on the Panthers are going to see significant playing time and how does the saying go? "If you have two quarterbacks then you have none."
Stream or Play the Gamblers D/ST
Regardless of how you feel about the Gamblers' talent on the defensive side of the ball, I think this week one matchup makes for a great value in daily fantasy and a great streaming option if you are playing season-long fantasy.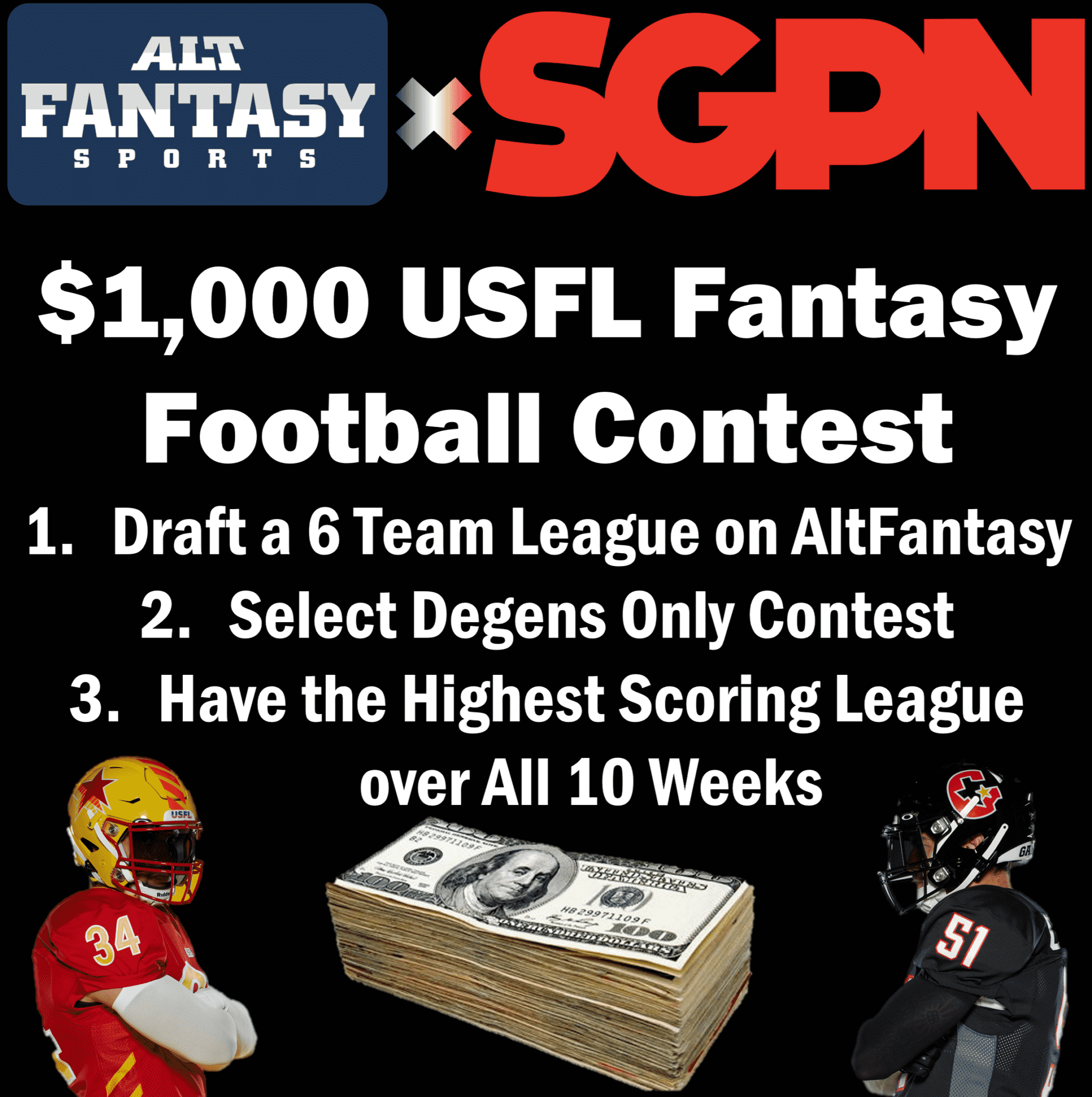 Best Bang for Your Buck: A Daily Fantasy Lineup
| | | |
| --- | --- | --- |
| Position | Player | DK Price |
| QB | Jordan Ta'amu | $10,400 |
| RB | BJ Emmons | $8,400 |
| WR/TE | Isaiah Zuber | $9,600 |
| WR/TE | Derrick Willies | $6,600 |
| FLEX | Garret Groshek | $6,200 |
| FLEX | Mark Thompson | $5,600 |
| D/ST | Gamblers D/ST | $3,000 |
It was a lot of fun putting together this daily fantasy lineup. I am a big fan of DFS but putting a lineup together for the USFL with so many unknowns heading into week 1 was both a huge challenge but also a blast.
My strategy was simple. Regardless of the price I wanted to lock down as many sure things as I possibly could. I went with a triple stack of the Bandits' offense for numerous reasons. First, I think they are going to be the best offense in the league for the entirety of the season. Second, I think their matchup is extremely favorable in Week 1 (they are the largest favorites for Week 1 at -4). The Bandits could very well jump out to a huge lead that the Maulers just will not have the firepower to dig themselves out of. This could very well result in a few turnovers and more opportunities for the Bandits' Offense.
Quarterback – Jordan Ta'amu (Tampa) $10,400
Jordan Ta'amu doesn't belong in this league pic.twitter.com/VXc2hnOibf

— Barstool Mizzou (@BarstoolMizzou) March 1, 2020
The best piece of advice I have ever heard for DFS lineups was "you have to tell yourself a story." My story here is that the Bandits will jump out to a big lead courtesy of a few big connections between Ta'amu and Willies. Then in the second half, they will run the ball early and often with Emmons to protect the lead and maybe score a few more times along the way. Speaking of Derrick Willies, I think he might be the best value in this lineup. He may not have blazing speed but has a big frame and has the great potential to step in as the WR1 on what may be a high-scoring vertical passing offense. There is a good chance we do not see his price point this low again this season so I would jump on him while you can.
The @Browns add to their lead.

David Blough finds Derrick Willies for the TD!

📺: #CLEvsIND on NFL Network (or check local listings) pic.twitter.com/uGXJNlshbc

— NFL Network (@nflnetwork) August 17, 2019
I decided to go with Mark Thompson and the Gamblers defense as my second flex option and my defense respectively. For the reason previously stated, I do not have a lot of faith in the Panthers' offense early in the season and think getting the lowest-priced defense in what could be an excellent matchup is an excellent way to maximize your lineup. I think the Dalyn Dawkins injury report makes Mark Thompson's value skyrocket. This price point was released before the injury report so getting him at $5,600 for the week 1 game is a steal we may not see again and he is in line for an increased workload.
Garret Groshek goes right up the middle for a 39 yard TD to tie it#Wisconsin #Minnesota

— Sideline CFB (@SidelineCFB) December 19, 2020
I also love Garret Groshek's value here at $6,200. The Maulers might end up with the most robust running attack in the league with Kirby Wilson at the helm. Wilson is a long-time NFL running backs coach and will rely on what he knows best to carry his team's offense. In addition, the Maulers only have two running backs on the roster, Garret Groshek and Madre London. While Madre London is no doubt talented (the 2021 European Football League MVP), and could eventually eat into Groshek's workload, Groshek is a much safer bet in week 1. Groshek has been with the team since the initial draft and London was a late roster addition to replace De'Veon Smith when he was released. If there was ever a time to rely on Groshek, it's week 1.
Mac Jones finds Isaiah Zuber for SIX! @Patriots

📺: #NEvsNYG on NFL Network (or check local listings) pic.twitter.com/in6WcZvsFh

— NFL Network (@nflnetwork) August 29, 2021
This lineup provided so much value that I was able to add the top-priced receiver as the final piece to the puzzle. Isaiah Zuberhas blazing speed and is the number 1 target on this Houston Gambler offense. Clayton Thorson threw for over 10,000 yards in college and is more than capable of putting up huge passing numbers. Look for him to feed his number one target early and often. Zuber was an easy and fun addition to this DFS squad.
Check Back Often
Make sure you check SGPN regularly for updates to our 2022 USFL positional rankings and for all things USFL and fantasy. Enjoy this Preview of the Fantasy Football scene for USFL Week 1 and Let it Ride!

RELATED CONTENT