The USFL Season is getting closer each day to kickoff and we have a jam-packed Week 1! With odds being offered across the board, daily fantasy, and season-long leagues over on AltFantasySports, there will be plenty of degen action. As with any football league, there are going to be injuries. SGPN has access to the best and most comprehensive injury news and analysis to help you win money and your fantasy contests. The USFL Week 1 Injury Report is here along with key analysis.
MORE SGPN USFL CONTENT
2022 USFL Fantasy Football Sleepers
USFL Week 1 Betting Odds, Picks, & Predictions
SGP USFL Predictions Week One + DFS Picks (Ep. 1252)
USFL Injury Report for Week 1
Birmingham Stallions vs New Jersey Generals
Saturday April 16, 2022 – 7:30 pm (NBC & Fox)
Birmingham Stallions Week 1 Injury Report
4/15 UPDATE: Both Dugas and Chunn have officially been ruled out for Saturday. They have also been transferred to the practice squad for this week.
The Stallions are coming into this weekend with one of the healthier teams. They currently only have two players on their injury report as they prepare for the opening of USFL Week 1. Running back Jordan Chunn was hampered by a hamstring injury that could provide some more potential clarity for the Stallions' backfield. With backs Tony Brooks-James and C.J. Marable both full participants will likely handle a bulk of the workload. It is difficult to say which back will lead in the Birmingham backfield, but both Marable and Brooks-James will likely play a role in fantasy contests this weekend.
Nice run. And no, that's not Alfred Morris, it's Jordan Chunn. pic.twitter.com/77tBT8dcY7

— David Helman (@HelmanDC) July 30, 2019
With O'Shea Dugas listed as a Did Not Practice this week that is far more complicating for the Stallions. The USFL only will have 38 active players on game day and the Stallions currently only have eight offensive linemen on the roster, depth becomes an issue. Dugas was a reliable player across the offensive line for Louisiana Tech in college and spent time on the Cincinnati Bengals' practice squad from 2019-20. Dugas played for Birmingham Coach Skip Holtz at Louisiana Tech and most likely has his trust. With only 7 linemen currently available for the Stallions, they are thin upfront and that could lead to challenges for the offense.
New Jersey Generals Week 1 Injury Report
The New Jersey Generals have seven players on their Week 1 injury report as we get ready for the USFL season. This includes offensive linemen Garrett McGhin and Calvin Ashely. Ashley improved from Tuesday to Wednesday, going from a DNP to Limited. On the other side of things, McGhin went from a full to a limited participant. This could be an issue as it leaves the Generals with only one true tackle fully healthy on the roster in Terry Poole. McGhin has been bouncing around NFL practice squads since being an undrafted free agent in 2019 while Ashley is a former five-star recruit who was with the Bucs for a cup of coffee during the 2021 offseason. This could leave the Generals offense trying to operate behind a very thin offensive line.
The Generals also are facing injuries to some key offensive contributors. Running back Mike Weber has been limited with a knee injury this week and his absence will take away a potential playmaker for Mike Reilly's offense. With a question mark at quarterback between De'Andre Johnson and Luis Perez, New Jersey needs all the playmakers it can get. Weber has bounced around NFL practice squads after a productive college career at Ohio State and has been projected to be involved in the Generals' offense. His absence opens the door more for Darius Victor and Trey Williams to see more of a split out of the backfield.
Mike Weber is so underrated 😤 pic.twitter.com/XigNnpCYu8

— Barstool Ohio State (@BarstoolOSU) April 4, 2020
Joining Weber as limited participants were tight end Nick Truesdell and wide receiver Darrius Shepherd. Truesdell was a dominant force in the AAF three years ago and was hit-or-miss in the XFL 2.0. He is being viewed as an experienced and reliable safety blanket for whichever quarterback ends up starting. If Truesdell is out, that opens the door for Braedon Bowman, another AAF veteran, and Sam Houston alumni Woody Brandom to fill the void. Shepherd played sporadically for the Packers in 2019 and 2020 as well as moving among various practice squads. He could bring veteran experience to the field for the Generals as well. His absence is likely to be less impactful as the Generals have a loaded receivers room. KaVontae Turpin, Randy Satterfield, J'Mon Moore, Alonzo Moore, and Cameron Echols-Luper all figure to be involved.
Nick Truesdell with an impressive grab, touchdown @aafstallions!#SLvsAZ pic.twitter.com/yL3G2ef4jl

— The Alliance (@TheAAF) February 11, 2019
New Jersey also is dealing with some injuries on the defensive side of the ball. Cornerback Davante Bausbby was absent from practice Tuesday but was a full participant on Wednesday. He appears on track to play this week. Similarly, Destiny Valeo was limited Tuesday with a groin injury but was a full go on Wednesday. A fully healthy defense could give the Generals an edge in Week 1 of the USFL season despite having many offensive players on the injury report.
Houston Gamblers vs Michigan Panthers
Sunday, April 17, 2022 – 12:00 pm (NBC & Peacock)
Houston Gamblers Week 1 Injury Report
4/16 UPDATE: Dawkins is officially listed as questionable, while Summers is probable for Sunday. Harris is listed as a "Full Go" but was designated to the practice squad this week.
The Houston Gamblers are coming into Week 1 of the USFL season with a reasonably clean injury report as well. On offense, Kevin Sumlin's squad appears to be dinged up in the backfield. Running back Dalyn Dawkins was limited on Wednesday with a hamstring injury. How he practices the rest of the week will be highly revealing. Dawkins has been projected by many to be a top running back option for fantasy purposes and was a dynamic playmaker at Colorado State. His absence would leave the Gamblers with two running backs in Mark Thompson and Devwah Whaley. It is unclear how exactly the Houston backfield would shake out without Dawkins in the fold.
Houston's defense also has two key contributors on the injury report prior to USFL Week 1 as well. Edge rusher Malik Harris was a DNP on Wednesday with an illness and could be limited or out by game time. Harris was a standout edge rusher for FCS squad Incarnate Word and his absence off the edge could hamper the Gamblers' ability to get pressure and set the edge. Additionally, defensive back Jamar Summers has been limited with a calf injury. Secondly, Summers is a veteran of the AAF and XFL where he was a standout for the Birmingham Iron and New York Guardians respectively. He also has spent time on several NFL rosters. Missing Harris and Summers could be a massive blow to the Gamblers' defense.
Jamar Summers is truly a baller pic.twitter.com/lJM4vBqrcX https://t.co/ajYTVeemRa

— Ian Hartitz (@Ihartitz) February 23, 2022
Michigan Panthers Week 1 Injury Report
The Michigan Panthers are in need of weapons to spark their offense and help either Shea Patterson or Paxton Lynch be successful. That could be challenging with both receiver Ray Bolden and tight end Joey Magnifico limited participants on Wednesday. Bolden, a 5-9 receiver out of Stony Brook was on track to be a rotational piece for the Panthers. The receiving corps is most likely centered around speedy receiver Jeff Badet with Bolden and others filling in behind the scenes. We will see how the pecking order shakes out, but they will most likely be a low-volume passing offense so players outside of the backs and Badet are unlikely to be fantasy relevant.
Ray Bolden in the end zone to help the Seawolves tie things up. #HOWL #CAAFB pic.twitter.com/RDyxtteBvF

— Stony Brook Football (@StonyBrookFB) September 23, 2017
Similarly, the former Memphis tight end Joey Magnifico is not likely to be highly involved in the offense. Where he might be more missed is in the blocking game. Magnifico has solid size and could be a force in what promises to be a run-heavy Panthers offense. The Panthers have two other experienced tight ends Connor Davis and Marcus Baugh on the roster. With that being said, the Panthers project to be a low-volume and low-scoring offense. Nothing major to see here unless you drafted Magnifico in season-long over on altfantasy.com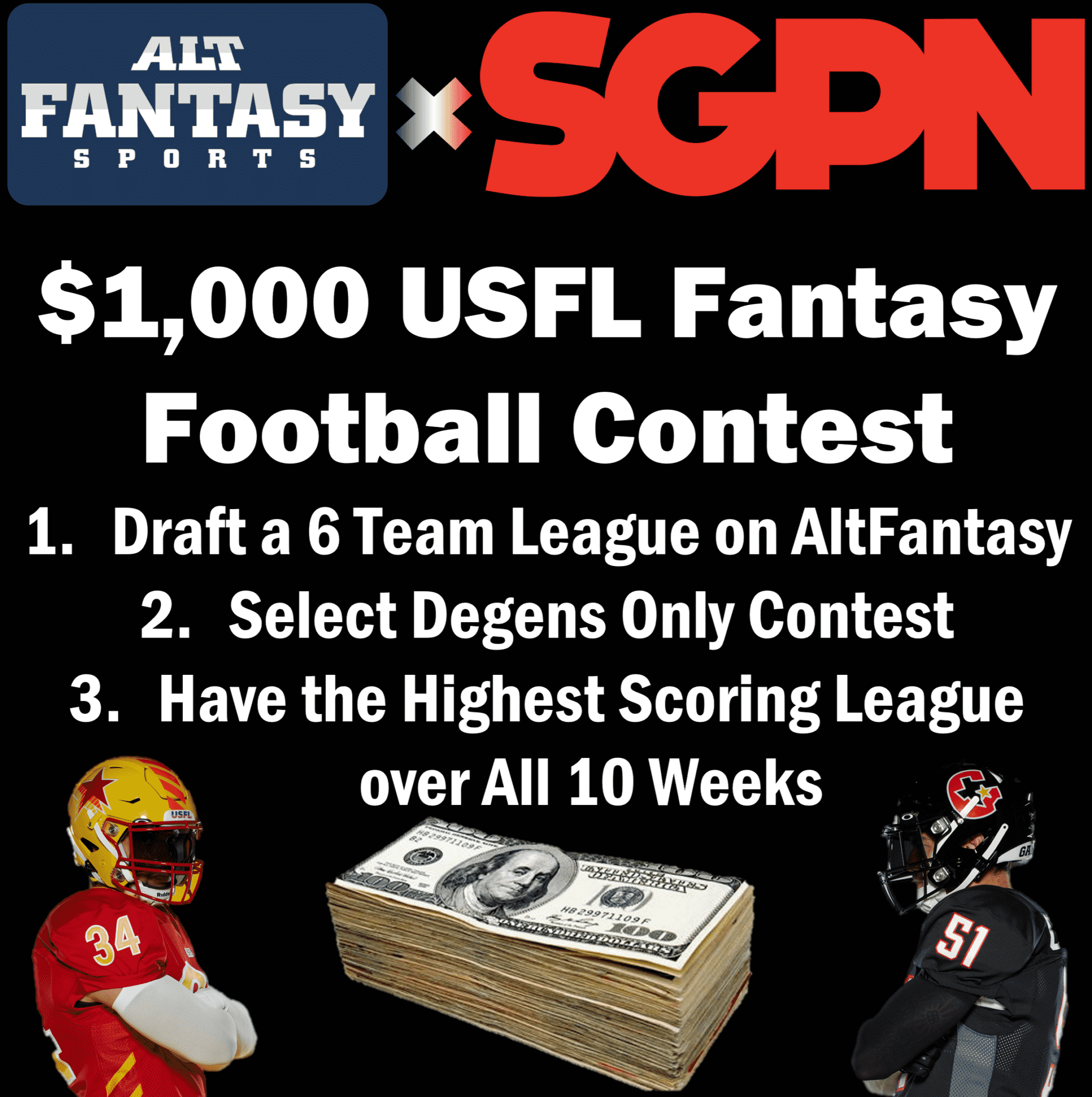 Philadelphia Stars vs New Orleans Breakers
Sunday, April 17, 2022 – 4:00 pm (USA)
Philadelphia Stars Week 1 Injury Report
4/16 UPDATE: Both Dixon and Sewell are listed as probable and expected to play Sunday. CB Brandley Sylve and DL Gus Cumberlaner are officially out this week on defense. WR Brennan Eagles was also transferred the practice squad in a bit of a surprise for the week.
The Philadelphia Stars are an early favorite in the USFL as we head into Week 1 and their injury report is clean on the offensive side of the ball. However, they could see two defenders either be limited or out this weekend. Linebacker Gabriel Sewell and safety Ahmad Dixon were limited on Wednesday. Sewell graduated from Nevada in 2019 and is the younger brother of NFL pro Penei Sewell where he was a two-year contributor. Sewell's absence cuts the Stars' linebacking depth down which could leave the Stars' defense scrambling.
Dixon meanwhile is a former 7th Round pick of the Cowboys. He bounced around the NFL on various rosters and played in the CFL, TSL, and XFL as well. His potential absence due to a knee injury on the backside of the defense could allow the Breakers to push the ball downfield. With two potential impact players missing on defense it could allow the Breakers to carve up what seemed like a solid Stars' defense.
https://twitter.com/MikeDixon_VST/status/1226274644941922305
New Orleans Breakers Week 1 Injury Report
4/16 UPDATE: Embry is officially out this week while Bibbs is a "Full Go".
The Breakers are also shorthanded in their defensive secondary. Jalan Embry was a 2018 graduate of Northern Illinois where he was solid in coverage. Embry was limited on Wednesday with an ankle injury and that could limit him heading into Sunday's matchup with a Stars' offense that has no shortage of playmakers. His potential absence would also leave the Breakers with only four cornerbacks on their active gameday roster. They have some depth at safety with Dartez Jacobs, Jarey Elder, and Ashari Crosswell. However, that would be a tall task for seven defensive backs to cover for an entire game.
On the offensive side of the ball, E.J. Bibbs was limited on Wednesday with a back injury. This seems to be a substantial name on the Week 1 USFL injury report. Bibbs is an Iowa State graduate and bounced around the NFL from 2015 to 2017. After that, Bibbs then had a solid performance in the XFL with the New York Guardians. He is a veteran presence for the Breakers in the receiving game and a solid pass blocker. There is no shortage of offensive talent available to the Breakers and quarterback Kyle Sloter. Most likely, Bibbs will not be missed all that much if his back causes him to miss time.
EJ Bibbs did not want to go down… #Wildcats #Guardians #XFL
pic.twitter.com/IqbxPXzhao

— Christopher Reiss – Sports Bettor (@ChrisReissPicks) February 29, 2020
Tampa Bay Bandits vs Pittsburgh Maulers
Sunday, April 17, 2022 – 8:00 pm (FS1)
Tampa Bay Bandits Week 1 Injury Report
4/16 UPDATE: Hall, Robinson, and Mumphrey have all been transferred to the practice squad for this week due to their injuries. Lauina is listed as probable and expected to play on Sunday.
Capping off a huge Easter Sunday filled with USFL football is a great Bandits vs Maulers' matchup that has several names on the Week 1 injury report. The Tampa Bay Bandits have two defensive and two offensive players on the injury report. On the offensive side, guard Fred Lauina, a former Oregon State lineman was a limited participant during Wednesday's practice with a foot injury. His absence would be a blow to what is shaping up to be a high-powered offense for the Bandits. Lauina has the size and skills to open up holes for the Bandits on the ground and give superstar Jordan Ta'amu time to throw through the air.
A potentially bigger loss is wide receiver Keith Mumphery being limited with a thigh injury. Mumphrey played two seasons in the NFL for the Houston Texans and was a productive receiver and returner. After some time out of football, Mumphrey landed in the XFL where he developed a rapport with quarterback Jordan Ta'amu. Mumphrey was a receiver Ta'amu would target deep and seemed to be starting to develop strong chemistry before the season was terminated. With him on the field, Ta'amu might look back his way. With him out of the lineup, the Bandits do not have a lack of receivers, but none have the chemistry with Ta'amu that Mumphrey does.
With Braxton Miller inactive, WR Keith Mumphery gets his first start of 2016 tonight. #TexansGameday #TNF pic.twitter.com/MwduRWiUfB

— Deepi Sidhu (@DeepSlant) September 22, 2016
On the defensive side of the ball, defensive tackle Austrian Robinson and cornerback Rannell Hall were non-participants in practice on Wednesday. Hall was a DNP with an eye injury. We could see the short rosters come into play again as that leaves the Bandits with three corners and four safeties. Hall is a long corner who has been around the NFL, AAF, CFL, XFL, and National Arena League as well. His veteran presence in the secondary would be a major benefit to Tampa. Austrian Robinson is a former Ole Miss defensive tackle who was an undrafted free agent with the Carolina Panthers in 2020. He is a big body in the middle of the defensive line who will be needed to help contain a run-first and run-often Maulers offense.
Pittsburgh Maulers Week 1 Injury Report
4/16 UPDATE: Both Margne and Thedford are officially listed as a "Full Go" and expected to play Sunday.
Rounding out the Week 1 USFL injury report, Hunter Thedford and Darius Margne were limited participants for the Maulers. Hunter Thedford is a young and tall 6-6 tight end who is working on transitioning from defensive end to tight end. He started his college career in 2015 at SMU as a defensive end but transitioned to tight end in 2017 before playing a final season at Utah in 2019. However, Thedford was limited as a receiver with only five total catches in his career. However, he has size and physicality that Kirby Wilson will want to utilize in his run-heavy offense. Thedford is one of only two tight ends on the Maulers roster and projects as more of a blocker than Matt Seybert so his absence will be noticed if his ankle and knee injuries keep him out of the game.
@b9_anderson throwing to @Lions TE @hunterthedford . Monster of a target. @coachLukeNeal @MtRidgeFootball @aaronpflugrad @Elev8QBacademy @CoachCKap pic.twitter.com/pWhm6ItGhY

— Richard Anderson (@RAndbassfish) July 7, 2021
On the defensive side of the ball, Darius Margne is a 6-7 defensive tackle out of Kansas. He was active in his senior season with 29 solo tackles, 4.5 tackles for loss, and 2.5 sacks. Margne also played in TSL and projects to see action along the Maulers' front four. His potential absence with an oblique injury would leave the Maulers with less length along the defensive line. This could allow Ta'amu to be more comfortable throwing the ball and the Bandits could carve them up on the ground as well.

RELATED CONTENT