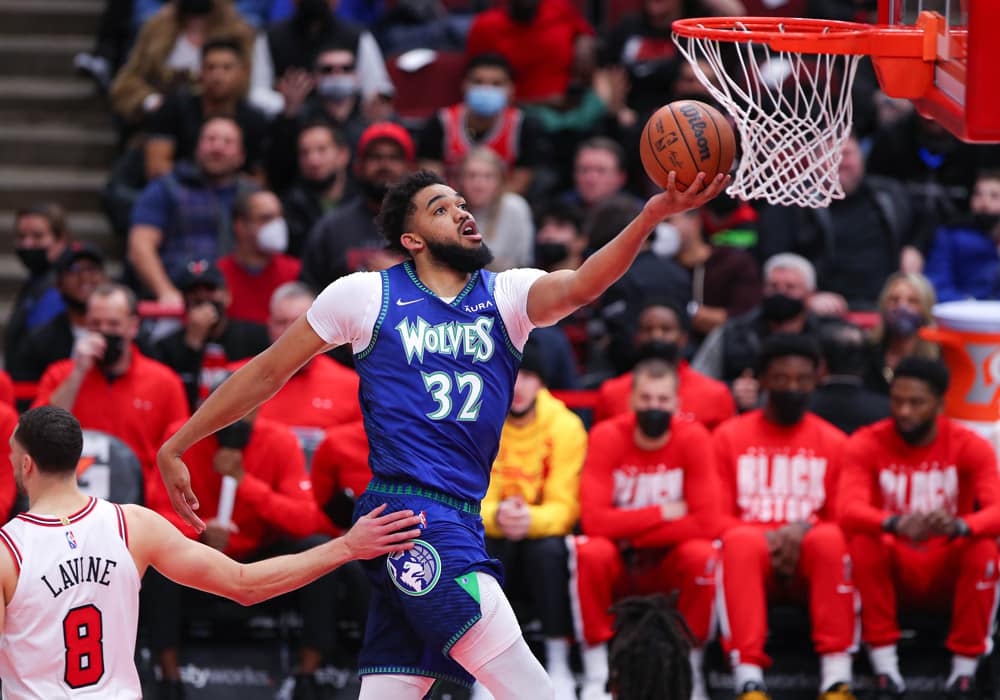 The season is coming to a close, which means some teams have clinched already and others are completely eliminated. While there still is a little jockeying for position, it can be hard to put an NBA DFS lineup together when some teams are resting their guys. Well, we've got you covered with a lineup that doesn't rest and should get you into the green on Thursday night.
(NOTE: This NBA DFS lineup was made ahead of time. Always check for the latest injuries and inactives prior to lineups locking. )
NBA DFS Picks for Thursday – April 7th
There hasn't been a definitive word out on Ja Morant at the time of writing this article. However, it's hard to imagine the Grizzlies would run their dinged-up star out there in a completely meaningless game. This means extra burn for Tyus Jones and the other Memphis guards. Instantly, I like their NBA DFS value and really have since Morant has gone down. Jones has posted over 40 fantasy points per game since the injury.
After keeping his hot streak going on Saturday with 36 points on eight three-pointers, Thompson rested the second half of the weekend back-to-back. With five days off, I'm assuming he'll be back rested and in the lineup again tonight. He's been brilliant and a can't-miss NBA DFS play over the last couple of weeks, and with the Warriors looking like they're going to give rest days rather than reduce minutes, he should be a safer play.
The Nuggets are one of the only teams left with something to play for. They are trying to hold off the Timberwolves en route to the number eight spot and avoid the play-in playoffs. This means you can expect the usual complement of minutes from Gordon, who has been hot on top of all of that. He has back-to-back games with at least 42.0 fantasy points, a lot of which is due to an uptick in his rebounding, which makes him an NBA DFS steal.
Hayes, who has only averaged 4.6 rebounds a game this year, has really turned it up over the last two. He's notched two straight double-doubles and looks to have solidified a starting role heading into the playoffs. They're going to want to try to keep that momentum going, so I see him getting starter minutes here too. You aren't going to find too many people giving you those numbers at this NBA DFS price either.
As I mentioned before, the Timberwolves are one of the few teams with something to play for. They're going to lean on their star as if it's a playoff game and have been doing that for the last couple. We've seen him take his average fantasy points all the way up to 50 a game over the last two (compared to just 35 a game in the four games prior). Expect another big NBA DFS night from him here.
I mentioned that I liked Tyus Jones after the Morant injury, but that doesn't stop me from also liking Melton for an NBA DFS play in this spot. He's gone for at least 33 fantasy points in four of his last five, which would make him a steal at this price. He's also known to pop on steals and the Nuggets turn the ball over frequently.
Collins was tearing up the floor when teammate Jakob Poeltl was out with an injury. He was putting up to, or in some cases exceeding, 40 fantasy points when in the starting lineup. On Tuesday he returned to the bench but has clearly earned minutes going forward. He logged nearly as many as when he was starting. His NBA DFS salary hasn't caught up to his production at this point, so grab him while he's cheap.
The Lakers appear to be packing it in for the year. While that means I'm staying away from all their higher-priced NBA DFS options, they are ripe for the picking in the bargain bin. Reaves was the first beneficiary of the Lakers calling it a season. He logged 34.0 fantasy points in 31 minutes last game. There's no reason for Los Angeles to parade their stars out there again, so expect Reaves to see plenty more action.

Make sure to check out all the great NBA coverage we have to offer and be sure to listen to the NBA Gambling Podcast, which airs twice a week. This week the guys are breaking down all the best plays for the coming days, including info that can help you on your NBA DFS plays.  
Related Content