ATTENTION CLASS, forget the negative connotation around gambling, embrace it. Betting on sports is expanding at an extremely fast rate. Local news channels and national sports talk shows are incorporating gambling odds in every sports event they cover. That is because there is more demand for it now than ever before. If you've never placed a sports bet you probably have many questions. Degen University is here to answer your question of, "how to bet on sports online," with an extensive plan of future articles down the road. In course 101 I will try to aid you in your most dreaded decision there is, choosing your enemy. "What sportsbook should I sign up with?" I will walk you through what you need to know and how to choose a sportsbook. Then, the next step is, "How do I place my first bet?"
Have you ever asked one of those two questions to yourself? Would you apply yourself to the two categories mentioned above? Then the "Degen University" article series is perfect for you and will aid you all the way up to sharp bettor status. Whether you live in a state that just ratified a new law allowing Sports Gambling. Or you just turned 21 years old, you can now legally bet on sports. We have plans to release many more "courses" (articles) including topics like "Gambling Vocabulary," "How To Bet And Win Parlays," "What Are Units And How Should You Manage Them," "Common Sports Betting Strategies And Methods," "Understanding Public Money And Sportsbook Mannerisms," and more!
MORE FROM DEGEN UNIVERSITY
Degen University 102: The Degen Dictionary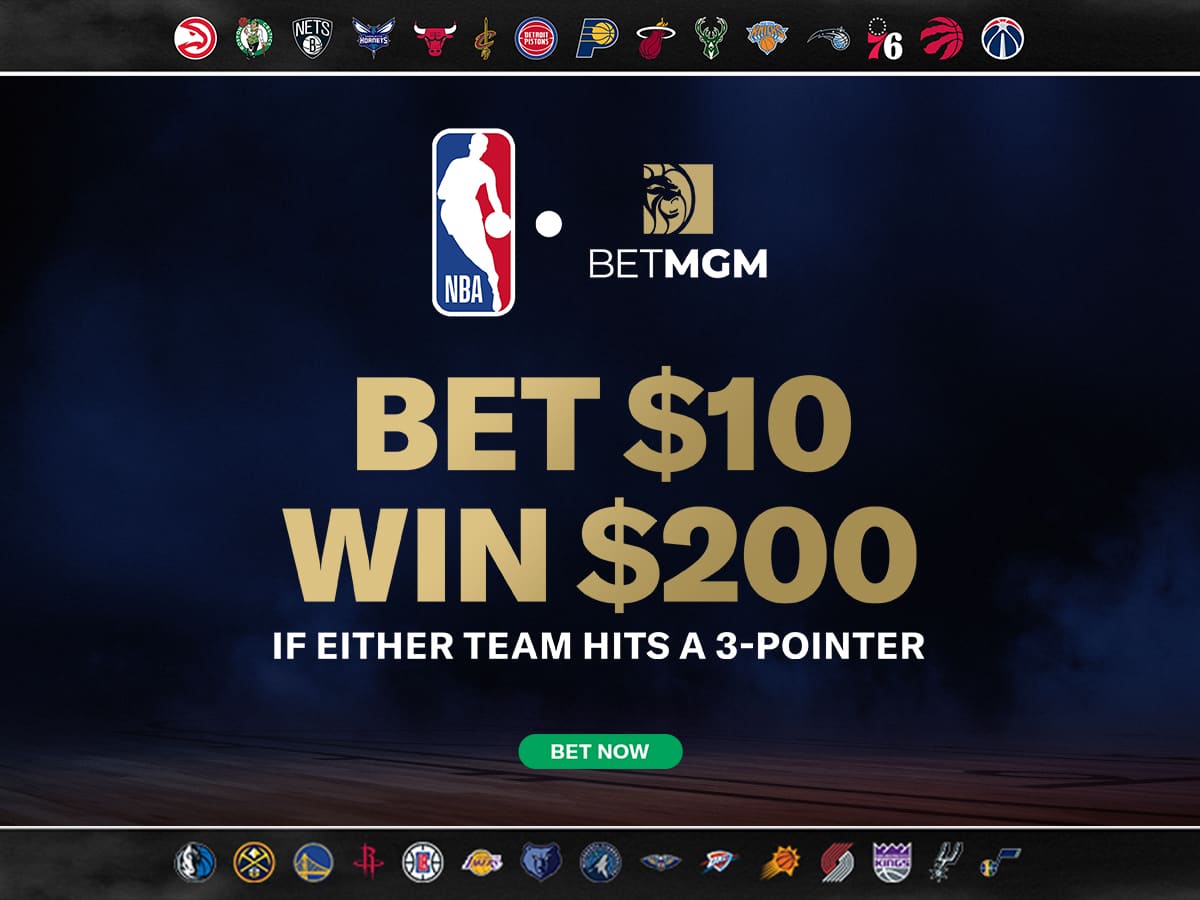 Degen University 101: How To Pick A Sportsbook And How To Bet On Sports
How To Pick A Sportsbook?
The largest gambling stock that is associated with an American online sportsbook is Flutter Entertainment. The FanDuel Sportsbook is associated with Flutter. If you go around asking your buddies you will probably hear one of them say FanDuel. A large public sportsbook is good because big gamblers that drop hundreds of thousands of dollars on a single bet won't affect the sportsbook and their gambling lines for the rest of the public. The other top five most public sportsbooks are the DraftKings Sportsbook, BetMGM, Caesars Sportsbook, and the Barstool Sportsbook.
The perfect sweet spot is to find a sportsbook that is established but not as mainstream. That is why the Sports Gambling Podcast Network is partnered with WynnBET. WynnResorts is the sixth most popular sports betting stock on the market. It is less used by the public. That means they don't try to take advantage of the common man as much as the big sportsbooks do. It's great to build a gambling community around a book that isn't as popular. That's because they often times offer more boosts and offers around their employees and celebrities that they're associated with. You can take advantage of those deals and get a great value betting on sporting events they offer.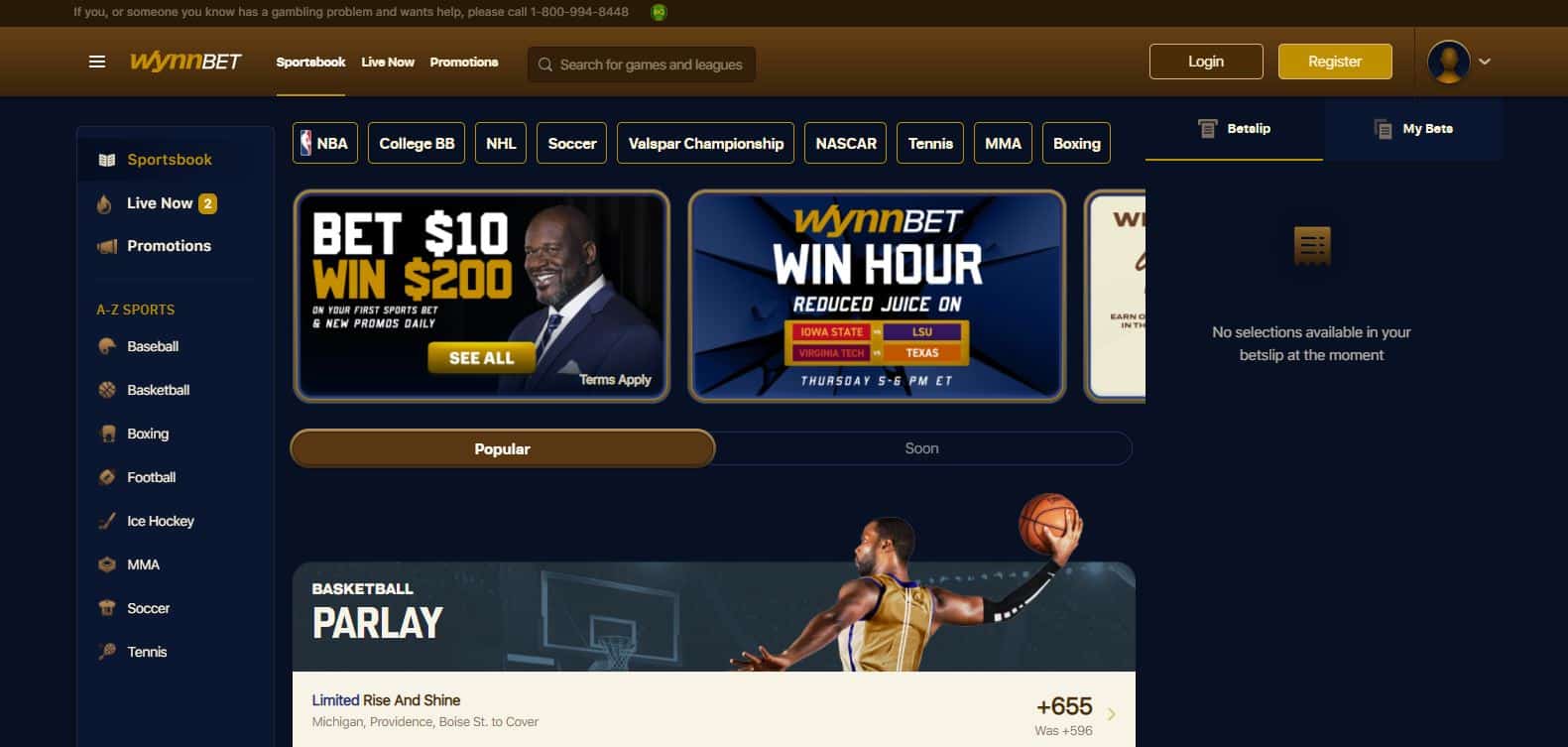 How Do You Place A Bet On A Sports Game?
If you live in Arizona, Colorado, Indiana, Louisiana, Michigan, New Jersey, New York, Tennessee, and Virginia head over to WynnBET.com to start the process. I'll provide you with a great starting promo, use the promo code SGP for a sign-up bonus! With the sign-up bonus, deposit whatever amount of money you're comfortable with, and then follow these steps.
Since you have set up your WynnBET account and got your free sign-up bonus, let's go to the WynnBET main menu. There will always be a "popular" tab visible. Inside that section, you will be able to find different sporting events to bet on. Events like the Super Bowl, March Madness, the World Cup, the Olympics, World Series, NBA Finals, and NHL Stanley Cup Finals. At the time of this article, the next most popular game is an NCAA Tournament College Basketball game between Duke and North Carolina (which just completed as this article was getting posted). If you think Duke will beat North Carolina by more than four points (result: a five-point victory) you would select "Duke -4". Then you go to the right-hand side and input how much money you'd like to bet. It is that simple.
What the (-4) does is the sportsbook subtracts four total points from Duke's final score. Therefore a new final score for the game is created by the sportsbooks. The reason they do this is to even the playing field for sports bettors if they want to put money on a team that is not supposed to win the game ("underdog") and isn't at the same skill level as their opponent. We call that "betting against the spread" (ATS) and it is the most popular form of sports gambling.
Use The Sports Gambling Podcast Network As A Source
For you newly interested sports bettors out there we here at the Sports Gambling Podcast Network hope this article helped you pick a sportsbook and showed you how to bet on sports online. We plan to meet your demands and needs with future Degen University articles. If you would like more insight on different things to bet on check out more of the content from the Sports Gambling Podcast Network. Here at SGPN, we have many podcasts hosted by some of the best sports bettors on the internet. When you listen to a podcast it's easier to learn common betting strategies which we plan to cover in another article. We have plenty of podcasts for you. Whether you like the NFL, NBA, MLB, NHL, College Football, the USFL, College Basketball, College Baseball, Soccer, NASCAR, MMA, and other sports, there is a Sports Gambling Podcast for you!
Let It Ride!
RELATED CONTENT