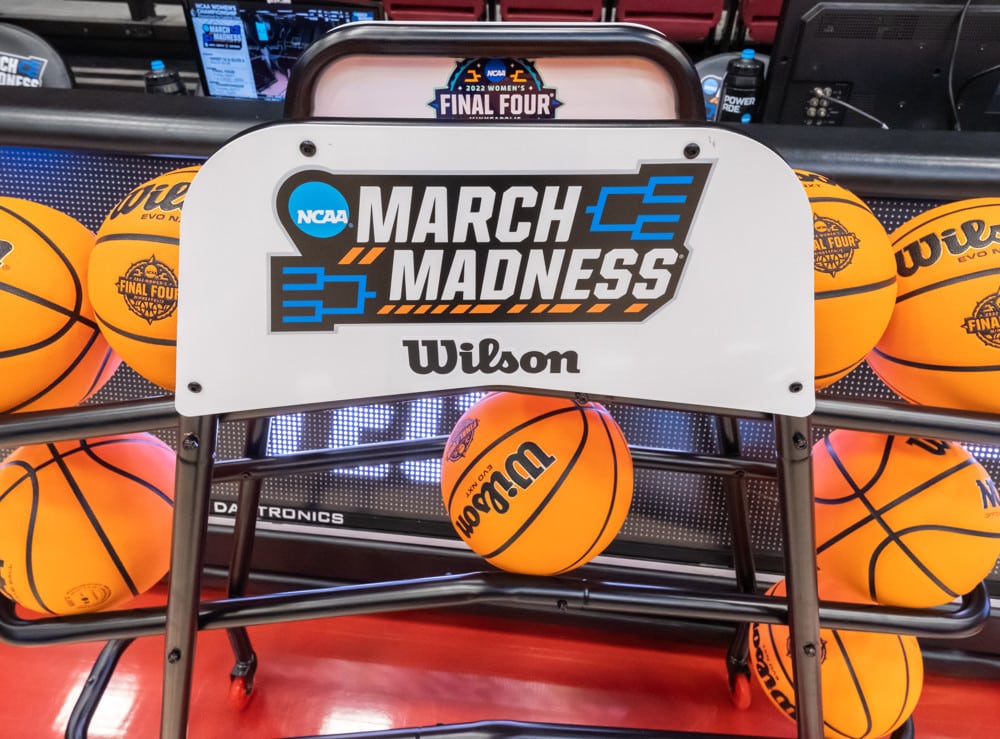 Round one of the NCAA Tournament is in the books and wow did it ever provide some entertainment value. There were some shocking upsets, there were top seeds surviving scares, and thrilling finishes in the opening round of March Madness. If you are like me your bracket is already in the recycling bin. Perhaps you're looking for some potential best bets to fire on. In this article, I break down two of Saturday's second-round games and include my two best bets and why I think they have value. Time to settle in for some more quality time with your couch and television remote!
March Madness CBB DFS Picks: NCAA Tournament Picks & Value Plays (Saturday)
NCAA Tournament Day 3 Picks: College Basketball Best Bets For Saturday, March 19th
College Basketball NCAA Tournament Picks: #4 Providence vs #12 Richmond
Time: 6:10pm EST
TV: TNT
Spread: Providence -3
Total: 134
Richmond comes into this matchup after a shocking upset against the 5th seeded Iowa Hawkeyes in the first round on Thursday. The Providence Friars took care of business against South Dakota State by a 66-57 final also Thursday evening. Both teams look to capitalize on the momentum of winning their round one matchups here in an exciting A10 / Big East matchup. I expect a pretty tight matchup here both teams have closely-ranked offenses in terms of efficiency. Richmond comes in with the 66th ranked and Providence the 50th ranking in efficiency respectively. They have even closer defensive efficiency ratings with Providence coming in at 79th and Richmond 82nd, all according to Haslametrics.
Many will argue Providence has been a "lucky" team, this season. The Friars have managed to post a gaudy 19-2 record in games decided by 10 or fewer this year. One thing that has helped them push them over the finish line has been their ability to get to the free-throw line. They won't find the same success against Richmond that they did all year, coming in with the 21st most trips to the line nationally. I say this because Richmond has been excellent at keeping teams from getting to the line coming in with the 15th best mark in defensive free throw rate.
This Richmond team is a veteran squad that has proven to be a disciplined bunch. They're not going to hurt themselves by turning the ball over or putting opponents at the line. I like them to ride the positive momentum and keep this game very close throughout. Good chance in my opinion that we will need an extra session to decide things between these two closely matched teams. I will gladly take the points here with a hungry dog.
March Madness Bets Bets: #12 Richmond Spiders +3
---
NCAA Tournament Day 3 Picks: College Basketball Best Bets For Saturday, March 19th
College Basketball NCAA Tournament Picks: #12 New Mexico State vs #4 Arkansas
Time: 8:40pm EST
TV: TNT
Spread: Arkansas -6.5
Total: 139
The Arkansas Razorbacks got here by defeating a feisty Vermont Catamounts team in an exciting, high-scoring game Thursday night. Meanwhile, we had another team audition for the role of Cinderella in their opponent New Mexico State. The Aggies upset the 5th seeded Uconn Huskies with a stunning 70-63 victory on Thursday evening.
The Aggies will face another still test Friday evening, and a significant jump up in terms of the talent of defense they will face. Their top scorer Thursday night Teddy Allen carried this Aggie offense scoring 37 points while none of his teammates managed to get into double figures. I expect the Arkansas defense to have an answer for Aggie's junior guard. Arkansas comes in with the 20th best efficiency ranking defensively according to Haslametrics. If they are able to account for Allen defensively, that will really hinder a club that shot for the nation's 85th best percentage. Teddy Allen has shot 43% from the field this season himself which I think inflates this number.
The Hogs defense has been great defending shots from the floor all year coming in with the nation's 24th best mark in defensive field goal conversion rate. There are going to make things tough for New Mexico State all night. I expect the Hogs to create turnovers as they come in with the 69th most points off steals. On the flip side, Arkansas has taken care of the ball all year, they have the 49th best field goal attempt rate meaning more of their possessions end with looks at the hoop and not careless turnovers. New Mexico State shot the ball especially well in their win on Thursday and that's something I don't anticipate they can replicate.
The Aggies shot 46% overall from their floor and a whopping 11 of 17 (65%) from deep. They benefited from eight Uconn turnovers as well which I don't expect Arkansas to duplicate. I anticipate Arkansas will do a much better job defending the perimeter and making someone other than Allen beat them. I expect the Hogs to get out of here with a 72-58 type win.
March Madness Bets Bets: #4 Arkansas Razorbacks -6.5
---