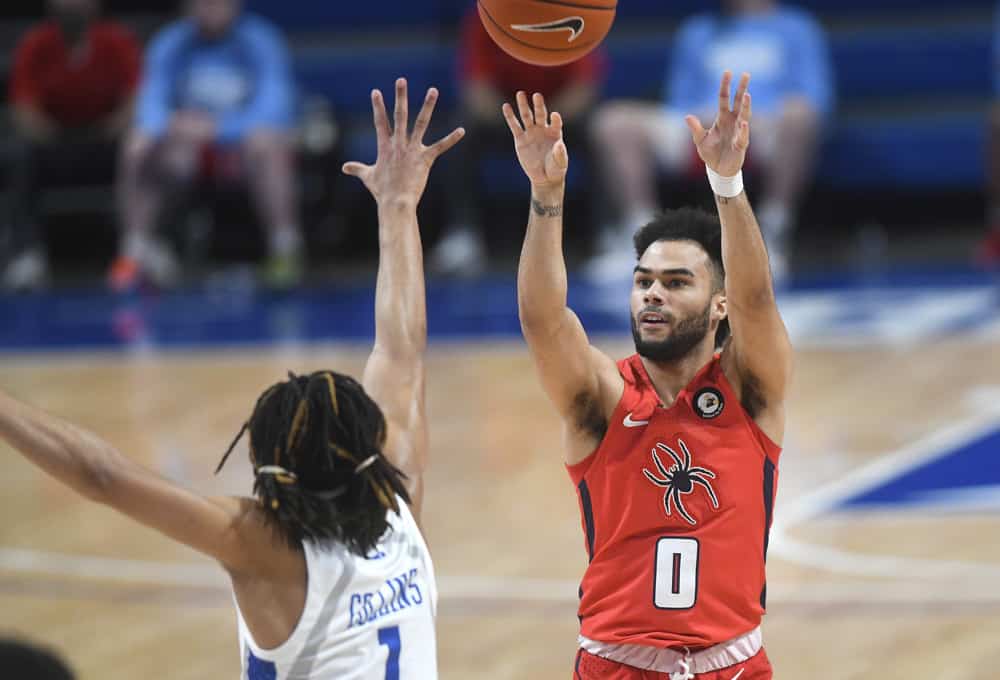 The first round of the NCAA tournament is in the books and we roll right into Saturday by keeping the College Basketball DFS train going. With just eight games per day, instead of 16, we have a more manageable slate for March Madness. As usual, we'll highlight each team's offensive and defensive rankings and Team Total line for the upcoming games. Then, we'll highlight some high-dollar, middle-of-the-road, and bargain bin options that stand out.
NCAA Tournament Day 3 Picks: College Basketball Best Bets For Saturday, March 19th
March Madness CBB DFS Picks: NCAA Tournament Picks & Value Plays (Saturday)
| | | | | | | | |
| --- | --- | --- | --- | --- | --- | --- | --- |
| Matchup: | Adj O | Adj D | Total | Matchup: | Adj O | Adj D | Total |
| UNC | 22 | 55  | 71.5 | St Mary's | 50 | 9 | 62.5 |
| Baylor | 8 | 13 | 77.5 | UCLA | 15 | 12 | 64.5 |
| Creighton | 127 | 16 | 63.5 | NM St | 76 | 73 | 66.5 |
| Kansas | 7 | 25 | 74.5 | Arkansas | 35 | 17 | 73.5 |
| Michigan | 19 | 78 | 65.5 | Murray St | 31 | 41 | |
| Tennessee | 34 | 2 | 70.5 | St Peter's | 243 | 31 | |
| Richmond | 70 | 84 | 66.5 | Memphis | 46 | 26 | 71.5 |
| Providence | 38 | 67 | 68.5 | Gonzaga | 1 | 7 | 83.5 |
March Madness CBB DFS Picks: Guards
There are a lot of attractive options at Guard for players over $7K. The top three most expensive players at the position all play for a 1-seed but I plan on targeting a few guys at smaller schools who are less pricey. That starts with Richmond's Jacob Gilyard at 7.6K. Gilyard had played the entire 40 minutes in seven straight games and leads the Spiders in assists, steals, and three-point shooting. In fact, he's led the entire NCAA in steals (3 per game) for a couple seasons in a row. Expect another stellar performance from the 5th year senior.
The other high-priced option directly in my crosshairs is New Mexico St's Teddy Allen for $7.3K. Allen leads the Aggies in points and rebounds and just dropped 37 on UConn. He appears to be a man on a mission this postseason which allows me to look past Arkansas's strong defense. With his confidence at an all-time high, watch out for Teddy Allen to go off again.
When looking for some mid-tier players at this position, I plan to fade some of the worst defenses on the slate. Although NM St shut down UConn's offense, you can't ignore that 73rd KenPom ranking. So if you can't afford JD Notae ($7.9K), a good plan B Razorback is Stanley Umude at $6.2K. The transfer from South Dakota has been up and down this season but has scored 20+ in the last two games. With Notae struggling in Round 1, Umudu stepped up with an all-around great game consisting of 21 points, 9 boards, and a handful of assists and blocks. 
Another nice option at a decent price is Creighton's Trey Alexander for $5.7K. Now that another Blue Jay (Kalkbrenner) appears to be out for the season, it should open up more opportunities for Alexander. Facing Kansas is not a plus matchup, but with five straight games north of 20 fantasy points, the true freshman is priced too low. I'd expect at least another 4X performance.
If you're looking to save some coin at the Guard position, I'd recommend rostering one of the St Peter's backcourt players. Murray State doesn't have a top-ranked defense and these guys just balled out vs Kentucky. There's Daryl Banks at 4.6K who just put up 27 on the Wildcats and the mustachioed man Doug Edert ($4.3K) who was just raining three on Calipari's crew. Although Banks blew up big time, Edert is more consistent but you really can't go wrong with either. 
March Madness CBB DFS Picks: Forwards
You gotta start with Chet Holmgren ($9.1K) here. In only 28 minutes vs Georgia St, the unicorn of a basketball player registered 67.3 fantasy points. He put up 19 points with 17 rebounds, five assists, and seven blocks. It will be interesting to see how he handles the physicality of Memphis but no player has a higher ceiling. Yea, he's the second-highest player on the slate, but I'd argue $9.1K is a bargain. He should be priced closer to $10K.
If you plan to load up another high-priced guy at the position, how about Tennessee's G/F Josiah-Jordan James for $7.2K? Michigan's defense has struggled over the course of the season and JJJ is finding his groove. In the last two games, James is averaging over 38 fantasy points per contest by stuffing the stat sheet with points, rebounds, and everything else. I like for that to continue come Saturday.
The injury to Creighton's Ryan Kalkbrenner leaves a gaping hole at the 5 spot for the Blue Jays and I expect Kansas to take full advantage. That means the Jayhawk big men Jalen Wilson ($6.9K) and David McCormack ($6.7K) should be on your radar. Both guys start for Kansas and usually play a comparable number of minutes while registering about the same amount of fantasy points. While I expect both to have effective games vs Creighton, I'll lean Wilson if you have the additional $200.
The flip side of that coin is that somebody will have to pick up minutes for Creighton. That player will probably be reserve big man Keyshawn Feazell ($3K). We saw him on the court at the end of the first-round matchup and he's all the way at the bottom of DK's pricing structure. I'd at least expect 20 minutes of playing time and rostering someone this cheap allows flexibility to spend up on others.
---