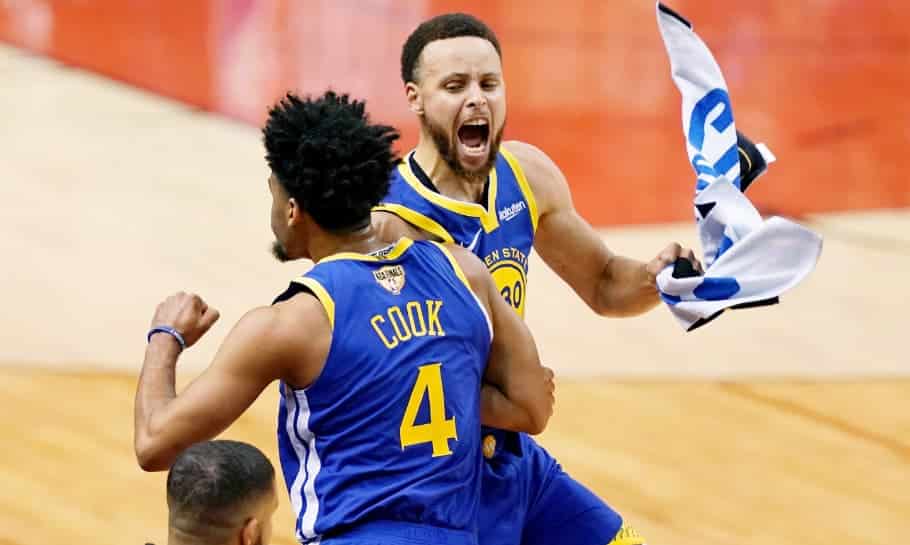 Tonight's game between the Warriors and the Bucks very well could be a preview of the NBA finals. Both teams are in the top three of their respective conferences and both are riding a nice little win streak. Plus, who doesn't love a marquee matchup of two of the league's top stars in Stephen Curry and Giannis Antetokounmpo? But if that's not enticement enough to tune into Saturday night's action, we've got some action ourselves. I've snagged three NBA player props from tonight's showdown that are looking ripe for the picking.
Saturday Night Primetime Action Game Information:
Location: San Francisco, California– Chase Center
TV: ABC
Money Line: Bucks (-125) | Warriors (+105)
Spread: Warriors +1.5
Total: 236.5
Odds Via: WynnBET Sportsbook
Saturday Night NBA Player Props: Lakers vs Warriors
Stephen Curry 3-Pointers – Over 3.5
This year, the Bucks rank dead last in the NBA in points allowed per game via the deep ball. They're averaging 42.3 opponents points per game behind the arc and the recent trend isn't much better – 41.0 per game over the last three games. Not only is Curry the obvious pick to exploit this issue with the Buck's defense, but he's been working above his season average lately as well. Twice in the last five games, he's gone over his usual. The thing is, all he needs is his average to cash this play. It might be worth taking a stab at the over of 4.5 if you want to make this NBA player prop extra juicy, but I'm playing the safe line here.
Bobby Portis Points/Rebounds – Over 24.5
Don't look now, but Bobby Portis is on fire. After a bit of a slow stretch to kick off the beginning of March, Portis started waxing glass this past week. He's gone for 14 and 15 rebounds in each of his last respective games, which puts him in a great position to hit this over. Even if he doesn't put up numbers like that, he's been shooting a hot rock lately as well. He's shot at 50% or better from the field in six of his last seven games. In that span, he's gone for more than 20 points three times. There's really no reason to think that the NBA player prop of 24.5 points and boards is out of reach.

Jrue Holiday Steals – Over 1.5
At the moment, the Warriors currently land at 26th in the NBA's rankings of opponent steals at 8.0 per game. They're actually a little worse over the last three games too with 8.3 in that span. Holiday meanwhile has been on fire with the swipes. He's had nine total steals over the last three games and has not once been below the 1.5 mark in that span of time. Steals is always a tricky NBA player prop, but with trends like this, it's hard to ignore.
Don't forget to listen to the NBA Gambling Podcast for insight on anything and everything you'd want to bet in the world of basketball – including plenty more NBA player props.
Related Content