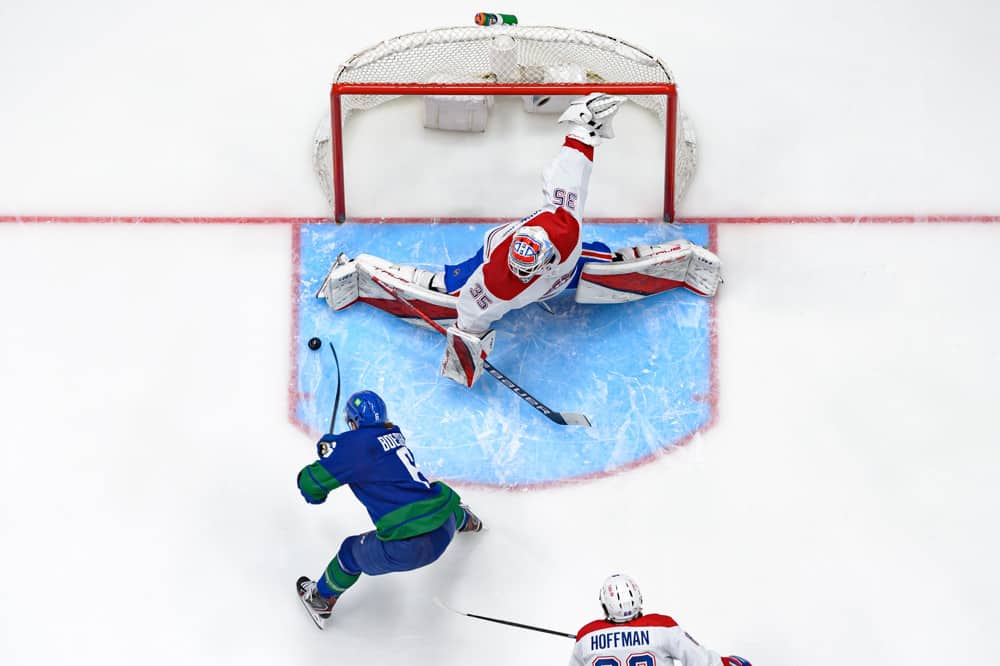 After this week, there will be roughly six weeks left of Fantasy Hockey, including the playoffs. It's a crucial period of play as most are establishing their playoff positions in the final weeks of the regular season. Having a winning goaltender may be the most vital asset to own in all of sports, and there's no difference in fantasy hockey. This article will review trending Goaltenders you can stream to close your season and get an extra leg up for the fantasy hockey playoffs. These options are available in a majority of Yahoo fantasy hockey leagues.
Fantasy Hockey: Streaming Goaltenders
Anton Forsberg – 36% Rostered
Anton Forsberg has been on a roll since the beginning of February. Yet, despite his availability, he's one of the hotter assets to own in fantasy hockey right now. Forsberg is ranked #6 in total fantasy production at his position across the past month.
In his last ten starts, Forsberg is 6-2-1 with a .939 save percentage. The Senators allow the 7th most shots against this year, so it's impressive to see this solid run from Anton. He's won four of his last seven games, but even in his losses, he's pulling in huge save numbers. The lowest fantasy return in his last seven starts is nine points; even on a bad team, this is production to own!
WHAT ON EARTH ANTON FORSBERG!!! pic.twitter.com/BcurwHFtr5

— Lalime's Martian (@LalimesMartian) March 9, 2022

Scott Wedgewood – 5% Rostered
Wedgewood and the Coyotes have played well since the end of February. In their last eight games, the team is 6-2, and Wedgewood returned four wins in that stretch. It hasn't been on the back of sexy goaltending; he's allowed nine goals against in his last two starts but still came home with two wins and 75 total saves.
The Coyotes may not keep this stretch going for much longer, but I trust Wedgewood to provide value in these final weeks of action. His total fantasy production ranks 15th across the past month, and he's overwhelmingly available in fantasy hockey. You don't have to hold him, but you should absolutely try to steal a few of his starts. The Coyotes have four games in Week 21; he's a decent buy even on weekly waivers.
Scott Wedgew̶o̶o̶d̶ wall. 🙅‍♂️ pic.twitter.com/ESiytvf2Tt

— NHL (@NHL) March 11, 2022
Sam Montembeault – 13% Rostered
Montembeault hasn't been consistent for the Canadians this year, but he is on a decent production run. Since the transition to Martin St. Louis as the new Head Coach, Montreal has also played very well. The team has won seven of their last nine, and Montembeault has won four of his previous six starts.
Like Wedgewood, it hasn't been on the back of super sexy goaltending. Montembeault was baptized by Winnipeg Jets, allowing seven goals on just 23 shots earlier this month. As I said, he hasn't been super consistent. However, he still has plenty of value on our fantasy hockey teams, the Canadians are playing well, and that's enough for me at this time. Plus, their upcoming schedule isn't that scary; Montembeault should get a few favorable matchups in Week 21.
His production ranks 14th at the goaltender position across the past month. So if you're on the fence, I'm here to push over to the other side; fire him up this week!
Samuel Montembeault with some wild flexibility on this one pic.twitter.com/tDhwSjl3Po

— Matt Drake (@DrakeMT) March 10, 2022
Nico Daws – 9% Rostered
If you need starts, Nico Daws is your guy! The Devils have multiple injuries at the goaltender position; Mackenzie Blackwood and Jonathon Bernier are both on Injured Reserve. That leaves Jon Gillies and Nico Daws. Unfortunately, Gillies hasn't played up to the opportunities given. He allowed back-to-back games with six goals against in his last two starts. Despite mediocre play, Daws is the more consistent option for New Jersey.
Daws started in seven of the last eight games for the Devils. He went 4-3 with a .921 save percentage. In that stretch of action, Daws recorded 88.40 fantasy points. It's not out of this world production, but Daws should offer you a safe collection of stats with the number of games he'll start to close this season. He ranks 18th in total fantasy hockey production at his position across the past month; he meets all streaming criteria.
Key pad saves from Nico Daws to keep the score tied #NJDevils pic.twitter.com/clPz8TX35b

— Shayna (@hayyyshayyy) March 11, 2022

Antti Raanta – 32% Rostered
Frederick Anderson has gone missing with an undisclosed injury. I'm not sure why Carolina is so secretive about his absence, but it could signal more splits in the net to close the season. Carolina has a firm grip on the Metropolitan division and may want Anderson more fresh for a long run of playoff starts.
Antti Raanta has played exceptionally well in Anderson's recent time away. He's won three games in a row, coming off a shutout win against a significant opponent in the Avalanche. He allowed just four goals total in those three games, and the upcoming schedule is even more friendly than the opponents he's recently faced.
Raanta averages 17.45 fantasy points per start this month. He's playing well behind a solid Hurricanes defense, which allows the fewest shots against in the NHL. He'll be a must-own in fantasy hockey until we know what's going on with Anderson.
Antti Raanta shuts the door on the Avs with his 36-save @Nationwide Shutout!pic.twitter.com/NmMT1DniqN

— Kathryn Guyton (@WeatherWomanWKU) March 11, 2022
---