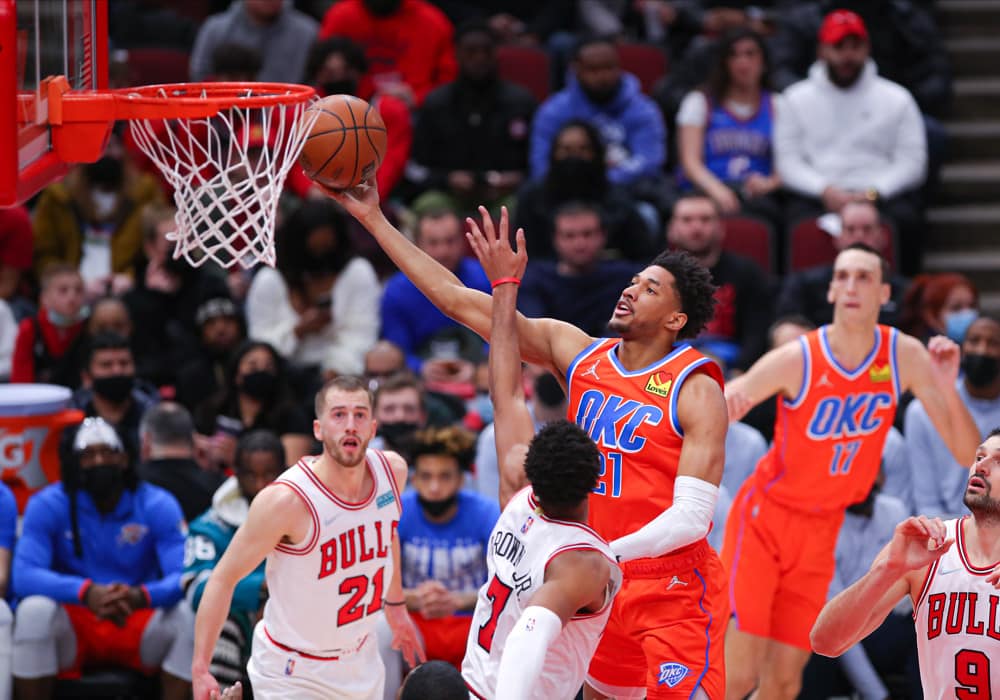 We're officially coming down the home stretch of the fantasy basketball season. Depending on your league, you might still be closing down the last week of your regular season or already amidst a tight matchup in the fantasy playoffs. Regardless of your situation, I'm here to help! This article will review increased opportunities relating to playing time allotment and what it means for our fantasy basketball teams. The season is almost over, but the Minutes Police are here to ensure your safety and guide you through this competitive period of play!
You may have a hard time buying Beasley, most owners are familiar with him, and his roster rate has continued to climb over the past week. The Beasley additions are for good reason; Chris Finch has been giving Beasley a more consistent diet of minutes since the beginning of March. In February, Malik experienced a massive dip in his minutes, where he averaged just 19 minutes per game; it's a nice adjustment to see.
Beasley is playing 26 minutes per game in March. So, where we see minutes, we should always see production. Beasley is averaging 29.6 fantasy points per game in five games this month on the back of 20.6 points, 3.0 rebounds, and 1.6 assists per game. While his minutes are climbing, we see a slight decline in playing time for Patrick Beverley. He's been dealing with an ankle injury as of late and has missed two of the team's last four games. Beverley is a potential drop candidate with his injury, in addition to Beasley's recent positive trends.
Malik Beasley has just set the Timberwolves franchise record (11) for threes in a single game. And some cele. pic.twitter.com/He7mjqmJVd

— Rob Perez (@WorldWideWob) March 10, 2022
Now here is a more buyable player based on increased minutes and production. Rookie Austin Reaves is still flying under the radar, despite playing under the bright lights of Los Angeles. While the Lakers have won just two of their last nine games, Reaves's role has expanded, as he's averaging 27 minutes of playing time since March 1st. Reaves is also averaging 24.7 fantasy points per game since the start of March – I've been riding him on my fantasy basketball roster, and I'd recommend the same to you.
The Lakers are old, beat up, and ravished with injuries. You know there's an issue when you see LeBron James starting at the center position. While the team is still missing Anthony Davis, players like Malik Monk and Talen Horton-Tucker are dealing with less severe day-to-day injuries. Reaves isn't an explosive player, but he has been efficient. He's shooting 45% from the field, 40% from the three-point line, and hasn't missed a free throw this month. Reavess' value should hold strong through the end of our fantasy basketball seasons; the Lakers are dealing with too many lineup issues not to leverage his recent run of efficient production.
Textbook defense from Austin Reaves ???? pic.twitter.com/8ngvfVcxCh

— Los Angeles Lakers (@Lakers) March 6, 2022
Watford has taken advantage of a recent injury to power forward Justice Winslow. However, the Trailblazers are in free-fall mode, as they've dropped six straight games. Nevertheless, Watford has filled in well, and I suspect he has a role even when Winslow returns. Winslow is dealing with a sore Achilles and could be back as soon as today; he's missed five straight games.
Watford has been averaging 30 minutes per game since March 1st, and I believe the Trailblazers will reward him with more playing time down the stretch of the season. They aren't playing for anything, and they won't want to expose valued players to further injury opportunities. There's no reason to overplay anyone on this roster. Watford averages just 15.09 fantasy points per game this season, but he's up to 36.35 in the past week. That's the production we need in these tight matchups to close out our fantasy basketball seasons! Watford could deviate from the higher average once Winslow returns, but I don't see it cut in half.
TRENDON WATFORD HIVE. pic.twitter.com/3EDdHEIOjT

— anfernee simons truther (@Eric_Riley8) March 3, 2022
Aaron Wiggins is another young player getting more playing time due to extensive injuries. The Oklahoma City Thunder are missing Josh Giddey for a few more weeks, maybe more, and Tre Mann and Kenrich Williams are dealing with day-to-day injuries. Aaron Wiggins and Aleksej Pokusevski are significant benefactors, with these players not at 100%. Wiggins has been averaging 28 minutes per game since mid-February. He has missed a few games in there, but he's playing the most consistent minutes of any stretch of this season.
Wiggins has found his stroke this past week. He is a must-own player through this weekend and into next week, at the very least. Wiggins is averaging 16.37 fantasy points per game this season. However, he's up to 27.65 fantasy points per game in the last seven days. Aaron's cashing in on the opportunities presented during this bad injury run for the Thunder. He's also coming off a tremendous performance against the Timberwolves; get him while you can!
An Aaron Wiggins appreciator has joined the chat pic.twitter.com/VtBylh6ceD

— Mark Schindler (@MSchindlerNBA) March 10, 2022

Wagner recently returned from a rib injury and has played well since getting back on the floor. The Magic have a loaded frontcourt, but Wagner has provided solid production through his last three games. While his minutes were managed tightly this season, this is another end-of-season scenario where I see a reserve player getting more opportunities with the team playing for a top draft pick rather than a playoff spot. The Magic currently hold the NBA's worst record at 17-50.
Wagner averages just 15 fantasy points per game through the season. However, he's up to 30 fantasy points per game in the last week. Mo Bamba is playing fewer minutes with Wagner's return, and I could also see a chunk of Chuma Okeke's minutes take a hit as well. Wagner is getting more playing time by just being back and available to play. He played in 27 minutes in his first game back but hasn't etched 20 plus minutes since. Only hold him if you're getting the production; he's making the most of his minutes at this time.
❌ Derrota de los Hornets frente a Magic.

???? Moritz Wagner
26 puntos
11/17 TC
4/8 T3

???? Franz Wagner
19 puntos
6 rebotes
7 asistencias
8/11 TCpic.twitter.com/nmSpMDwVTK

— Senes Sports (@SenesSports) January 15, 2022
Related Content