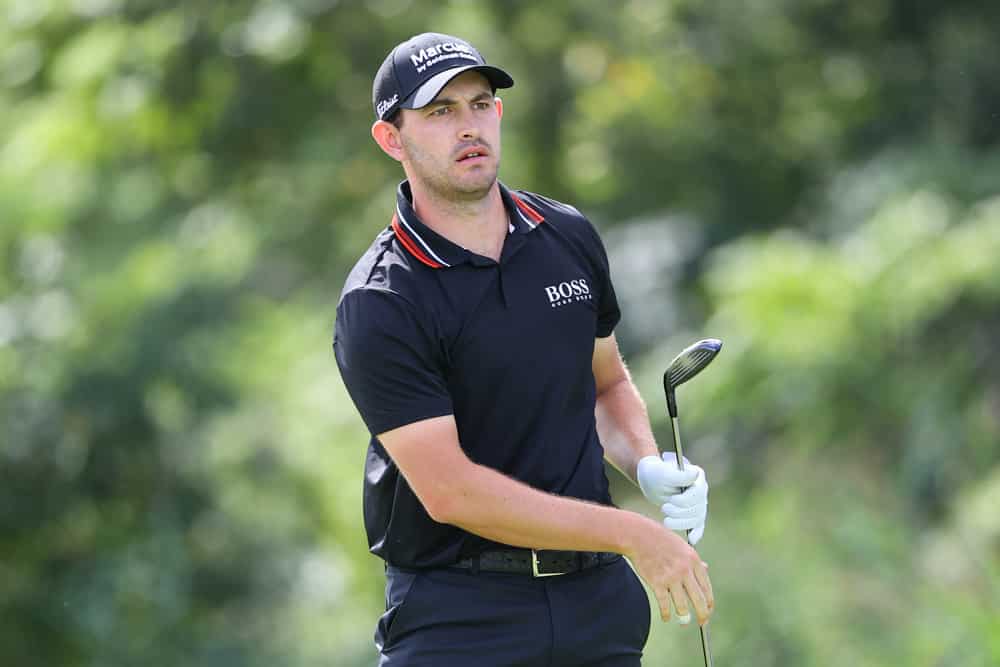 For those who missed it, check out the 2022 PLAYERS Championship Preview and Betting Strategies for the types of golfers you should look to target for your picks. Using that as a guide, let's take a look at some of the best bets to make this week. Here are my picks for the 2022 PLAYERS Championship (odds courtesy of WynnBet):
2022 PLAYERS Championship Picks – Outright Bets
Patrick Cantlay: 22/1
The weather report is a big story this week. TPC Sawgrass will get heavy rain and some wind the first two days. On Saturday, high winds will dry the golf course. On Sunday, temperatures will struggle to crack 60 degrees. And given all this rain, we may see a Monday finish. Mother Nature will throw everything it has to the golfer this week. The types of players I'm looking for this week are ones I feel can plod around and stay patient. Ones who can adapt to day-to-day changes in golf course conditions. Patient and smart players.
Patrick Cantlay's resume speaks for itself. He's magnificent and consistent tee-to-green. He has a fantastic short game to grind out pars in adverse weather conditions. He's a fantastic putter, particularly on these overseeded surfaces. He already has success on the Diet Coke version of TPC Sawgrass at PGA West for the American Express. And he has a good track record on other Pete Dye and Dye-adjacent golf courses like Harbour Town and TPC River Highlands.
So what can go wrong here? For starters, Cantlay does have a bit of a balky back. Given the fluctuations in temperatures and weather conditions day to day, he definitely could wake up feeling a little tight. But if he can handle the cool, damp climate of Pebble Beach (another golf course he's great at), he should be able to do well in the weather conditions present this week. And these conditions might actually be ones he prefers. Cantlay has never had a ton of success in Florida. The weather this week will kind of resemble more of a Northern California one in February or March. Cool to moderate temperatures. Some wind. And some rain. All on a type of agronomy he prefers. If the weathermen are true, this won't be a typical Florida golf tournament.
As long as his back holds up, Patrick Cantlay is exactly the type of golfer I want to bet to win the tournament. Pick Patrick Cantlay at the top of your 2022 PLAYERS Championship betting card.
Hideki Matsuyama: 30/1
Maybe I was a week too early on Hideki Matsuyama. I bet him last week at Bay Hill, and he lucked into a Top 20 finish. I ignored that some of his "good" course history at Bay Hill was a little fraudulent. Mea culpa.
I'll go back to the well this week. Like Cantlay, Hideki is a very adaptable player to changing course conditions because he's such an excellent ball striker and scrambler. Hideki can dominate in calm, soft conditions by firing at pins all day. He has adequate control with his irons to properly shape it in windy conditions. He's a tremendous scrambler who can get up and down for par in truly difficult conditions. And he has a lot of success putting on overseeded surfaces. That's the same type of greens he won twice on at TPC Scottsdale. If Hideki can putt, look out.
If you're looking for a consistent, reliable golfer in tough weather conditions, Hideki Matsuyama is a great target. Pick him on your 2022 PLAYERS Championship betting card.
Daniel Berger: 30/1
Ideally, I'd like this price just a smidge higher. Nevertheless, Berger will find his way onto my betting card this week. If I'm looking for consistent players who won't get in trouble off the tee, possess a wonderful iron game, and can scramble really well, Berger is a great fit for these criteria. Over anyone's last 50 rounds, no player has gained more strokes per round with their irons than Daniel Berger has. He's very good at getting up and down from off the green. And though he occasionally can run into trouble with his putter, Berger does putt well on overseeded surfaces.
And not only that, Berger already has shown he can play well at two completely different TPC Sawgrass setups. He finished T9 on an overseeded TPC Sawgrass last year. And he finished T9 on a full Bermuda TPC Sawgrass in 2016. Add to it Berger has several good finishes in his career in difficult setups and weather conditions, Berger is plenty adept at handling anything thrown at him this week. Add Berger to your 2022 PLAYERS Championship card.
Jordan Spieth: 50/1
There's no denying that Jordan Spieth's record at TPC Sawgrass leaves much to be desired. Since a T4 finish in 2014, Spieth has never finished inside the Top 40 and has missed the cut four times. If you're someone who targets Horses for Courses, Spieth is not your man.
So why do I like him anyway? For starters, he's playing better than some people may give him credit for. Spieth should have won the AT&T Pebble Beach Pro-Am. If he had, his number would be closer to 35/1 this week. Second, Spieth played really well the first two days at Riviera. He was right in the mix heading into 18 on Friday but missed a 3-foot putt to give him a bogey heading into the weekend. Did that maybe rattle him? Because for the rest of the weekend, Spieth was pretty pedestrian. But he flashed some brilliance the first two days. The elite form is still there.
Plus, let's say the weather creates as much chaos as some anticipate it will. What type of player do I want in a rock fight? Someone who I can trust to strike their irons well, get up and down from anywhere, and nail clutch putts. That's Jordan Spieth. Ignore the poor course history. Pick Spieth at a PLAYERS Championship that won't resemble ones we've seen before.
Russell Henley: 75/1
Wouldn't it be fitting for Russell Henley, who has delivered so much heartbreak to gamblers over the last year, to come through at the PLAYERS Championship when not many are considering him? You, however, should. Henley will keep the ball in play off the tee. He's striking his irons beautifully over the last year. He's an excellent scrambler and putts much better on overseeded surfaces than his usual baselines.
Not only that, Henley is a grinder who can keep up in difficult conditions. Henley has a ton of success at difficult Honda Classics. He hung tough at the 2021 U.S. Open at Torrey Pines. He also hung tough at a windy and difficult 2018 U.S. Open at Shinnecock Hills. And he played really well at Bay Hill last week and found himself in the mix down the back nine.
Maybe you have as much scar tissue betting on Russell Henley as I do. But who knows. Maybe a chaotic weather week with landmines lurking over the final three holes is something Henley needs to luck into a win. That's definitely in play this week. Pick Henley on your 2022 PLAYERS Championship betting card.
FOMO – Brooks Koepka: 40/1
Brooks Koepka seems like a very trendy pick in the golf gambling community. I, personally, don't like him as much as everyone else seems to. But I did say on the Golf Gambling Podcast, after the Honda Classic, that I was really impressed with how he played. I felt he was under the radar heading into the PLAYERS Championship and would be interested if his number was 40/1 or higher.
Well, here we are. 40/1. And I can spin a narrative where Brooks wins his first PLAYERS Championship. He's a grinder who will keep plodding around on ever-changing golf course conditions. He's won at TPC Scottsdale, which shares similar agronomy as TPC Scottsdale does. And Koepka has flown under the radar a lot in his career before either grabbing a win or contending for one. If you can fit Koepka into your PLAYERS Championship betting card, do it.
2022 PLAYERS Championship Picks – Other Props
Xander Schauffele Top 10: +300
Outside of a T2 finish in 2018, Xander's history at TPC Sawgrass is very lackluster. But I have a hunch he'll show well this week. Like Brooks Koepka, Xander is flying under the radar a bit. But his play has been all-around solid. He's been excellent from tee to green, and he's really improved his scrambling this season. Plus, should the weather turn TPC Sawgrass into a grind, there are not many other golfers I'd want a positional prop on more than Xander Schauffele in those conditions. Pick Xander for a Top 10 this week at the 2022 PLAYERS Championship.
Other Top 10's to Consider
Cameron Smith: +400
Louis Oosthuizen: +550
Paul Casey: +650
Alex Noren Top 20: +375
On the Golf Gambling Podcast, I suggested that I wanted to target golfers who are reliably consistent in a few areas and come into the PLAYERS Championship peaking in an area they're not known for. Alex Noren is an excellent candidate for such criteria. Noren is a tremendous scrambler and putter, particularly on overseeded surfaces. But what makes Noren so appealing this week is a resurgence in his iron play. Noren has recorded positive Strokes Gained – Approach in five consecutive tournaments. And with each tournament, it's been better and better. And not only that, Noren has both good history at TPC Sawgrass, other Pete Dye tracks, and other penal golf courses. Noren has the pedigree to grind out a Top 20 finish on the leaderboard this week.
Other Top 20's to Consider
Keegan Bradley: +500
Cameron Tringale: +550
Sebastian Munoz: +600
Lanto Griffin: +600
Adam Hadwin: +650
Related Content