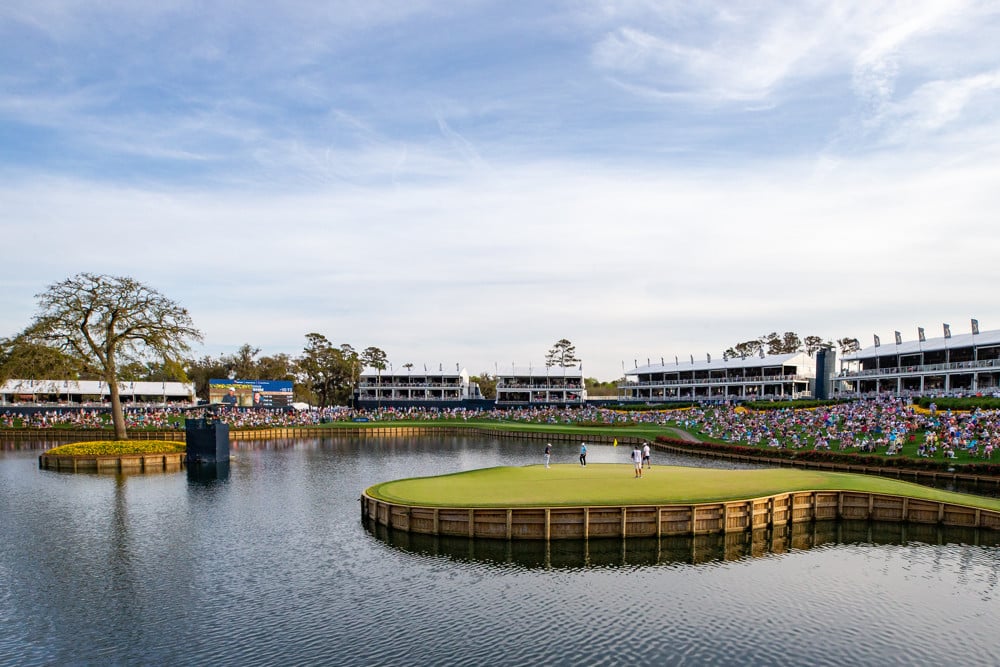 This week, the strongest field in golf vies for the PGA Tour's most coveted prize. It's the 2022 PLAYERS Championship at TPC Sawgrass in Ponte Vedra, FL. As always, here is your early deep dive and preview of the 2022 PLAYERS Championship.
PLAYERS Championship Preview – The Field
It's not a question of who is playing the PLAYERS Championship this week. 48 of the Top 50 players in the world will take on TPC Sawgrass. Anyone you can possibly imagine will try and win the biggest non-major trophy of the year. Rahm. Rory. JT. DJ. Morikawa. They're all here.
There are a few notable omissions, however. The most notable of them is Bryson DeChambeau. Bryson is still nursing both wrist and hip injuries he sustained earlier this season. At this point, it's likely we won't see Bryson return to professional golf until The Masters. Considering all his struggles at Augusta National, he'll need to be at full strength to try and vie for the Green Jacket.
Another notable player who will miss the PLAYERS Championship is Phil Mickelson. After his controversial comments about the Saudis emerged publicly, Phil has stated that he'll take some time away from golf. Whether this is fact or he's secretly suspended from the PGA Tour is a whole different topic. For now, Mickelson won't be around for the PGA Tour's Crown Jewel tournament.
For the full field, click here.
PLAYERS Championship Preview – The Golf Course
The late Pete and Alice Dye have created some of the most iconic golf courses in the world. The PLAYERS Championship at TPC Sawgrass is their crown jewel achievement and a joy to preview. The golf course opened in 1980 after then PGA Tour commissioner Deane Berman sought to find a permanent home for a new illustrious event. The PGA Tour lacked a defining tournament on its schedule. Berman hoped the creation of the Players Championship would someday rival that of the other four majors.
After several Jacksonville clubs rebuked his offer, Berman built his own course for his ideal tournament. He purchased 415 acres of wooded swampland from two prominent landowners in Ponte Vedra for $1. He then hired Pete and Alice Dye to fulfill his dream of creating a challenging and iconic golf course that could deliver drama and provide spectators with a stadium-like atmosphere to enjoy the proceedings.
And with that, the Stadium Course at TPC Sawgrass was born:
For mere mortals, this golf course can be a nightmare (as Golf Gambling Podcast co-host Boston Capper can attest to). But in terms of a test for the best players in the world, this golf course is perfect. There's a very wide variance of scores at the Stadium Course because of its layout. Those who play smart and strike the ball well will be handsomely rewarded with great angles into pin positions. Others who play foolish or loose with their tee shots and irons will have tough sledding.
Many holes at the Stadium Course utilize hazards very well. Some courses position hazards to punish bad shots even further. There's little incentive to hit towards them with the reward of a perfect angle for their second. Not the Stadium Course. Pete Dye positioned hazards (particularly the long, elongated bunkers hugging the fairways) in harmony with the angle of the green from front to back to encourage the bold to hit towards them off the tee. Here's a few examples of this as we preview TPC Sawgrass:
1st Hole

Hybrid or three wood off the tee down the right side of the fairway towards the bunker is the ideal shot. From there, the green is wide open for anyone, whether they prefer to hit a draw or a fade-in. Anything down the left is "safe", but the second requires a carry over two bunkers and limits the landing zone onto the green, particularly on the back left pin locations.
7th Hole

Here, players are free to pull driver, but those who challenge the left side of the fairway towards the elongated bunker and the water hazard have better access to the green. They also can eliminate the collection area on the back left of the green. Tee shots down the right are safe, but requires carries over bunkers.
11th Hole

This is a tricky Par 5. There's a large bunker complex down the left side of the fairway that players don't want to be in (more on this in a second). For those who take it on and keep it in the fairway, they have the most optimal angle into the green to get on in two. Players may opt for a safe tee shot down the right, away from the bunkers. Overhanging branches from an oak tree may obstruct their view on the second shot. It also requires a much longer approach to the green over water and a boomerang bunker.
You may be wondering why there's a pushpin called "Jon Rahm" in the above Google Earth imagery of the hole. When I think about this hole, I'll always remember what transpired with him in the final round of the 2019 Players Championship.
Rahm entered the hole tied for the lead, but his drive ended up in the fairway bunker down the left side. His view to the green was blocked by a tree. The left to right wind also made trying to go for the green an impossibility. The sensible play was to hit a wedge back into the fairway and set up a short approach into a receptive green. Birdie was still a reasonable goal by laying up out of the bunker.
But sensibility sometimes eludes the fiery Spaniard. What transpired from there is some of the best camera and audio work ever captured in a golf tournament by NBC:
This is a textbook example of how stupidity and arrogance are punished at TPC Sawgrass. There are so many temptations around the golf course to play aggressively and try and be a hero. But it is those who pick and choose at the correct time when to go or pull back are the ones who fare best at TPC Sawgrass.
There have been several renovations away from Pete Dye's original design for TPC Sawgrass I noticed as I worked on this preview. The most notable changes have come on the short Par 4 12th hole:
Old 12th Hole

New 12th Hole


Pete Dye never liked drivable Par 4's, as he considered them just long Par 3's. But the most recent renovation to this hole made it drivable. It pushed the tee box forward, removed the large bunker in front of the green added a water hazard left.
This hole was better thought of than executed. There isn't much incentive to lay up on the hole. There's a very generous bailout right of the green for someone to hit a 3 wood towards. From there, one stands a great chance of getting up and down for birdie. The only way someone can truly screw up this hole is by hitting a hook into the water hazard left. And even if someone wanted to lay up off the tee, there's isn't anything for their next shot that might pose a significant challenge either. This hole is one of the weaker offerings on the golf course.
While the golf course has some very good architectural traits, it's the 17th hole that's the most famous.
The hole itself doesn't have any ingenious engineering on the part of its architect. Nevertheless, it's the most famous hole in golf. When you ask casual golf fans, or even non-golf fans, what they know about the Players Championship, the first thing they'll think of is the 17th. It's iconic, it's full of glory and failure, and from a spectator standpoint, it's tough to beat. It's a great viewing opportunity for anyone in attendance to witness high drama where a tournament can swing on just one bad shot.
There's disaster lurking for anyone stepping up to the tee, as Sergio Garcia found out back in 2013 as he went toe to toe with Tiger:
It can also be the setting for one of the most incredible moments in golf:
TPC Sawgrass is a great golf course, but let's not get carried away in this preview. It's not what it once was. At its genesis, this was a rugged golf course that was very punishing to the player. Though TPC Sawgrass still has some teeth, renovation after renovation has softened it just a bit. And with the PGA Tour insistent on making the golf course as green as possible with the overseed, it may not play as firm as some people might hope for.
As part of the viewing experience, the PGA Tour has announced its Every Shot Live platform. A camera will accompany every group to capture every shot from every player. Most weeks we're treated to only featured group coverage as a supplement to the main broadcast. But this allows gamblers to sweat their head-to-head matchups without dealing with the dysfunctional PGA Tour app.
In addition, there may be live betting opportunities associated with it. For example, let's say a player has a look to get to the green in two on a Par 5. A gambler interested in betting them live may have their bet queued up and wait for the result of the shot. As soon as it looks like the player may have a great look at birdie or eagle, the bettor might place the bet before the books can adjust the odds.
The PLAYERS Championship Preview – Betting Strategies
Before we get into it, it's important to note that course history might not be as good of a tool to use this week as it is at other tournaments. The move from May to March changed this tournament drastically. For starters, the agronomy is totally different. Firm and fast Bermuda dominated the turf at TPC Sawgrass in May. In March, however, the golf course is overseeded. Fairways and rough are overseeded with Ryegrass, while the greens are overseeded with Poa Trivialis and Velvet Bentgrass.  The PGA Tour does a good job of making sure the greens are kept firm. But as for the fairways, they're much softer with the overseed than a firm Bermuda would allow for.
And second, this tournament sees a ton of turnover every year on the leaderboard. TPC Sawgrass is a golf course that doesn't particularly favor one set style of play. Players have to plod around the golf course and play the holes as Pete Dye intended. Year after year, there's some parity in terms of what types of golfers appear in the Top 10. For every Bryson DeChambeau there's a Brian Harman. And there's some volatility year to year for ones results.
And because there's a lot of parity, TPC Sawgrass features one of the least predictive skill set charts per DataGolf:
The only consistent theme to most TPC Sawgrass leaderboards is the trait of driving accuracy. Those who keep the ball in play and hit a lot of fairways do well at the golf course. This isn't breaking news. TPC Sawgrass is one of the more penal golf courses on the PGA Tour. Per DataGolf, it typically yields the 9th most penalty shots of any golf course on the schedule. And it's the 10th most penal golf course to miss a fairway at. Not only are there water hazards everywhere, but there's there are mogul mounds all over the golf course that can create awkward lies. And hitting out of the fairway bunkers is also tricky. This is a golf course where you have to hit fairways.
With that said, it's not impossible for an inaccurate bomber to show well at TPC Sawgrass too. We saw last year how Bryson DeChambeau plodded his way around the golf course. He often clubbed down to make sure he kept the ball in front of him. Rory McIlroy ranked 104th in driving accuracy in 2019, yet still won the PLAYERS Championship himself. Longer hitters who leave their ego in the clubhouse can still do well at TPC Sawgrass.
Otherwise, there's very little correlation to the leaderboard for the other skill sets. Top 10's aren't dominated by a slew of great iron players. Or a collection of great short game artists and putters. Or bombers and short guys. It's a very eclectic mix of players in the Top 10 each year.
That doesn't mean these areas don't matter. It's absolutely vital at TPC Sawgrass to hit your irons great. It's absolutely vital to scramble well from off the green. And the greens aren't easy to putt on. Rather, I take the lack of correlation to suggest that TPC Sawgrass allows a player to get around with what he feels he's best at. As long as players are finding fairways, they can get around TPC Sawgrass with what they have. I'm not ruling out any sort of player this week from contending. They just need to be excelling in a bunch of areas. And not have any massive red flags in others.
When looking at how one actually separates themselves on the leaderboard, that reveals a little clearer picture of what types of players to gravitate towards. Here's a score variation chart of TPC Sawgrass from DataGolf:

It's easier for one to separate themselves on the leaderboard with a great ball striking week than a great putting and scrambling week. It's similar to what we saw last week at Bay Hill. There's a bigger than average emphasis of iron play and off the tee performance within the tournament than the PGA Tour average. Those who only are getting by with the putter next week at TPC Sawgrass either won't make it to the weekend or won't come close to contending. If you're breaking ties this week, lean towards the better ball striker.
Next, let's look at where players will hit their irons from at TPC Sawgrass (per DataGolf):

It's a pretty balanced distribution in relation to other PGA Tour venues. TPC Sawgrass is a little overweight in approach shots between 125-175 yards, and over 225 yards. They're about average to PGA Tour standards under 125 yards. And they're underweight in shots between 175-225 yards. Overall, however, players will be tested through the bag this week.
I'm not sure how beneficial it is to try and isolate any approach shot ranges for handicapping this week. Just taking the ranges that have above average PGA Tour rates only adds up to about 59.7% of all their approach shots. That still leaves a lot of gaps to account for. Focusing just solely on Strokes Gained – Approach or Green In Regulation % only might be a better avenue.
Lastly, here are the Top 10 players in the field who have gained the most strokes per round at TPC Sawgrass (minimum of 8 rounds):
Si Woo Kim – +2.26, 21 Rounds
Corey Conners – +2.25, 9 Rounds
Hideki Matsuyama – +2.18, 25 Rounds
Justin Thomas – +2.18, 25 Rounds
Sergio Garcia – +2.02, 69 Rounds
Adam Scott 0 +1.99, 65 Rounds
Abraham Ancer – +1.80, 9 Rounds
J.T. Poston – +1.80, 9 Rounds
Lee Westwood – +1.74, 36 Rounds
Jason Day – +1.67, 35 Rounds
As referenced earlier, this is an eclectic group of players. There are several elite ball strikers who can't putt (Conners, Hideki, Sergio and Westwood). There's a short but very accurate player (Ancer). There is a bomber whose iron play is deficient but he's awesome on and around the greens (Day). There's a notoriously awful ball striker who's a putting and short game savant (Poston). And a couple of players who are good at pretty much everything (Scott and Thomas). As this list shows, any type of player can contend at TPC Sawgrass.
Related Content