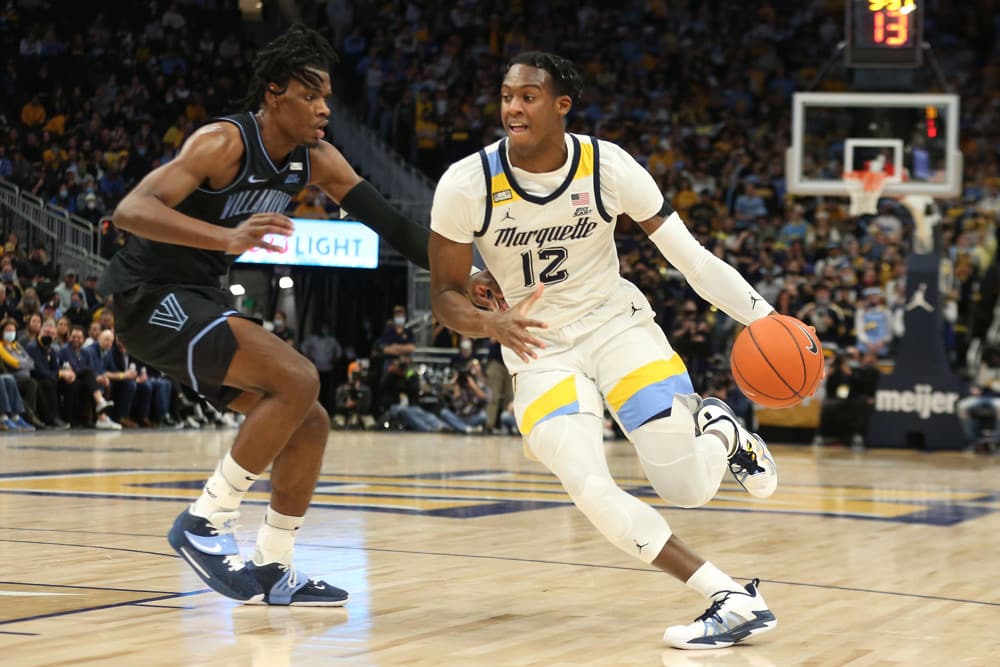 There is a stacked college basketball gambling slate on Tuesday night. There is at least one close contest in every major conference. Let's take a look at a couple of them and get our college basketball best bets out there.
---
CBB Picks: Marquette vs Connecticut
Time: 6:30 p.m. EST
TV: FS1
Spread: UConn -6.5, Over/Under 141
I love good Big East college basketball matchups. That's exactly what we have in store for us to kick off this awesome slate of games. I have been on the wrong side of Marquette over the last couple of weeks and I think it's time I get on the right side. Marquette has won eight of their last nine games which include two over Villanova, and one over Providence. Comparatively, UConn is in a bit of a slump losing their last two games. I think we ride the momentum with Marquette catching some points. Marquette is quickly becoming one of the best bets in college basketball as they have also covered the spread in each of their last nine games.
Pick: Marquette +6.5
---
CBB Picks: Auburn vs Arkansas
Time: 7:00 p.m. EST
TV: ESPN 2
Spread: Auburn -2, Over/Under 148.5
If Auburn is involved, it is going to be an exciting game. Auburn is without a doubt, one of the best teams in college basketball. The Tigers have won 19 games in a row thus far. Arkansas is on a run of their own winning their last eight games. I think this is where that winning streak comes to an end however. Walker Kessler is an absolute monster down low for Auburn. Kessler is averaging 4 blocks per game. Arkansas is not the best three-point shooting team at nearly 31 percent, so they are going to have to get their points inside the arc. Jabari Smith doesn't just help on the offensive side of the ball, scoring 15 points per contest. Smith also can create turnovers and help out down low when Kessler gets his rest. I love Auburn laying a small number with Auburn in this spot. I have a feeling that when Auburn is laying such a small number like this, it is going to be my best bet of the day.
Pick: Auburn -2
---
CBB Picks: LSU vs Texas A&M
Time: 7:00 p.m. EST
TV: SEC Network
Spread: LSU -2.5, Over/Under 131
This is a personal revenge game for me. LSU has been one of the most frustrating teams for me personally this college basketball season. I have put my trust in LSU in their last 3 matchups and they have burned me every time. LSU has won one game out of their last seven matchups, with the only win coming against Texas A&M. On the other hand, Texas A&M has lost six games in a row. The Aggies are going to need Henry Coleman and Quenton Jackson to have standout games. If Texas A&M can drain some threes, I think they'll be able to win this game outright.
Pick: Texas A&M +2.5
---
CBB Picks: Wisconsin vs Michigan State
Time: 7:00 p.m. EST
TV: Big Ten Network
Spread: Michigan State -4.5, Over/Under 138.5
We're gonna switch up the gambling strategy on this one. While I do lean laying the points with Michigan State at home, I'm going to take a look at the total in this game. It is currently sitting at 138.5. Wisconsin is coming off a gross game against Penn State where there were only 100 points scored. However, I do think Michigan State will be able to put up a majority of the total here. If the Badgers want to keep it close, they are going to have to score in the low 70s. I lean Michigan State covering the spread as well. I'm predicting a 77-71 Spartan win.
Pick: Over 138.5
---
CBB Picks: Purdue vs Illinois
Time: 9:00 p.m. EST
TV: ESPN
Spread: Purdue -6, Over/Under 148
These are two very evenly matched teams in my opinion. I love the way this Boilermaker team is built. They are also a very exciting college basketball team to keep your eye on this season. They have eight players on this roster that are shooting higher than 40 percent from three. Trevion Williams is an amazing contributor coming off the bench. I expect Purdue to draw fouls on Kofi Cockburn with their size and skill down low. Ultimately, the three-point shooting from Purdue will aid them in a sizeable victory.
Pick: Purdue -6

---
This is such a strong slate of games and there are a few more going on throughout the day so be sure to check out SGPN's College basketball picks page! Here you will be able to see all of the teams' picks every single day including our college basketball best bets of the day.
---
All odds as of Monday, February 7th.