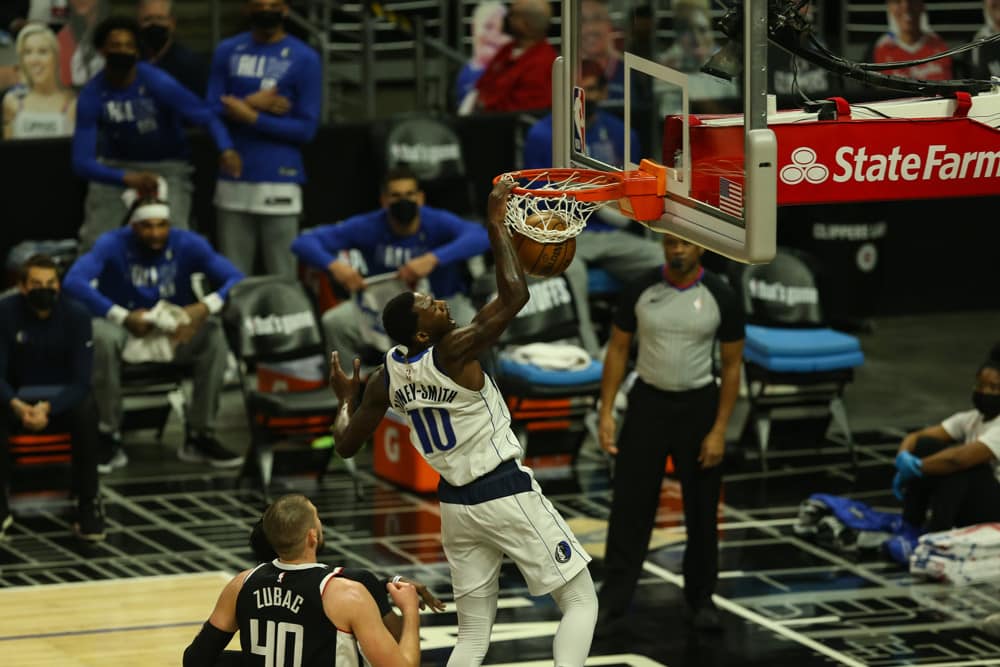 The fantasy basketball season rolls on, and your fantasy basketball waiver wire continues to be the most useful tool at your disposal, especially in this season of upheaval. Half of our column this week contains new names, so maybe you can get in on one of them before a rival manager rosters them.
(only includes players rostered in less than 50% of Yahoo Fantasy leagues)

Fantasy Basketball Waiver Wire: Best Pickups Jan 26th
Alec Burks – New York – PG/SGSF – 41% rostered
11.2 ppg, 4.3 rpg, 2.6 apg, 1.2 spg, 0.3 bpg, 1.8 3PT/G, 38.2% FG, 83.8% FT, 0.9 tpg
A new edition to this list, and up to #1 with a bullet on our fantasy basketball waiver wire list. This is mostly because enough people have given up on Alec Burks that his rostered percentage dipped below 50%, qualifying him for this column. He definitely is a boom or bust player, with the scoring totals from his last four games being 0, 13, 10, 0. But when he booms, it can be great, like a couple of weeks ago in a game when he posted 17 points, nine boards, and eight assists. And he's shooting three percentage points lower than his career average, so it's likely he's going to straighten that aspect of his game out soon.
10.3 ppg, 4.9 rpg, 2.0 apg, 1.2 spg, 0.5 bpg, 1.9 3PT/G, 44.4% FG, 65.5% FT, 1.0 tpg
Maybe it's the modest scoring numbers that are scaring people away, but DFS is still one of the best players available on the majority of fantasy basketball waiver wires out there. He gets you boards, assists, the defensive stats. Take his last four games, which all took place over the past week – 7.8 ppg, 5.3 rpg, 2.3 apg, 1.3 spg, 0.5 bpg. Not spectacular, but still a stat sheet stuffer.
Eric Bledsoe – Clippers – PG/SG – 27%
9.8 ppg, 3.4 rpg, 4.2 apg, 1.3 spg, 0.4 bpg, 1.0 3PT/G, 42.0% FG, 75.7% FT, 2.2 tpg
Again, Eric Bledsoe is another guy who doesn't get you a lot of scoring, but points aren't the hardest stat to find elsewhere. Assists, however, are another story and Bledsoe consistently gets you about four of those a game, along with over a steal a contest. Not too shabby for a waiver pickup.

10.5 ppg, 4.5 rpg, 1.4 apg, 1.0 spg, 0.3 bpg, 2.3 3PT/G, 47.3% FG, 81.1% FT, 0.7 tpg
Pat Connaughton has gotten his season back on track, scoring at least 13 points in three of his last four games. His last game, on January 22nd, was especially stellar, hitting five three-pointers for 15 points, grabbing five rebounds, racking up four steals, and dishing out one assist. He continues to have a career year in the Brew City.
12.7 ppg, 3.3 rpg, 2.7 apg, 0.8 spg, 0.3 bpg, 1.9 3PT/G, 36.8% FG, 72.7% FT, 1.6 tpg
Nickeil Alexander-Walker made his debut in this column last week, but after the game he had last night in Philadelphia, there's a good chance he won't qualify for it when I write it again next week. Last night's line – 31 points, four rebounds, five assists, a block, and five three-pointers. You don't see that kind of production from a waiver wire player very often.
12.6 ppg, 2.8 rpg, 4.1 apg, 0.7 spg, 0.1 bpg, 1.6 3PT/G, 47.0% FG, 78.4% FT, 1.2 tpg
Monte Morris makes his return to this space after a few weeks away. That's on the strength of another strong stretch of play, where he's scored in double figures in five out of the last six games. That includes a 19 point, nine rebound, nine assist, two steal game a week ago, and 12 points, eight boards, three assists, and a steal last night. Jamal who?
Other fantasy basketball waiver wire players worth checking out: Malik Beasley, Kentavious Caldwell-Pope, Cameron Johnson, Terance Mann
Related Content