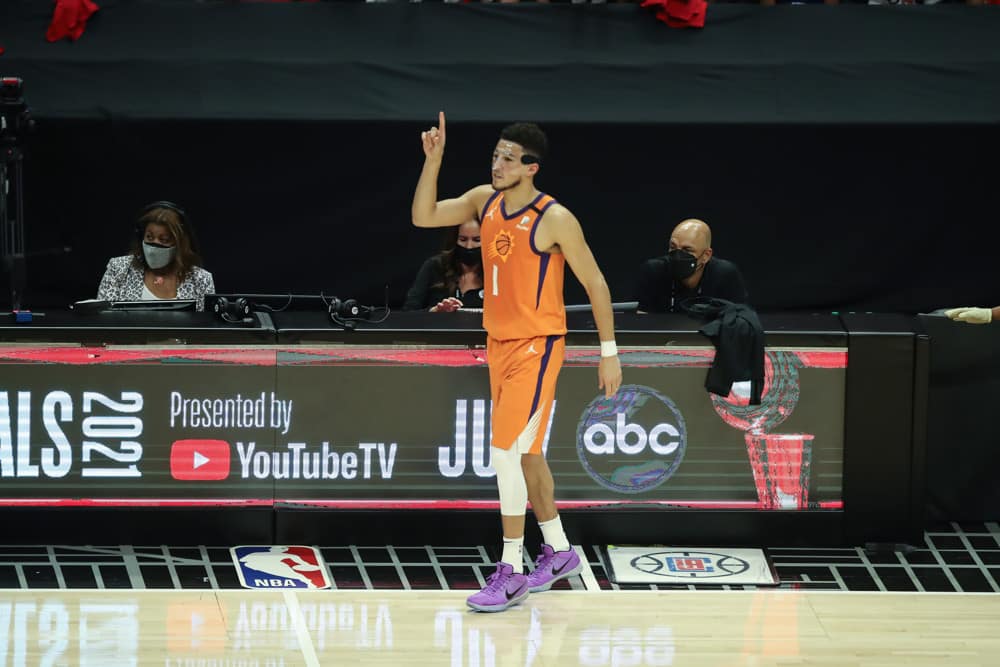 It's a particularly short slate this Thursday, with only six teams in action tonight. With such slim pickings, it can be hard to put together an NBA DFS lineup that you can trust. Lucky for you, we've done the legwork for you and have one that is sure to get you in the green.
(NOTE: This NBA DFS lineup was made ahead of time. Always check for the latest injuries and inactives prior to lineups locking. )

NBA DFS Picks for Thursday – Jan 20th
Originally I was worried that Brunson would see the rock less with the return of Kristaps Porzingis, but he's maintained quite a bit of it. In the first two games with the Latvian big man back in the lineup, Brunson still got enough action to average right around 35 fantasy points. He had a bit of an off-shooting day last night, but ultimately the slide we've seen in his price makes him well worth the cost here.
Booker is coming off his third straight game with at least 30 points as he nearly put up a 50-burger last game. He's hitting three-pointers like you'd want him to. If you're looking for an NBA DFS big-ticket item (and it's really not all that big), there isn't a much hotter hand than Booker.
Ingram is another of the biggest priced NBA DFS plays I like this week, mostly thanks to the struggles of Devonte' Graham. With Graham ice-cold, the Pelicans need to turn to someone to score. Because Ingram spreads it out on the stat sheet, big scoring nights mean big fantasy totals. Twice in the last two weeks, he's scored 30+ points, which led to 50+ fantasy points.
In back-to-back games this past week with Deandre Ayton out of the lineup, Crowder went for double-digit boards. In both games, he was just a point or two away from a double-double. It's hard to find that kind of production with this kind of NBA DFS salary, so strike while Ayton is out.
Valanciunas has failed to get double-digit rebounds just twice since Christmas. That includes two games with 16 and one with 17. This makes him a stable asset in an NBA DFS lineup that has quite a bit of risk in it. That's not to say that he can't have a big game either though. Three nights ago, he put up 46.5 fantasy points thanks to 22 points.
Klay is finding his touch and starting to build up those minutes. He's seen increasing point totals in each of his last three games. He's drilling at least a few threes a game. We're still waiting for that monster game where he puts up some bonkers numbers, but even at his current pace, this NBA DFS cost is minimal.
With Draymond Green out with a back issue, Kuminga has been getting a lot of the extra looks. He's delivered too, never scoring below 25 fantasy points in the last four games. That alone would make him worth an NBA DFS play at that price, but he also has the ability to slip in a game with 42.3 fantasy points in there. Coming off his first double-double, he's definitely worth a look here.
In order to take down a big NBA DFS prize, you need some options that are boom or bust, and you need them to boom. Fournier is for sure not the safest option out there. When he's hot, he's put up double-digit three-pointers on the Celtics en route to a 60+ fantasy point night. On his bad nights, he fails to score. The Pelicans rank 21st in opponent's points per game and 27th in opponent field goal percentage. Here's to hoping that plays into Fornier's hands.

Make sure to check out all the great NBA coverage we have to offer and be sure to listen to the NBA Gambling Podcast, which airs twice a week. This week the guys are breaking down all the best plays for the coming days.  
Related Content