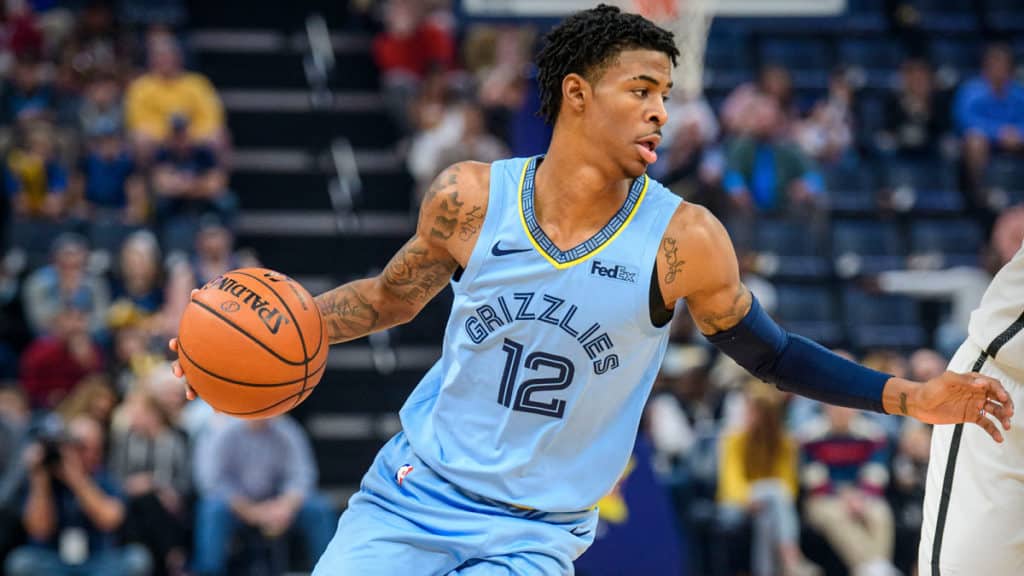 Eight teams in total are active this Thursday, with a pair of games on TNT. It should be a tough slate to choose from with the top two teams in the West playing and with somewhat easy matchups in front of them. Here's how we think you should navigate the NBA DFS terrain tonight.
(NOTE: This NBA DFS lineup was made ahead of time. Always check for the latest injuries and inactives prior to lineups locking.)

NBA DFS Picks for Thursday – Jan 6th
PG – Ja Morant ($9,200) – MEM
Although those top two teams in the West are in action, it's another team from that side of the NBA that I'm targeting heavily tonight. Memphis is a top-five scoring offense in the NBA and just so happens to be facing off with one of the worst teams coming off a back-to-back in which they gave up 140 points in their last game. With Memphis on a six-game winning streak and scoring a ton, I want the captain of their crew as the captain of my NBA DFS one.
Jaylen Brown hasn't failed to score 40 fantasy points since back in the middle of December – that's how reliable he's been to NBA DFS players. He also has the ability to throw a sneaky game or two in there where he puts up crazy numbers. He dropped 50 on Orlando earlier this week for a 76.3 fantasy point day. With the floor so high, I like Brown as a stable asset.
Clarke is the second of my three-piece play for the Grizzlies tonight. I not only love the matchup and the fact that seemingly everyone on that team could do big numbers, but I also love the recent trajectory of Clarke. He has averaged over 30 fantasy points in the last three games and seems to be back to his old self when it comes to rebounding. He's also making a concerted effort to get better on the defensive end and the blocks have been a nice addition.
On December 19th, you could have played Trey Lyles in your NBA DFS lineup for just $3,300. That price continues to rise because he just doesn't seem to be slowing down. I don't think the price has quite caught up to where it should be at this point. He's reliably worth 25 fantasy points a game, which is about what you need out of this price. However, the upside is much higher – he went for 50 fantasy points just two weeks ago.
I like Valanciunas for a lot of the same reasons I like Jaylen Brown. His floor might be a little lower, but as NBA DFS plays go, he's pretty stable. He's pretty much always going to nab you 10+ rebounds – he has in nine of his last 11 games. He's also got the ability to score the rock more often and have one of those big games. The scoring is trending in the right direction right now with him having put up 25 in back-to-back games.
Another of the 10-day contract darlings, the Morehead State grad spent time in Israel and France before getting the chance in the league. He immediately impressed the Clippers, snagging more minutes in each of his last three subsequent games. On Monday, Moon filled out the stat sheet with four rebounds, four assists, and four steals. He put up an absurd 34.5 fantasy points. Can he do that again? Who knows. But at $3,800 it is certainly worth an NBA DFS flyer.
Yes, I know. I know. Fournier is coming off a game in which he made no shots. None at all. In the game prior, he had no rebounds and no assists. It's not been a good trend for the Knicks guard. However, I think his price plummeted a bit too far for this one. This is a guy who was costing nearly 6k in NBA DFS lineups recently. He's still averaging nearly 18 fantasy points a game in the last five despite being this bad. He's only a few weeks removed from games when he put up 48.8 and 34.3 fantasy points. The Knicks are still giving him minutes, so he's worth this price to see if he can figure it out.
Adams is the final piece of my Memphis triumvirate. Like Clarke, he's posted a 30+ fantasy point average over the last three games. He's snagged double-digit boards in each of those contests, so the fact that either of these two would post under 6k in an NBA DFS slate is wild. The fact that you can get them both for under 10k is criminal.

Make sure to check out all the great NBA coverage we have to offer and be sure to listen to the NBA Gambling Podcast, which airs twice a week. This week the guys are breaking down all the best plays for the coming days.  
Related Content