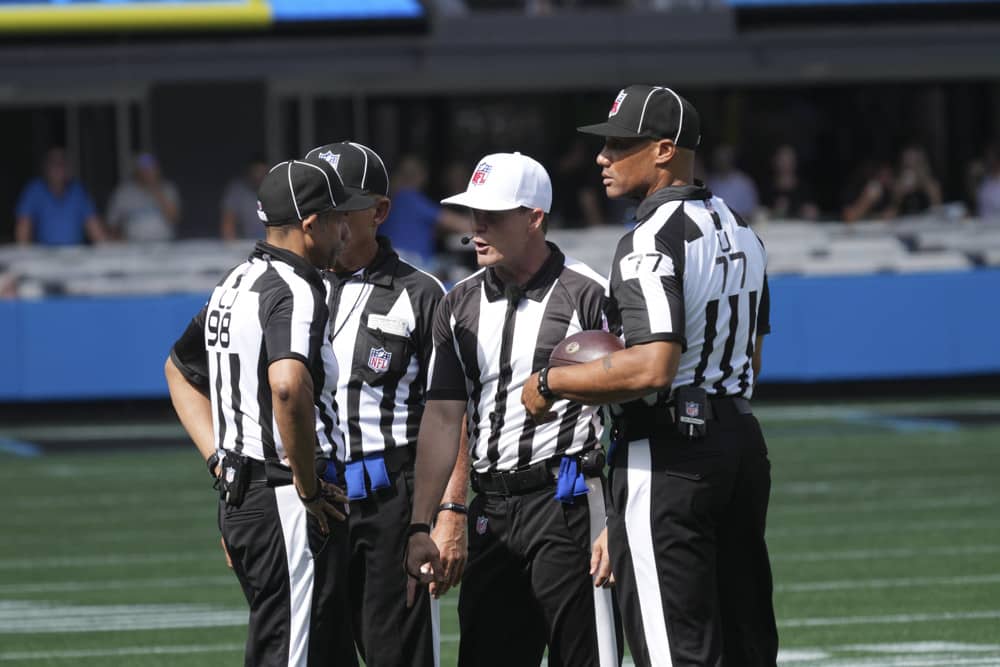 There are just two weeks left in the NFL regular season and a few referee betting trends are starting to even out. However, there a few that are still holding strong to their season long trends as well as a few who are on a hot streak as we wind down the season. I will highlight a few referees for NFL Week 17. Let me dive right into the NFL Week 17 Referee Report.
NFL Week 17 Referee Report: Betting Trends & Stats
Adrian Hill
I have not highlighted Adrian Hill much this season. However, Hill is on a hot streak for the road teams. In fact, the road team has won six straight weeks in games officiated by Adrian Hill and crew. Furthermore, road teams are 5-1 against the spread over the last six weeks. In Week 17, the Jaguars go on the road to face the New England Patriots. Adrian Hill and crew did officiate the Week 8 matchup between the Jaguars and the Seahawks. The Seahawks won that game 31-7 covering the spread.
Lean: Jaguars +15.5
---
Shawn Smith
As I mentioned above, road teams are on a hot streak in games officiated by Hill. In fact, Shawn Smith and his crew fall into the same category. The road team has won five straight games officiated by Smith and his crew. Additionally. in those five games the spread has been 3 or less.
Furthermore, during this win streak for road teams, the road is averaging 30 points per game compared to 22.8 for the home team. Shawn Smith is assigned to officiate the Week 17 game between the Dolphins and the Titans. Shawn Smith did officiate the game between the Dolphins and Bill in Week 8 where the Bills won and covered the 14.5 spread.
Lean: Dolphins +3.5
---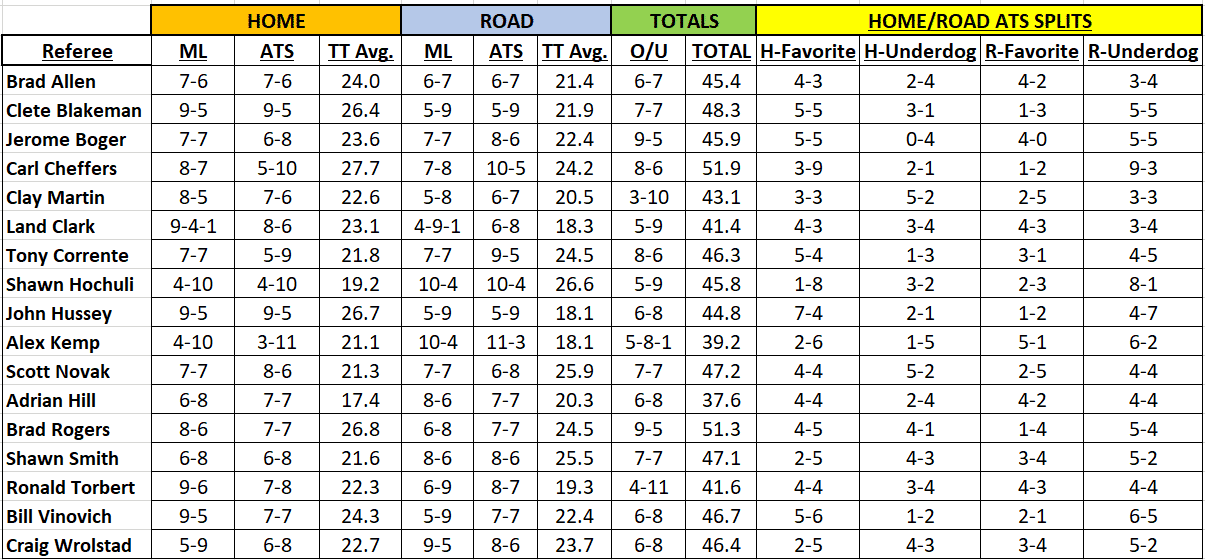 ---
Brad Rogers
I have highlighted Brad Rogers several times throughout the season because of the rate Over's were cashing this season. There is an added stat which is highlighted by Warren Sharp. The tweet below does a great job of breaking this down:
This is sharp information! No pun intended. In Week 15 the Bengals played the Broncos defense and were limited to 15 points. Last week, the Bengals offense went off for 41 points against the Ravens. The game total between the Bengals and Ravens flew over the total of 43 as the final score was a 41-21 victory for the Bengals.
In NFL Week 16, the Raiders faced the Broncos at home and won the game 17-13. This week the Raiders travel to Indianapolis to take on the Colts and Brad Rogers who is the best official to the Over is assigned to officiate the game between the Raiders and Colts. However, the Colts will more than likely be without their starting quarterback who tested positive for COVID-19. This is something to monitor as we approach Sunday but I will still lean with the Over in this game.
Lean: Raiders/Colts Over 45*

Related Content