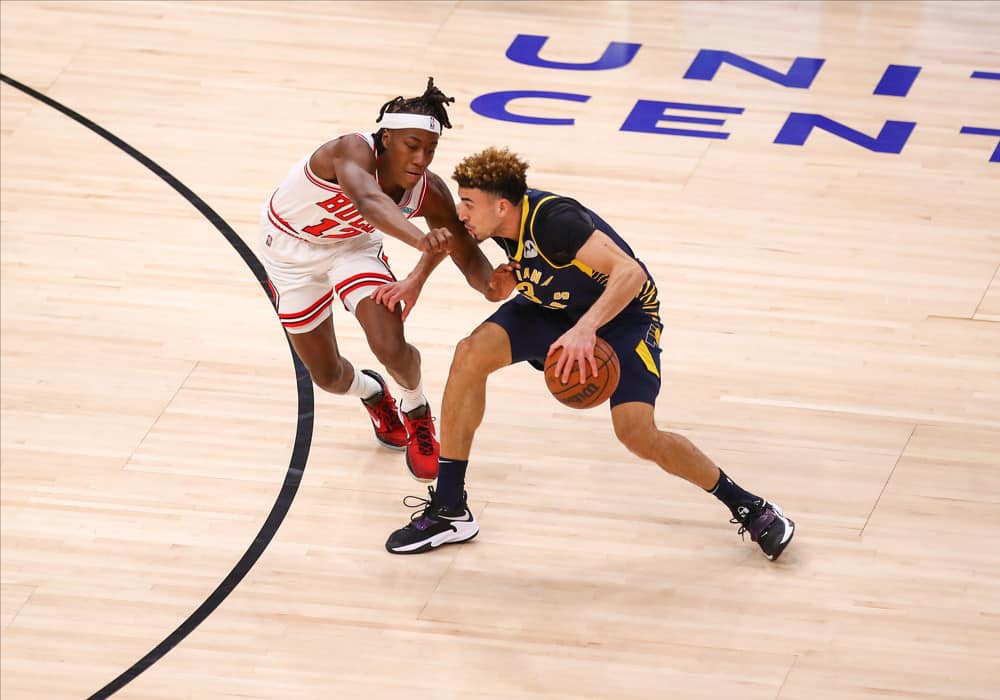 Our latest fantasy basketball waiver wire list has a mixture of mainstays to this space along with some newcomers. Some players that are on the upswing, while others slumping a bit. I'd like to say a mixture of bigs and smalls, but getting quality big men off a fantasy basketball waiver wire is a fool's errand. Here are ten players currently on the majority of fantasy basketball waiver wires out there just waiting for you to take home.
(only includes players rostered in less than 50% of Yahoo Fantasy leagues)

Fantasy Basketball Waiver Wire: Best Pickups Dec 8th
Grayson Allen – Milwaukee – SG/SF – Rostered 44%
13.5 ppg, 3.7 rpg, 1.3 apg, 0.7 spg, 0.3 bpg, 3.1 3PT/G, 45.1% FG, 87.9% FT, 0.6 tpg
Grayson Allen is the top-ranked player currently available on more than half of the fantasy basketball waiver wires out there, but he comes with a warning. He definitely doesn't seem to be trending in the right direction, and with Khris Middleton back and Donte DiVincenzo nearing a return, Allen's best days may be behind him. But if you need threes and quality shooting stats, he could be your man.
Chris Duarte – Indiana – SG – Rostered 39%
13.1 ppg, 4.1 rpg, 2.0 apg, 1.1 spg, 0.1 bpg, 1.9 3PT/G, 41.9% FG, 71.0% FT, 1.7 tpg
Rookie Chris Duarte's hot run continued last week, running his double-digit scoring streak to seven games. He gets you nice numbers in pretty much all categories, outside of blocks, and has recorded seven steals over his last three games, which can come in real handy in fantasy (and in real life too, for that matter).
Jae Crowder – Phoenix – SF/PF – 28%
9.3 ppg, 4.8 rpg, 1.4 apg, 1.3 spg, 0.5 bpg, 1.9 3PT/G, 38.7% FG, 77.1% FT, 0.8 tpg
With Devin Booker on the shelf, the Suns' glue guy, Jae Crowder, has stepped up his scoring, averaging 15 a night over his last two games. He also gets you rebounds, steals, and threes. And don't be too concerned with his poor shooting numbers, as he's not a high-volume guy.

Luke Kennard – Clippers – SG/SF – 18%
10.6 ppg, 3.4 rpg, 1.8 apg, 0.8 spg, 0.1 bpg, 2.5 3PT/G, 43.1% FG, 93.8% FT, 0.8 tpg
Clippers swingman Luke Kennard makes his first appearance in this column, after a very hot four-game stretch over the past week. He averaged 16.3 ppg and 4.8 rpg, while hitting 3.5 three-pointers per contest. Starting for the Clippers now, it could be time to climb aboard the Kennard train.
12.1 ppg, 2.7 rpg, 4.3 apg, 0.7 spg, 0.1 bpg, 1.3 3PT/G, 48.2% FG, 60.0% FT, 1.3 tpg
Monte Morris has become the ol' reliable of this column, consistently putting on good enough performances to make the cut. With Nuggets star players dropping like flies, Morris stepped it up even more over the past week, averaging 16.7 ppg, 2.7 rpg and 4.7 apg. He's become a reliable source for assists and points, just sitting on the waiver wire waiting for a good home.
Cody Martin – Charlotte – SG/SF – 33%
8.4 ppg, 4.3 rpg, 2.4 apg, 1.3 spg, 0.5 bpg, 1.0 3PT/G, 48.1% FG, 72.5% FT, 0.6 tpg
With seemingly half of the Hornets roster out, Cody Martin has stepped into the starting lineup and stepped back onto our fantasy basketball waiver wire list. The past two games he's averaged 16.5 ppg, 6.0 rpg, 4.0 apg, 1.0 spg, and hit five three-pointers total. If he keeps producing like that he may end up being a long-term option for your fantasy squad.
Other fantasy basketball waiver wire players worth checking out: Eric Bledsoe (in a slump), Malik Beasley, Dorian Finney-Smith, Georges Niang 
Related Content