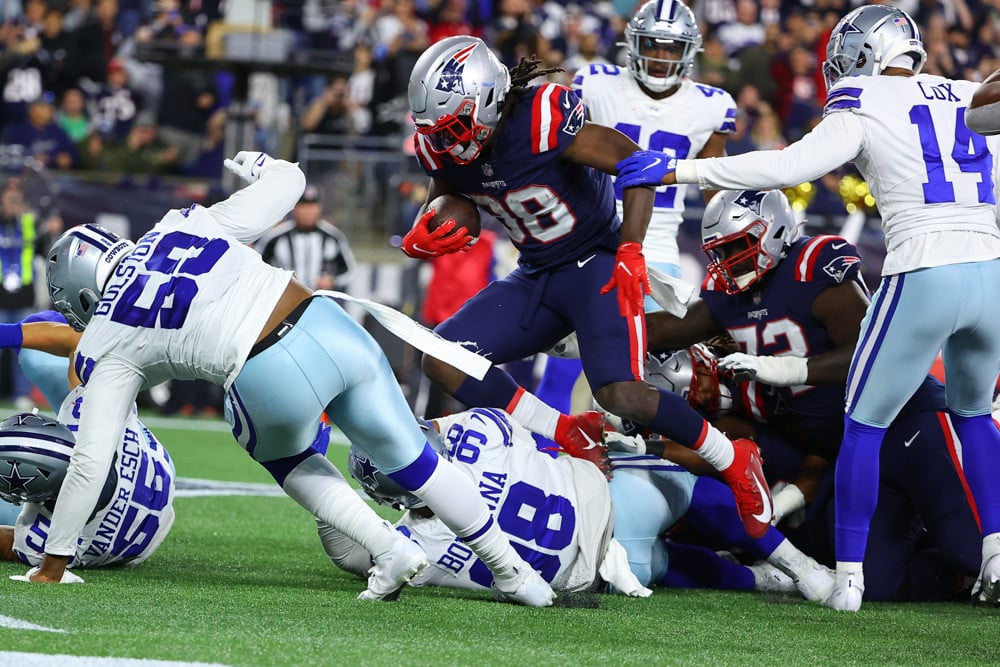 Fantasy football playoffs are four to five weeks away and no time is more important than now to look at the waiver wire! Your starters are already set but what if they get hurt? Or maybe you've been swapping players in and out of your flex and you need more. Look no further as we dive into the fantasy football Week 10 waiver wire targets.
EXCLUSIVE SGPN FANTASY CONTENT
SGPN Fantasy Football Rankings
Early Week 10 Waiver Wire Fantasy Football Targets
Rhamondre Stevenson (6% Rostered)
It's no secret the Patriots like to run the ball and that continued in Week 9. In fact Rhamondre Stevenson ran the ball ten times for 62 yards. He also converted two targets into two catches for 44 yards. Don't get me wrong, Damien Harris is the clear RB1. But if Stevenson can continue to stay involved he will help fill for your injured players. If Harris were to get injured at any point, Stevenson would be a fantasy RB2.  Add him to your Week 10 waiver wire targets.
https://twitter.com/NFL/status/1457421163689177089?t=AUBizPSGSCwajyrNMDIuPQ&s=19
Eno Benjamin (0% Rostered)
On Sunday Chase Edmonds exited with an ankle injury after just one carry. The extent of the injury is unknown at this time but if he were to miss time it is next man up. While James Conner dominated the backfield in his absence, Eno Benjamin was the second guy up. Benjamin finished the day with nine carries for 39 yards and a touchdown. The Cardinals have the third most rushing touchdowns in the league. This means both their RB1 and RB2 can hold value and help your fantasy football roster. Benjamin caught 77 passes in his last two years in college so could also add receiving value if given more opportunity.  If Edmonds misses extended time, Benjamin is a great addition to the Week 10 waiver wire targets list.
https://twitter.com/SportsCenter/status/1457490450625990657?t=OHhN1o_d_v4EhMwnH1rkrQ&s=19
Malik Turner (0% Rostered)
One of the biggest surprises on Sunday was Malik Turner leading the Cowboys in receptions. Getting 18% of the target share Turner was only 2nd to CeeDee Lamb in targets. Unlike Lamb, he did something with his targets, ending with five catches for 33 yards. The biggest impact Turner made was in the redzone as he had two touchdown receptions. These are excellent numbers for a player who has been limited this year. If Turner can continue to gain momentum he's worth a roster spot in a high passing offense.  If you have an open bench spot and are looking for some depth in your Week 10 waiver wire targets, Turner is an intriguing player.
https://twitter.com/nflmx/status/1457454100354719744?t=J4VI-wXHpV1WEWYrnG81eQ&s=19
Donovan Peoples-Jones (11% Rostered)
With the release of Odell Beckham Jr. the Browns receiving game gained more opportunities. One player who has continued to make an impact is Donovan Peoples-Jones. Peoples-Jones has 11 receptions, 257 yards, and 3 touchdowns in his last three games. He continues to make big plays for the Browns and will do the same for your roster. If Baker Mayfield and Peoples-Jones continue to build the chemistry he will remain a borderline WR2. Back from Injury this week Peoples-Jones added another highlight reel with a 60 yard touchdown reception.  He's one of my top Week 10 waiver wire targets for a roster that needs wide receiver help.
https://twitter.com/NFLonCBS/status/1457421822643802112?t=YH5xGIR2yND0ZsyycSMSyQ&s=19
Evan Engram (33% Rostered)
Tight end continues to be a tricky position to find consistency in but Evan Engram is gaining steam. After getting his first receiving touchdown last week, Engram followed up with another against the Raiders. Engram converted 3 targets into 3 catches for 38 yards and a touchdown. His points don't jump off the board but if you need tight end help, Engram continues to get targeted often by Daniel Jones. If your playoffs start Week 14, Engram has a decent matchup against the Chargers. Check all of the waiver wire targets playoff schedules here.
https://twitter.com/NFL/status/1457410025840734208?t=wBhByKTudN_NfGWCInmJfg&s=19
Olamide Zaccheaus (1% Rostered)
As Calvin Ridley decided to momentarily step away from football, questions lingered on who would step up. One of the receivers that gained targets was Olamide Zaccheaus. Zaccheaus finished with only 3 receptions on 3 targets, but converted them into 58 yards and 2 touchdowns. Zaccheaus isn't a plug and play starter. However, if he continues to get touchdown receptions he may be able to help your roster.  If the Falcons continue to look good in the passing game, Zaccheaus is a great Week 10 waiver wire target.
https://twitter.com/NFL/status/1457442998065664001?t=Izfc6ktUAZPX7VpglWYkyg&s=19
Russell Gage (16% Rostered)
Another benefactor of the Falcons receiving game having more targets to go around is Russell Gage. Gage hasn't played many games this year but when he's on the field, he receives a good amount of targets. On Sunday, Gage had 7 catches on 8 targets for 64 yards. His prior game he had 67 yards and a touchdown. If Gage can stay healthy, he will continue to be targeted on the field, and be a great flex candidate.  Just like Zaccheaus, Gage is a great addition to the Week 10 waiver wire targets.  Give him another week before he automatically hops into your lineup.
https://twitter.com/SportsCenter/status/1457427412246048770?t=5YwP33KbJY-7HwAqSu4SDA&s=19
Jordan Howard (8.1% Rostered)
Back on the must add list until he's rostered more, Jordan Howard led the Eagles backfield in carries. Rushing 17 times for 71 yards and a touchdown. Howard has looked more effective than starter Miles Sanders. He also received more opportunities on Sunday than Boston Scott. Kenneth Gainwell is making very little impact as a rookie. It is possible the Eagles may have found a back they can lean on to pound the rock effectively. Howard is still only 27 years old and only four years removed from his last 1000 yard season.  Howard is one of my favorite Week 10 waiver wire targets.
https://twitter.com/NFLonCBS/status/1457465793994706944?t=SHYproAuur0VkYoGKrFSXA&s=19
Related Content