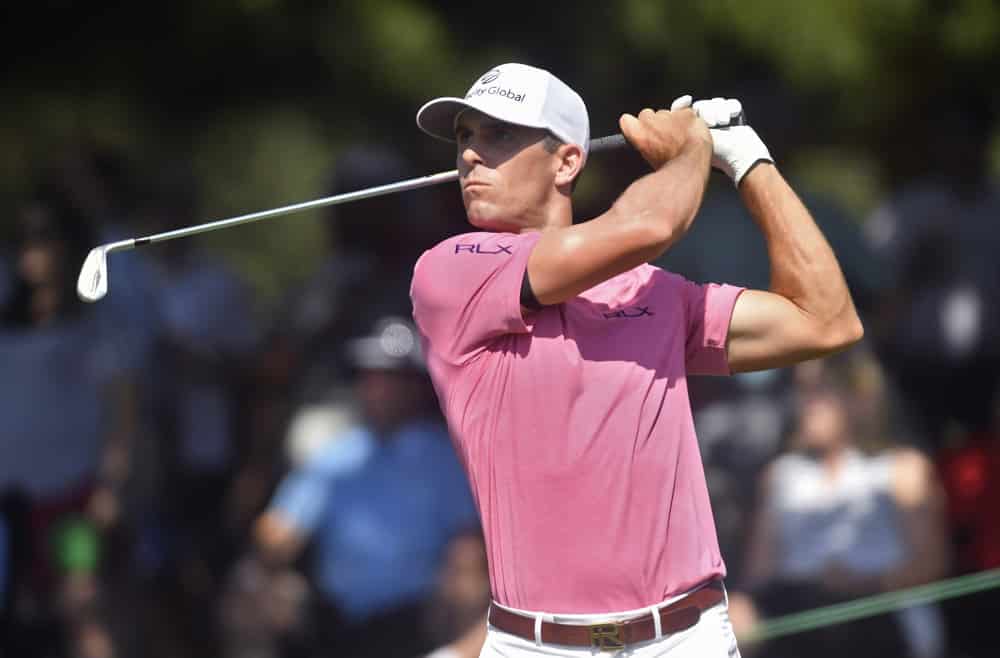 For those who missed it, check out the World Wide Technology Championship at Mayakoba Preview and Betting Strategies for the types of golfers you should look to target for your picks. Using that as a guide, let's take a look at some of the best bets to make this week. Here are my picks for the World Wide Technology Championship at Mayakoba (odds courtesy of BetMGM).
Mayakoba Championship Picks: Outright Winners
Billy Horschel – 30/1
Those who don't pay attention to the European Tour will overlook Horschel this week. Horschel was a snub for the Ryder Cup and used that as motivation to win the BMW PGA Championship at Wentworth. He then played in the Alfred Dunhill Links Championship and hit the ball well, only to be sabotaged by poor putting. Horschel has pretty good success at Mayakoba because he's accurate, a great scrambler, and a good putter. That's a great recipe this week. Pick Horschel to win the World Wide Technology at Mayakoba Championship.
Tyrrell Hatton – 30/1
Things were rough for Tyrrell Hatton. He bottomed out at the BMW PGA Championship with a missed cut as the defending champion. He then righted the ship at the Alfred Dunhill Links Championship with a 2nd place finish. Hatton followed that up by getting in the mix at the CJ Cup and was within striking distance of the lead heading into Sunday. A poor final round when everyone shot well under par sent him down the leaderboard.
But things were still encouraging for Hatton. He hit the ball pretty well that week. And he's been excellent in his career on both short golf courses and on paspalum. Hatton won the Abu Dhabi HSBC Championship last February, which features paspalum fairways. He played well at the Saudi International as well, which is paspalum tee to green. And historically he putts well on slower greens. El Camaleon should set up well for Hatton. He's a solid pick to win in Mayakoba.
Aaron Wise – 35/1
The world is on Aaron Wise this week. So if you don't think the golf gambling community is getting a big collective win, stay away. Typically when there's a heavy concentration on one golfer in the gambling community, it's a recipe for disaster.
But I'm about to say something that I don't take lightly – if Aaron Wise has truly improved on the greens, he's a Top 30 player in the world. He's that talented of a ball-striker that if he now starts gaining strokes putting on a regular basis, he's going to be very successful on the PGA Tour.
Aaron Wise won three times his final year in college, including the individual NCAA title. He won immediately when he jumped to the MacKenzie Tour. He won immediately when he jumped to the Korn Ferry Tour. And he both won in his rookie season on the PGA Tour and made the Tour Championship. Injuries, putting woes and chasing distance derailed him a bit. But he's a stud. And I don't want to miss out when he wins again this year. That's why he is one of my picks to win at the World Wide Technology Championship at Mayakoba.
Maverick McNealy – 50/1
Maverick McNealy historically raises his game on shorter golf courses. His strokes gained baselines on golf courses under 7,100 yards are consistently higher than they are on longer tracks. And naturally, he's had good success at Mayakoba. McNealy doesn't get in too much trouble off the tee. He's a great scrambler, which helps chipping off tricky paspalum turf. And he putts really well on slow surfaces. He should have won the Fortinet Championship a month ago. Maybe this is the week he closes the deal.
Gary Woodland – 50/1
Injuries have derailed Woodland over the past few years. But in his last outing, Woodland hit the ball very well. He gained over 6.3 strokes tee-to-green at the CJ Cup and put up great numbers off the tee and with his irons. At his best, Woodland is pretty good on shorter PGA Tour tracks despite his reputation as a bomber. And he's been pretty good on paspalum golf courses. Woodland finished runner-up twice at the CIMB Classic, which was played on paspalum in 2014 and 2015. He also finished runner-up to Pat Perez at Mayakoba in 2017. If he's healthy and truly striking the ball better, he has good win equity for a player at his odds.
FOMO Bet – Rickie Fowler – 50/1
The shine is off Rickie Fowler after a great performance at the CJ Cup. He followed that up with a really poor ZOZO Championship. But we should give Rickie a pass for that. We don't know how his T44 went down because there weren't any stats kept for the event. And that's a lot to ask of Rickie to replicate his great performance after flying halfway across the world 3 days later.
What we do know, however, is that he led the field tee-to-green at the CJ Cup. He mentioned that he got the green light from former coach Butch Harmon that things were looking good with the swing changes. Maybe what we saw at the CJ Cup is the new normal for Rickie. If so, he's been great at Mayakoba. And he's great overall on paspalum, including a win at the Abu Dhabi HSBC Championship and a Top 10 at the 2021 PGA Championship at Kiawah. Maybe this week is the return to glory for Fowler.
Mayakoba Championship Picks: Other Props
Scottie Scheffler Top 10 – +300
Life has been rough for Scottie Scheffler lately. He was on the precipice of getting his first career PGA Tour win last summer but has been mired in a slump since. Nothing seems to be going right for Scheffler tee-to-green. And he doesn't have a Top 10 since the Open Championship in July.
But he has a few things working in his favor. First, he tends to do pretty well on short golf courses in his career. Second, he usually putts pretty well on slow grainy greens as he'll see at Mayakoba. He was great at Kiawah, another paspalum golf course. And in his lone start at Mayakoba, he was pretty solid. It's been a few weeks since we've seen Scottie play, and things change quickly in golf. Maybe he bounces back this week.
Other Top 10's To Consider
Tony Finau – +250
Brooks Koepka – +350
Sergio Garcia Top 20 – +200
This is the first time Sergio Garcia has teed it up at Mayakoba. But he's had a good track record on paspalum, primarily on events on the European Tour. He possesses a great combination of length and accuracy off the tee. And for all his shortcomings with the putter, Sergio has putt better on slow and grainy surfaces. A Top 20 is a tad conservative, but getting 2/1 for a Top 20 finish is reasonable expectations for him.
Other Top 20's To Consider
Emiliano Grillo – +225
Joel Dahmen – +275
Russell Knox – +300
C.T. Pan – +350
Charles Howell III – +375
Henrik Norlander – +400
Hudson Swafford – +650
Justin Thomas -115 over Abraham Ancer
Ancer is getting a ton of love this week. And for good reason. He's been great at Mayakoba because his strengths fit the golf course. Ancer has a ton of buzz around him, both based on fact and narrative.
But he seems like the default pick for everyone this week. And it's not like he's been lighting the world on fire lately. Sure he finished T14 at the CJ Cup, but much of that damage came that week with the putter. Otherwise, Ancer has lost about 0.5 strokes per round tee-to-green to the field across his last 12 rounds. And he's struggling mightily around the greens lately. It's really difficult to chip off of paspalum. That might hurt him this week.
Meanwhile, Justin Thomas isn't getting any love this week. But after a poor first round at the CJ Cup, he recovered nicely over the weekend. He gained almost 6.7 strokes tee-to-green at the CJ Cup and climbed up the leaderboard to a T18 finish. He's been solid at Mayakoba in his career, and he has a win on paspalum in his trophy case. Not to mention you're getting about a coin flip odds on a Top 5 player in the world over a good-but-not-great player. Give me JT all day head to head in this matchup.

RELATED CONTENT
World Wide Technology Championship at Mayakoba Preview and Betting Strategies