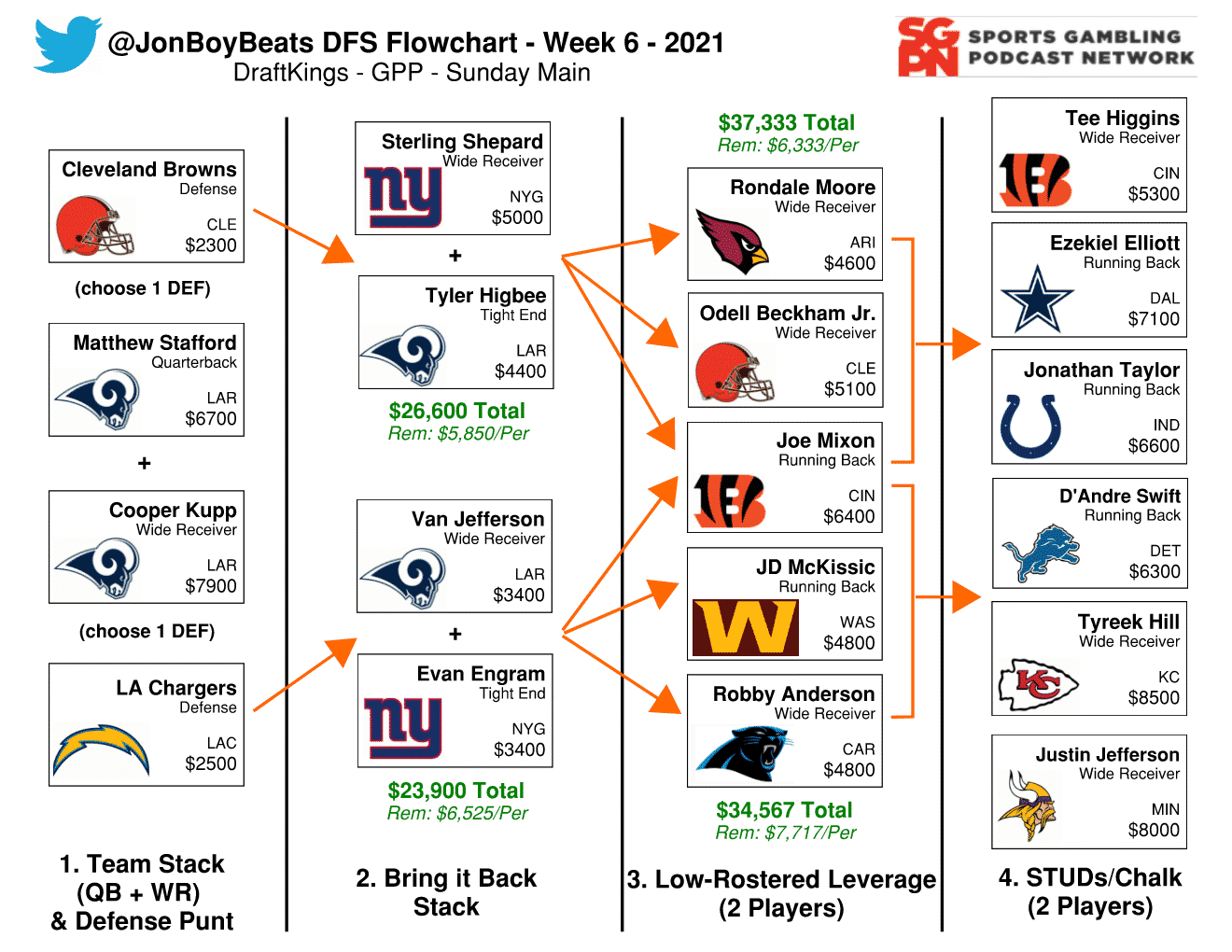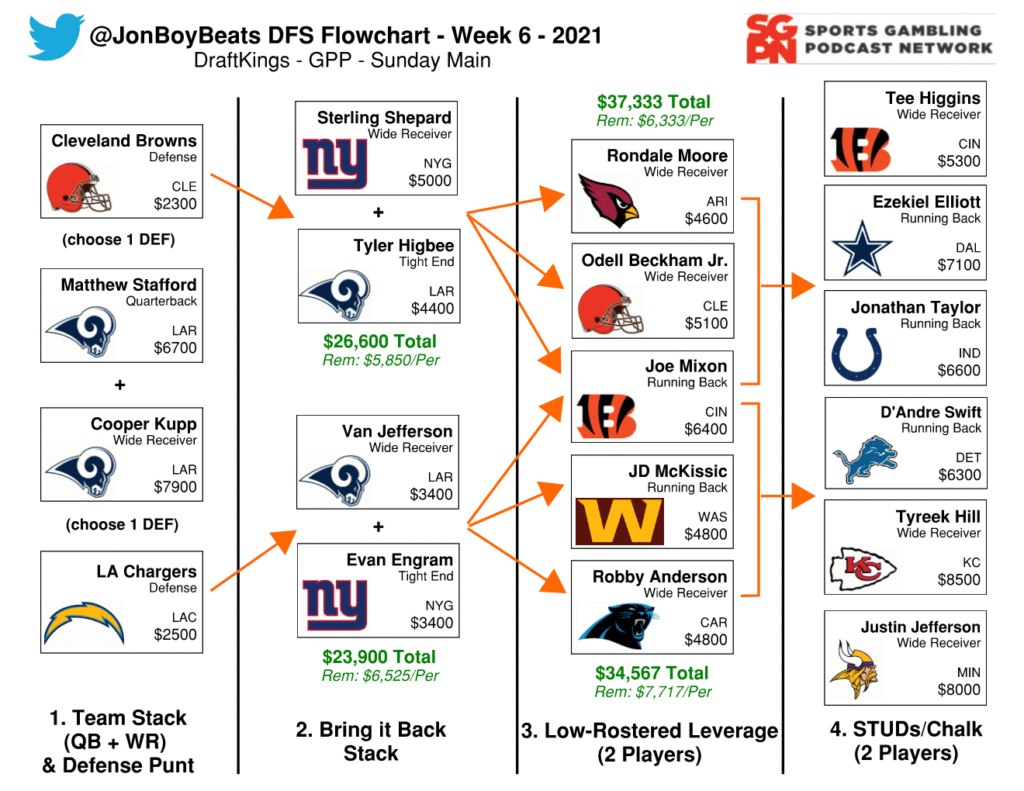 Heading into my third and final wedding weekend of this short NFL season. I am currently in the breakfast nook of a random AirBNB trying to crank out the article before all the festivities start! Apologies for the abbreviated version of the write-up this week.
EXCLUSIVE SGPN FANTASY CONTENT
SGPN Fantasy Football Rankings
I am sure a lot of you expect me to come on here victory lapping the flowchart results last week and talking about how we are never going to lose again. Well that's not what I'm going to do, because in all honestly we got pretty lucky last week. We did what we wanted to do as GPP players and faded the two most chalky pieces in Davante Adams and Derrick Henry. What resulted was near ceiling outcomes from them and many of the other popular players last weekend.
Luckily for us we had two Tom Brady double stacks that were able to keep us propped up and separate us away from the rest of the field. Of course, this is the goal of the flowchart, to provide an extremely strong foundation in the first two columns. Then we want to find some combos in the last two columns that put our lineups in position to make a run for it. Week 5 is typically not a week that we will find success in. When the chalk hits, we will typically do poorly. We got lucky last week.
So I'm playing the Flowchart in all formats this week right?
I've seen a few comments this week saying "The Flowchart would have placed in all my 50/50s last week", or "I'm going to start playing the flowchart for cash games". After a really chalky week, my favorite one is seeing people on twitter talking about how their cash game lineups should have been played in tournaments. Yes please, bring on those cash game lineups into our GPPs!
The point of all this is to help remind everyone to stay the course. Don't get to affected by recent results. When the top owned cash game lineups exits the game with a concussion, it's going to make sense that a lot of lineups beat the cash line. That's not always going to happen. The Flowchart is built to be different, to provide leverage, and to send well-constructed lineups into high payout tourneys ever week. It's not built to be safe and beat out half the field or 1 opponent in a H2H. Don't get trapped after one really successful week.
Week 6 Game Stack
Ok enough of the soapbox, let's dive into the Week 6 slate. The Giants are shaping up to be a shell of themselves this Sunday, and I think we can attack them through the Rams offense pretty well. Matthew Stafford and Cooper Kupp is a really good tandem that provides a high ceiling for the base of our flowchart. I chose to go against Robert Woods this week, and instead are giving everyone the option of Van Jefferson or Tyler Higbee. In a week were TE (outside of the top 3) and cheap WRs are not plentiful, I want to make sure to correlate those pieces if included them in lineups.
Your bring back options from the Giants are Evan Engram and Sterling Shepard. I do love everything Kadarius Toney showed us in Week 5, but this is a simple fade the box-score chasers move here. I think Engram and Shepard have a nice PPR upside should the Giants need to dink and dunk to play catchup.
Balance of the Plays
On the bottom half of the flowchart, I really wanted to force in some secondary stacks. You can assume that D'Andre Swift and Tyreek Hill will be popular this weekend, so pairing each of them with more contrarian players is really helpful for our construction. JD McKissic will be the forgotten man who doesn't project well anywhere but in a negative game script he should see plenty of opportunity. Joe Mixon helps provide leverage off a strong group of RBs in the low $6000s this week and he also gives us some leverage off the three strong options in the Bengals passing game.
Robby Anderson and Justin Jefferson are a nice complimentary pairing from a game which I think has sneaky potential to pop-off on Sunday.
It's no secret that Kareem Hunt will be the most rostered player on Sunday, so let's just cut right to it and find some leverage off of him with Odell Beckham Jr. If OBJ steals all of Hunts TDs, we are likely leapfrogging 35%+ of the field. Asymmetrical upside. I like pairing Rondale Moore with OBJ and just hoping for lots of PPR points from the duo. Jonathan Taylor and Ezekiel Elliott are week in an week out studs. I've got no problem playing them in Week 6. If you don't play Mixon, then Tee Higgins is a nice salary option that fits in with a couple of variations of the flowchart.
The salaries don't work out extremely perfect this week, so you might have to take pieces from furhter up or deeper down in the last two columns. Feel free to mix and match but stay focused on those secondary correlations.
Good luck this week everyone!