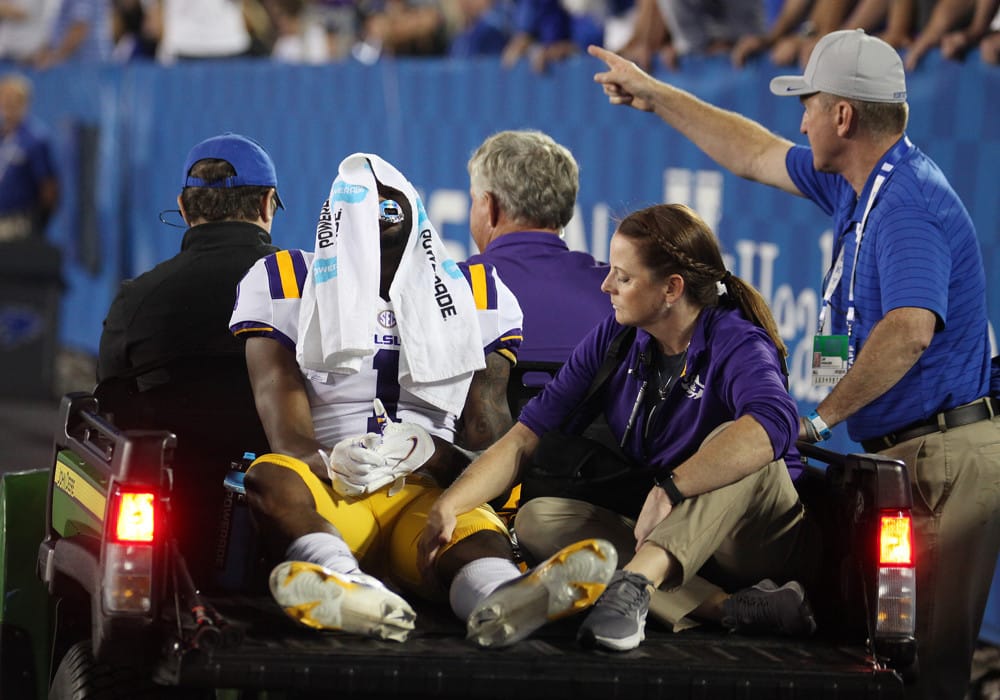 Welcome to the Week 7 college football injury report. After a couple of weeks of a number of highly anticipated matchups, Week 7 only provides two Top 25 games. Despite the low number of great games on paper, this week does provide some promise. There are some clear advantages and disadvantages for a team based on key injuries. I'm here to break down some of the biggest injuries that will be impacting the Week 7 college football slate.
College Football Injury Report: Kentucky vs Georgia
Odds: Georgia -21.5, O/U 44.5
Lat Injury, Initial Injury: 9/18/21
Georgia has been without their day one starter at QB for the past two weeks, and it just hasn't mattered because of how good that team is. Starter JT Daniels is again questionable for this week's game. The Bulldogs QB reportedly has a lat, latissimus muscle, injury which is a rare injury for football players. This is the same muscle Dak Prescott injured and is more commonly seen amongst baseball pitchers. The lat is a large muscle that comes from your back and connects to the front of your shoulder. An injury to this muscle usually occurs when there is a sudden increase in stress put on the muscle. After sitting out Week 2 with his oblique injury, it's possible that JT Daniels injured his lat while trying to ramp up his throwing after taking a week off.
The lat is an important muscle in football because it can affect a QB's throwing velocity and power. This muscle allows force to transfer from the lower body to the upper body and plays a key role in a QBs throwing motion. Head coach Kirby reported that Daniels has been on a pitch count in practice this week and is progressing well. The fact that they are still limiting his throwing volume tells me that he is still not 100% healthy. Georgia may choose to again play it safe and go with Stetson Bennett who has stepped in nicely this year. He has thrown for 8 touchdowns and only two interceptions in about three and a half games of action. The big question is, does it really matter who Georgia trots out there at QB at this point?
ACL Tear, Initial Injury: 10/14/21
Tykee Smith is a new addition to this Georgia squad as he was a highly desired transfer who was a two-year starter at West Virginia. Not only was he a starter but he was given All-Big 12 honors and All American honors by some media outlets. He was also put on the preseason watch list for the Bronko Nagurski Award, given to the best defensive player in the country. Smith suffered a broken bone a few weeks before the season which required surgery, and delayed his new start with Georgia. He played with his new team for the first time against Auburn last week although in limited snaps.
The new Bulldogs DB was getting healthier and taking over a bigger role in the defense before disaster struck. It has been reported that late in the week, Smith tore his ACL in practice which will require surgery and end his season. This is a bit of deflating news, as Georgia's secondary is thin due to players moving on to the NFL and transfer portal this offseason. Smith is known for being a hard hitting safety who is especially key in stopping the run. This would have been a great week for him to step up as Kentucky's offense comes in averaging 214 rush yards a game. After expecting Smith fully back this week, the Bulldogs will be without their top transfer, as they have been for most of the season.
Octavious Oxedine (DL) Kentucky
Lower Leg Injury, Initial Injury: 10/9/21
Kentucky is going to need all hands on deck and then some if they want to take down the number 1 team in the country on their home turf. Sadly, this will not be the case in arguably the most important position group for Saturday. Kentucky will be without breakout defensive linemen Octavious Oxedine for the rest of the season. Oxedine suffered a lower leg injury last week and was immediately ruled out of the game. The young defensive player is a first year starter and was coming along well this season with 15 tackles and 2 sacks on the year. He was also just named the SEC co-defensive linemen of the week for his disruptive efforts in the middle of the defense.
This injury is compounded with the fact that Kentucky is already missing senior nose guard Marquan McCall. The senior was known to be a run stuffer who specialized in tackles for loss. This beat up Wildcats front is facing by far their toughest test of the season, a Georgia offense averaging 197 rush yards a game. Kentucky has been stout on defense so far this year, allowing only 17.5 points per game on average, but this defense will be challenged Saturday.

College Football Injury Report: Oklahoma State vs Texas
Odds: Texas -4, O/U 60.5
*Oklahoma State is coming off a bye week and has no new injury updates to provide coming into this week's game*
Clavicle Injury, Initial Injury: 10/9/21
Texas IS BACK… to blowing big games. Not only was last week was a heartbreaking loss for Longhorn fans to their rival Oklahoma, but they also picked up a significant injury. Starting WR Jordan Whittington injured his clavicle last Saturday and will require surgery, causing him to miss a substantial amount of time. The Texas WR was finally starting to show what he was capable of after missing the majority of his first two years due to injury. He had 24 catches on the season for 359 yards and three touchdowns.
Now, this injury plays a big role this week as this game will likely come down to the Texas offense and Oklahoma State defense. Texas has been putting up 44.5 points per game and close to 500 yards with a balanced rush and passing attack. Oklahoma State on the other hand has been winning due to their stout defense, only giving up 18.6 points per game and 305 yards. Texas will have to find ways to create plays through the air in order to clear up some room for stud RB Bijan Robinson.

College Football Injury Report: Florida vs LSU
Odds: Florida -11.5, O/U 59.5
Elias Ricks (CB) LSU
Shoulder Injury, Initial Injury: Preseason, Reinjury: 10/9/21
Coach O seems to be fighting for his job week to week and the task to win games isn't getting any easier. Injuries and underperforming are the key words when describing LSU's season so far. Unfortunately for the people Baton Rouge, this LSU took another major hit this week. Last Saturday star CB Elias Ricks injured his shoulder and opted for surgery, ending his season. It has been reported that the injury was a re-occurring thing and was re-injured last Saturday. It was likely in the shoulder dislocation realm and Ricks made the call to address the issue with surgery to prevent future problems.
Although this is a good call for the player, this is a tough blow for a team already thin in the secondary. Ricks was given All American honors last year as a freshman with four interceptions and five pass defenses. His counterpart on the other side of the defense and fellow All American, CB Derek Stingley is also ruled out indefinitely. Stingley injured his foot in the summer and reinjured it during the first few games of the season. After two surgeries in the past couple of weeks, LSU went from having CB being the strongest position on their team, to one of the weakest.
Ankle Injury, Initial Injury: 10/9/21
The offensive side of the ball didn't receive much better news this week, and arguably worse. WR Kayshon Boutte has cemented himself as the best player on this offense and one of the top WRs in the country this season. After a solid season last year, Boutte has been torching defenses this season. He already has 38 catches, with 508 yards receiving and a ridiculous 9 receiving touchdowns. To put this in perspective, LSU has 17 passing touchdowns this year. That means Boutte is responsible for OVER HALF of all of the teams touchdowns through the air. In the same game the team lost CB Ricks, Boutte also suffered a season ending injury. He injured his ankle last week against Kentucky and had to be carted off the field. LSU's biggest offensive star takes with him A LOT of production to the sidelines for the rest of the year.
Time to start stacking up our winnings like names on a college football injury report! Follow me on Twitter @SGPNFootballDoc for NFL and CFB injury analysis and breakdowns all season!
---
RELATED CONTENT
College Football Fantasy Picks: DraftKings CFB Week 7 Targets & Values