With the wild card round (and what a round) in our collective rearview mirror, we look now to what most of us consider to be the 'real playoffs'. The 2021 MLB playoffs have some of the most intriguing match-ups in recent memory. Two of the divisional round series include divisional rivals squaring off. One of those series includes a pair of 100 win teams. Regardless of whether you find interest in any of these showdowns or if you still have a horse in the race, there's still plenty of money to be won with props.
2021 MLB Playoffs Gambling Guide
Game 1 – Game Odds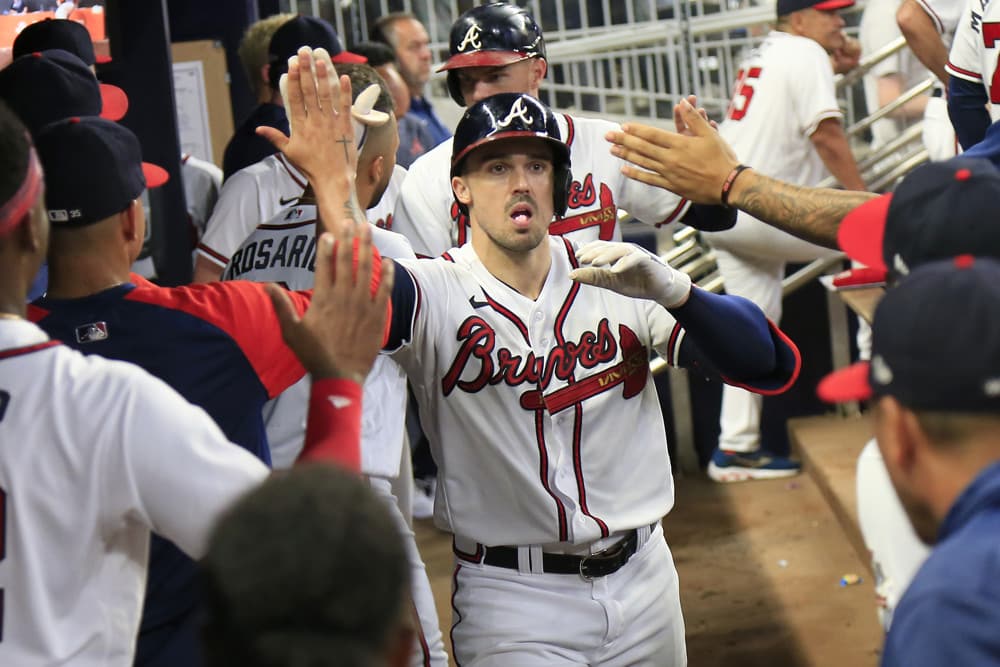 Astros (-130) vs White Sox (+120)
Rays (-165) vs Red Sox (+145)
Brewers (-140) vs Braves (+125)
Giants (+125) vs Dodgers (-135)
The first number I'm into is the Braves (+125). A lot of people were talking about how the Cardinals were red hot going into that wild card game and how that would bring them the momentum needed. Obviously, that didn't work out in this case, but few people are talking about the Braves' momentum. In the last 14 days of the season, no team had a better record than Atlanta who posted an 11-2 clip, with one of those losses coming the day after they popped the bubbly with a depleted lineup. Charlie Morton may not be a Cy Young candidate, but as of late, he's been on fire. Sure, the Braves have Corbin Burnes to worry about, but he has been much more pedestrian as of late. In his last five starts, his ERA is 3.21 and on three occasions he's allowed three runs or more. And the Braves can hit.
I also really like the line on the Rays here. The Red Sox may come in with all the adrenaline from that amazing game Monday, but they are walking into a buzzsaw. The Rays have lots of different weapons and it seems damn near impossible to locate why we're so confident in them. In fact, they had seven hitters that wound up with 2.0 WAR or better. I also worry about the pitching holding up for the Sox two games in a row.
Game 1 Plays – Braves (+145) and Rays (-165)
Series Odds – Divisional Round
Astros (-135) vs White Sox (+105)
Rays (-190) vs Red Sox (+155)
Brewers (-145) vs Braves (+115)
Giants (+122) vs Dodgers (-144)
The series odds tend to be a bit more dramatic than any Game One odds. This is largely due to the fact that pitching showdowns, especially when both teams have an ace, are pretty even early on. However, those tend to drift apart as the rounds go on.
There's only one series in the 2021 MLB Playoffs that I'm really targeting. That series is our match-up of 100 win teams, and I'm taking the Giants. I'm not sure why we keep underrating the team with the very best record in baseball. I think some of it has to do with their initial projections. They proved those wrong though, beyond what we could reasonably be doubting. Being divisional rivals of the Dodgers gives us a slew of games we can look at to see how they did head-to-head. Down the stretch, the Giants won six of the last eight games the two teams played. I like that and I worry about the Dodgers' lack of offense with Muncy out.
Series Plays – Giants (+122)
Other Props – MLB Playoffs
Divisional Series – Exact Score – Rays 3-0
I think the Red Sox have some problems with their pitching staff. They also have an injured JD Martinez, who rolled his ankle jogging to the outfield pre-inning. Both of those things don't bode well for a team that I think we're all surprised got by the Yankees. The Rays should be better just about everywhere and I'm seeing a sweep.
AL Pennant Winner – Chicago White Sox (+350)
Seems like a stab in the dark, but they have some really great starting pitching, which always plays up in the playoffs. Also, I know people hate Tony LaRussa, but the guy has been there and done that. I think that can be a real asset when not a lot of the players have the same.
World Series Winner – San Francisco Giants (+500)
For all the reasons I like them in the Dodgers series, I really like the Giants to win it all. It's not every year when you can get the team with the most wins in the majors to have odds this high. I'm not sure their pitching will hold up enough for this, nor am I sure their old bodies will, but I love this price.

Make sure to check out all the great MLB coverage we have to offer and be sure to listen to the MLB Gambling Podcast, which airs twice a week. This week the guys are breaking down the AL Divisional Series.