Guess who's back?? Back again?!? The NFL Referee Betting Stats and Trends! Now, let's be clear, every NFL referee is not going to have a betting trend or stat that stands out. There are a handful of NFL referees whose stats and trends are worth pointing out and keeping track of. Furthermore, these trends and stats should not be the only handicap you use. It should be an extra tool to have in the arsenal!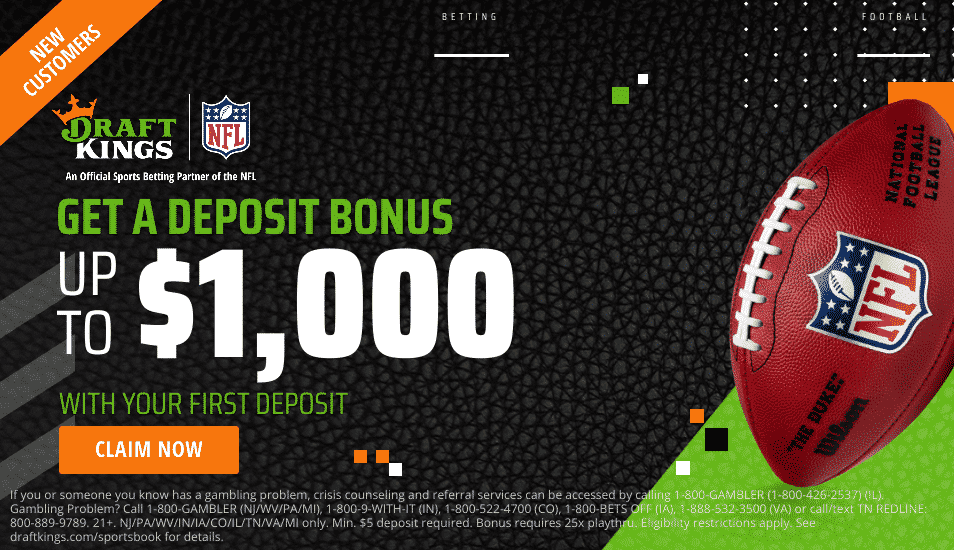 2020/2021 NFL Referee Stats & Trends Review
A great starting spot would be to review the NFL Referee stats that stood out from last season. I have broken it down by home/road against the spread record and game totals.
Top ATS Record for Home Teams:
Tony Corrente 9-5 (64.3%)
Jerome Boger: 9-6 (60%)
John Hussey 9-6 (60%)
Alex Kemp 9-6 (60%)
Top ATS Record for Road Teams:
Clay Martin 10-2-1 (80.8%)
Shawn Hochuli 9-3-1 (73.1%)
Scott Novak 9-4-1 (67.9%)
Top Over Referees:
Brad Rogers 10-1 (90.9%)  Average Total: 57.17 points
Clete Blakeman 12-2 (85.7%)  Average Total: 58.12 points
Clay Martin 10-2 (83.3%)  Average Total: 56.17 points
Jerome Boger 12-3 (80%)  Average Total: 53.39 points
Top Under Referees:
Ron Torbert 10-4 (71.4%) Average Total: 39.25 Points
Tony Corrente 10-4 (71.4%) Average Total: 45.56 Points
Bill Vinovich 10-4 (71.4%) Average Total: 45.32 Points
Scott Novak 9-5 (64.3%) Average Total: 46 Points
As mentioned above, there are a handful of referees who gave a betting advantage last season. The referees who stood in particular were Clay Martin and Clete Blakeman. Both of these referees were heavily in favor of high scoring games. In addition, Clay Martin in 2020-2021 season was a referee who heavily favored road teams. Road teams were covering at 80%+ in games he officiated.
Now, let's highlight a few referees whose trends are continuing this season.

2021/22 NFL Referee Stats & Trends
Ron Torbert
Now that we have two games under our belt for the 2021-2022 season, I wanted to see if the referees from last season who had a high variance for a trend would continue this season.
Ron Torbert has continued the Under trend thru two games. In fact, in Torbert's first two games have gone Under the posted total averaging 36.5 points per game. As a result, Torbert is now 12-4 to the Under over his last 16 regular season games.
Shawn Hochuli
Dating back to last season, Shawn Hochuli was one of the referees in which road teams were covering at a high percentage. That trend is continuing this season. In fact, thru the first two games of the season, the road team has covered in both of his games. In Week 1, the Cowboys covered the spread against the Buccaneers, and in Week 2 the Patriots covered as a road favorite against the Jets.
Brad Rogers
Last season, Brad Rogers was the best referee to the Over. In fact, in the 11 games he was the referee, the game went over the total in 10 of those games! The games ended up averaging 57 points per game. Furthermore, this season both games Rogers has been the referee have gone over the total averaging 63 points per game.
Notable 2021 NFL Referee Trends 
Adrian Hill – Home Team 2-0 ATS, 2-0 Over
Bill Vinovich – Road Team 2-0 ATS, 2-0 Over
Scott Novak – Road Team 2-0 ATS, 2-0 Under
Jerome Boger – Road Team 2-0 ATS, 2-0 Under
Tony Corrente – Road Team 2-0 ATS, 2-0 Under
Shawn Hochuli – Underdog 2-0 ATS
Clete Blakeman – Underdog 2-0 ATS
Brad Allen – Favorite 2-0 ATS
John Hussey – Underdogs 2-0 ATS
---
NFL Week 3 Referee Assignments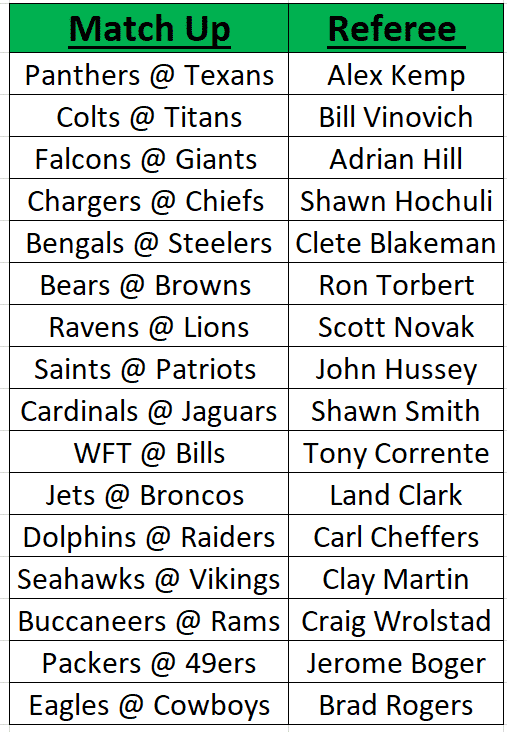 ---
RELATED CONTENT