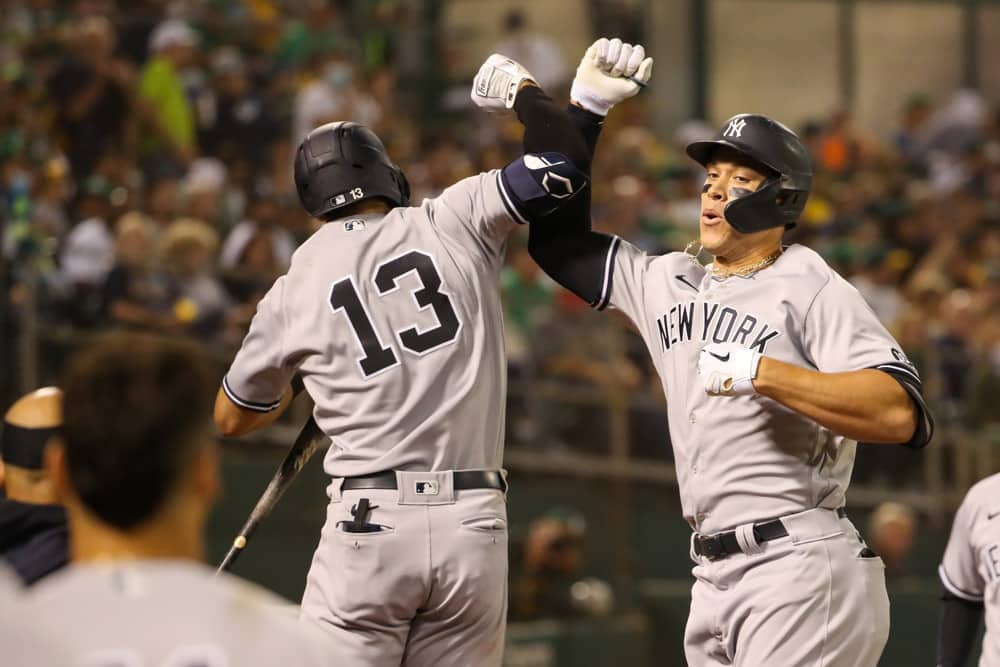 The hottest team in baseball comes to Sunday Night Baseball tonight. The Yankees dropped Saturday's contest to Oakland, snapping their 13-game win streak. However, the streak has jumped them into the top wild-card spot as they press the Rays for the AL East title. We're looking to get you to that top spot too – only in this week's MLB DFS Showdown for Sunday Night Baseball.
(NOTE: This MLB DFS lineup was made before official lineups were posted. Always check starting lineups prior to your lineup locking)

MLB DFS Picks (NYY/OAK Showdown) Aug 29th
Captain – Joey Gallo ($13,800) – NYY
With the cost of the two pitchers in this contest, as well as some of the big hitters from the Yankees, it's not easy to put together a two-pitcher lineup. Instead, I went with one of the big boppers on the Yankees as my captain. Gallo's stat line may not be the hottest of them at the moment, but there are a couple of things I like. Firstly, he's making great contact. Despite not having a hit on Saturday, he put the ball in play every time (a rarity for him). Secondly, the Yankees are facing a young right-hander in Brad Blackburn. They literally went out on the market to grab Gallo's bat for precisely these types of games.
Both pitchers have pretty similar average strikeout numbers recently, and as I mentioned, this is a tough MLB DFS lineup for two pitchers. Ultimately, I decided on Montgomery due to having a longer track record that we can trust. With the exception of a recent start against red-hot Atlanta, he's struck out five+ in every game since early July. Earlier this year against Oakland he whiffed six and only allowed one run on a solo shot.
Sean Murphy isn't the sexiest pick in this MLB DFS slate. However, he has been one of the more stable fantasy point scorers in Oakland. You can pretty much take any sample of games from Murphy and you'll come out to an average of about six points. Last four games? 5.75 points. Last eight games? 6.12 points. On the year? 6.4 points. The guy is a stalwart and is probably the safest pick here.
Think you know who is going to be MVP? Check out the latest MLB MVP odds.
Josh Harrison is a little more of the big scoring potential than Murphy. He's an MLB DFS pick where we're trying to hit this out of the park. He has an extra-base hit in four of his last seven games, which includes a solo home run in Game 1 of this series. He's also a threat to steal bases, which is a huge boost to any scorer.
Util – Luke Voit ($6,600) – NYY
Luke Voit was pretty vocal about how displeased he was with the Yankees trading for another first baseman. However, maybe the competition was exactly what Voit needed. Over the last 13 games, Voit has put up double figures in fantasy points seven times. Essentially, as of late, he's more likely to give you a big number than not. Furthermore, there's a pretty high floor over that span too. Only once has Voit failed to put up any points.
Failing to get a hit on Saturday snapped a five-game hitting streak for the Bronx native. Over that span, he had four extra-base hits and scored a run in four of the five games.  Velazquez is also another who is a stolen base threat. While he only has three in the majors so far, he swiped 26 of 29 bases in Triple A this year. Although he's likely to cede a lot of his playing time to Gio Urshela as the third baseman's hamstring heals up, I think he's a nice cheap option for tonight in all MLB DFS formats.

Make sure to check out all the great MLB coverage we have to offer and be sure to listen to the MLB Gambling Podcast, which airs twice a week. This week the guys are breaking down the hottest trends to follow for September.