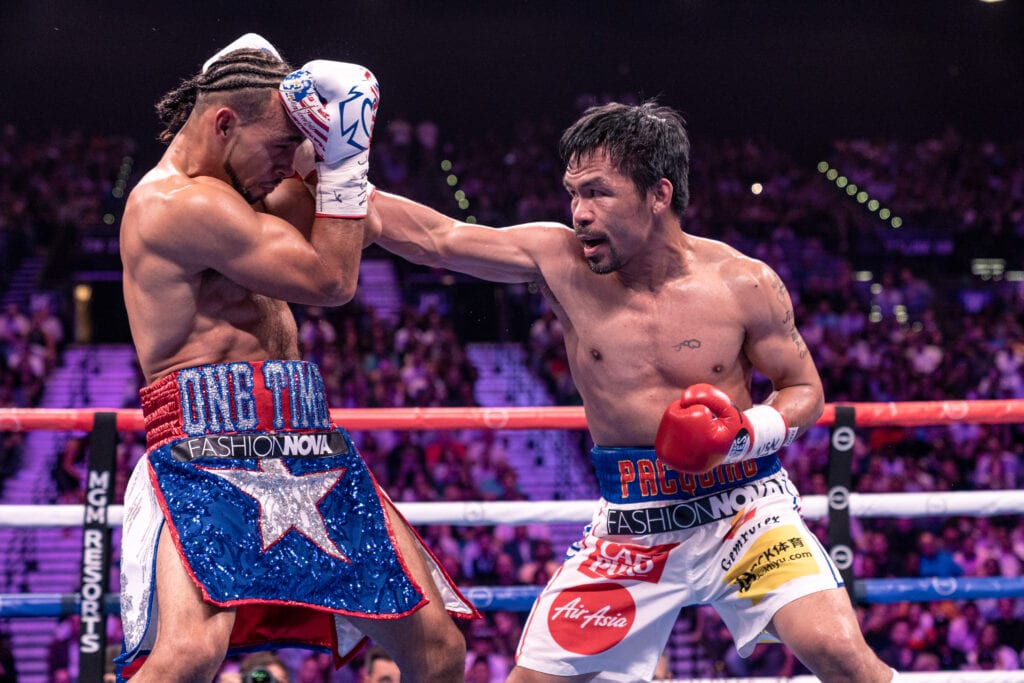 We are ready for one of the top names in boxing over the last 20 years to make his return to the ring after a two year absence Saturday, as Manny Pacquiao headlines a Vegas PPV. And, we will discuss it all on the latest edition of "The Big Fight Weekend Podcast."
Host T.J. Rives is joined by BigFightWeekend.com Sr. Writer, Marquis Johns and special guests from Las Vegas to give you what you need to know, including wagering info, about Pacquiao taking on Cuban Born Welterweight title holder, Yordenis Ugas.
First the guys welcome Ray Flores of Premier Boxing Champions and their coverage of the Pacquiao-Ugas battle Saturday night at the T-Mobile Arena. Flores has already done some pre-fight hosting for the press conferences and now, will call the fight for the Fox Sports International audience coming up. Ray has insight on the fighters and the sub-plot that at 42 years old, this could be "Pac-man's" last bout?
T.J. and Marquis also discuss the recently agreed to bout between another future Hall of Famer, Canelo Alvarez, now fighting IBF Super Middleweight Champ, Caleb Plant, in November. It didn't look like this bout would happen, but now it will. The guys give their thoughts and insight on why it got rescheduled for later this year.
Then, T.C. Martin in Las Vegas of the "T.C. Martin Show' heard five days a week on Vegas radio and on all platforms, is back aboard. T.C. has 20 years experience covering the biggest bouts, will be at ringside Saturday night and gives his thoughts on Pacquiao-Ugas and some gambling advice, too. This includes which prop in the PPV main event, he's looking strongest at.
Then, T.J. and Marquis go over the odds and picks, once more for Saturday night.
Hear it all on "The Big Fight Weekend Podcast" and make sure to follow/subscribe on Apple Podcasts, Spotify, Google, etc.!!