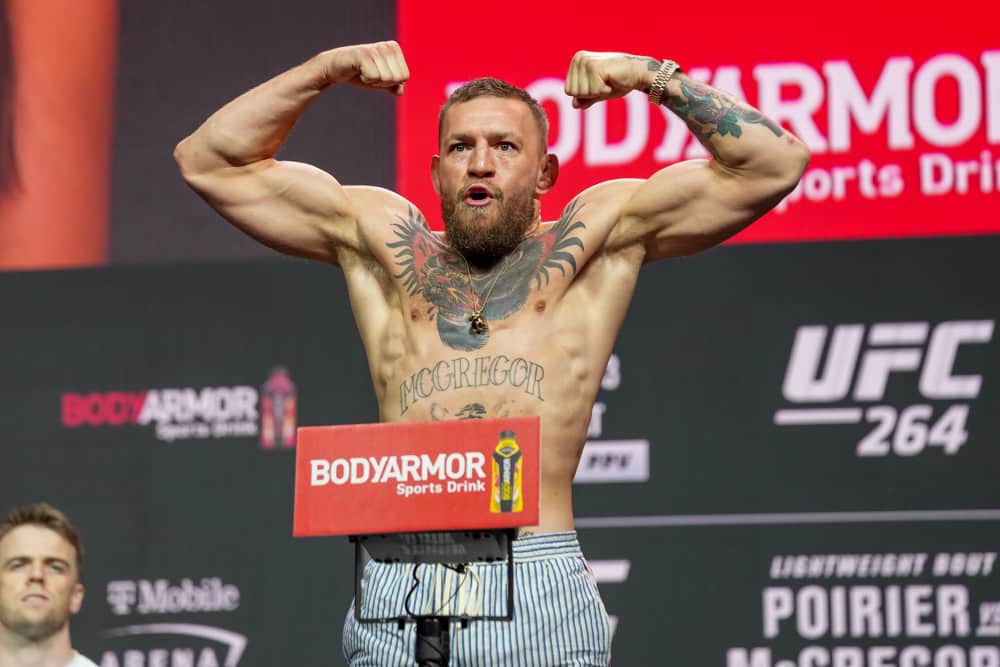 Soccer players are among the highest-paid sportsmen in the world right now, and they have usually taken the number one spot, until recently. MMA fighter Conor McGregor has knocked every other athlete off the leading spot this year by almost a $50 million!
The second and the third spots of highest paid athletes are firmly held by the same two soccer legends who have been within the top five spots for more than a decade now. However, Lionel Messi and Cristiano Ronaldo have not managed to overtake McGregor so far in 2021. Stay with us as we take a look through the rankings to see who the highest-earning athletes and sportsmen are in 2021.
Conor McGregor ($180 million)
Conor McGregor most certainly was not the most successful sportsman of 2020 or 2021, but he is still the highest-paid fighter and the richest athlete in any form of professional sports right now. Although McGregor fans are waiting for a comeback in July, the once mighty fighter's dismal comeback met with a Round two knockout at 2:32 back in January 2021.
He did, however, earn roughly $22 million from his name alone. Coupled with impressive sales of Proper No. Twelve bottles (McGregor's own brand of Irish whiskey), and a long range of endorsement contracts including but not limited to video games and lifestyle products, the Irish UFC brawler holds the number one position as of right now.
Lionel Messi ($130 million)
Admittedly, the pandemic did not make it easy for any sportsman, but no other form of professional sport suffered a bigger loss than the world's biggest sport. Nevertheless, soccer star Lionel Messi is still doing better than ever before of course, as Barcelona holds onto him with their last dime (read millions) and off the record payments. For his part, Messi did help raise money for procuring over 50,000+ covid vaccine shots this year.
Cristiano Ronaldo ($120 million)
The argument between the 500 million+ social media fans of Cristiano Ronaldo and Lionel Messi regarding who is the best is ongoing and constant. It seems that the competition between the two soccer stars to become the richest soccer player alive is also ongoing, irrespective of the pandemic.
Even though the soccer star is well-known for his affinity towards poker and for paying frequent visits to some of the richest online casinos, he is a measured gambler who is well in control of his finances. The fact that he is worth well over half a billion dollars in 2021 has not affected his ability to make careful and astute financial decisions.
Dak Prescott ($107.5 Million)
The Dallas Cowboys extended Dak Prescott's stint with team with a $160 million contract for four more years in 2021. The fact that the new contract also came with an immediate signing bonus of $66 million has boosted the quarterback into the number four position right now. Prescott will be making a comeback into the field after recovering from an ankle injury that had put him out of action for a while.
Lebron James ($96.5 Million)
Despite the year being fairly unremarkable so far for most of the names on this list, that is not so with Lebron James. He had a phenomenal year of basketball achievements in 2020, adequately complemented by the Los Angeles Lakers' 4th NBA Championship win in October. As if the comparisons between him and Michael Jordan were not hot enough, James will also be starring in a Space Jam remake this year! Whoever the greatest might be of the two legends, Michael Jordan certainly has him beat in terms of net worth. In terms of earning potential, Lebron James may very well go on to eventually surpass Jordan in net worth, but that is just conjecture at this point.
Neymar Jr. ($95 Million)
Neymar da Silva Santos Junior (Jr.) is nowhere near as rich as the other two higher up on this list, but he is still the third highest earning soccer player today, losing the number five spot to LeBron James by just a little over $1.4 million. That can change with time though, since Fortnite was revitalized with brand new popularity amidst his 282 million social media followers earlier in the year, when Epic Games introduced Neymar Jr. as a character skin into the game. If the sales continue to rack up the way they are expected to, Neymar Jr. could eventually go higher up on this list by the end of 2021.
Roger Federer ($90 Million)
Roger Federer was the highest paid sportsman in 2020 with a whopping $106.3 million under his belt, but his earnings have since dropped by more than $16 million. Keep in mind that this is more impressive than the average onlooker might believe, because he had not played any matches until only recently, after injuring his knee in early 2020.
The entire sum of his $90 million comes from endorsements alone. The elite tennis player has sponsorship deals with prestigious European brands such as Rolex and Uniqlo, among others. It remains to be seen whether Federer gets up higher on this list, post the launch of a new sports apparel company named 'On' this fall, where he holds serious stake.
Lewis Hamilton ($82 Million)
Lewis Hamilton managed to win an astounding 11 races in 2020, which was, of course, soon followed by huge endorsement deals from the likes of Monster Energy Drink, Tommy Hilfiger, and Puma. As a direct result of those sponsorship deals, Hamilton is right now the world's 8th highest paid sportsman with more than $82 Million added to his earnings this year already. The racer has six Formula 1 titles in the bag so far in his career and continues to make the Mercedes sponsorship proud with each passing season.
Will the rankings change next year? It almost certainly will, but names such as Neymar Jr, Lebron James, Federer, Ronaldo and Messi are not likely to go out of the top ten highest earning athletes list anytime soon. It would still be interesting to see who ends up where by the end of 2021.