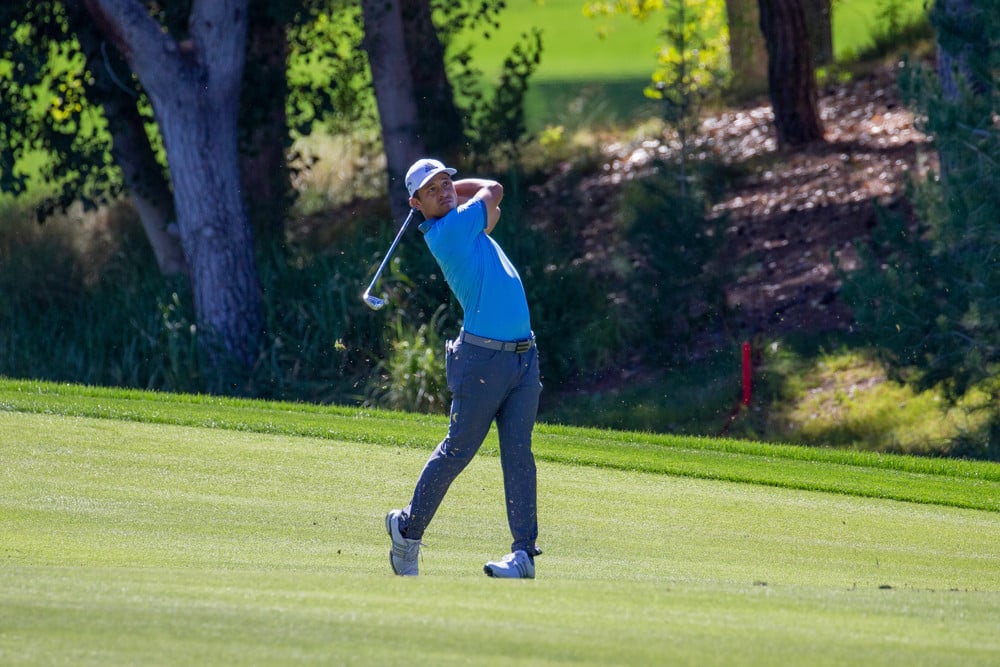 For those who missed it, check out the Olympic Golf Preview and Betting Strategies for the types of golfers you should look to target for your picks. Using that as a guide, let's take a look at some of the best bets to make this week. Here are my Men's Olympic Golf Picks and Props (odds courtesy of PointsBet and DraftKings).
Olympic Golf Picks: Gold Medal Winner
Xander Schauffele – 9/1
The statistics speak for themselves for Xander Schauffele. The case for Xander can also be made for success at similar golf courses and playing conditions to Kasumigaseki Country Club. Xander is tremendous on fast-bentgrass greens, particularly Augusta National, Sheshan International, and Colonial Country Club. He finished 2nd at the CJ Cup at Shadow Creek, a fellow Tom Fazio design. Xander also has played solid at another Tom Fazio course in Quail Hollow. He has the length both off the tee and with his irons to put himself in great scoring opportunities in the expected soft conditions. Even at 9/1, he's a solid pick to win the gold medal in golf at the Olympics.
Viktor Hovland – 12/1
Viktor Hovland was a trendy pick to win the Open Championship and secure his breakthrough victory. Maybe those backers were one event too early. Like Schauffele, Hovland excels on demanding and longer golf courses as Kasumageski poses to the field this week. He finished 3rd at Quail Hollow in May. He finished T12 at Shadow Creek last fall. And with only 60 players with a relatively small pool of elite guys, there are not many golfers who can beat him if he has his A-game. A gold medal at the Olympics could kick start Hovland to bigger and better things.
Shane Lowry – 22/1
Shane Lowry is overdue for a win. He's performed excellently all year long tee-to-green and has enough win equity to warrant consideration for a gold medal pick. Lowry has enough pop off the tee to get the ball out there far enough without needing roll-out yardage. He's also hitting his irons excellent. The one weakness to his game is his putting, but Collin Morikawa proved at the Open we never know when someone will pop on the greens. 22/1 is a decent price for a caliber of player like Shane Lowry.
Cameron Smith – 25/1
The results are a little misleading for Cam Smith recently. Despite no Top 10's since the RBC Heritage, Smith is striking the ball well tee-to-green over his last few tournaments. Smith has gained over a stroke per round with his irons across his last two ShotLink tournaments. And despite the reputation of a player who excels in firm and fast conditions, he has had some very good finishes on softer tracks over the last year. He was 2nd at the Masters' last fall in soggy conditions. Smith also finished 11th at Shadow Creek in lush conditions. He even finished T9 at a rain-soaked RBC Heritage at Harbour Town in April. There's plenty of room to navigate off the tee at Kasumigaseki for Smith, and he has enough pop off the tee to get it out there. If his irons and putter show up this week, watch out.
Olympic Golf Picks: Wins Medal Props
Justin Thomas Wins Medal – +350
Justin Thomas is an extremely popular pick to win the gold this week. It's certainly driven more from narrative street than actual golf course performance lately. The one thing he does have going in his favor is that Kasumigaseki will play soft with little wind. These conditions are usually ripe for Justin Thomas to excel. While the rest of the industry bets Justin Thomas 10/1 for the gold, bet him +350 for a podium finish instead.
Hideki Matsuyama Wins Medal – +400
All the weight of Japan is on Hideki Matsuyama this week. Or is it? There won't be massive galleries following Hideki on the golf course due to COVID restrictions. Nor an armada of bothersome Japanese photographers capturing every single move on their Konika Minolta. That will help take some pressure off of him during the round.
He's also the only player in the field with actual experience and success at Kasumigaseki Country Club (albeit pre-Fazio renovation). Even so, Hideki has gone to Japan with superstar status and unrealistic expectations, yet still performed admirably. Why should this week be any different? +400 for a podium finish is a reasonable expectation for Hideki Matsuyama.
Sungjae Im Wins Medal – +800
Now HERE is a guy with pressure. Sungjae Im needs a medal in order to avoid mandatory military service in the South Korean army. While everyone is targeting Si Woo Kim to save his career, I like Sungjae Im's chances better to salvage his. Sungjae has shown improvement with his irons over the last few tournaments and is in a little better form than Si Woo Kim. The playing conditions this week also resemble that of the 2020 Masters in the Fall, where he finished T2. Holding a +800 ticket on Sungjae to save his career is a fun prop to bet this week.
Olympic Golf Picks: Other Positional Props
Marc Leishman Top 5 – +650
I don't know what to do with Marc Leishman. My brain reminds me of how badly he burned me at the Open. But my heart is telling me I should go back to him.
Leishman has had success on softer bentgrass surfaces in his career. He also has had success over in Asia. And he won on a Tom Fazio golf course at Conway Farms in 2017. While I don't think he has the horsepower to win gold, settling for +650 on a Top 5 finish is a good compromise between my heart and my brain.
Patrick Reed Top 10 – +150
Everyone is counting out Patrick Reed because he, reportedly, will not be arriving in Tokyo until Wednesday evening local time. Doubters think because he'll go into the event without seeing the course it'll hurt his chances. And maybe they're right as far as his ceiling goes. But Tom Fazio's designs aren't exactly all that complicated. Everything is all out in front of a player on these tracks. Tom Fazio golf courses are very straightforward with no thrills and frills about it. The learning curve isn't as steep as some think.
Patrick Reed is also tremendous both on bentgrass surfaces and in soft playing conditions. And there are many greens that are well positioned for his right to left shot shape. He might get off to a slow start. By the final round, however, he should climb up into the Top 10.
Joaquin Niemann Top 10 – +230
Joaquin Niemann is such a volatile player. He has all-world talent that should enable him to be a multiple victories per year player on the PGA Tour. But he also shoots himself in the foot with sloppy mistakes.
But the setup at Kasumigaseki should favor his game. With soft conditions, Niemann has plenty of length off the tee to bomb it out there to manageable approach shot distances. He's very good with his mid and long irons. And he's greatly improved his putting. He also has a lot of success on both bentgrass golf courses and other Tom Fazio designs. There are a lot of things to like about Joaquin Niemann this week.
Betting on Joaquin Niemann this week depends on your risk tolerance. Those who want a little better payout may opt for a +600 Top 5 and shoot closer to his ceiling. Settling for just +230 at a Top 10 allows some risk tolerance for when Niemann decides to act like a knucklehead. But given how weak the field is and that it's a no-cut format, Niemann should rise to the first page of the leaderboard by the end of Sunday.
Top 20's To Consider
RELATED CONTENT
Men's Olympic Golf Preview | Golf Gambling Podcast (Ep. 76)