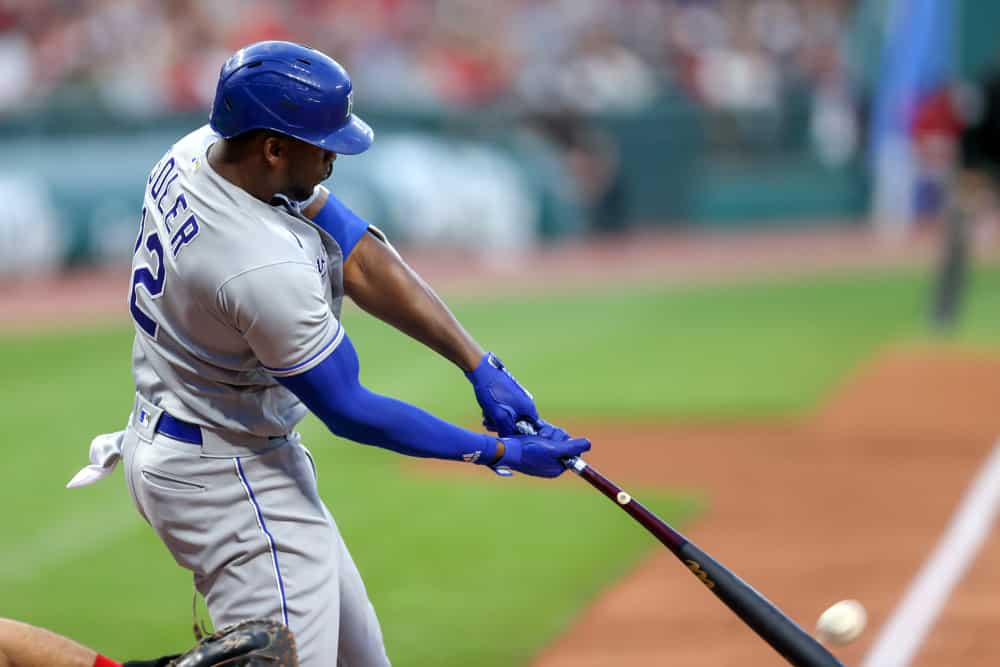 So the MLB second half doesn't exactly start halfway through the season (and now it starts a little later), but we'll call it that anyway. The halfway point is usually a time for reflection. It's a time when teams decide to pack it in for the year. It's a time when teams push all their chips in. And, of course, it's a time when struggling players try to turn their season around.
With roughly half the season to go, these are my five picks to have a much better second half than they did a first.
There's no doubt about it right now, Jackie Bradley Jr. is having the worse season of his life. That includes the brief call-up when he was only 23 years old with the Red Sox. His offense has never been the reason why he's valuable to teams, but it hasn't ever been this tough to keep him in the lineup. He's hitting an abysmal .167 and is on pace for just under 12 home runs.
So why should we feel positive about the way things are going?
The big story is the low batting average on balls in play (BABIP), which is a stat that sometimes helps to tell which players are just getting lucky or unlucky. The league average for BABIP is .295. Thanks to his speed and contact, Bradley Jr. usually beats the league average in BABIP, but this year has managed just .222. This gives us reason to believe he's just been unlucky this year and regress (or progress, rather) back to the mean.
Some people would look at the first half that Yarbrough had and not even think it was that bad. He has an ERA of 4.30, far from perfect, but not awful. He has a 6-3 record and threw the first complete game the Rays have seen in years. Despite the decent numbers, there is reason to think that the trajectory of Yarbrough in the second half will be way up.
Firstly, Yarbrough has an expected ERA (xERA – a stat that uses peripheral stats like strikeout rate and ground ball percentage to try to quantify the actual talent of the player) of just 3.85. That number is just a pinch better than Taijuan Walker who is walking around with a 2.50 ERA and just made his first All-Star game. This means he's not just one of the MLB second half's best chances for a change in fortune, but he may also be someone to target in fantasy leagues for a pickup or trade. And he's rostered in just 44% of Yahoo leagues at the moment.
A lot of people think the 48 home runs that Jorge Soler hit in 2019 was a fluke. To some extent, it may have been. However, in the shortened season last year, he managed 8 in 43 games. That averages out to over 30 if you give him a sample size of a full season. So even with an understandable drop, the power still seemed to be there last year. This year he's on pace to have just half of that (which is just a third of what he had in 2019). Even if you didn't believe in his power, that drop is ridiculous.
All of that points to him likely picking up the pace in the second half. I wouldn't expect him to get back near 30 with the slow start he had, but somewhere in the mid-20s wouldn't be out of the question. It's also worth noting that he, like Jackie Bradley Jr. is a speedy guy who has seen a huge drop in BABIP. His stands at just .243 at the midway point right now, and that picking up would also help his case.
All three of my first three picks are based on indicators that they've been unlucky and are likely to return to their old selves in the second half – or at least closer to it. This pick comes based on a recent run.
If you go back to June 15th, a month ago today, Charlie Morton was rocking a 4.50 ERA. He was just 5-3 and had struck out just three batters in his last outing, a four-inning appearance that led to a loss against the Marlins. In the five starts after that, Morton went 3-0 with 39 strikeouts. That run lowered his ERA nearly a whole point. While he wasn't quite that good in the shortened season, this looks a lot more like the Charlie Morton who was an All-Star in 2018 and 2019.
Another reason to like Morton as an MLB second half bounce-back is the injury to Ronald Acuna Jr. While it does mean that Morton may have less run support in the next few games, it likely also increases the chance that he gets dealt to a contender at the deadline (he signed just a one-year deal with the Braves).
Suarez is another of those guys who seemed like the sky was the limit for them after 2019. The pandemic shortened year saw some regression for the Cincinnati third baseman, but the power was largely still there. This year, he's seen a huge drop in some of his numbers. He's only hitting .175 and his WAR has fallen into the negatives (-0.3 at the midway point). But while some numbers seem to indicate a downward trajectory in production, there are others that hint he's unlucky.
In addition to BABIP, wOBA and xwOBA are two indicators that stat-heads like to use to determine who is unlucky. wOBA tries to quantify how helpful the batting outcomes the player has had for his team are, whereas xwOBA (like xERA) uses peripheral stats to try to quantify just how good he actually is. In all of his previous years, Suarez's actual production has been right around his expected production. This year his actual numbers lag way behind what is expected of him. Knowing that he has been better than the number suggests, and remembering that his power is still very much there, I would expect Suarez to storm back in the second half.
If you have an MLB second-half bounce-back candidate that didn't get named, hound me on Twitter (@GumbyVreeland). Also, make sure to check out all the great MLB coverage we have to offer and be sure to listen to the MLB Gambling Podcast, which airs twice a week. This week the guys are bringing you an MLB second half betting preview.