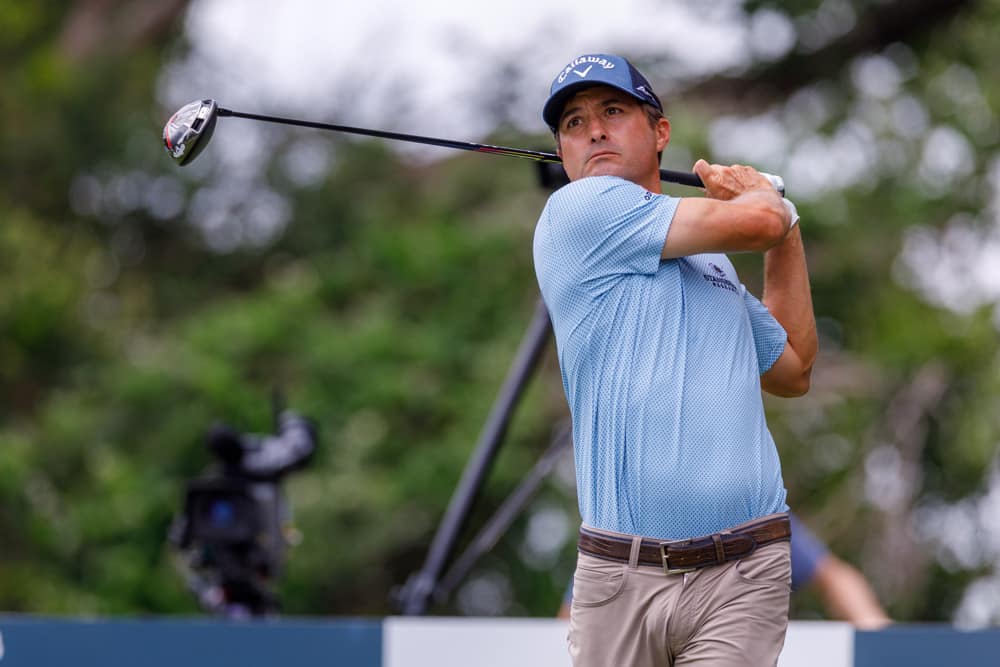 For those who missed it, check out the Rocket Mortgage Classic Preview and Betting Strategies for the types of golfers you should look to target for your picks. Using that as a guide, let's take a look at some of the best bets to make this week. Here are my 2021 Rocket Mortgage Classic Picks (odds courtesy of PointsBet and DraftKings).

Rocket Mortgage Classic Picks: Outright Winners
Kevin Kisner – 35/1
Through the first two Rocket Mortgage Classics, most of the Top 10's featured players with good wedge games that were coming into the tournament riding hot putters. That points right to Kevin Kisner. After a long slump, Kisner seemed to find some ball-striking form over the weekend at the Travelers. Now he goes to a shorter, narrow golf course with everything all out in front of him. Those are tracks that Kisner has thrived on in his career. At 35/1, he's a good pick to win the Rocket Mortgage Classic.
Cameron Tringale – 50/1
Tringale tees off in the afternoon, so this might be a player you should wait and see where his odds go before betting him. Tringale has been in a bit of a rut lately and missed the cut at the Travelers. But it wasn't the ball striking that was the issue. His normally reliable putter let him down. Tringale is a solid wedge player and is capable of going low at a golf course like Detroit Golf Club. He's come close to winning this year, and this is a weak sauce event a guy like him would win. See how things go on Thursday night, but monitor his odds. If any of your AM outrights bomb out, he's a decent option to go after.
Doc Redman – 55/1
Like Kisner, Doc Redman has recently broken out of a prolonged slump. He also, like Kisner, is a fairly accurate player with a good wedge game and hot putting. That's a recipe for success at Detroit Golf Club. Doc Redman is a talented player who eventually will win on the PGA Tour. This could be the week he does it.
Maverick McNealy – 75/1
Shorter courses like Detroit Golf Club are ones that Maverick McNealy thrives on. He's also struck his irons better over his last 4 tournaments and is capable of going supernova with his putter. Like Doc Redman, Maverick McNealy is destined to be a PGA Tour winner someday. At 75/1, he's a decent pick to get his first win at the Rocket Mortgage Classic.
Mark Hubbard – 125/1
For someone 125/1, Mark Hubbard sure does check a lot of boxes. Accurate off the tee – check. Good wedge player – check. Riding a hot putter entering the Rocket Mortgage Classic – check. With those three boxes checked, he's worth a flyer at 125/1 to win the tournament.
Rocket Mortgage Classic Picks: Positional Props
Jason Kokrak Top 10 + 300
Jason Kokrak is a very popular pick to win this week. He does a lot of similar things that Bryson DeChambeau does that could work at the Detroit Golf Club. Kokrak is very long off the tee and has one of the hottest putters in the game. But something about "Three Time Winner in 2021 Jason Kokrak" doesn't sit very well with me. That's why I'm opting instead on just the Top 10 at +300 for Jason Kokrak.
Garrick Higgo Top 20 – +225
Garrick Higgo can deploy a comparable strategy that Bryson DeChambeau did last year at the Rocket Mortgage Classic. Higgo can bomb the ball off the tee, and as long as he's not wildly offline he can wedge it onto the green. From there, Higgo is one of the best putters in the world and can go low at this tournament. He's very up and down, but +225 for a Top 20 is a reasonable expectation for the young South African.
Other Top 20 Props to Consider:
Alex Noren – +300
Chez Reavie – +400
Adam Hadwin – +400
Danny Willett – +400
Seamus Power – +400
Pat Perez – +400
Troy Merritt – +400
Ryan Armour – +450
Russell Knox – +500
Andrew Putnam +500
Satoshi Kodaira – +500
Vaughn Taylor – +600
Hank Lebioda – +700
Rocket Mortgage Classic Picks: Matchup Props
Webb Simpson -120 over Hideki Matsuyama
The Rocket Mortgage Classic is basically a putting contest. And I just have more faith in a player like Webb Simpson in that type of tournament instead of Hideki Matsuyama. While Hideki is the superior ball-striker overall, the playing field is leveled a bit given the nature of Detroit Golf Club. A shorter but more accurate Webb can set himself up to rely on his trusty wedge game for great looks at birdie. As for Hideki, he's no sure thing to convert enough putts to get high on the leaderboard. Take Webb Simpson straight up over Hideki Matsuyama this week.
Pat Perez -112 0ver Brice Garnett
While hot putting is a great recipe for success at Detroit Golf Club, it'll be hard for Brice Garnett to replicate what he did last week. At the Travelers Championship, Garnett gained over 13 strokes putting for the championship. While he has the attributes to play well at this tournament, it's very likely some regression is on the horizon. Pat Perez shares similar qualities that Garnett does, and he has a great shot of beating him straight up this week.
Rickie Fowler +115 over Si Woo Kim
Last week was U-G-L-Y for Rickie Fowler. The ball striking was putrid and he couldn't get anything going with the putter. But Si Woo Kim was just as awful last week. The tie-breaker between the two is Rickie is a much better putter than Si Woo Kim is. Si Woo also tends to go on prolonged cold streaks. This one might be as ugly as their form last week, but at plus odds side with Rickie Fowler over Si Woo Kim.

RELATED CONTENT
Rocket Mortgage Classic Preview & Travelers Recap | Golf Gambling Podcast (Ep. 69)