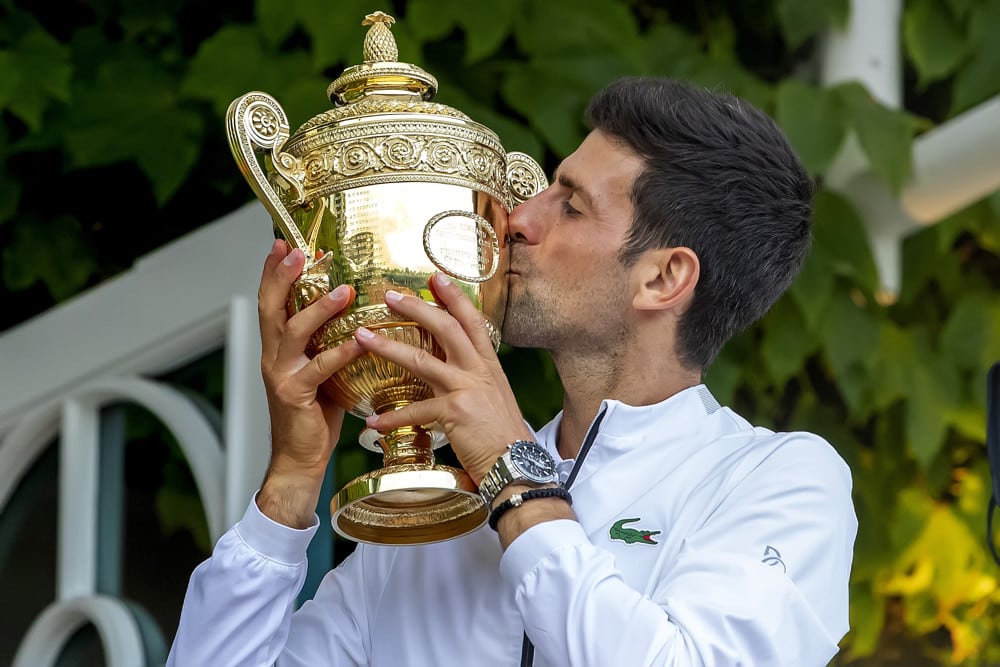 Hello my fellow degens! The oldest and most prestigious tennis tournament in the world is back after missing the 2020 season, and it should be a fun one. We're talking about the Wimbledon of course! The shortened 2020 season skipped grass season, but not this year!
Some of the most prolific grass court players are in the field such as Novak Djokovic, Roger Federer, and Andy Murray; and we can't forget about the Williams sisters on the women's side. Let's take a look at some Wimbledon futures you should get down on right now, shall we?
If you're looking for day-to-day picks for individual matches for this year's Wimbledon, then hop in the SGPN slack channel! My buddy Jong Lee (@nikemvick7 on Twitter) and I are always sharing our picks in the #tennis channel, and not to toot our own horn but we've been absolutely on fire this year!
*All odds are courtesy of DraftKings Sportsbook*

2021 Wimbledon Gambling Guide: ATP Futures Picks
Novak Djokovic (-125)
Let's go ahead and get the obvious out of the way. Novak Djokovic is listed as a -125 favorite for a reason. He's the defending Wimbledon champion having won it in 2018 and 2019. He has 19 Grand Slam titles under his belt including five here at the Wimbledon. A title here this year would tie him with Rafael Nadal and Federer at 20 majors titles, and he's coming in playing some of his best tennis.
Novak has already won the Australian Open and French Open this year, and there's no reason he can't win the Wimbledon title as well. He has a career record of 99-19 on grass courts and he's second only to Federer in the most grass court wins amongst players in the field. Djokovic's odds are only going to get more chalky as this tournament progresses, so it's best to get down on him early for this tournament.
Matteo Berrettini (+1200)
This play may come as a shock to some. Matteo Berrettini is only 25 years old, and he comes into this year's Wimbledon in top form. The Italian has only been pro since 2015, but he already has five ATP titles under his belt including two this year. He's never beaten Djokovic, however, he did give him a good four set fight in the quarterfinals of this year's Roland Garros.
Berrettini has won 78% of his grass court matches in his career as he comes in with a 21-6 record on grass. He's also 5-0 this year on this type of court. He even won the 500 in London around a week or so ago. Berrettini has a relatively easy draw compared to the route of some others. A good run combined with some luck could see him possibly claim his first-ever men's Grand Slam title.
Felix Auger-Aliassime (+5000)
I like taking a little bit of a flyer on the Canadian Felix Auger-Aliassime. He's only 20 years old, but FAA is well due for success. He's still searching for his first career title, and what a better stage to take one than at the most prestigious tournament around. He doesn't have much experience on grass though, which may be a downfall for him.
However, Auger-Aliassime has won 74% of his matches on grass with a 14-5 record. He's also 6-2 on the green courts this year. This includes a semifinal appearance at the Halle Open and a finals appearance at the Stuttgart Open. FAA has a pretty easy draw early on for him, and this should help him get his feet under himself. If he can catch a few lucky breaks and play his best tennis, FAA has a shot at a title here.

2021 Wimbledon Gambling Guide: WTA Futures Picks
Ashleigh Barty (+600)
Ashleigh Barty opens as the favorite to claim this year's Wimbledon title. It's not hard to see why either. She's the world's top-ranked women's player, and she's played extremely well this year. Barty comes in with a 28-6 record in 2021 with only two losses on hard courts and four on clay courts. This will be her first piece of grass action this year, but I don't think that matters much.
Barty has 11 career titles under her belt and one Grand Slam win (2019 Roland Garros). She's one of the most experienced grass players in the field as well. Barty has a career grass record of 52-16. That experience is hard to ignore. Grass courts play similar to hard courts and Barty has two hard court tourney wins in 2021. It won't be easy for the world #1, but if anyone can fight the obstacles it's her.
Petra Kvitova (+1400)
Speaking of experienced grass players, it's hard to overlook the 10th seeded Petra Kvitova. She's one of only a few players in the field whose last name isn't Williams to have won the Wimbledon before. She has won 28 career titles including two Grand Slams (Wimbledon in 2011 & 2014). Kvitova is also one of the most experienced grass players in the field which should prove to be huge.
She has won 76% of her grass matches in her career with a 59-19 record. Kvitova has shaken off any grass court rust that may have existed as she's 3-1 during this year's grass season. I've mentioned that experience makes a big difference on grass, and she fits that bill. Although Kvitova has a tough draw, everyone does on the women's side. Maybe she can run the gauntlet and take her third Wimbledon title.
Jelena Ostapenko (+2700)
If you're looking for a longshot to get down on, I believe Jelena Ostapenko is worth a stab. She comes into this year's Wimbledon red hot having won last week's WTA 500 Eastbourne International. She has four career titles under her belt including one Grand Slam (2017 Roland Garros). Although she doesn't have a ton of titles, she does have a ton of experience having gone pro back in 2012.
Ostapenko could be an overlooked name when mentioning futures plays. She has a career grass record of 30-15 though. She has also played in two grass tournaments this year and has a 6-1 record in them and a title to show for it. Ostapenko also has an easier early draw than some of the other ladies. The way she's playing right now, there's a decent chance that she can take home her first Wimbledon title.
Tennis and golf go hand-in-hand! Check out the latest episode of the Golf Gambling Podcast here!