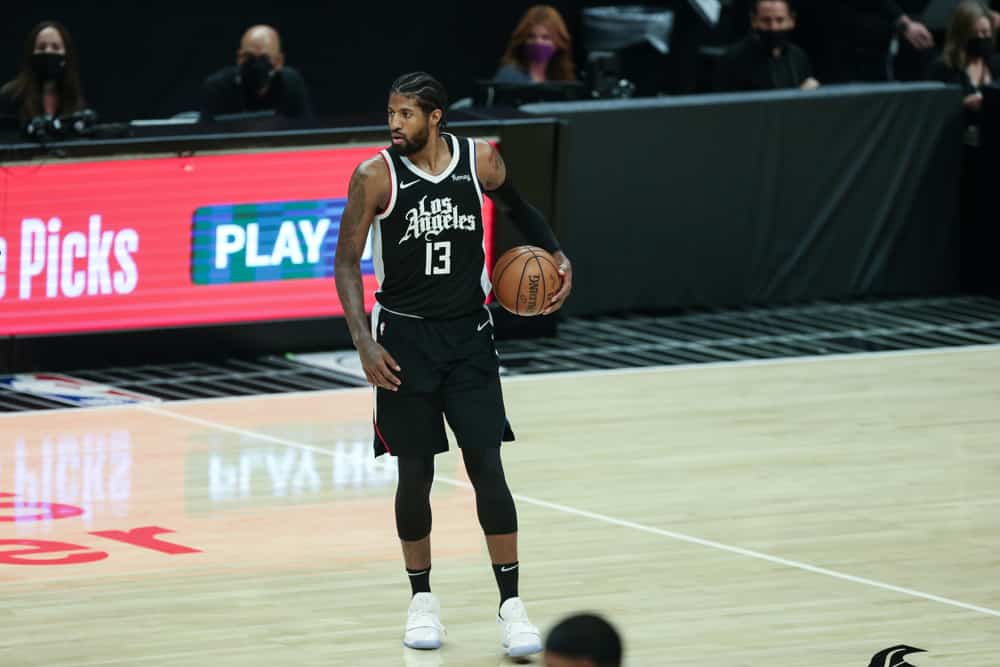 Happy Thursday fellow degens! The Western Conference Finals continue to roll on, and so do our NBA DFS picks. The Clippers find themselves down 2-0, but the good news is they're back at home in friendly confines. These showdown slates can be tricky as it's easy to overthink things. The best advice I can give someone for these slates is don't overthink it and roll with your gut. I have a great lineup for today's slate, and I'm itching to share it with you! Without further delay, let's dive right in!

NBA DFS Picks (PHO/LAC Showdown) June 24
Captain – Paul George ($16,800) – LAC
I'm dipping back into the well with Paul George at captain once again. Chris Paul is going to be back for Phoenix, and that throws a wrench in the increased usage of Devin Booker and  Cameron Payne. Kawhi Leonard remains out for the Clippers, however, so George at the captain makes sense. He's been solid this series despite not being as efficient as normal. George shot a poor 1-8 from three last game and this number will surely improve in Game Three. It seems too obvious, but I wouldn't be surprised if George flirts with 100+ fantasy points in the captain seat.
Although Booker and Payne's usage is sure to dip some, Deandre Ayton will certainly not lose any workload. He put 33.8 fantasy points in Game One followed by 48 fantasy points in Game Two. Ayton also got back to his double-double ways with 24 points and 14 rebounds in Game Two. The Clippers don't have a dominant center, and I look for Ayton to continue to take advantage of this. He averages 33.3 FPPG, and I fully believe that Ayton will be good for this plus some once again in this pivotal Game Three on Thursday.
I am continuing to ride the Reggie Jackson train as long as Kawhi remains out. He's scored at least 15 points in 12 of his 15 postseason games this year. Jackson's been the Clippers' second scoring option behind George, and I look for this to be the case once again. His Clippers have played a solid series despite trailing 2-0. Jackson put up 39 fantasy points in Game One followed by 36.3 fantasy points last game. I believe he will finish around this output once again as Los Angeles looks to move closer to tying up the series.
I like Mikal Bridges as a solid middle-of-the-pack player. He's had a rather mundane first two games this series, and he's due for a big game. Bridges averages 26.1 FPPG because he either goes for 30+ or typically is under 15 fantasy points. However, Bridges isn't the type of player to string too many bad games in succession. He shot 2-7 from the floor and 1-5 from deep last game, and I believe he bounces back with a solid stat line in Game Three. There's a good chance he won't be heavily owned as well.
Jae Crowder has been one of my favorite cheap NBA DFS picks for a while, and this continues today. The normally efficient shooter was more of a passenger in Game Two, as he shot 0-3 from the floor with all the misses coming from three. His last two games may have some people overlooking him on today's slate, but I won't. I know how solid Crowder is when his shots are falling, and I have a funky feeling that he's due for a good bounce-back game. I wouldn't expect 40 fantasy points or anything, but 25-30 is in his wheelhouse.
I'm going with the veteran point guard Rajon Rondo as my value play. Although Tyronn Lue's playoff rotations have been all over the place, Rondo seemingly has a spot in the rotation for this series. He played 22 minutes in Game One, followed by 17 minutes last game. He put up 25.3 fantasy points in Game One and 18.8 fantasy points last game as well. Rondo is too efficient of a player to not play at this price when the minutes are there. If he plays around 20ish minutes, Rondo will be the steal of the slate and a solid fantasy play.

Will's NBA DFS Picks PHO/LAC June 24th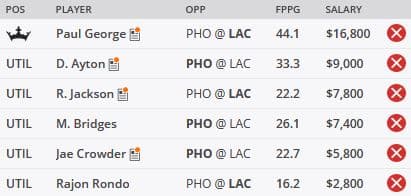 Make sure to subscribe to NBA Gambling Podcast on Apple and Spotify. Check out our NBA expert's updated against-the-spread NBA picks today and EVERY DAMN DAY for EVERY DAMN GAME at SG.PN/nbapicks